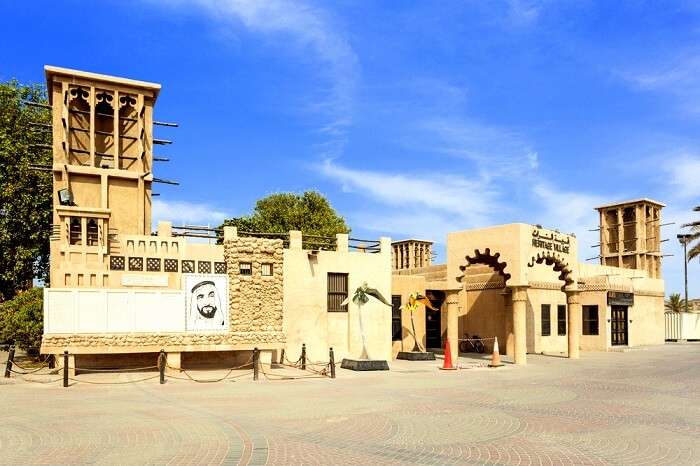 Dubai that you visit and see now is not what it always used to be. It has a very interesting cultural history and almost film-worthy rags to riches stories about how the place literally grew from a desert to a city incorporating some of the tallest skyscrapers in the world. However, the history of Dubai city is just as interesting as the present, and you have an opportunity to travel back in time and experience the life of Dubai in the early ages, by visiting the Heritage And Diving Village in Dubai, a living museum where you can witness the crafts of potters and weavers as well as learn about the pearl diving industry of Dubai. If you are planning on visiting the Heritage And Diving Village, here are a few things you should know.
Basic information about the Heritage And Diving Village
Heritage And Diving Village location: Al-Shindagha Rd, Bur Dubai, United Arab Emirates
Heritage Village Dubai entrance fee: The Heritage Village, Dubai tickets are priced at INR 60 for adults, INR 30 for children under the age of 3 years.
Heritage Village Dubai timings: The heritage village opens at 8 am and the Dubai Heritage village closing time: is 9 PM. On Fridays, the timings are 3 PM to 9:30 PM.
Things to do at the Heritage And Diving Village in Dubai
Here are some of the best things tourists can do at the Heritage And Diving Village:
1. Admire the craft of the weavers
In the Heritage And Diving Village, you can find many local artists who are masters in the art of weaving things like carpets, baskets and more. These are people who have been born into families who have been in the weaving industry for generations and have passed down the unique craft skills in the family. Therefore, the experience is completely authentic, and if you interact with the craftsmen, you will get to learn more about the history of the craft and also purchase some of these amazing products as souvenirs to take back home.
Must Read: 10 Cruises From Dubai To Explore The Country In The Most Luxurious Style!
2. Learn the craft of pottery
Another famous craft that can be found at the Heritage And Diving Village in Dubai, is the art of pottery. There are many local craftsmen who specialise in the art and practice their craft in the village. There are workshops that one can take, and it's an extremely fun and entertaining activity for the entire family to enjoy. If you are visiting with children, especially, they will absolutely enjoy learning about this craft and perhaps learning how to mould clay as well. The timings of the workshops differ, so make sure to find out about them prior if you are interested in attending one.
3. Take a look at the traditional culture and lifestyle of Dubai
At the Heritage And Diving Village, one can truly go back in history and experience how the life of the local people used to be earlier and also get a slice-of-life experience of the real people of Dubai. Learn about the age-old traditions that have been passed down by generations of families. This will truly be an experience that you will remember for a long time, as it stands out from the grandeur of the city life and gives you a more rooted traditional side of Dubai instead.
Suggested Read: Guide To Guru Nanak Darbar Dubai: The Largest Gurudwara In The Gulf Region
4. Enjoy the animal life at the Heritage And Diving Village
There are quite a few animals at the Heritage And Diving Village that are looked after by the local people, such as camels, horses, and there is even a small pond with ducks in it, which you can feed. Interested children and adults can take a ride on the camel or horses, if interested.
5. Learn about the pearl diving industry in Dubai
One of the best things you can do at the Heritage And Diving Village in Dubai is learning about the vast pearl diving industry, that has been a part of the Dubai tradition for many years. The pearl industry goes back to almost seven thousand years ago and is still prevalent in some places. The procedure involves a ship of 60 people, including a captain, divers, a seeb, and other staff as well that go on a month-long expedition in search of these precious stones.
Suggested Read: Guide To Dubai Parks And Resorts Theme Park: Water Sports, Movie Mania And More
6. Enjoy some cultural performances
Another amazing thing to experience at the Heritage And Diving Village is the cultural performances of the people, including some folk art like dancing and singing. Women and men, as well as children, dress up in traditional costumes and put on an entertaining show for the visitors including some exotic performances like the belly dance.
7. Shop for authentic souvenirs at the Heritage And Diving Village in Dubai
While visiting a new place, everyone wants to buy some souvenirs that are unique and would not be found anywhere else in the world. Unlike the city which sells mostly commercial brands, this local authentic cultural centre sells some authentic crafts and products that are handmade, and you wouldn't be able to find anything like them from anywhere else. Purchase clothes, pots, baskets, as well as pearl jewellery from here, and not only will you bring back a unique souvenir back home with you, but you will also be supporting the local businesses there.
Suggested Read: Dubai Aquarium & Underwater Zoo: All You Need To Know For A Thrilling Marine Adventure
What to eat at the Heritage And Diving Village
There are a number of food stalls and restaurants in Heritage Village, Dubai. Some of the traditional dishes you can enjoy at the Village are:
1. Hummus
Hummus is a very popular dish in Dubai, made out of chickpeas with olive oil and garlic, and is commonly served with kuboos, a local bread, or pita bread as well.
2. Shawarma
Everyone knows Dubai is famous for shawarmas, a traditional Arabic delicacy, comprising of a roll filled with chicken, vegetables and garlic spread. The chicken can be substituted with a meat of your choice, and there are seafood options available as well.
Suggested Read: This First-Of-Its-Kind Museum Of Illusions In Dubai Will Literally Blow Your Mind Away!
3. Iranian Tea
This refreshing beverage is a delight to the taste buds and is a black tea that is usually consumed with biscuits or traditional Arabian sweets.
4. Seafood
Being a diving industry, there is bound to be a lot of seafood at the Heritage And Diving Village. These dishes are grilled and spiced with some local herbs and spices and are an explosion of flavours in your mouth. Trying the seafood here is definitely an experience that should not be missed.
Furtehr Read: 7 Vivid National Parks In Dubai & Nearby Places
The Heritage And Diving Village in Dubai is a wonderful place to visit and learn about the various local crafts. So, plan a trip to Dubai and visit this museum!
---
Looking To Book An International Holiday?
Book memorable holidays on TravelTriangle with 650+ verified travel agents for 65+ domestic and international destinations.
---
Comments
comments