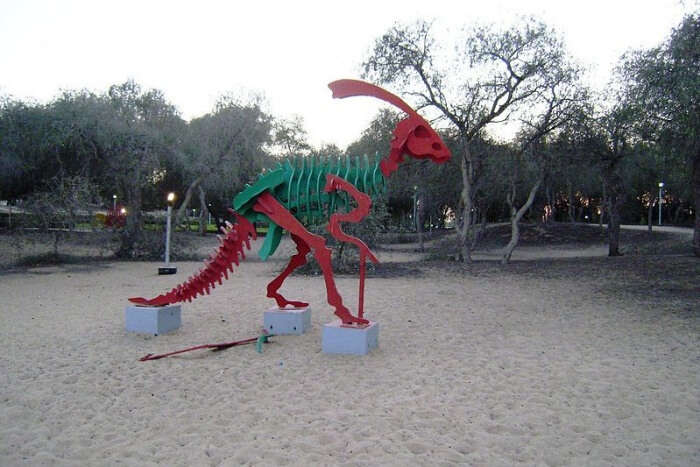 When we think of Dubai, we think of Burj Khalifa and other architectural masterpieces that the city proudly boasts about. But many of us have not explored the wild side of Dubai. Dubai has some of the most interesting national parks. Each national park in Dubai has been constructed in a unique way and while you are on your vacation in Dubai you must pay a visit to all of them!
Top 7 National Parks in Dubai and Around
You'll be amazed to see the various versions of "national parks' that Dubai and its nearby places have.
1. Mushrif Park
Mushrif Park is a family-oriented park in Dubai which was opened to public in 1982 by the Dubai Municipality. The park is located in the East of Dubai city, Deira, and spans 5.25 square kilometres in area. The international village at Mushrif Park comprises of 13 models of Arabic and English houses.
The park has a great entertainment setting too, with electronic games, barbecue and trip areas and pool services. There are play areas for children and adult sports playground for games like basketball, volleyball and handball. You would also find walking pavements and bicycle tracks, prayer rooms, green areas, restaurants, canteens, train ride services, camel and horse riding, park theatre, and facilities for people with special needs.
Entry fee: INR 60
Timings: 8am – 10pm
---
Dubai Holiday Packages On TravelTriangle
Travel Dubai in Luxury. Visit grand Burj Khalifa or the breathtaking Palm Islands. Enjoy Dhow Cruise, International Buffet Dinner, Dubai City Tour, Desert Safari, Ferrari World and Abu Dhabi City Tour. Book your Dubai holiday package on TravelTriangle.
---
Must Read: 60 Tourist Places In Dubai: Do Not Come Back Without Visiting These Marvels
2. Ras Al Khor Wildlife Sanctuary
Ras Al Khor Wildlife Sanctuary is a wetland reserve which is blessed with the quality of attracting large number of migratory birds, every year. Not just birds, the sanctuary has a huge number of crustaceans, small mammals and fishes. The place is dominated by a large flock of Flamingos, who gather here during winters. Other than Flamingos, you can also spot some grey herons, great egrets, reef herons, cormorants, black-winged stilts, sandpipers, osprey and many other wilds.
Titled as the 'Cape of the Creek,' Ras Al Khor is closely monitored and protected by the Dubai Municipality. Ras Al Khor Wildlife Sanctuary that covers an area of 6km is a favourable habitat for the birds as it features a variety of salt flats, intertidal mudflats, mangroves, and lagoons for the birds to use for their nests and individual habitats.
Entry fee: INR 60
Timings: 6am – 6pm
Suggested Read: 10 Best Villas In Dubai For Living The Life Of Luxury That You Always Dreamt Of!
3. Dubai National Park
The story of the Dubai National Park is pretty interesting. In 1997, Sheikh Mohammed bin Rashid Al Maktoum, highly inspired by the South African Game Reserves, purchased around 87 square miles of the Dubai Desert Conservation Reserve. The reserve was earlier used to tame camels, but gradually it has become a fenced shelter for native animals. Interestingly, the park has 6000 species of trees, beautiful grasses and shrubs.
Dubai National Park is an initiative to protect the ecosystem. You will find several animals including, the Sand Gazelle, the Statuesque Arabian Gazelle, and the Plethora. Other species include the Side-Winding Vipers, the Rueppell's Fox, the Ethiopian hedgehog and the Curious Sand Cats. Many other animals have been added to make the park more attractive. The takes special measures to protect the endangered species.
Entry fee: INR 60
Timings: 6am – 6pm
Suggested Read: 26 Exotic Dishes From Dubai Cuisine That Serves As The Gate Pass To Heaven
4. Dubai Desert Conservation Reserve
Dubai Desert Conservation Reserve (DDCR) is a wide spectacular area in the desert, spanning 225km across the dunes. It is an initiative protect and preserve the desert wildlife. DDCR permits only some select operators to host desert safari on the four-wheel-drives. You can also enjoy a safari on the 'ship of the desert' in camel treks, witness the speed and swiftness of the falcons and enjoy horse riding.
You can also try your hands at archery, sand boarding, and fat biking. Apart from this, there also other entertaining options like, hot air ballooning, night safari, desert camping, and wildlife drives. Don't miss out to try the desert yummy cuisines in dune dinner or a private desert dinner.
Timings: 7am – 5pm (safari timings)
5. Al Marmoom Desert Conservation Reserve
Al Marmoom Desert Conservation Reserve is the first unfenced conservation reserve in the United Arab Emirates. Located in the desert area of Seih Al Salam in Dubai, comprises around 10% of the total land area of the emirate, including the extensive man-made desert wetlands, the Al Qudra Lakes.
Managed by the Dubai Municipality, the Reserve currently has a number of animal and bird observation platforms, star and sunset observation points and a one of the world's largest cycling track (84km). The wide landscape and clear sky of desert makes it a great places for stargazing. Camel racing events are also organised here.
Entry fee: INR 60
Timings: 8am – 8pm (Sat- Thu)
Suggested Read: 5 Haunted Places In Dubai That Will Frighten You From Head To Toe!
6. BU Tinah
BU Tinah is a protected private nature reserve which is a small archipelago in the centre of coral formations and seagrass beds some 25 km south of Zirku and 35 north of Marawah, near Dubai. Located in the sea near Abu Dhabi, BU Tinah has a rich biodiversity and has been a recognized UNESCO site since 2001. The place has extensive coral reefs and is also rich in marine life. Animals, fishes and birds including flamingo, dolphins, hawksbill turtle and many others are found here.
Entry fee: Prohibited to the visitors
Suggested Read: 6 Best Homestays In Dubai That Are All About Glitz, Glam, And Grandeur!
7. Sharjah National Park
Sharjah National Park is basically is a leisure park in Sharjah city of United Arab Emirates. Spread over 630 thousand square feet of area, the park is the largest in the city. With multiple small play areas including big size jungle gym with slides, rope ladders, this has become a poplar space for community get togethers. There are also rides, sports courts, benches and green areas. Sharjah National Park is a diamond in the 'Park City', as there are already around 50 parks in Sharjah.
Entry fee: INR 120
Timings: 8am – 10pm
Further Read: 25 Wedding Venues In Dubai For A Fairytale-Inspired Union
If you are planning to visit Dubai, and are interested to see it in a different light, you must visit the various national parks in and around Dubai. Each national park in Dubai is different in its own way. Plan a trip to Dubai now to explore beyond the architectural masterpieces and sand dunes.
---
People Also Read
National Parks In Singapore National Parks In Bali National Parks In Egypt