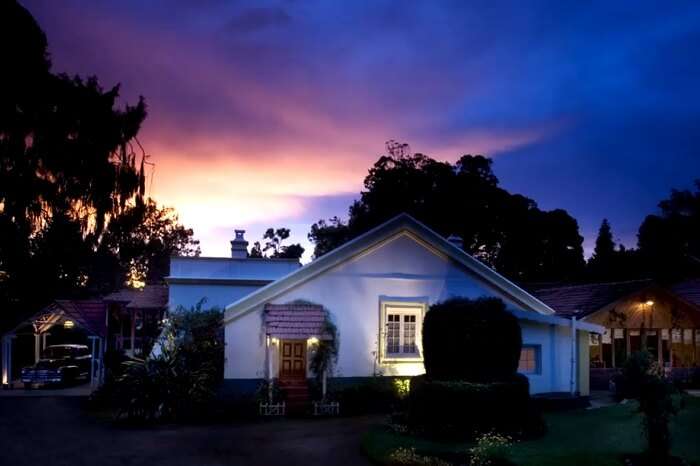 Ooty is known for three things in particular – its salubrious weather, its scenic beauty, and its native royalty that the hill station received as a heritage from the British. And canvassed by this rich heritage are some amazing cottages and homestays in Ooty.
Be it the dewy freshness of the green valleys, the blanket of mist that hovers of the lofty hills, or the rustic charm of the summer escapade; nothing about this place is disappointing for the tourists. And the Ooty homestay cottages are no exception.
Check out this list of the best homestays in Ooty before you book one of the tour packages of India that includes this hill station.
1. Marlborough House
A homestay in Ooty for family trips, summer escapades, and romantic escapes

Numerous colonial structures in the scenic hill station bear testimony to the excellent architecture of the British Raj. The century-old Marlborough House is one such homestay at Ooty. While its wooden flooring, plush tapestry, and old Victorian furniture give it the colonial touch, its gardens and manicured lawns that complement the beautiful surroundings showcase its closeness to nature.
Tariff: INR 8,900 per night onwards
Location: 123, Havelock Road, Bandisholai, Opposite to Old Vigilance Office
Here's what a guest had to say about his stay:
"My faith in the place strengthens with my last visit back to Marlborough House. Mrs. Jyothi who takes care of the place and manages the daily running of the place was spot on with great service and delicious food. Will return for sure." – Abhishek R
2. The Bungalow by Tranquilitea
Best among the Ooty cottages for a secluded stay in a romantic environment

It was in the early 1900s that a bungalow – small, cozy, and aesthetically sound – was built. The heritage Ooty homestay has 1 manicured garden and 3 bedrooms; each equipped with an independent fireplace and antique furniture. The host guarantees complete privacy and promises to keep other rooms vacant even if the guest book just one room. Furthermore, the property is located away from the hustle-bustle, yet not too far from the popular places to visit in Ooty.
Tariff: INR 6,000 per night onwards
Here's what others had to say about this stay:
"Subtlety is the word to describe the heritage house in Ooty. It has three bedrooms each with a fireplace, a drawing room and a living room. Wooden doors and long windows, a raincoat stand in the living room complete with grandfathers umbrella, the chandeliers, plain walls retain an old world charm." – The Hindu
Must Read: 10 Best Villas In Ooty For A Pleasant Stay In The Hills
3. Lymond House
A homestay at Ooty that blends the old-world charm perfectly with the modern comforts

Dating all the way back to 1855 (Yes! You read that right), Lymond House has done well to combine the old-world charm with modern amenities. The epitome of bygone colonial era, set amid sprawling lawns of flowering trees, is a part of the SerendipityO umbrella group of resorts and homestays in Ooty and its precincts.
Tariff: INR 5,500 per night onwards
Location: Sylks Road
Here's what a guest had to say about her stay:
"A really lovely colonial property not far from the hustle bustle of the main town but absolutely calm and serene. We had gone there as a family of 6 and had an amazing time. Felt like home away from home. Staff were pleasant and Food was great too! It is not one of those places where you can expect luxury, its one of the those places where you can expect an unique experience! Loved it!." – Lavanya I
Suggested Read: 15 Best Honeymoon Places In Ooty In 2022 Tucked In Verdant Nature!
4. Bouganvilla
A home away from home; serene & romantic like Rome

If not its serenity & refreshing ambience, Bouganvilla's architecture and amenities are surely going to fascinate you. While the congenial interiors are reminiscent of the British era, the modern comforts provide ample pampering to the guests; thus ensuring a delightful experience at this Ooty homestay.
Tariff: INR 4,500 per night onwards
Location: 262 A, Off Silverton Road, St Thomas Church Road
Here's what a guest had to say about her stay:
"This resort is super amazing…a small and well maintained resort..amazing food..the staff is very good and cater to all your needs. Ms. Suman Mr. Anand help the guests to have a hassle free and good stay. The food made by the chef at the resort is awesome and total home like food. Highly recommend a stay at this hotel." – Kanchan A
Other popular Ooty homestay cottages: Rainbow Cottage, Dovedale Cottage, King's Cliff, and Kluney Manor
Suggested Read: 10 Cottages In Ooty For Couples That Offer Unmatchable Privacy & Comfort Under Budget (2022)
5. Wyoming Heritage Colonial Bungalow
A homestay in Ooty with tariff way below the rest in the league

Nestled in a wooded hill that overlooks the town, Wyoming is a century-old property that has been a holiday home since the 1940s. Today, it stands as one the finest homestays in Ooty. And despite its colonial touch, the property comes with all modern facilities.
Tariff: INR 2,770 per night onwards
Location: Sheddon Road, Near Chettinad House
Here's what a guest had to say about his stay:
"If you would like to avoid typical 3 or 4 star hotels and would like to stay in a property which is different, clean and a quite place, this would be right place for you. Well maintained with a friendly staff who would make you feel just like your own home. Don't expect it to be hotel standards, but would be good for you if you wanted to stay like a local person in one's own home." – Ram K
So, which one is your pick? And if your favorite homestays in Ooty are not in the list above, don't shy away from mentioning in the comments below.
Further Read: Embark On Your Journey Of A Lifetime At These 15 Best Hotels In Ooty For Honeymoon In 2022 !