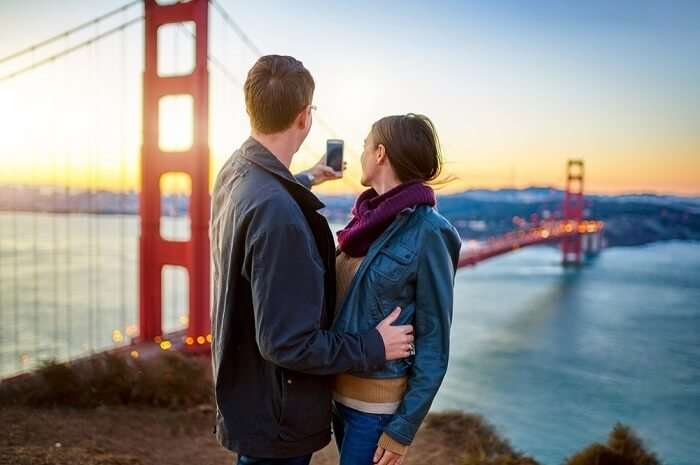 The friendly, uninhibited vibes of this beautiful 'city by the bay' work their magic on every traveller visiting its shores. Perched prettily beside the might Pacific Ocean, San Francisco holds great allure over globe-trotting souls with its perfect blend of culture, natural beauty, gourmet food, fine wines and architectural wonders. The mist-shrouded ethereal beauty of the iconic Golden Gate Bridge, awe-inspiring exhibits at the San Francisco Museum of Modern Art and breathtaking views from Telegraph Hill are just the tip of the iceberg in this gorgeous city.
A honeymoon in San Francisco offers you two a much-needed rejuvenating break and the chance to know each other as you unravel the city's mysteries hand in hand.
Best Time For Honeymoon In San Francisco
Choose from the time suits you for honeymoon and have a blissful trip!
The fall season (Sept-November) is considered the best time to plan your romantic escapade to San Francisco as it offers the warmest temperatures ideal for exploring the myriad attractions. Clear skies and fewer crowds make it the perfect time for outdoor fun and romantic getaways.
Spring too is a good time for your honeymoon in San Francisco as you can beat the summer rush, enjoy the mild weather and get good deals on hotels.
Those travelling on a budget can plan a winter honeymoon to grab great deals on airfares and accommodation and witness the festivities. However, it's best to avoid the crowded summer months (June-August) as the dense fogs and huge crowds tend to play spoilsports.
Ideal Duration
A week-long honeymoon in San Francisco allows you to explore its attractions at leisure, while also leaving enough time to cosy up at your hotel with romance in the air. A 7/8 days' trip also leaves room for a nice day trip to some wonderful destinations nearby or a ferry ride to an island.
5 Things To Do On A Honeymoon In San Francisco
With the city offering so many options for a romantic date with your life partner, it's better to get acquainted with some of the top things to do on your honeymoon in San Francisco to seal those magical moments of togetherness in your minds & hearts forever.
1. Golden Gate Bridge: Plan A Romantic Photo Shoot!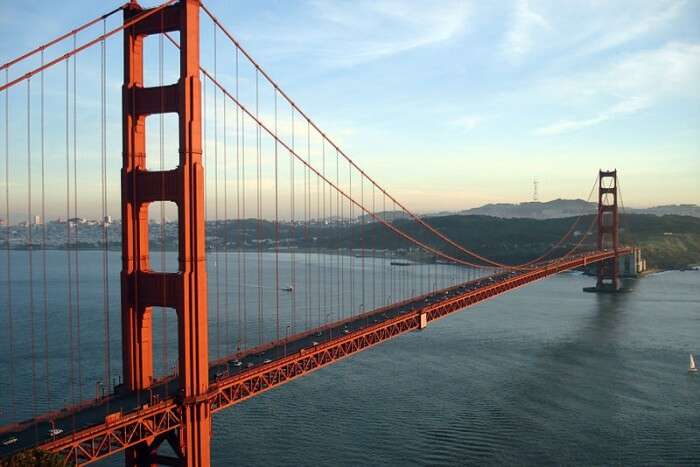 This architectural marvel is undeniably the most popular landmark of the city and makes for a great spot for some amorous moments. You can plan a photo shoot capturing the breathtaking vistas and follow it up with a leisurely stroll across the bridge to soak in the views.
Must Read: 10 Brilliant Day Trips From San Francisco That You Can Take With Your Globetrotter Buddies In 2022
2. Ferry Building Market: Savour Street Food !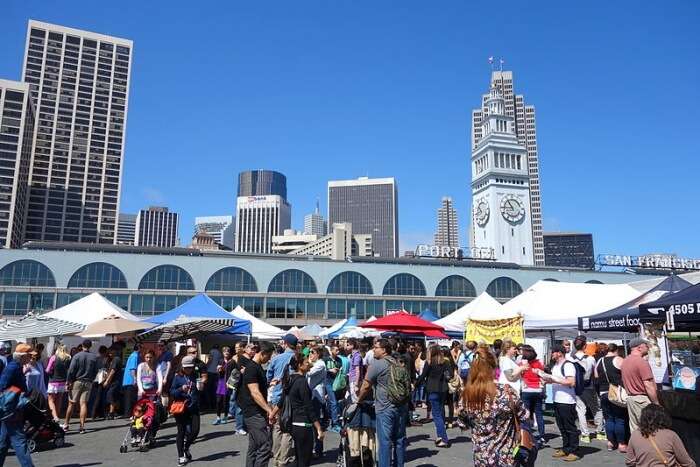 Embark on a foodie adventure together to indulge in some innovative and delicious local fare at the Ferry Building marketplace where something interesting is cooking all the time. The unparalleled variety of food and cuisines at the numerous stalls are sure to transport you to gastronomic heaven.
3. Cable Cars: Hop On For A Memorable Ride!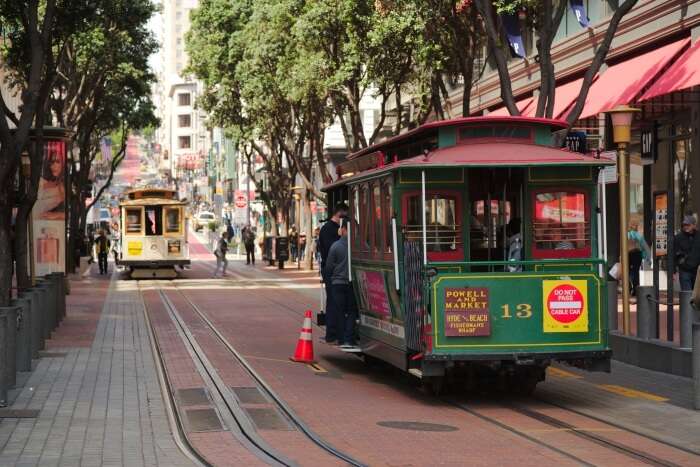 The city's historic cable cars give you the perfect opportunity to steal some private moments as they trundle along steep slopes and craggy mountains, taking you through landmark sights and pretty neighbourhoods. The exhilarating and fun ride at just $7 provides full bang for one's buck. The hugely popular Powell Hyde line also takes you through the famous Lombard Street.
Suggested Read: 10 Beautiful Places To Visit In San Francisco That Ought To Be On Your Itinerary
4. Ocean Beach: Witness A Magical Sunset !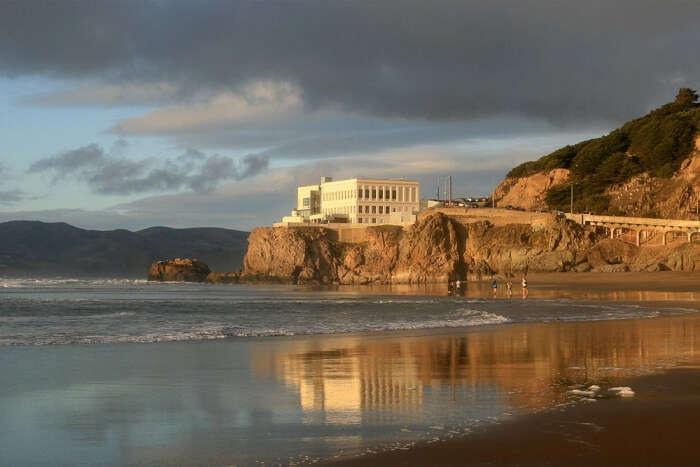 The 3.5 mile stretch of soft wide sand is one of the best places to share some tranquil moments of blissful togetherness on your honeymoon in San Francisco. Walk hand in hand to the sound of the crashing waves and witness a magnificent sunset as the orange ball of fire spills myriad hues over the spotless sky.
5. Coit Tower: Soak In The Tranquillity & Breathtaking Views!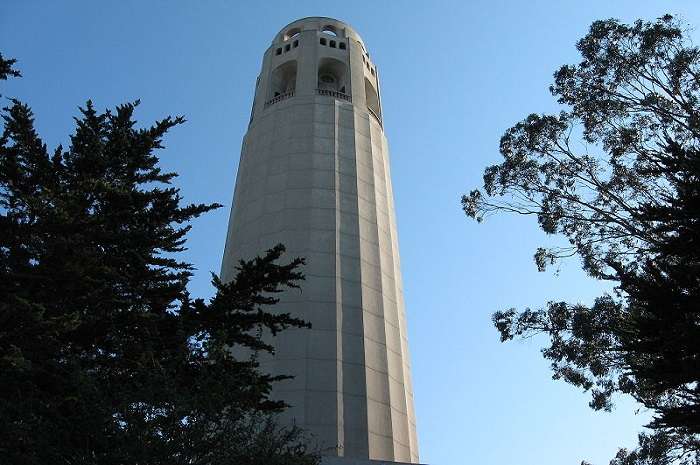 The hills of San Francisco offer the opportunity for quiet hikes through lush greenery and rewarding views once you reach the summit. The famous Telegraph Hill is home to the 210-foot high Coit Tower that offers breathtaking 360-degree views over the bay. If you two are the adventurous kind, hike up the hill or else take a cab to reach there. Admire the sweeping views together and don't miss the beautiful murals inside the tower.
Timings: Daily, 10AM-5PM
Ticket Cost: $9/adult
Suggested Read: San Francisco Nightlife: Best Places To Eat, Drink, Dance, And Repeat!
---
Planning your honeymoon but confused about where to go? These honeymoon stories help you find your best honeymoon trip ever!
Real honeymooners. Real stays. Real opinions to help you make the right choice.
---
5 Places To Visit In San Francisco
Tucked away amidst the cityscapes, San Francisco offers some quiets nooks and perches for a romantic rendezvous. Here are our favourite ones just perfect for your honeymoon in San Francisco.
1. Muir Woods National Monument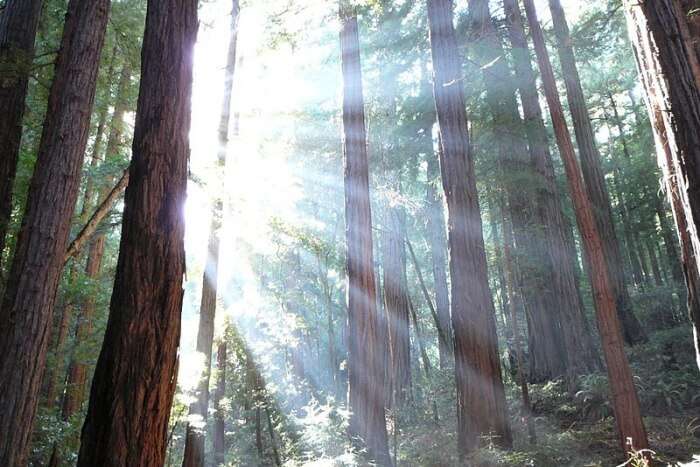 Just 15 miles outside the city this island of tranquillity provides a rejuvenating break in the lap of nature. Take a romantic stroll through redwood groves, hike the beautiful trails and soak in the sounds of the forest or explore the onsite beaches like Rodeo Beach and Muir Beach. A perfect spot for your family vacation, Muir Woods National Monument should be on your bucket list.
2. Alcatraz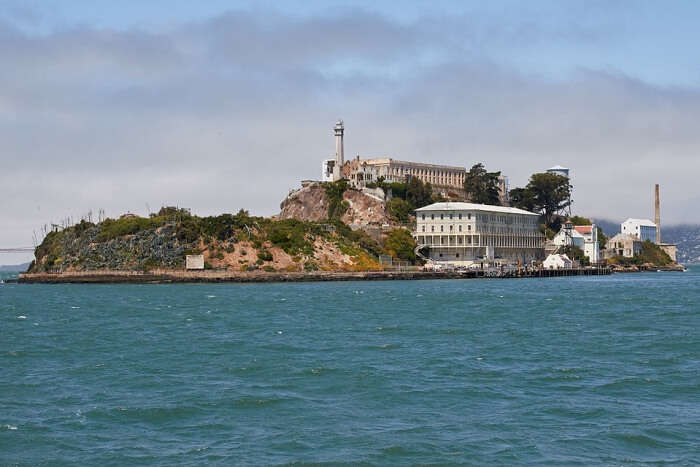 When you are in the city for your honeymoon in San Francisco, a scenic boat trip to this historic erstwhile prison is a must to add on your list. Located on a stunning rocky island in the San Francisco Bay, the trip tour not just offers rich insights into Alcatraz's past but also offers breathtaking views of the bay and the bridge.
Ticket Cost: $37.5/person
Suggested Read: San Francisco Shopping 2022: 10 Places That'll Help You Pamper Your Heart & Upgrade Your Style
3. San Francisco Museum Of Modern Art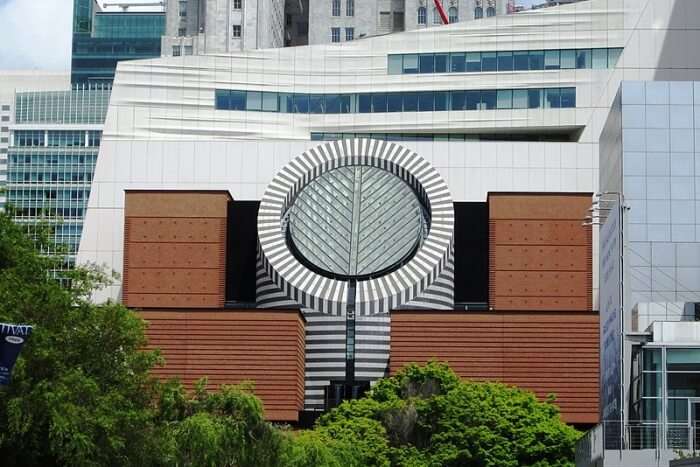 If admiring contemporary art and installations is your idea of a romantic date then you just cannot afford to miss this world-class museum housed in a beautiful building. The collections are superb and the outdoor sculpture gardens are lovely. There are cafes and restaurants for a coffee break as well as a wonderful gift store.
4. Japanese Tea Garden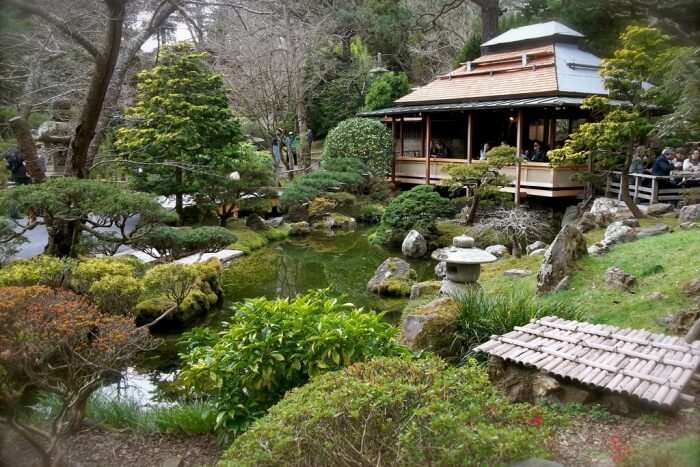 Right in the heart of the city amidst the sprawling Golden Gate Park is this oasis of quietude, for a refreshing breather from the hustle-bustle of the downtown. Stroll amidst beautifully landscaped gardens, pagodas and arched bridges and get rejuvenated by the Zen garden and Koi pond. A lovely restaurant inside the garden also serves a variety of Japanese teas and snacks.
Suggested Read: San Francisco Food: 15 Best Delicacies That'll Titillate Your Taste Buds In 2022!
5. Fisherman's Wharf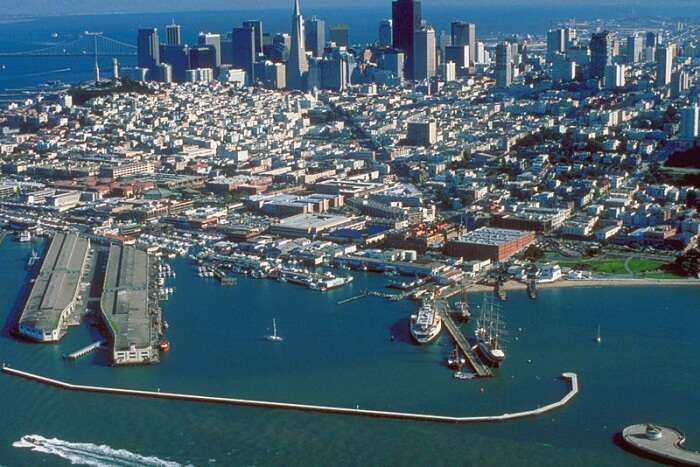 Your honeymoon in San Francisco cannot be complete without a stroll along its most famous waterfront, the Fisherman's Wharf lined with some its top attractions and best restaurants. Say hello to the adorable sea-lions at Pier 9 and dig into a heavenly bowl of clam chowder in sourdough bread at the famous Boudin bakery before heading to other top sites.
Where To Stay On Your Honeymoon In San Francisco?
Along with its myriad attractions and perfectly dreamy setting overlooking the ocean, the glittering city is also home to some of the top luxurious and romantic properties in the country. Though it's hard to name the best place to honeymoon in San Francisco, our list could be good place to pick your favourite place of stay.
1. Fairmont Heritage Place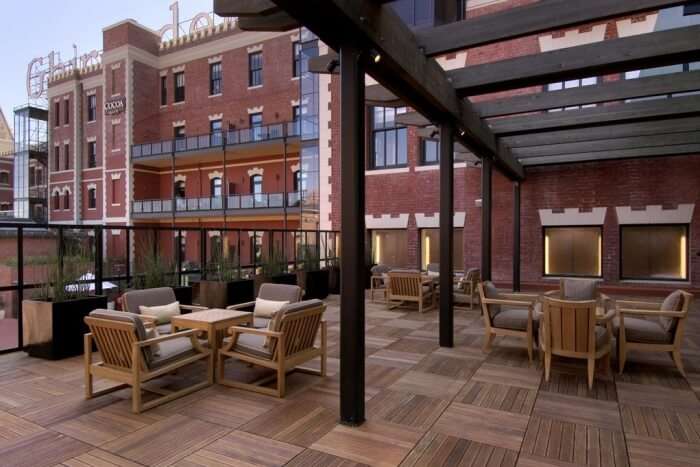 Located right in Ghirardelli Square this 5-star property with luxurious apartments and sweeping views of the bay, is one of the best choices for your honeymoon in San Francisco. A cozy bed, a room with amazing views and delectable food awaits you in Fairmont Heritage Place.
Tariff: INR 56,815 per night
Suggested Read: 9 Serene Hot Springs In San Francisco For A Relaxing And Peaceful Vacation!
2. Loews Regency San Francisco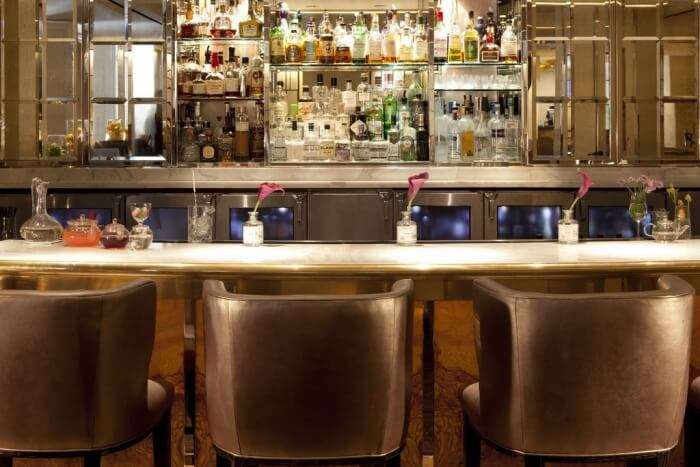 Located on the top 11 floors of the third highest building in the city, the spacious & luxurious rooms offer breathtaking views. Impeccable service and warm gestures like complimentary wine for honeymooning couples make it a very special place. So, head here to relish wine and to spend some romantic time with your lover.
Tariff: INR 31,900 per night
3. St. Regis San Francisco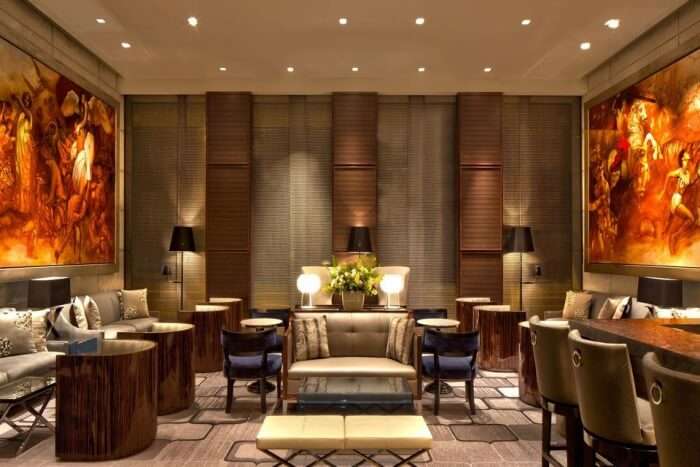 One of the most luxurious hotels in the city, the St. Regis also is one of the best places for your romantic honeymoon in San Francisco. High-tech rooms with touch-screen controls, world-class spa serving champagne & truffles in the relaxation room and private butlers take luxury and romantic setting to new heights.
Tariff: INR 32,400 per night
Suggested Read: 9 Best Food Festivals In San Francisco Which Will Be Paradise For Every Indulgent Foodie!
4. Taj Campton Place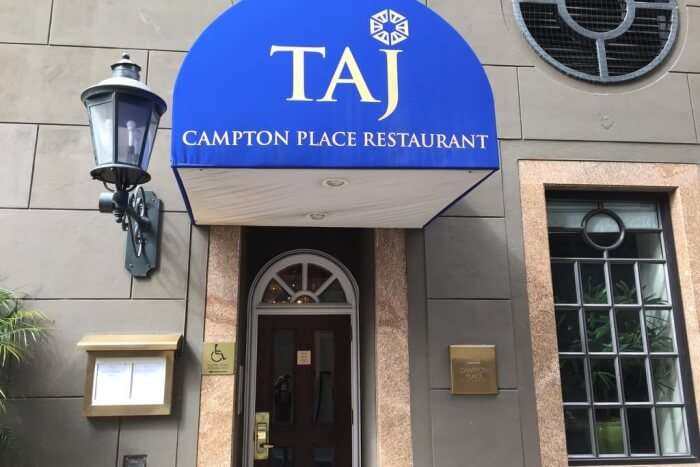 Located in Union Square this elegant hotel is perfect for exploring the best shopping, dining and nightlife during your honeymoon in San Francisco. The award winning restaurant, excellent wine cellar and impeccable service make it a sure winner.
Tariff: INR 24,555 per night
5. White Swan Inn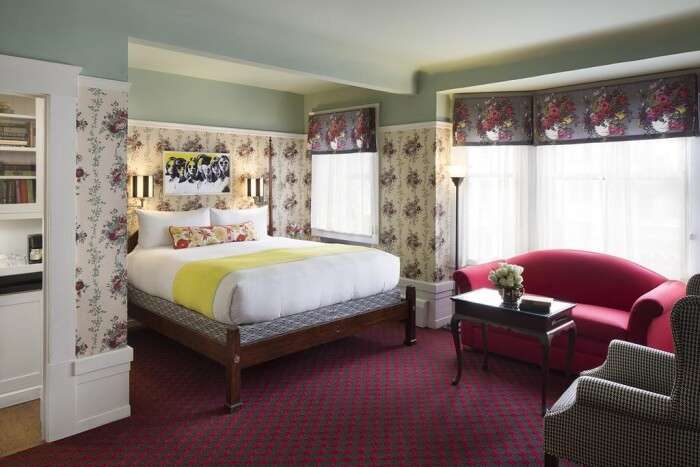 The quaint and charming boutique property in Nob Hill area provides an intimate and romantic setting at great prices. All 26 rooms feature crackling fireplaces for that perfect evening with your partner.
Tariff: Deluxe room from INR 12,780
Suggested Read: 9 Best Casinos In San Francisco Which One Must Definitely Visit And Play A Game Of Poker!
What To Pack For Honeymoon In San Francisco?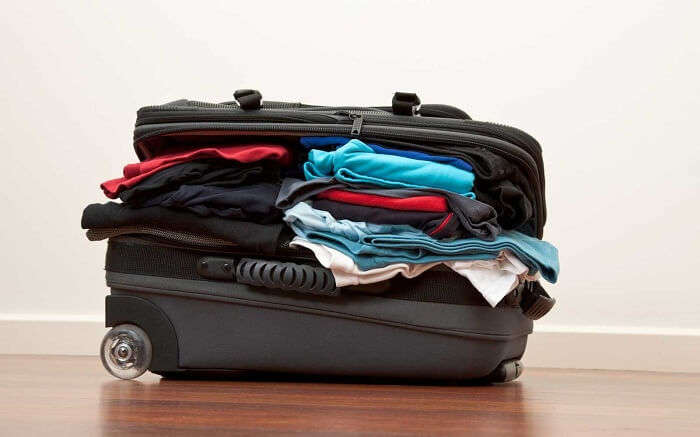 Whatever time of the year you plan your honeymoon in San Francisco, bringing a wind-breaker and some layered clothing is always a good idea to beat the chilly winds in the evening. Women must carry a handy pair of tights to match with their dresses
Sunglasses, hats and sunscreen are recommended if you plan to spend time on the beaches and outdoor locations in Los Angeles during a summer or fall visit. And yes, ladies can carry their pretty sundresses and sandals too for some cool pics!
A wine key, travel speakers and picnic blanket come in handy when you plan to cosy up at Dolores Park or Ocean Beach.
Adventure lovers must carry a pair of hiking boots to explore the many scenic trails during their honeymoon in San Francisco.
Comfortable footwear/sneakers, toiletries (including a dry shampoo) as well as essential medicines.
Further Read: San Francisco In December: An Ultimate Guide To Witness The Snowy Magic & Charm In The City
Planning your honeymoon in San Francisco gives you the chance to immerse in the vibrant spirit of the city where no dream is too big to be fulfilled. Indulge in gourmet food, finest wines and hip nightlife as you set off together on this unforgettable travel adventure. So, wait no more and book your trip to San Francisco with TravelTriangle!
Frequently Asked Questions About Honeymoon In San Francisco
Is San Francisco safe for honeymoon?
San Francisco is one of the most famous honeymoon destinations and is safe for a honeymoon. Couples from all around the world visit this city for a romantic getaway and if you are thinking the same then you should surely visit it.
Which are the best places to visit in San Francisco for a honeymoon?
San Francisco is an outstanding destination which has a plethora of tourist attraction. Here is the list of the renowned places that you should visit on your honeymoon in San Francisco! 1. Golden Gate Bridge 2. Coit Tower 3. Alcatraz Island 4. Fisherman's Wharf 5. Union Square 6. Pier 39
Which is the most beautiful place in San Francisco?
Golden Gate Bridge is the most beautiful place as well as one of the places that you ought to visit on your honeymoon.
Which are the most famous restaurants in San Francisco?
San Francisco one of the best cities for couples who love to relish delectable food and below is the list of the most famous restaurnats that you should visit on your honeymoon. 1. Acquerello 2. Gary Danko 3. Quince 4. Boulevard 5. Zuni Café
What can I do in San Francisco on my honeymoon?
If you are an adventurous couple then you ought to try the below-listed things on your honeymoon. 1. Witness sunset on Ocean Beach. 2. Meet the California Sea Lions. 3. Go for a walk at the Japanese Tea Garden. 4. Hop on a cable car and enjoy a romantic rise. 5. Go for a shopping spree at Union Square
What San Francisco is famous for?
San Francisco is famous for its architectural wonders like the Golden Gate Bridge, cable cars, remarkable restaurants, and cool summers. This city is also famous among honeymooners as the weather is perfect for a romantic getaway.
Which are the best resorts in San Francisco?
There are a lot of resorts in San Francisco and the best ones are listed below! 1. Cavallo Point Lodge 2. Fisherman's Wharf 3. The Donatello 4. Inn at the Opera 5. Cova Hotel
---
Looking To Book Your Honeymoon Package?
Book memorable honeymoon on TravelTriangle with 650+ verified travel agents for 65+ domestic and international destinations.
---
People Also Read
Honeymoon In Miami Honeymoon In Washington DC Honeymoon In Canada