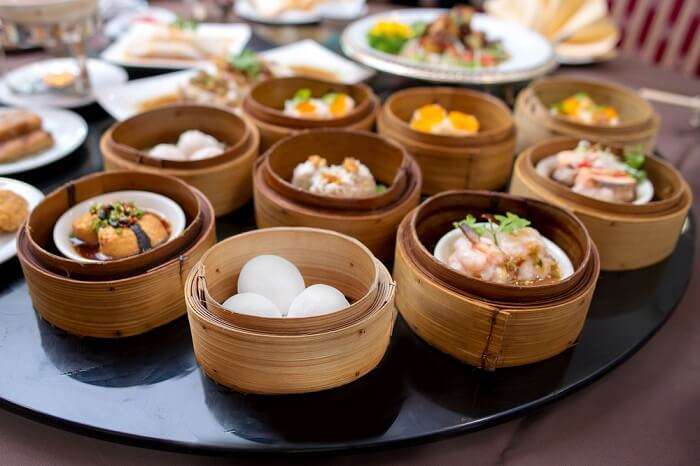 One of the things which makes Hong Kong a famous tourist attraction is also the Hong Kong food. As vibrant as the destination is, the food in Hong Kong is equally toothsome and has an interesting taste palette.
Known for the most food-obsessed people in the world, Hong Kong proves to be a culinary delight. There is so much more beyond the dumplings that you ought to try in Hong Kong. Ruled by Portuguese and Britishers at one point of time, one can see the influence of the colonial rule in the flavors and cuisine too.
Top 10 Hong Kong Food Items To Try On Your Vacation
1. Fish balls
Fishballs in Hong Kong is the most ubiquitous food item. People in Hong Kong literally eat millions of the savory, tender, yummy fish ball snack every day. It is a common food item in China and neighbouring regions made from fish paste. They are either served deep fried or boiled in a soupy broth. Next time you are in Hong Kong, try these round yummy things to eat.
Must Read: 13 Festivals In Hong Kong In 2022 That Best Showcase The City Culture

2. Dimsum
Image Source
Isn't it why you travelled all the way to Hong Kong- To try the flavorful dimsum this region is famous for. If not, put it on the top of your priority list because that is how they good are. And, the best part is you get choose from a variety of dimsums in Hong Kong. From chicken, barbequed pork meat to braised chicken feet, you get all varieties of fillings inside. It is literally the most popular Hong Kong food item.
3. Hong Kong Style French Toast
This is one of the most delicious things on the list of Hong Kong food and you will find it at nearly corner of every street in Hong Kong. what makes it different from the traditional french toast is that it is deep fried, slathered in fruit jam and combined in an-indulgent amount of butter. It is best accompanied with dong lai cha, an ice milk tea in Hong Kong.
Suggested Read: 8 Best Hong Kong Temples Every Traveler Should Visit To Explore Their Spiritual Side

4. Claypot Rice
Claypot Chicken rice is a common dinner dish in Hong Kong. The wholesome bowl is comprised of Chinese sausage, vegetables, and of course sticky rice. The reason why it is called claypot because the rice is cooked in the clay pot utensil which makes it a little time consuming but it is all worth it. The claypot adds a smokiness and charred flavor to the whole dish.
5. Hot Pot
Exploring cuisine is one of the interesting ways to learn about the culture and traditions of a place. More than a delicacy, Hot Pot is a tradition and a social event in Hong Kong where a family or a group of people gather around to dine. It is a Chinese cooking method containing a hot simmering pot in the middle with a variety of Asian foodstuff and ingredients.
Suggested Read: Destination Of The Month: 10 Reasons Why Hong Kong Is Perfect For A Family Vacation

6. Egg Tart
A proof of the influence of English cuisine, egg tarts found their way to Cantonese cuisine in Hong Kong. Became popular in the 1940s, egg tarts are baked delicacy made of rich eggy custard and shortbread crust. There are two popular versions of the tart; one with flaky puff pastry shell and another with the shortbread crust. Honolulu Coffee Shop and Tai Cheong Bakery are the two places where you can find the custard delicacy.
7. Ginger Milk Pudding
A unique Chinese hot dessert, Ginger Milk pudding is a popular part of the Cantonese cuisine. As obvious from the name, the pudding is made with ginger juice and hot boiling milk. When you pour the hot milk over the ginger juice, it is converted into a bowl of curd aka dessert. While the dessert is sweet, ginger juice gives it a hint of pungency.
Suggested Read: 7 Wonders Of Hong Kong That Will Leave You Jaw Dropped!

8. Yung Kee Roast Goose
Ask anyone in Hong Kong about the best place to have roast goose and they will give you directions to Yung Kees deli which serves the best roast goose. Not just a dish, it is a famous institution of Hong Kong. The succulent roasted pieces of meat served along a special sauce are even packed as takeaways by the tourists from abroad.
9. Sweet n sour pork
Sweet and sour pork or go lo yuk is what Hong-Kongers turn to when they have hankerings. The chunks of pork are cooked in a-sweet and sour sauce which owes its taste to vinegar and sauce made from plum and hawthorn candy. It can be enjoyed along with a side of sticky rice.
10. Congee
Congee is the comfort food for people in Hong Kong. and, it owes it more to its texture than flavor. It is basically a fleecy rice porridge which comes in varieties of fresh fish, seafood and beef congee. The porridge is kept on boil from 2 in the morning and is more than sufficient to fill a person.
Further Read: Disneyland In Hong Kong: A Tailor-Made Guide To Endless Fun In 2022 For Everyone!

If you are a food explorer who likes to try new things and expand his / her taste buds, you are going to love dining in Hong Kong. Whenever you plan a trip to Hong Kong, you must make it a task to try all the authentic and unique dishes of Hong Kong cuisine.
---
Looking To Book An International Holiday?
Book memorable holidays on TravelTriangle with 650+ verified travel agents for 65+ domestic and international destinations.
---