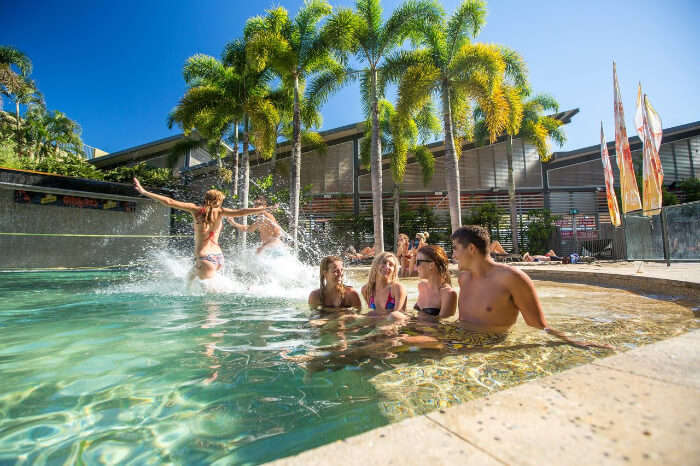 What's on the map? Are you planning your next backpacking trip to get some sun? Here are your next adventure plan and all within your pocket-budget. Plan a trip to Australia and get the adventure you were looking for with absolutely breathtaking views and terrifying yet most unique wildlife a wonderful weather and some of the best parties in the world. Join the tribe of party-flocks and get some of that Oz fix.
Enjoy the enthusiasm and when you need a place to cool off all that spirit, here we are offering you a list of amazing hostels, the backpacking mecca where you can recharge and get back to it. Check out this list we have for you and choose wisely. One thing is for sure, you are about to have the best of Aussie days and nights if you shack up in these amazing hostels.
Most amazing hostels in Australia for backpackers
1. Base Backpackers Magnetic Island – Magnetic Island, Queensland
Wake up to a gorgeous view of the turquoise-blue waters, feel the sea breeze and take a deep breath. Take in the essence of the sea and feel the salty ocean air. It's Base Magnetic Island for you! The base at the Magnetic Island offers its guests a charming spread of land where you can easily camp out under the moonlit night and a thousand stars. The island is awake at night and the view is that of heavens. And talk about the budget? This one offers one of the most affordable deals, some of the best budget hostel accommodation in Australia. The best news for the single woman travelers, there is female-only sanctuary dorm.
Places to visit around Base Backpackers Magnetic Island:  Horseshoe Bay for Jet ski, horseback riding, and see koalas; Nelly Bay in Queensland; Arcadia in Queensland; Florence Bay in Queensland, best for snorkeling and West Point in Queensland.
Things to do Base Backpackers Magnetic Island: For party buffs, there is the magnificent Full Moon Down Under Party. At least once a month these parties will be packed with 5000 people and glowing body paints. To add to the party spirit the bar is located overlooking the sea-shore. Just grab a seat and drink up.
---
Australia Honeymoon Packages On TravelTriangle
Go on a luxurious honeymoon trip to Australia and witness the best of marine life at the Great Barrier Reef. Indulge in Australia's aquatic experiences, go for nature walks, and get the best of food & wine. Find best honeymoon deals offered only on TravelTriangle.
---
2. 1770 Southern Cross Backpackers – Agnes Water, Queensland
They call it, a peach of a backpackers den, a hostel sitting amidst 16 acres of luscious green land. Behold the trees dotting through the valley, swing it on the hammocks hanging in the gardens. Let the lazy spirit of the Queensland ease you into the leisure of the land— Australia at its best offering a natural respite. If you want a bit of change of scenery there's a cute little lake, within the premise of the Southern Cross backpackers hostel. You can get free breakfast too and then there are free shuttles to the town at Southern Cross Backpackers.
Places to visit around 1770 Southern Cross Backpackers: Check out the dance club Sorry Grandma just 0.2 mi from Southern Cross Station, Go for shopping in Queen Victoria Market, take a look at the Melbourne Aquarium and have a conversation with the sharks or the starfishes. You can also visit the Flinders Street and admire the stunning architecture. Scroll ahead to the Federation Square where you will always find something or the other going on. You can also walk to the bank of the Yarra River.
Things to do 1770 Southern Cross Backpackers: Go for a swim in the pools, the swimming area is set to fit the bill of all your sunbathing needs. It's more like a resort than a hostel, best in Australia. There is Karma Bar on the site itself, so don't forget to hydrate yourself every now and then.
Must Read: This Viking Restaurant In Australia Will Excite The Thor Fan & Foodie In You
3. Gilligan's – Cairns, Queensland
If you are looking for a hostel amidst the urbane landscape and are in for checking out the local cafes and arty boutiques, don't miss out a night at Gilligan's. You cannot possibly get bored here! Just around the corner is the famous Rusty's Market. There are a pair of eclectic nightclubs and what else, they have performances by local and international DJs. You sure are in for a party! If you fall short on cash you can also earn a quick buck from the "Workers Wanted" job board where they have all the listings. Don't forget to check out the incredible lagoon swimming pool at Gilligan's.
Things to Do Gilligan's: Go and spoil yourself with shopping spree at the Rusty's Market and top it up with a tasty bite on the nearby cafes. It's a delight! And while you are at it, plan your holidays so that you can experience the weekly events at the hostel itself, at Gilligan's.
Places to visit around Gilligan's: Check out the Cairns Gypsy Fortune Tellers shop and explore the party scene at Gilligans Backpackers Hotel & Resort. You can also go for a spa in the Natural Palm Day Spa. Don't forget to hit once the Josephine Falls. Sit for a session at the Reef Teach. You can also think about a Pha Thai Massage. Book a Scooter or a bicycle and ride freely around, go snorkeling or hike through the terrains. There are adventure sports like Jump the beach that you can opt for, if you are into that.
4. Scotty's Mission Beach YHA – Mission Beach, Queensland
This one's a prototype of every other Aussie hostel with an absolutely awesome pool matched with a phenomenal party scene; the social vibe there will get you on the groove. That's all swell but what steals the show is Scotty's range of water adventures! Get the Adrenalin go all rushing. Steam it all off in the steaming room and if you get a bit low on cash checkout the jobs board at Scotty's Mission Beach.
Things to do Scotty's Mission Beach YHA: Talk about snorkeling, they have too, if you are looking for skydiving, go for it at the Scotty'. Are you in for rafting or simply island touring, Scotty's will have it all. Go for sea diving, kayaking, or hopping on a helicopter, or even trekking through the rain forest, Scotty's will not disappoint you, they have got it all.
Places to visit around Scotty's Mission Beach YHA: You can go for Free Rainforest and Creek Walks and discover the untouched beauty if Mission Beach's rainforest, creeks and water holes, you can check out the BBQ NIGHT at the hostel and spend $5 for a yummy BBQ dinner, you can also enjoy a game of pool at the local shrub bar. Talk about snorkeling, you can snorkel around the Great Barrier Reef from port Douglas and you can also skyrail in the rain forest.
Suggested Read: 11 National Parks In Australia For A Utopian Experience Into The Wild
5. Bounce Sydney – Sydney, New South Wales
This one happens to be the best in the lot and Bounce has been repeatedly named as one of Australia's best and listed in the 'Top 10 Large Hostels in the World.' The backpackers' staple, this one has an amazing rooftop view of the Sydney skyline with delicious BBQs. Bounce will offer an up-market accommodation for backpackers and it is sure to be a delight for the budget travelers. It's very conveniently located opposite Central Station.
Things to do around Bounce Sydney: Check out the nightlife at Aurora Hotel Surry Hills or at the Central Tavern. You can also go for a ride at the NSW Transport – Train. Book a trip for the Barefoot Downunder.
Places to see around Bounce Sydney: You can check out the Tipple Bar and Bistroor the Ibero American Plaza, also stop by at Dave's Brewery Tours. These are unique Sydney Beer and wine discovery Tour in Sidney. Go for a hike in the Royal National Park. You can also plan a trip to the Port Stephens or a day trip to the Blue Mountains.
Hurry up now, plan your next backpacking trip to Australia and share your crazy story of travel with strangers.
Further Read: The Horizontal Falls In Australia Is Nature's One Crazy Conjurer Which Is A Must Visit
---
Looking To Book An International Honeymoon?
Book memorable honeymoon on TravelTriangle with 650+ verified travel agents for 65+ domestic and international destinations.
---