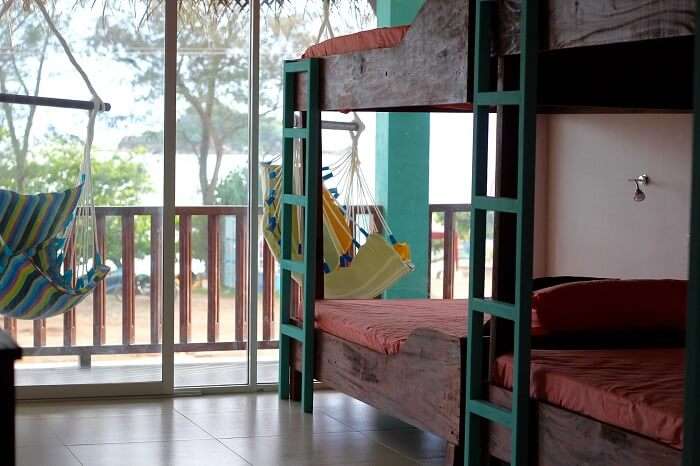 Sri Lanka is a heaven on earth that hides in plain sight, which only a true traveler knowing its beauty amongst the surrounding blue ocean knows. Over the years, it has evolved from being a neglected country to a hot spot for tourists with its gorgeous beaches, luxury resorts, comfy hostels, fantastic landscapes, rich heritage, and more. Every day, the country is evolving in the tourist sector to provide the best to the visitors. One such place one must visit is Weligama, whose literal meaning is 'Sandy Village', that gives out an idea of the hotspot of the best beaches in the country, resting on the south coast. But, if you are to visit Weligama and looking for a place to stay that will give you a homely feel on a budget, then the hostels in Weligama are the best bet to make. Wondering why? Take a look below.
7 Top Hostels In Weligama
Here's a list of the 7 best hostels in Weligama where you can relax, unwind, eat, rejoice, and repeat for as long as you want. And of course, money is one thing you need not have to worry about at all!
1. Beatroot Hostel

Image Source
The beatroot hostel in weligama is where you will find all the amazing activities to engage in the south coast of Sri Lanka. Touted as the quirkiest beach hostel, it is a space for the free minded where one can surf on the shore, get some yoga session and be able to mix with people from different cultures. This hostel tops the list for its spacious, breezy rooms and the most sought after hostels to lodge in this area. Surprisingly, this hostel serves 22 beds, with 3 mixed dorms each having 6 beds and one female dorm with four beds. The rest our private rooms that can house 2-4 people at max. with a café of its own and a shack like sitting area, one gets to live the best life in a hostel here that no one else can offer. A feel of home amongst strangers that soon become friends, the Beatroot Hostel is where you should be.
Location: 223/1, Weligama By Pass Road, Sri Lanka
Starting price: Rs 1692
Ratings: 5/5
Website
Must Read: 9 Best Things To Do In Dambulla To Have Unlimited Fun On Your Vacation In Sri lanka
2. Hangtime Hostel

Image Source
You would be amazed at the entire architecture of this building, that has thatched border railings with two sides open to the airy atmosphere. The location of the hangtime hostel in Weligama is so envious that anyone who loves to have the sea by their window makes their way into this weirdly structured yet amazing place to be lodging. This hostel boasts of its guests from different cultures, the food and the closeness to the sea. Also, the hostel has a spacious accommodation option with private double rooms, female dorm and the availability of a mixed dorm. The best part is the activities that they host for the guests, for example on Monday night they have the Open Mic Night and Pasta & Pizza Night. While Saturday's are the best as they host Beer Pong. It also has a rooftop bar and a restaurant.
Location: Weligama By Pass Road, Sri Lanka
Starting price: Rs 1692
Ratings: 4.5/5
Website
Suggested Read: Pigeon Island National Park – Home To Some Of The Best Remaining Coral Reefs In Sri Lanka
3. Wanderlust Hostel

Image Source
The hostel does justice to its name, the wanderlust hostel in Weligama is by far one of the fun filled places one can be in the south coast. Just a minute of walk from the beach, the hostel is frequented by solo travellers. This hostel too offers surfing on the shore along with which it offers a range of fun activities like Fifa, PS4 and well, banana pancakes made fresh from their own kitchen. Many visitors who have stayed there in the past has positively reviewed that the Wanderlust hostel is a home away from home. They have multiple dining space, shack like common rooms and both single and double beds that are available in mixed dorms, female dorms and private rooms.
Location: 28/7 Main Street, Weligama, Sri Lanka
Starting price: Rs 1667
Ratings: 5/5
Website
Suggested Read: Why You Should Visit Nilaveli Beach – A Place Of Bright Sunlight In Sri Lanka
4. Beach Break Surf Hostel

Image Source
With a super friendly staff and a great rooftop, the Beach Break Surf Hostel is among the best hostels in the area. The name itself suggests its closeness to the sea and the availability of surfing, where one does not need to travel far to find a surf spot. Also, the hostel offers a variety of surf lessons for newbies and arranges tours to hang around in the Indian Ocean. Well, if you want to have the best surfing experience, you know exactly where to go. The hostel is spacious and offers a public kitchen where one can go and make their own food whenever they need. The best part is, this hostel also is closest to the bus station and to the town centre apart from offering the visitors the beautiful beach.
Location: 520, Old Matara Rd, Pelena, Sri Lanka
Starting price: Rs 948
Ratings: 4.5/5
5. Basecamp

Image Source
Located across the Weligama harbour, the Basecamp hostel is best for a weekend long getaway with friends or for a solo trip. It has an accommodation of 8 rooms in total, making it a reclusive place to be for a good private stay. Apart from the lodging, the hostel offers a spacious garden where one can laze around. It is one of those places where guests can enjoy the beautiful sunrise and the sunsets with it beautiful location. Offering a warm and relaxing atmosphere, this place is where one should head to for a quiet getaway. and if you are a yoga enthusiasts, the Basecamp offers yoga space with nature at its behest.
Location: 28. Weligama Bypass Road, Sri Lanka
Starting price: Rs 2800
Ratings: 5/5
Suggested Read: Tangalle Beach: A Handy Guide For Exploring This Sri Lankan Beauty!
6. Spindrift Hostel

Image Source
A backpackers hotspot, the Spindrift Hostel is situated at the heart of Weligama. It offers a perfect place to relax and share moments with people from different cultures. It has multiple sitting areas, outdoor space and airy balconies that make it a place where one can spend their entire day without leaving the compound. The hostel was designed by backpackers for the backpackers looking for a place to lodge and relax. Also, the package of the services include wifi, free water and beverages, lickers and a communal kitchen to dish out ones favourite food. Just a few moments of walk away from the best surf zone in the area, the Spindrift Hostel is a great place to be.
Location: 49, Samaraweera Place, Sri Lanka
Suggested Read: Kalpitiya Beach: A Pocket Guide For The Stunning Gemstone Of Sri Lanka!
7. The Rockstel

Image Source
The Rockstel Hostel offers a combination of luxury and an exceptional location to lodge at. Located on the breathtakingly beautiful southern coastline of Sri Lanka, the accommodation here is fabulous and is just 5 mins away from the main beach in Weligama. This is the only hostel in the area that has a positive vibe to it with standard dorm rooms, private rooms and the availability of a king sized bed for couples, all of which have hot water and AC. With a honest line of staff that believe in providing the best service to its visitors, the Rockstel Hostel is where you can avail to extensive facilities. Every room has a seating arrangement and is furnished with comfy bean bags. The sitting area is one of the best where one can laze around and watch the sea to their hearts content. It also has a multi-use rooftop.
Location: 24, Sri Wajiragnana Nahimi Mawatha, Sri Lanka
Starting price: Rs 500
Website
Further Read: Anuradhapura Homestays: For A Relaxing Vacation Amid The Stunning Sri Lankan Landscapes!
Well, the hostels in Weligama, Sri Lanka sure are true to their promises, offering the best experience to travelers. A fantastic location for beach lovers, travelers thrive this area for its amazing lodging options, natural beauty, surfing spots, great food, and easy conveyance. So, if you are planning to get your surf groove on as a newbie, head to Weligama on your next holiday in Sri Lanka with TravelTriangle and craft memories for lifelong.
Frequently Asked Questions About Hostels In Weligama
Where can a surfer stay on the Weligama Beach?
You will find many hostels on Weligama Beach like Beach Break Surf Hostel and Surf Bay Hostel. They are the best to get into the sea within a few furlongs and go surfing when the sea tides are high.
Are hostels appropriate to stay with family in Weligama?
Yes, there are one to two-bedroom hostels in Weligama. They are the best to stay for a family at a low budget as one can get food facilities.
Are Weligama hostels best to stay for honeymooners?
You will find many beachfront hostels in Weligama with king-size beds. It is best to stay for honeymooners who are looking for a luxury and comfortable stay. It is advisable to book a beach-facing room.
Are there HVACs present in Weligama hostels?
Yes, Weligama experiences hot summers and cold winters. The modern hostels in Weligama have HVAC systems.
Is it possible to book Weligama hostels online?
Yes, you can book directly from the hostel website. Additionally, you can also book through travel channels at an affordable cost by comparing the rental price of hostels in Weligama.
Is it necessary to book a hostel in advance during the peak season in Weligama?
Yes, the peak tourist season in Weligama is from December to March. You must book your hostel stay in Weligama in advance to beat the domestic and international tourist rush.
Is it necessary to book a hostel in advance during the peak surfing season on Weligama Beach?
The surfing season in Weligama Beach is from October to March. It is advisable to book the beachfront hostels in advance as the professional and amateur surfers stay there and go surfing.
---
Looking To Book An International Holiday?
Book memorable holidays on TravelTriangle with 650+ verified travel agents for 65+ domestic and international destinations.
---