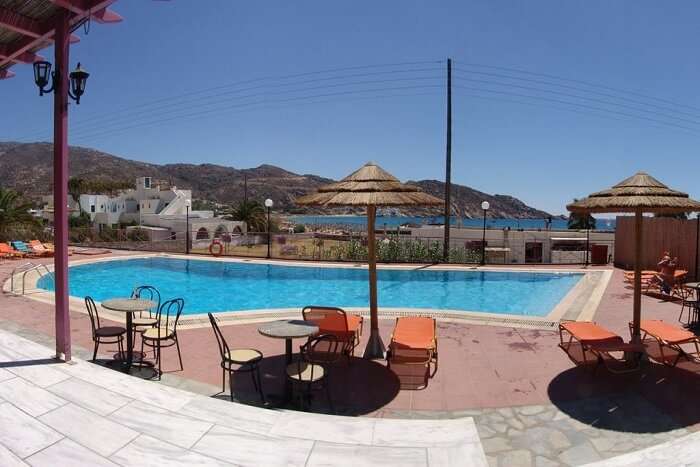 Greece, in Southwestern Europe, is situated on the southern end of the Balkan Peninsula. It is a place which provides great whether to all the people who come to see its beauty and diversity. Every year Greece witnesses the arrival of a lot of youngsters looking to have a fun and memorable holiday. Greece gives you a number to places to visit and get your minds blown off. Athens being the national capital of this beautiful yet intriguing country. Greece is also considered the place of western civilization along with being the birthplace of Olympics, western literature, western drama which make it an even more recommended country to visit if you looking a place rich in culture that has its history way back in the way, and a history worth knowing about.
Greece also has a number of beaches and islands thus, adding to the reason for it being on the top in people's bucket list. People here have a high standard of living, and which makes Greece quite stable when talking about its economy. To have dense knowledge of its history many aspiring youngsters visit Greece and this list we have formulated in made keeping those youngsters so that they don't have trouble finding a good hostel in Greece to stay in on their marvelous trip.
Best Time To Visit Greece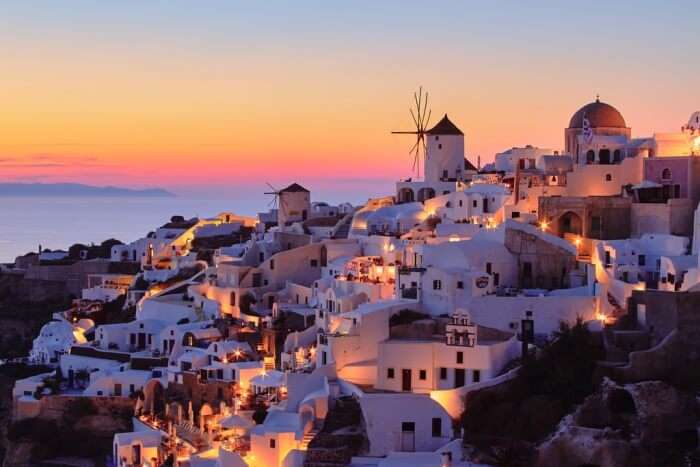 The best time to visit Greece is from late May to early October if you like great weather and a little drizzling this is the best time for you to visit this beautiful place. If you are in for a swim in warm water at the beeches July is what you should wait, during July the water warms up due to the sun and makes it the best-suited temperature for a long swim. August is the month when Greece witnesses a lot of travelers, this usually is the month when a trip to Greece will cost you comparatively more, but this is the best time if you have got your party hats on already.
Top 9 Hostels In Greece
If you're planning a thrilling holiday to this charming country, make sure you get to know the best accommodation options for a pocket-friendly holiday. Here is the list of top 10 best hostels in Greece!
1. Athenstyle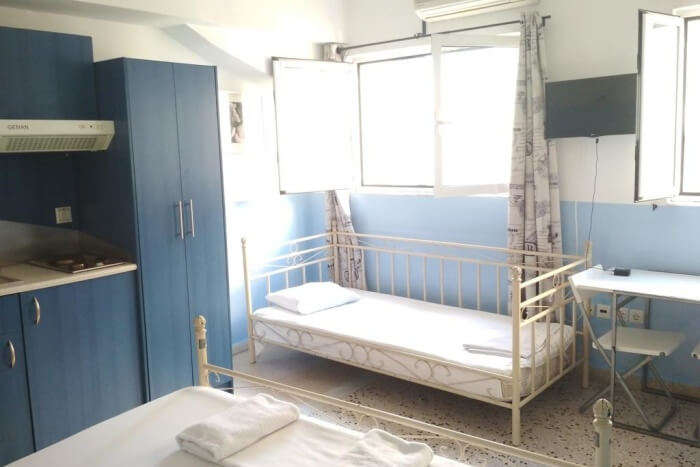 Located in Athens, Greece, this place is hardly a 10 minutes walk to most of the sight of being seen and the famous museums at Athens, Greece. People who have stayed here have said that they have their best experiences, the staff here is helpful and humble. This is the place if you want a hostel near to all the places you wish to travel on your trip to Greece.
Must Read: Greece In December 2022: A Guide To Explore The Gem Of Aegean Sea During Winters!
2. Athens Choice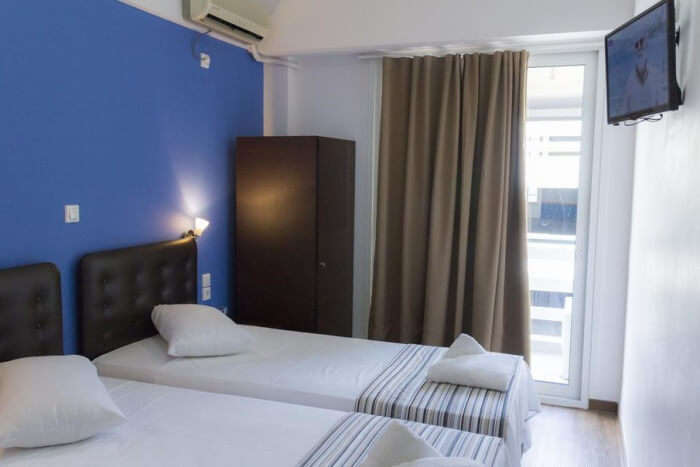 This hostel is located 100m away from the metro station which makes them all the places very very accessible. The location is ideal because you can walk to the Acropolis and various flea markets. This is one of the best hotels in Greece Athens. So, while you're out and about in this scenic land of Greece, make sure you check out this hostel for comfy rooms and a good vacay experience!
3. Santorini Hostel Kykladonisia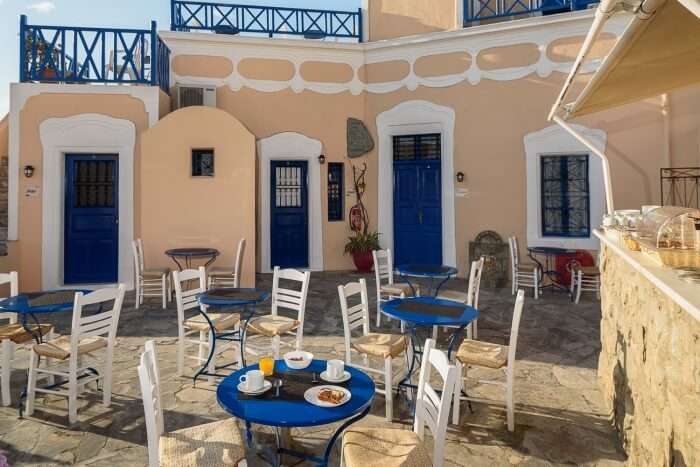 This hostel provides you with its terraces and verandas which experience an ample sunlight which is the best for the Greek weather. If you are a lover of slow afternoons and a couple of drinks in the sunlight, this is the place for you. If you are looking for budget hotels in Santorini, make sure you give this place a try for that extra added charm and pocket-friendly vacay you wish to have.
Suggested Read: 10 Places To Visit In Mykonos For An Ideal Vacation In The Picturesque Island Of Greece!
4. Sunrock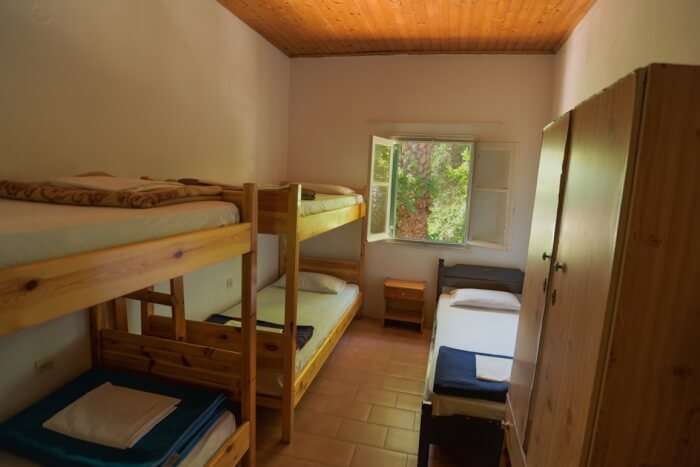 Love Greece food and wish for a 2-course afternoon meal and freshly cooked breakfast, this is your go-to place in Greece. If you have a bucket list including Greece homemade food in it, this is the place for you. The food prepared here is entirely homemade and absolutely finger linking. So, do you think you're ready to stay at this lovely hostel in Greece yet?
5. Athens Studio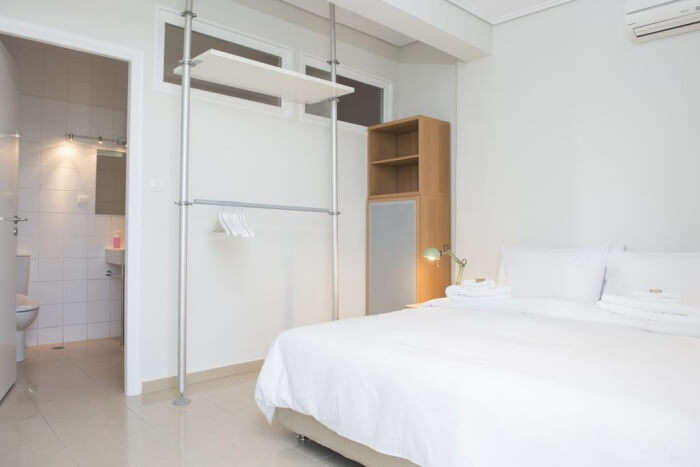 People who study hostels have mentioned this place to be the most desirable accommodations for people who come to visit Greece, its unbeatable facilities and location is the thing that very less offers. If you are in the market for one of the top hostels in Greece this is where you can put a stop on your search.
Suggested Read: 12 Best Resorts In Greece That Make You Feel Like Royalty
6. The Purple Pig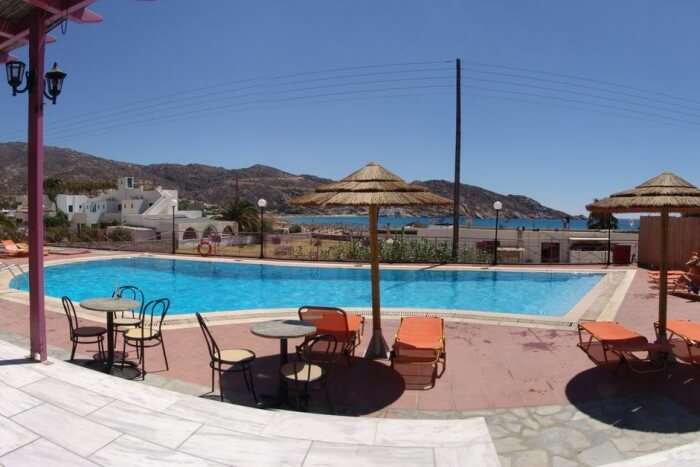 This hostel is situated on Mylopotas beach in Greece. This place is only a 15 minutes walk to the village, the walk is quite the thing you wouldn't imagine, it is beautiful. They offer dorm rooms with a balcony that gives you an excellent view of the beach. Dorm rooms are fit for the people who are traveling in a group especially for a group of friends and family.
7. Paraga Beach Hostel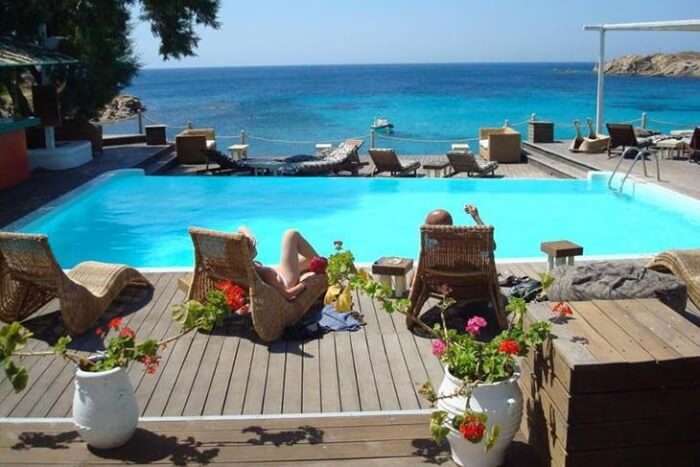 These hostels in Greece Mykonos provide beautiful huts with all the facilities which a proper 4-5 star hotels provide. They have three different kinds of accommodations. If you have a budget to look at while your trip to Greece, this place offers you the best prices for all those amenities that hotels with extreme prices offer.
Suggested Read: 10 Hotels in Greece That Are A Treat For The Senses!
8. Jimmy's Hostel

If you are looking for hostels that suit exactly your budget, this hostel is your one-stop destination. The hostel privies air conditioning, full baths, kitchenette, and wifi too. This hostel has all the facilities that a well-renowned hotel provides but at a much cheaper price. Most of the hotels do not provide as many facilities as this hotel provides so if you are looking for more amenities are a lesser price but also compromise on nothing, this is the one for you.
Suggested Read: Christmas In Greece In 2022: A Guide For The Lovers Of Christmas Festivities!
9. Youth Hostel Anna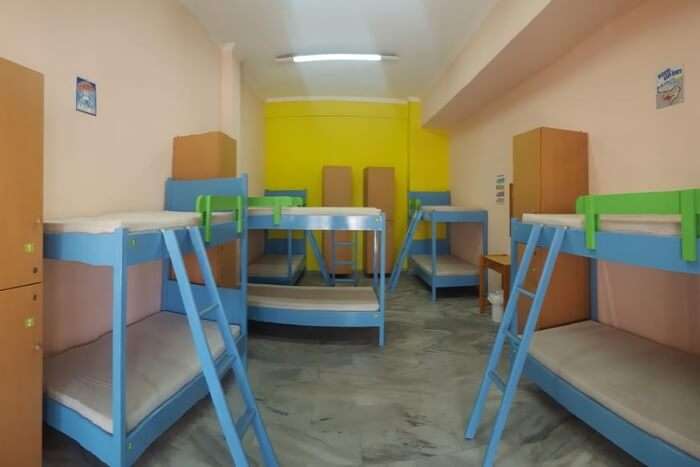 This hostel has the best staff offered by a few hostels, these people welcome you with warmth and also welcome drinks at your arrival. The staff here is courteous and obedient and you won't feel an even a bit of discomfort.
Greece is the place for you if you are looking to have a nice swim in warm water, sit in the sun and sip from the glass of your favorite cocktail. This is the perfect place for the foodie in you having all the reasons to give you a great time on your trip to Greece.
Further Read: A Honeymoon In Greece Is All You Need For A Perfect Beginning Of Your Married Life
The above discussion makes clear that there are number of hostels in Greece so to let you be assured when it comes to the tension of staying. The beaches and number of islands that Greece has to offer are just awestruck, and one should definitely pay a visit if you're planning a trip with your partner and choose from all of the above stated listings. So, book your trip to Greece for a soothing holiday experience like never before!
---
Looking To Book An International Holiday?
Book memorable holidays on TravelTriangle with 650+ verified travel agents for 65+ domestic and international destinations.
---