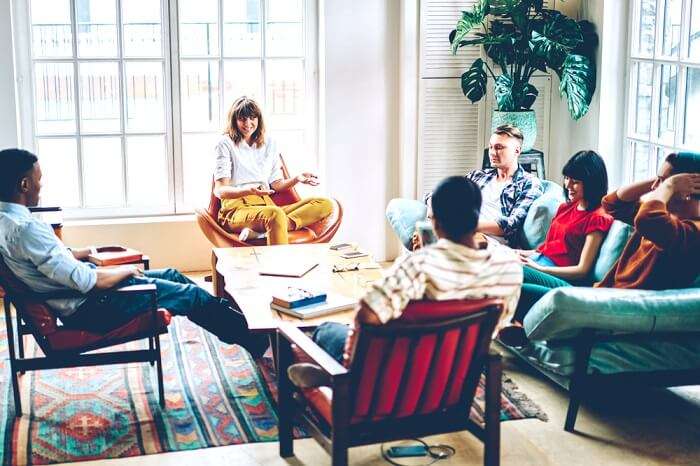 Stepping on the land of one of the most colorful and exuberant cities in Italy, Naples is a paradise for the art and culture enthusiasts. In Naples, you get to witness some of the finest archeological sites in the world which are known to hold the treasures of Pompeii. You can also enter into some of the most awe-inspiring churches in the world lavishly built and finely crafted by the Napoleons in the past. In Naples, you become a part of the rich historical culture of the city which dates back to the eighth century when it was the land of the Greeks. Since then it has been under the influence of so many different empires.
Thus as you walk down the city you will feel a rich vibrant aura which screams of the magnificent cultural influence of French, Spanish as well as the Australians. And while you explore all these amazing places, the city has some beautiful options for you to stay. Read on to know about the hostels in Naples, which are both comfortable and affordable.
10 Top Hostels In Naples
To ensure that your stay in the city is comfortable while being affordable, here we are providing you with a list of some of the best hostels in Naples, Italy where you can enjoy a comfortable stay without burning a hole in your pocket!
1. Hostel of the Sun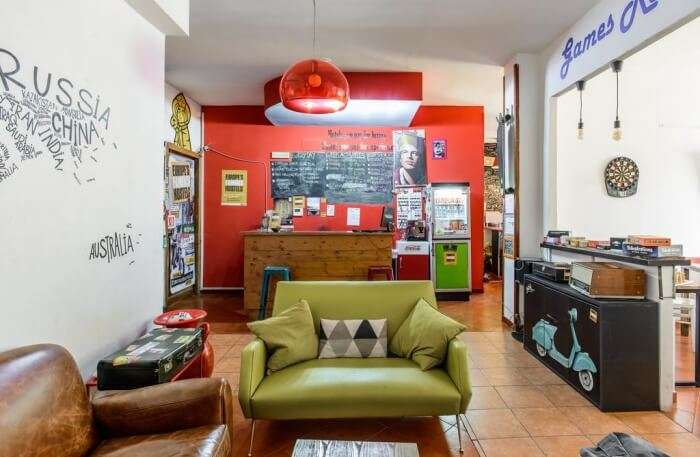 This is one of the top rated hostels in Naples. This hostel is located at a distance of five minutes' walk from the ferry terminal. If you are looking for a budget-friendly private room to stay, then this is the hostel that you are looking for. The rooms are well equipped and managed. They take special care of the cleanliness and make sure that the guests don't have to face any problem. It also has a nice big dorm which is quite colorful where you can jam with other people who are also staying there. They have provided with a shared kitchen and a bar, both well facilitated. Also, they offer free breakfast which is quite the treat!
Website
Location: Via Guglielmo Melisurgo, 15, 80133 Napoli NA, Italy
Cost: INR 1243 per person
Google rating: 4.6/5
Must Read: Italy In December: Top 6 Places That Take You Through The Best Of This Winter Paradise!
2. Naples Experience

Truly justifying its name, this hostel ensures a delightful stay for all of their guests. Also, this place is situated in one of the best locations. 10 minutes' walk from this hostel, you will land up in a locality famous for their bars and eateries in the whole city. Also, it is only 2 km away from the Napoli Central railway station. Along with that this hostel is a great place to stay as the rooms are well facilitated and highly maintained. It has a dorm too with a quirky interior. And the best part is that they have got a lounge as well as a terrace. They provide the facility of free wifi and free breakfasts too!
Facebook Page
Location: Via Filippo Maria Briganti, 67, 80141 Napoli NA, Italy
Cost: INR 1462 per person
Google rating: 4.5/5
3. Hostel Mancini Naples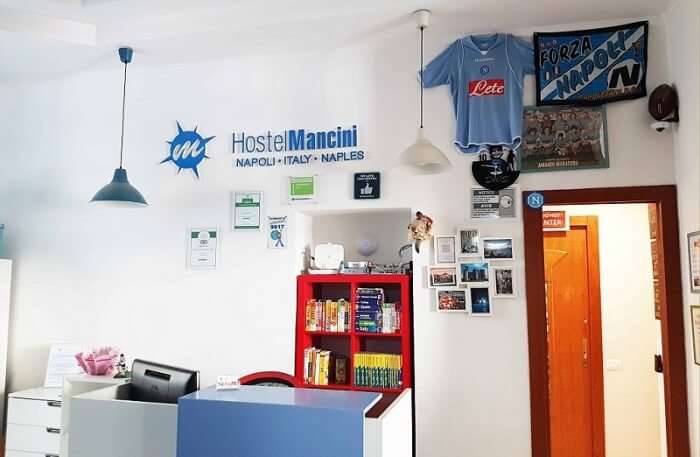 This is one of those laid back hostels which ensures that you have a nice stay in the hostel. It is located at a 4-minute walk from the Garibaldi metro station. This place features nice colorful rooms with a vibrant dorm. The kitchen and bar both are sharable. Also, the location of this hostel is great as it is located near the public transit. Overall the whole place has a great ambiance and is a perfect place to stay.
Website
Location: Via Pasquale Stanislao Mancini, 33, 80139 Napoli NA, Italy
Cost: INR 2274 per person
Google rating: 4.2/5
Suggested Read: 10 Exotic Naples Villas To Explore The South Of Italy Like Royalty
4. La Controra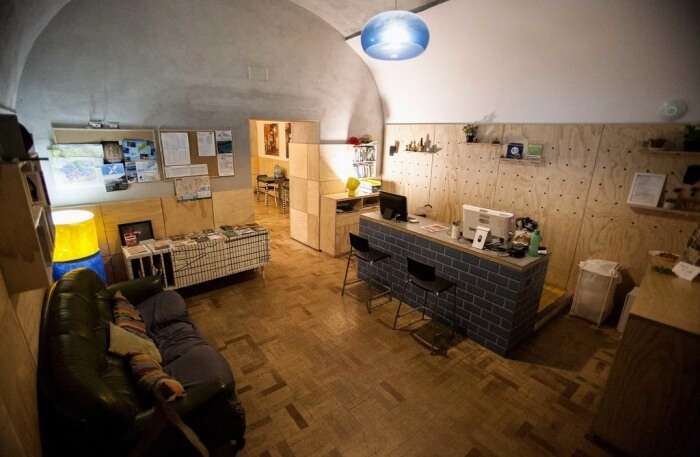 This hostel is located at merely a 5 minutes' walk from one of the nearest metro stations. Along with that, it is located in an area from where it takes only 13 minutes to reach the National Archaeological Museum and the 17th-century Royal Palace of Naples is only at a distance of 2 km from this hostel. Along with its perfect location, this hostel is famous for the different kinds of facilities that they provide. Unlike the other hostels, this one provides with eateries along with the usual shared kitchen and bar. They have got a roof terrace and a beautiful garden where you can chill out in some free time and the BBQ which is also one of the many things that they facilitate.
Location: Piazzetta Trinità Alla Cesarea, 231, 80136 Napoli NA, Italy
Cost: INR 2029 per person
Google rating: 4.4/5
Suggested Read: 16 Enchanting Beaches In Italy For A Perfect Vacation
5. Hostel Mergellina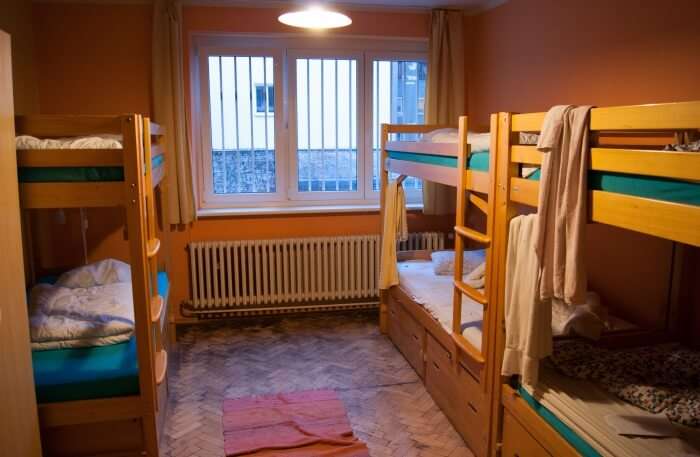 This hostel is at a 5 minutes' walk from the Mergellina train station. This hostel is more like a 3-star hostel with beautiful rooms and a vibrant dorm. They have also got a TV lounge. And they provide free breakfast as well. They have got a parking facility too. And there is a free wifi service available in this hostel all time.
Location: Salita Della Grotta, 23, 80122 Napoli NA, Italy
Contact: +39 081 761 2346
Cost: INR 2438 per person
Google rating: 3.8/5
6. Art Hostel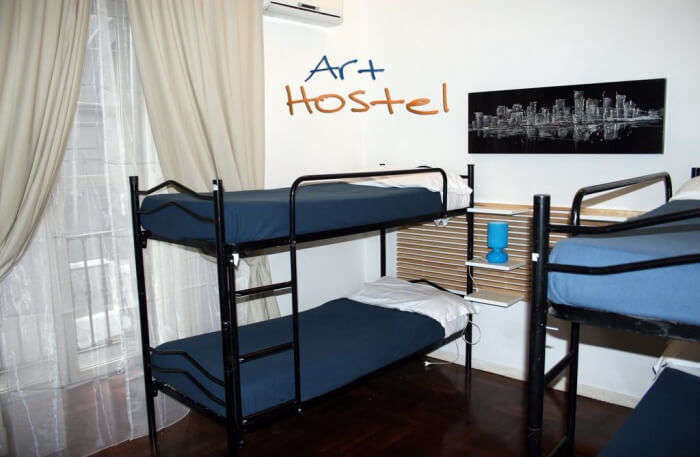 As the name suggests this is a hostel where you will find a rich influence of art. It is a perfect dwelling place for all the art lovers. The location of this hostel is absolutely great as most of the sightseeing places are located somewhere near it and is very easy to get around there. They have got both private as well as shared bedrooms which you can avail according to the rooms. It is a pet-friendly hostel and features both a restaurant and a bar. They offer free breakfast too. The staff here is very friendly and helpful.
Website
Location: Via Enrico Pessina, 66, 80135 Napoli NA, Italy
Cost: INR 3492 per person
Google rating: 3.8/5
Suggested Read: 10 Best Hostels In Italy That Are Perfect For An Affordable Sojourn
7. Alexander Hostel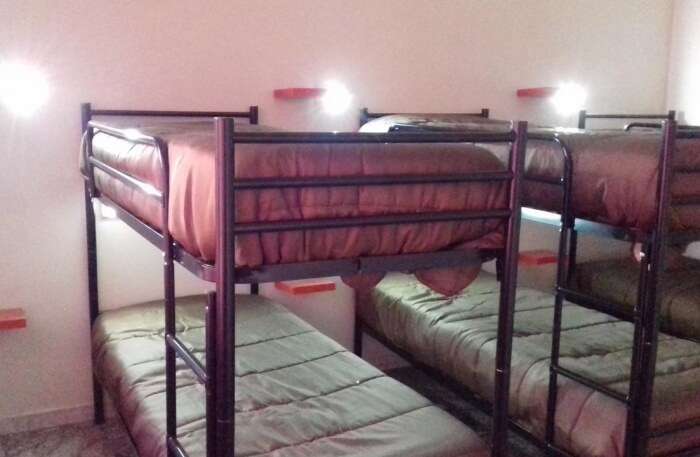 This is an affordable hostel while being equally comfortable. For people who don't want to spend much should defiantly come here. It has got rooms which are beautiful and clean. The whole place is highly maintained and well managed. The location of this hostel is also great as many of the touristy places are located nearby. Also, they provide the facility of free wifi and free breakfast which is a delight to taste.
Location: Via Carriera Grande, 26, 80137 Napoli NA, Italy
Cost: INR 1625
Google rating: 4.6/5
8. Fabric Hostel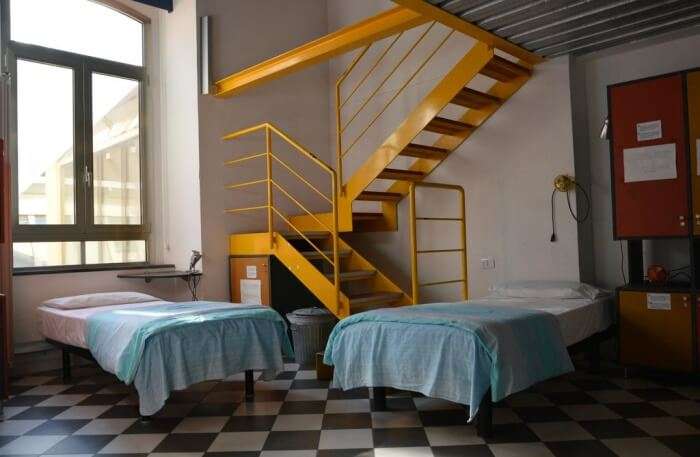 This hostel is located in a very convincing location from where most of the shops, bars, and eateries are nearby. It is at a distance of 12-minute walk from Portici–Ercolano railway. They provide private rooms and the dorms are large and lively. The main attraction of this place is the buzzing nightclub which they have just so that their guests can have a nice experience of the nightlife of this place.
Website
Location: Via Francesco Bellucci Sesser, 22, 80055 Portici NA, Italy
Contact: +39 081 776 5874
Cost: INR 2272 per person
Google rating: 4/5
Suggested Read: Shopping In Italy: 6 Best Places For The Shopaholics To Indulge In An Extravaganza
9. Hostel Bella Napoli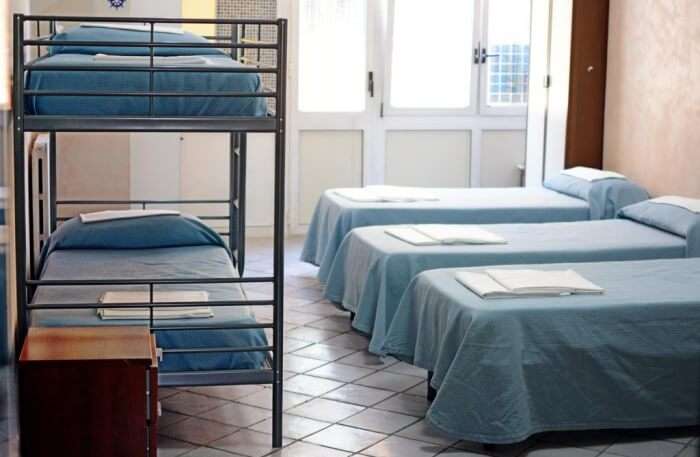 Located in a commercial area, this laid back hostel is at a very short distance from the main market of the city. Also, it is just 8 minutes walk from the Naples Ferry Terminal as well as Castel Nuevo. Other than that the rooms are quite cozy and comfortable. The place is well equipped and features a shared bar and a kitchen. They have got a nice TV lounge as well to chill and relax. They provide both free wifi and breakfast. Along with that they also have their own cute café which provides some of the most exquisite local food delicacies.
Website
Location: Via Guglielmo Melisurgo, 4, 80133 Napoli NA, Italy
Contact: +39 081 1956 2720
Cost: INR 2112
Google rating: 3.5/5
10. Naples Pizza Hostel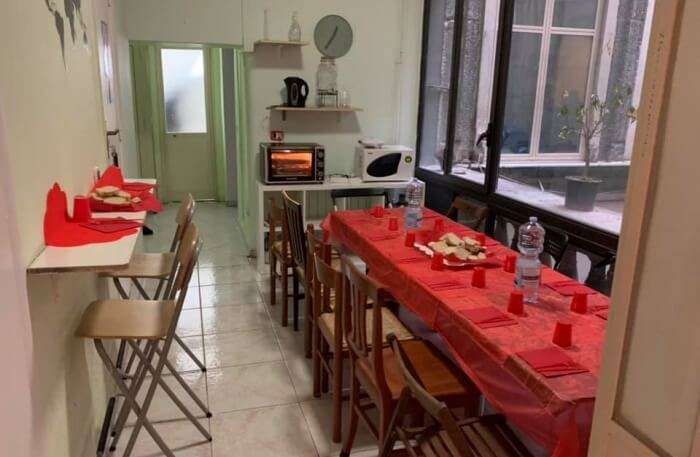 This hostel has got well facilitated private rooms offering a beautiful view of the city from its windows. It provides some facilities like full air conditioning, free wifi, and free breakfast. The whole ambiance of this place is great. Also, it is located at a short distance from the nearest metro station where it takes only 9 minutes to reach the place.
Website
Location: Via San Paolo, 44, 80138 Napoli NA, Italy
Contact: +39 081 1900 7627
Cost: INR 2761 per person
Google rating: 3.8/5
Further Read: Only For 2 Weeks In Italy, These Charming Places Should Be On Your Itinerary!
Naples is truly a city of dreams for all those who love to explore. And while you visit the magnificent places of this city you can enjoy your comfortable stay in one of the above-mentioned hostels in Naples. Book your trip to Italy with TravelTriangle and enjoy your stay at one of these amazing hostels in the city!
---
Looking To Book An International Holiday?
Book memorable holidays on TravelTriangle with 650+ verified travel agents for 65+ domestic and international destinations.
---