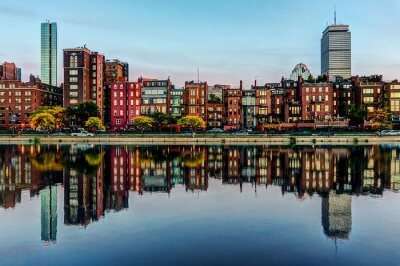 Boston, one of the oldest cities of America, is a thriving centre for intellectual elite and sports lovers. A major business and historical town, hotels in Boston are always busy with guests checking-in from around the world.

Known for their grandeur architecture and top-notch hospitality, Boston hotels provide a glimpse of city's rich history and culture during the stay. Every hotel curates profound experiences which are unparalleled to others.
If you are planning a trip to this cultural capital, pick any of these places to make your visit extra-special.
Top 15 Hotels in Boston
1. Boston Harbor Hotel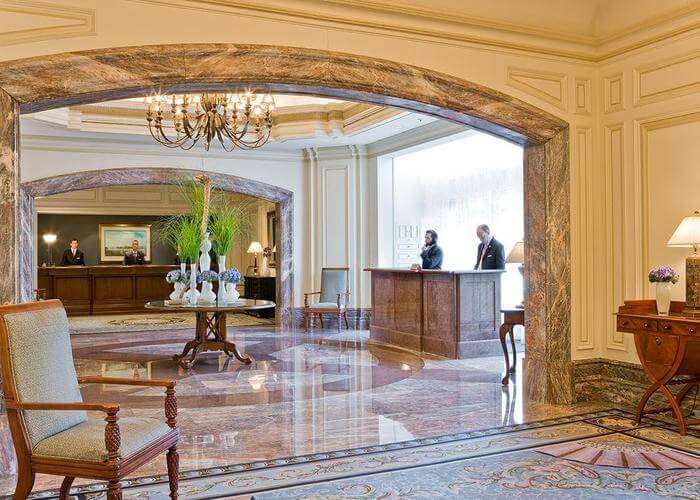 The only Forbes Five star hotel with a breathtaking waterfront, Boston Harbor offers entrée into the city unlike any other. It welcomes its guests by land or sea. The luxurious hotel rooms lets you sweep the striking panoramas of Boston cityscapes. Its award winning restaurant and 34-slip marina provide you an experience beyond compare.
Price: INR 29,047 – INR 60,626
TripAdvisor Rating: 4.5/5
Location: 70 Rowes Wharf, Boston, MA 02110, USA
2. The Ritz-Carlton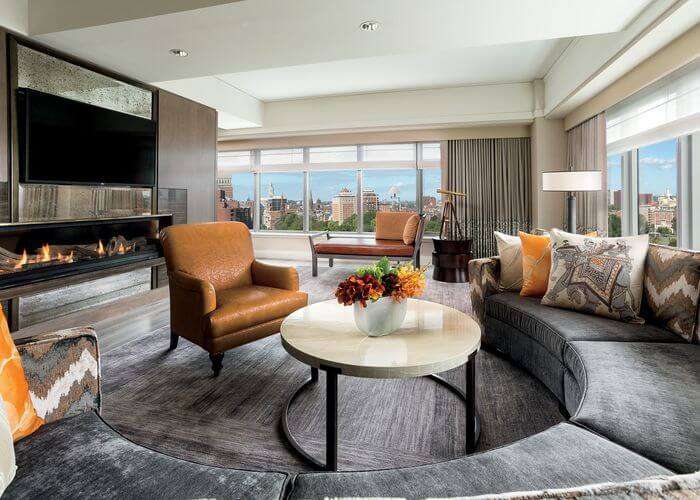 For those who like everything first-class, The Ritz Carlton is their most coveted brand of hotels housing best hotel suites in Boston. Overlooking Boston Common, the country's oldest park, it is an ideal place for tourists to discover Downtown Boston. Its locally inspired dining and stylish accommodation define the rich history and significance of the region.
Price: INR 47,435 – INR 78,015
TripAdvisor Rating: 4.5/5
Location: 10 Avery St, Boston, MA 02111, USA
Suggested Read: 10 Hollywood Hotels Where You Cannot Help But Feel Like A Celebrity!
3. InterContinental Boston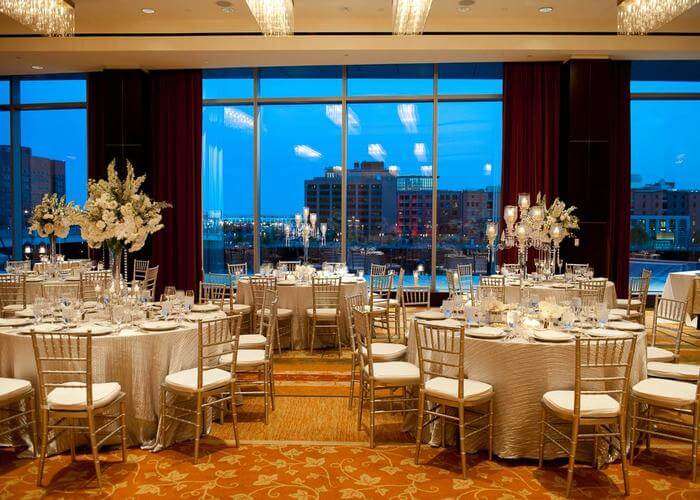 Overlooking Boston's historic waterfront, Intercontinental is a prestigious masterpiece and among the 5-star hotels in Boston. Its ultra-modern accommodations provide you with a lifestyle of elegance and comfort. The restaurant and bar offer flavours of various countries. They have a dedicated concierge team to cater each and every need of the guests.
Price: INR 19,187 – INR 43,238
TripAdvisor Rating: 4.5/5
Location: 510 Atlantic Ave, Boston, MA 02210, USA
4. Four Seasons Boston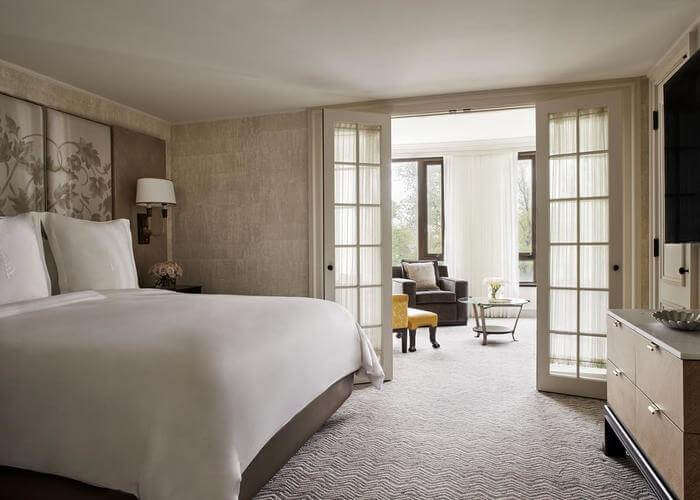 Located within easy reach of city's premier attractions, Four Seasons makes a perfect base for the tourists who want to immerse in the rich Boston culture. The styled accommodation fuses elegant and simplicity with a New England flair. Young or old, the hotels has amazing service offerings for all age groups.
Price: INR 45,836 – INR 1,28,248
TripAdvisor Rating: 4.5/5
Location: 200 Boylston St, Boston, MA 02116, USA
5. Taj Boston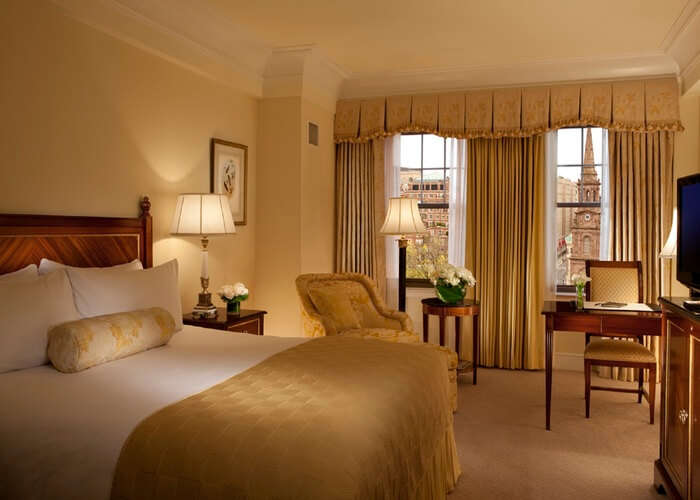 Taj Boston is an enchanting luxury hotel that lets you live in the hallmark of history. Its crystal chandeliers and traditional furnishings will keep you enchanted throughout your stay. The hotel provides signature experiences to its guests for a memorable stay making to the list of top hotels in Boston.
Price: INR 20,053 – INR 42,372
TripAdvisor Rating: 4/5
Location: 15 Arlington St, Boston, MA 02116, USA
6. Omni Parker House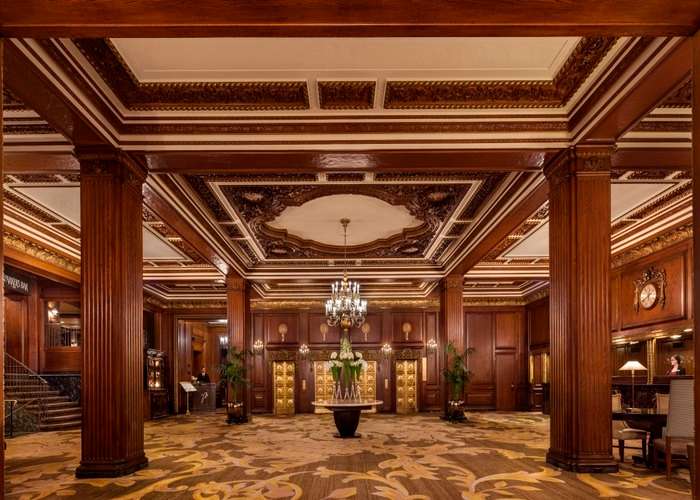 Omni Parker House is an interesting blend of old-world charm and modern conveniences known for its impeccable service and hospitality. Adorning The Boston City since 1855, the hotel in itself is an important historical building. Parker's Restaurant also has a reputation for famous Boston Cream Pie.
Price: INR 14,724 – INR 43,038
TripAdvisor Rating: 4/5
Location: 60 School St, Boston, MA 02108, USA
Suggested Read: Honeymoon In USA: 10 Dreamy Escapes For The Couples To Experience Their Own Fairytale!
7. The Boxer Boston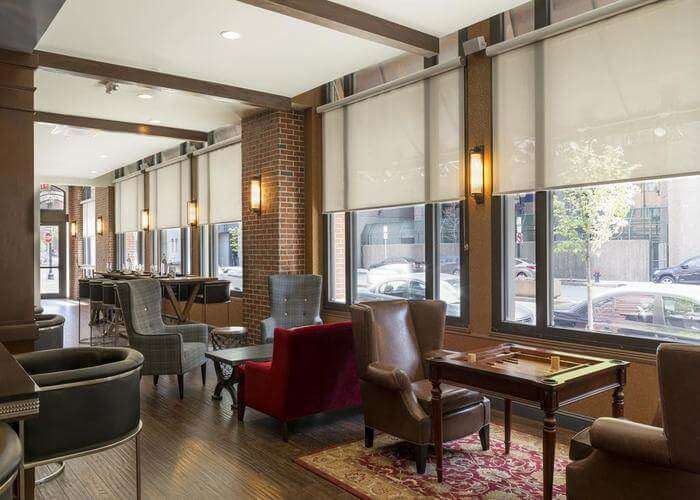 A boutique hotel in Downtown Boston, The Boxer celebrated the pride and spirit of one of the oldest cities of America. The hotel narrates the story of past and present through its design and architecture. Their personalized and intuitive service will elevate your experience.
Price: INR 13,857 – INR 34,177
TripAdvisor Rating: 4.5/5
Location: 107 Merrimac St, Boston, MA 02114, USA
8. The Langham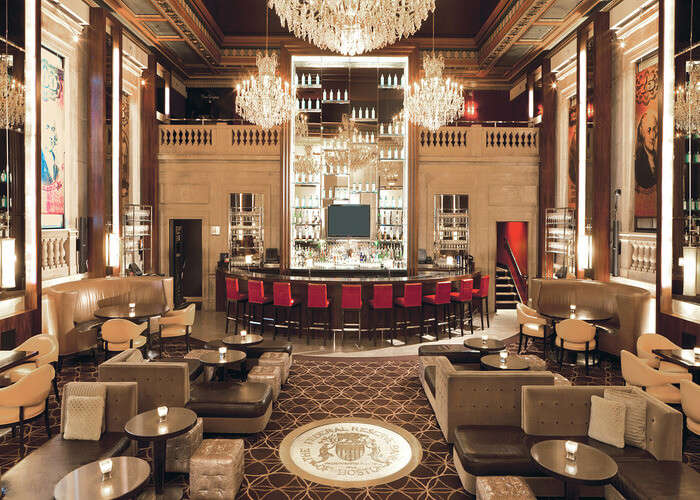 Serving its guests since 1965, The Langham Boston is your destination for exceptional luxury experience. The grand architecture and the services exude classic British elegance and style making it one of the best hotels in Boston. Its classically styled rooms and suites are an ideal urban retreat and an escape from the bustles of the city.
Price: INR 17,655 – INR 47,169
TripAdvisor Rating: 4.5/5
Location: 250 Franklin St, Boston, MA 02110, USA
9. The Eliot Hotel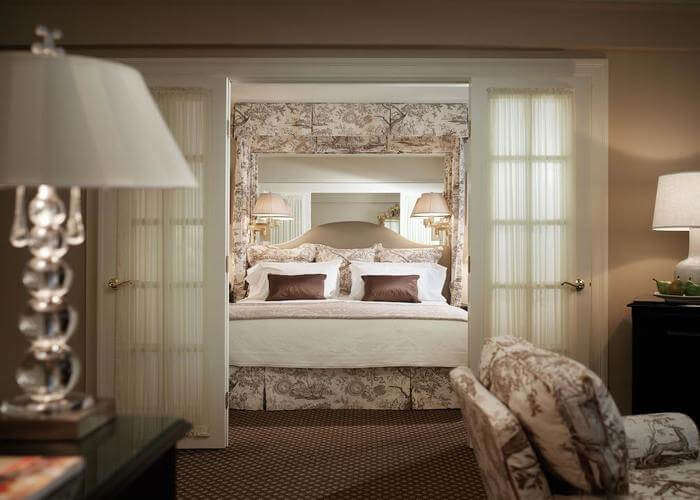 The Eliot Hotel is a Boston Luxury hotel which lets you discover a touch of Paris right here in Boston. Its European style rooms and suites are your peaceful nest in this otherwise vibrant city. Its restaurant, which is voted as the Best in the USA, provides you with unforgettable culinary experience.
Price: INR 19,054 – INR 40,973
TripAdvisor Rating: 4.5/5
Location: 370 Commonwealth Avenue, Boston, MA 02215, U
10. The Colonnade Boston Hotel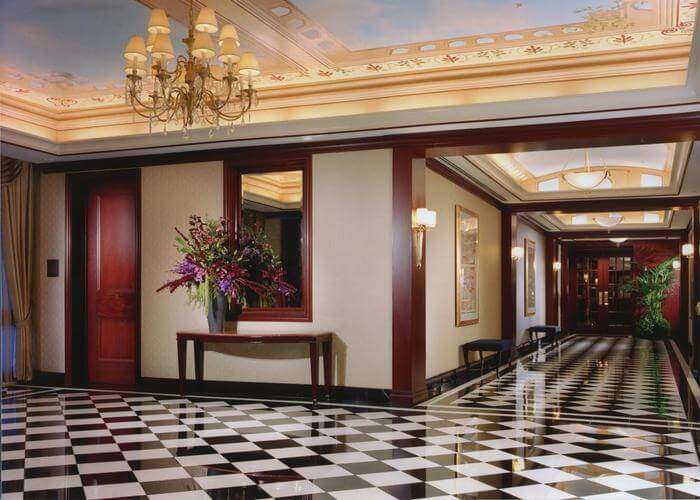 A new kind of hotel in Boston, The Colonnade is imbued with New England hospitality, East Coast Charm, and accessible luxury. Its modern and spacious guest rooms offer a peaceful retreat right in the centre of city. Its gourmet on-site restaurant is a dream come true for epicureans.
Price: INR 17,455 – INR 39,507
TripAdvisor Rating: 4.5/5
Location: 120 Huntington Ave, Boston, MA 02116, USA
11. Hilton Boston Logan Airport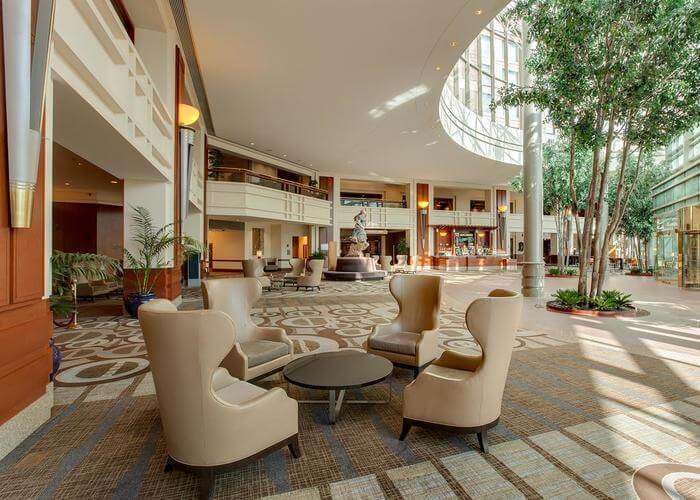 Hilton Boston is a Boston Logan Hotel with direct connection via an enclosed sky bridge to the Boston Logan airport terminals. Whether you are a tourist or a business traveller, stay the night in their comfortable guestrooms. With its complimentary shuttle service and water taxi, this hotel reaching downtown and back a snap.
Price: INR 15,123 – INR 28,714
TripAdvisor Rating: 4/5
Location: 1 Hotel Dr, Boston, MA 02128, USA
12. Courtyard by Marriott Boston Cambridge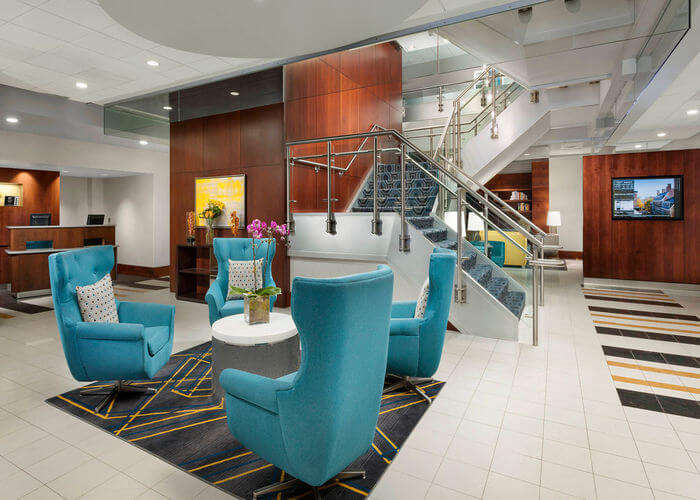 Image Source
For those who want to experience luxury and comfort, Boston Marriott Copley Place poses an excellent choice. The hotel is located near notable attractions including Copley Square. It is one of the famous hotels in Boston MA with a luxurious experience and home to the largest ballroom in New England.
Price: INR 15,590 – INR 47,768
TripAdvisor Rating: 4/5
Location: 777 Memorial Dr, Cambridge, MA 02139, USA
13. Hotel 140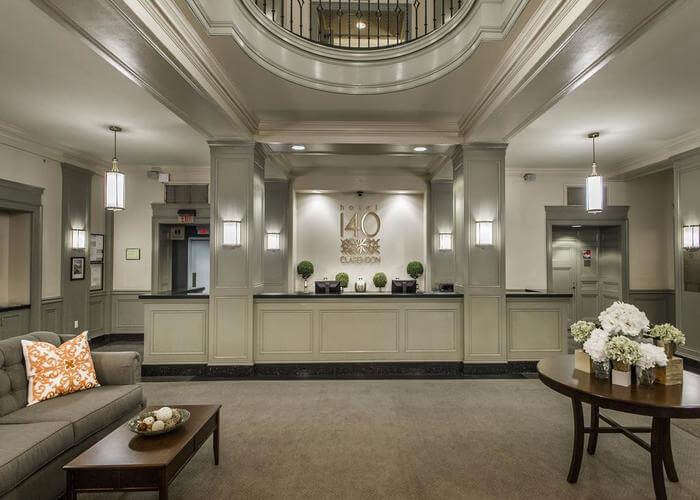 Image Source
An affordable Boutique Hotel in the back bay of Boston, Hotel 140 ushers its guests with commendable service and warm hospitality. The design and architecture of hotel is infused with 1920's charm and character. It even has a lavish Kennedy Suite, named after Boston-born political family.
Price: INR 14,219 – INR 27,770
TripAdvisor Rating: 4/5
Location: 140 Clarendon St, Boston, MA 02116, USA
Suggested Read: The USA Gets Its First Dark Sky Reserve In Idaho & It's A Visual Treat For Stargazers
14. Hampton Inn and Suites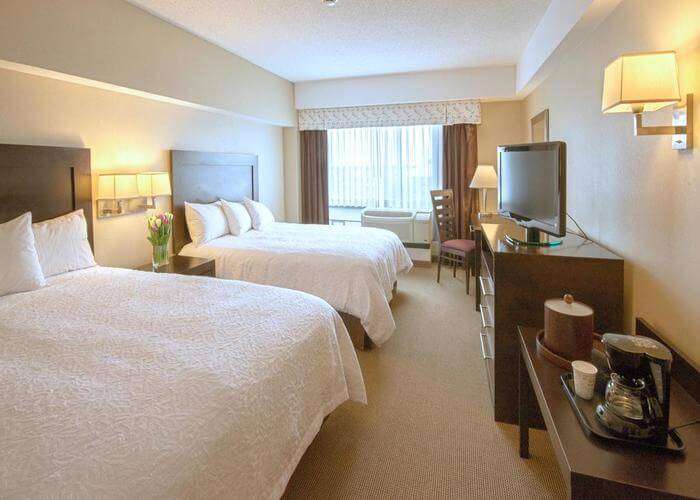 Located in close proximity to major historical landmarks, Hampton Inn and Suites at Boston Cross Center is where the Boston Tradition lives on. Get complimentary Hampton's Hot Breakfast on every stay. Their suites are comfortable, clean, and spacious. If you are travelling with family, this is where to stay in Boston.
Price: INR 13,761 – INR 24,983
TripAdvisor Rating: 4/5
Location: 811 Massachusetts Ave, Boston, MA 02118, USA
15. Samuel Sewall Inn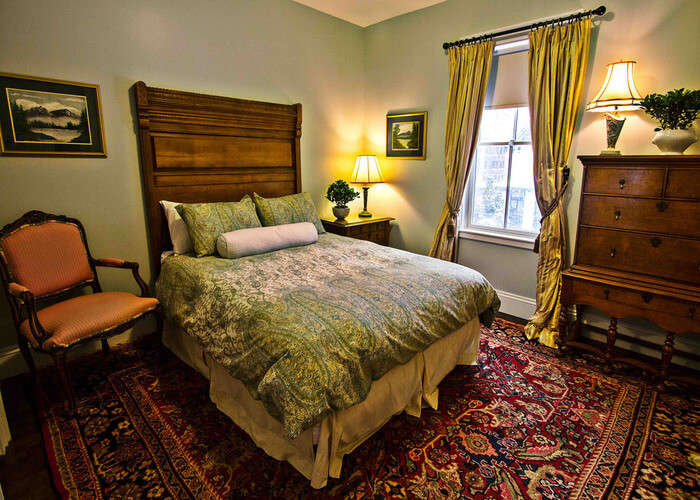 Built as a private residence in 1886, the Victorian-style Inn has now been converted to a 3-star hotel. Their friendly services and luxurious amenities will make you feel like an aristocrat despite being one of the cheap hotels in Boston. If you want something peaceful away from the bustling city yet well-connected with public transport, this place is just perfect for you.
Price: INR 14,736 – INR 22,137
TripAdvisor Rating: 4.5/5
Location: 143 St Paul St, Brookline, MA 02446, USA
Planning a trip to Boston anytime soon? You know where to stay for a world-class experience.