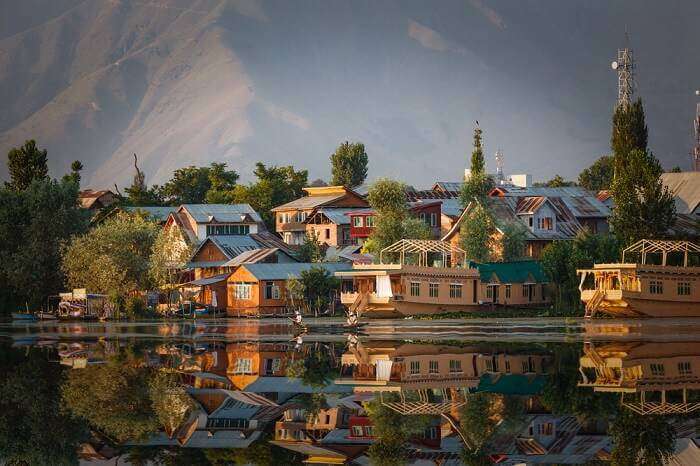 A tryst with houseboats in Srinagar is all you need to get high in the hills. But if you are sidelining a houseboat stay in Srinagar because you have experienced houseboats in Alleppey, boy you are wrong! The two are not comparable. Period.
Srinagar's houseboats are luxury abodes, anchored in a peaceful lake, surrounded by mighty mountains. The warm, cozy haven keeps you snug all night and lets you enjoy the splendid views as the sun starts to rise. The experience will certainly sweep you of your feet and there's no way you can miss it if a Kashmir trip is on the cards.
Overview Of The Stay At Houseboats In Srinagar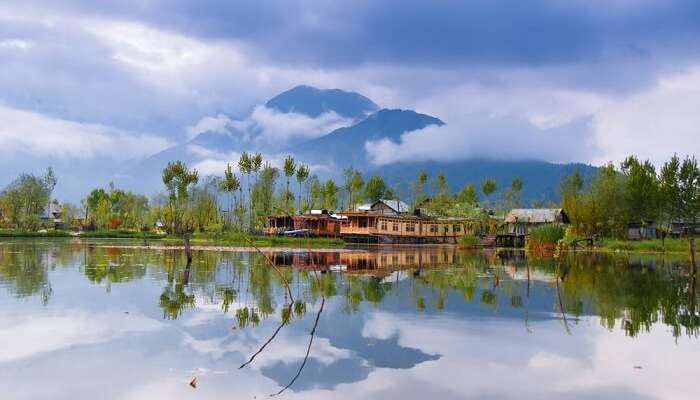 Think Srinagar, think houseboats. There is no way you can resist the charm of these luxury accommodations parked in the awe-inspiring waters of the Dal Lake and the Nagin Lake. You will be treated to breathtaking sceneries, amazing hospitality and delightful food. But unlike houseboats in Alleppey, these luxury vessels are anchored in one spot and do not move around.
No matter how long or short the stay is, don't miss the amazing sunsets, fragrant and colorful flowers, floating markets and vendors selling fresh fruits and veggies. Everything ranging from stunning landscapes to charming decor of the houseboat will leave you mesmerized. Friendly caretakers and friendlier natives make your stay on the houseboat all the more sweet and memorable.
Facilities & Meals In Houseboats In Srinagar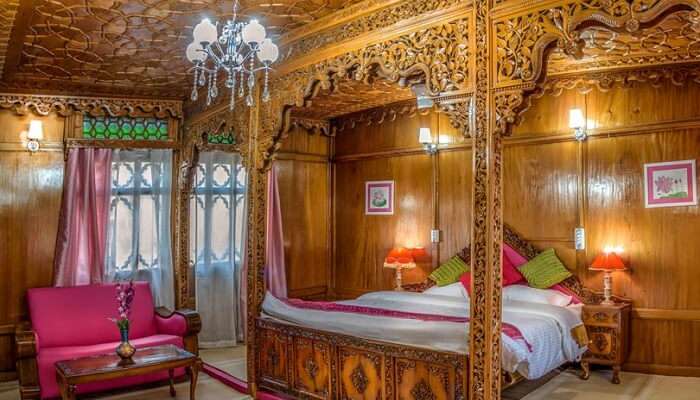 Decor: Houseboats in Srinagar signify ultimate luxury and heritage. Dolled up in rich colors and luxuriant interiors, these houseboats offer a relaxing vacation for families as well as couples. Going into details – don't be surprised to see four poster beds, ambient lamps, fab upholstery, opulent chandeliers and the likes. However, the level of maintenance and neatness may vary according to the category of boat you choose. Besides inviting interiors, you'll be lured by a beautiful lake view from the deck, dark clouds playing hide and seek with the sun, and pleasant quietude towards the night. The photographer in you will be spoiled with the myriad moments waiting to be captured.
Facilities: Most luxury houseboats will offer you a variety of meal plans. There are options for vegetarian as well as non-vegetarian meals. Essentials like 24 hour water supply and electric blankets are also available, however, power supply might be interrupted. A few boats might have their own generators – choose them if you are staying with kids or elders in the family. Also, see that a room heating system is in place. Deluxe or super luxurious boats might also offer wi-fi. Be completely assured of all important facilities before booking a houseboat. Question them about hidden costs too.
Food: Yes, it's going to be a party for your taste buds. Relish every flavor as you feast on yummy Kashmiri wazwan and an array of international delicacies. And do not forget the desserts – they are absolutely mind-blowing, and enriched with exotic ingredients like dried apples and figs.
Suggested Read: 10 Ethereal Hotels In Srinagar Near Dal Lake
Cost Of Houseboat Stay In Srinagar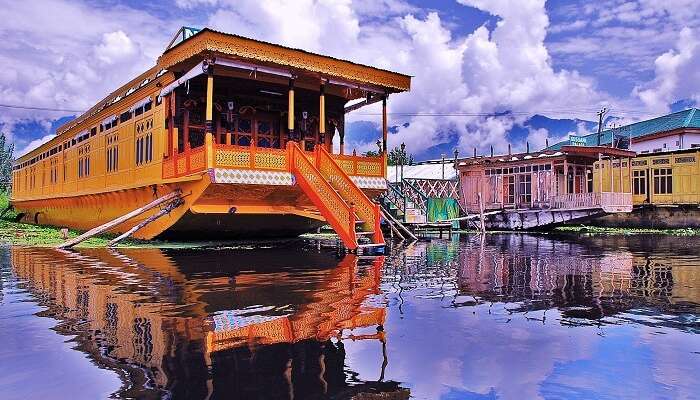 Houseboats in Srinagar fall into five main categories – Deluxe, A grade/class, B grade/class up to D. As the names say, Deluxe houseboats are the most luxurious. The level of luxury decreases as we go further till D grade/class. A well-maintained, classy houseboat would cost you from somewhere around INR 8,000 to 15,000 per night. The most luxurious ones go upto INR 2,00,000 per night.
But most popular are, of course, the budget or economy houseboats, which are available at anything between INR 4,000 to 7,000 per night. The further variation will depend on the kind of add-on facilities, services and meal plan you ask for.
Seasonal variations: There are tremendous seasonal variations in the per night tariff of houseboats in Srinagar. Given above are peak season prices. They may dip as much as 50 percent in the off season.
What To Consider When Choosing A Houseboat?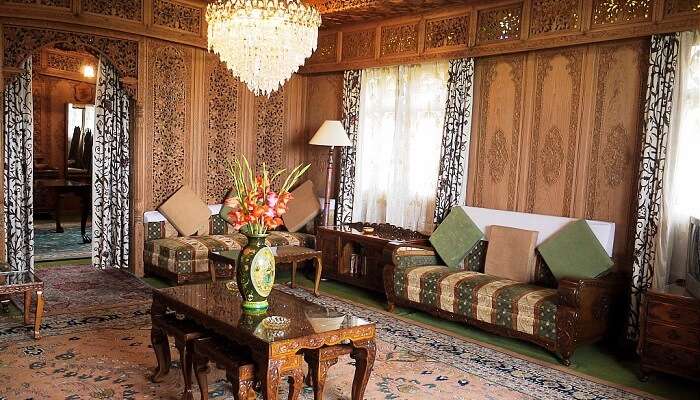 If you are all ready for a luxurious and comfortable stay in one of the best houseboats in Srinagar, then you must go through the list of important things to consider while you are choosing your houseboat. Take a look!
Location: It all depends on you whether you want a crowded location or a distant location which has one or two boats. All the boats are located at the Dal Lake but there are few which are located near the lake where you can enjoy the peace and calm of the surroundings. So, choose your houseboat according to your mood.
Food: Do check the food options before booking. If you are a vegetarian then you check the food options available for you.
Size And Type Of Houseboat: If you want a luxurious stay then you must book one of the most famous 5-star houseboats in Srinagar. These houseboats are spacious and provide the best services.
Houseboat Owners: If you want personalized attention then you must book a houseboat which is managed by its owners, People in Srinagar are quite warm and hospitable.
How To Book A Houseboat In Srinagar?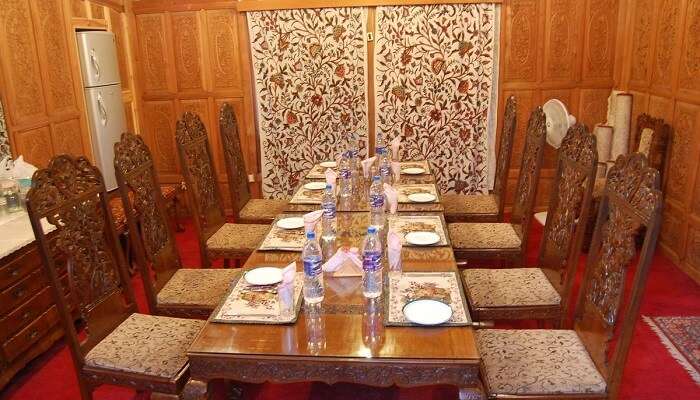 Budget as well as luxury houseboats in Srinagar are booked at least weeks prior, even in their off season.
You can make your bookings with some of the best fleet of luxury as well as budget houseboats in Srinagar with Royal Houseboats, Naaz Kashmir, and Shelter Houseboats.
Further Read: 15 Things To Do In Kashmir To See The Best Of This Heaven On Earth
All excited for your lavish stay in the famous houseboats in Srinagar? What are you waiting for? These houseboats will make the perfect stay options for your honeymoon or your family vacation. So, get packed, book your vacation in Srinagar with Travel Triangle and get ready to have the best trip of your life!
Frequently Asked Questions About Houseboats In Srinagar
Q. What is houseboat called in Kashmir?
A. A houseboat is called shikar in Kashmir. It is used for different purposes and comes in different sizes.
Q. Do houseboats have engines?
A. Those houseboats which are used for cruising do have engines.
Q. Can I live in a houseboat?
A. Yes, you can live in a houseboat. There are many houseboats in Kashmir where you can stay.
Q. Can I build my own houseboat?
A. Yes, you can build your own houseboat if you have all the necessary items required and are aware of the process to build one.
Q. Which city is famous for houseboats and gardens?
A. Srinagar is famous for houseboats and gardens. You will find houseboats on Dal lake and see various gardens like Mughal Garden.
Q. When was the first houseboat built?
A. The very first houseboat was built in 1985 in the US.
Q. How are houseboats of Srinagar?
A. The houseboats of Srinagar are static. They don't move like those in Kerala.
Q. Is it safe to stay in a houseboat in Srinagar?
A. Yes, it is safe to stay in a houseboat in Srinagar.
People Also Read:
Houseboats In Kashmir Houseboats In Alleppey
Comments
comments