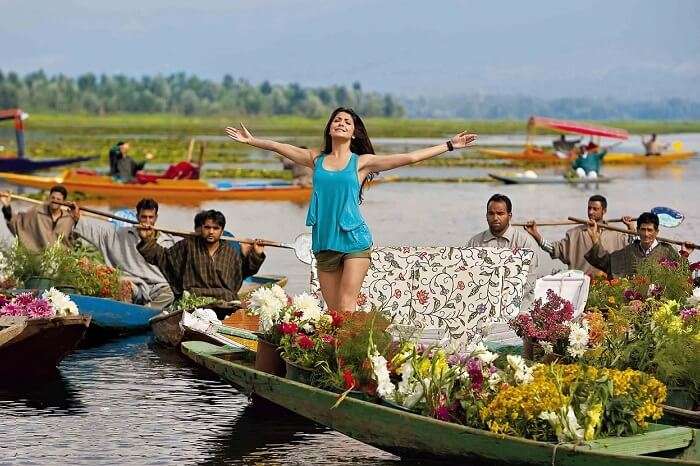 Some places are traveled, some are explored, and some are lived. But Kashmir must be felt. It's beauty and allure will be etched in your memory for a long time. To see the best of this heaven on earth, however, you must not just visit and stay. You must do things – all of the most amazing things to do in Kashmir – you must try them. That is the only way to see what these amazing valleys have tucked in their basket of goodness. The piece lists 23 must-have experiences in Kashmir in 3 sub-sections – top things to do in Kashmir, top adventure activities to do in Kashmir, and spiritual activities to do in Jammu and Kashmir. The list offers a complete information about these activities, and also gives you enough fodder to plan your holiday in Kashmir.
Best Time To Visit Kashmir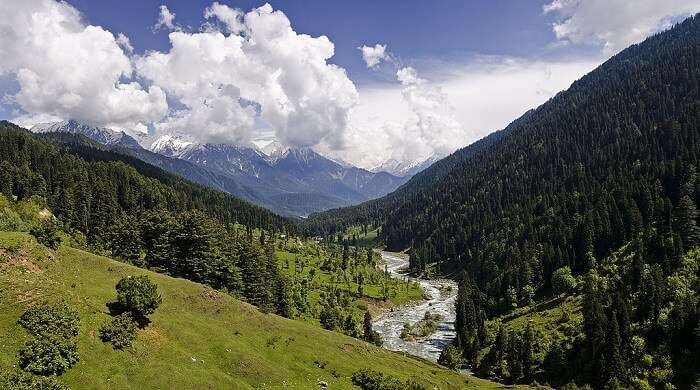 Image Credit: KennyOMG for Wikimedia Commons
Kashmir is undoubtedly the most gorgeous destination in India. If you want to experience heaven on Earth then Kashmir is the place to be at. You must plan your visit to Kashmir according to the season that will make your vacation extraordinary. The spring season starts in March and stays till early May and the summer season is observed from May to August. During these seasons the weather is heavenly and you can spend your days exploring around while cool breeze soothes your body. The best time to visit Kashmir is between March to August and to make your trip memorable you must visit during these months.
Top Things To Do In Kashmir
Mostly located in the Himalayan ranges, Kashmir offers a plethora of experiences that one must take by indulging in the below listed exciting things to do. The location and the terrain make some of the things are exclusive to this destination, so go ahead and enjoy all of these. Take a look!
1. Shikara Ride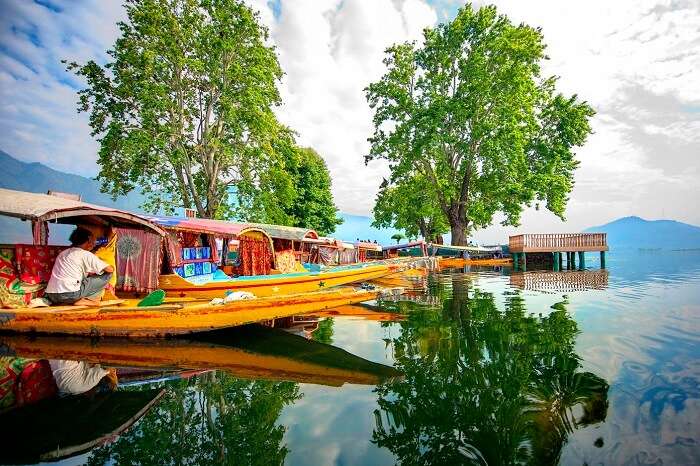 Lay back and admire the beauty of the distant mountains as your boatman takes you through a ride across the lake. Away from the hustle bustle of the polluted city life, a shikara ride ranks on the top of the list of the best things to do in Kashmir. No smoke or sound of the vehicles, no high-pitched angry crowd, nothing. Just the soft sound of the boatman's oar breaking the surface of the water and the touch of the cold water as you trail your hand on the surface of the lake.
Where To Try: Dal Lake in Srinagar and Manasbal Lake near Sonamarg
Timings: 6:00 am – 5:00 pm; all days of the week
Cost Per Person: INR 150 – INR 250
2. Houseboat Stay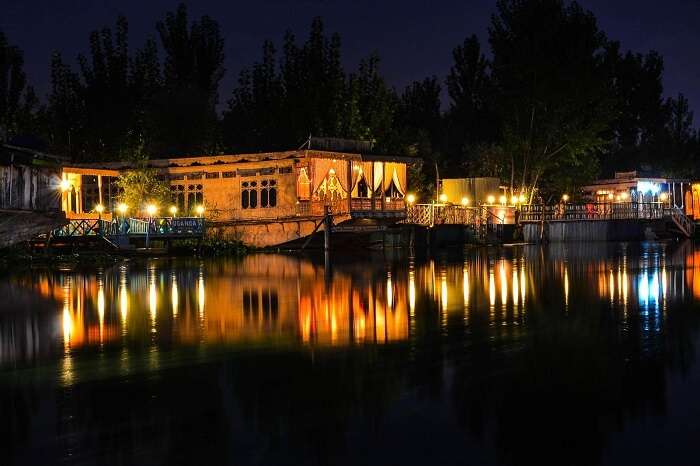 And it is not just the shikhara rides in Dal Lake, this is one of the best offbeat things to do in Srinagar. Spending a night at the houseboat docked at the Dal Lake jetty is also among the top things to do in Kashmir. Be it honeymooners, families, or solo travelers; a night stay at one of the houseboats in Srinagar is something that you simply can not miss. The houseboats have Wifi and airport transfer facilities available. You can also avail of the facilities of the meal provided by them. Houseboat stay facility in Jammu and Kashmir is the best to experience if you are here with your family, a group of friends, or with your partner.
Must Read: 10 Festivals In Jammu And Kashmir: A Peek Into The Rich Kashmiri Culture (2022)
3. 'Gondola' Cable Car Ride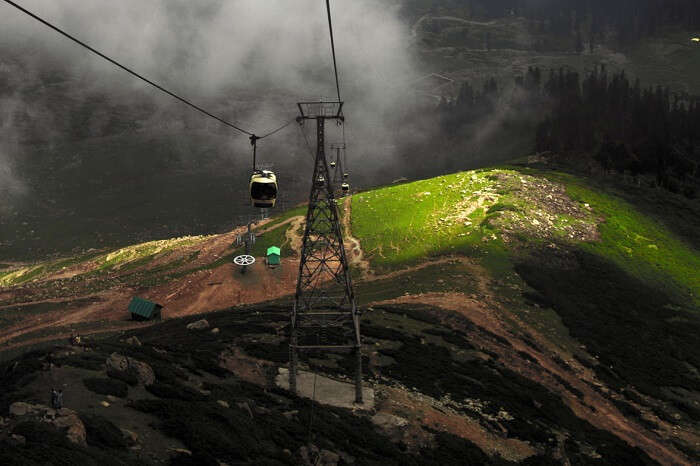 Riding the Gondola cable car is one of the exciting and fun things to do in Kashmir for people of all ages. Tourists prefer to travel via cable car to enjoy the best views of the snowcapped mountains. Taking a Gondola ride is one of the best things to do in Kashmir in May because during this month, the summers are coming to an end and the view is really great.
The ride takes place in three phases.
Phase 1: Gulmarg to Kongdoori
Phase 2: Kongdoori to Apharwat Peak
Phase 3: Kongdoori to Mary Shoulder [Chair Lift]
Timings: 10:00 am – 5:00 pm (Ride) | 9:00 am – 3:00 pm (Ticket sale); all days of the week
Cost Per Person: INR 600 (Phase I) | INR 800 (Phase II) | INR 300 (Chair Lift)
Website
4. Gulmarg Golf Club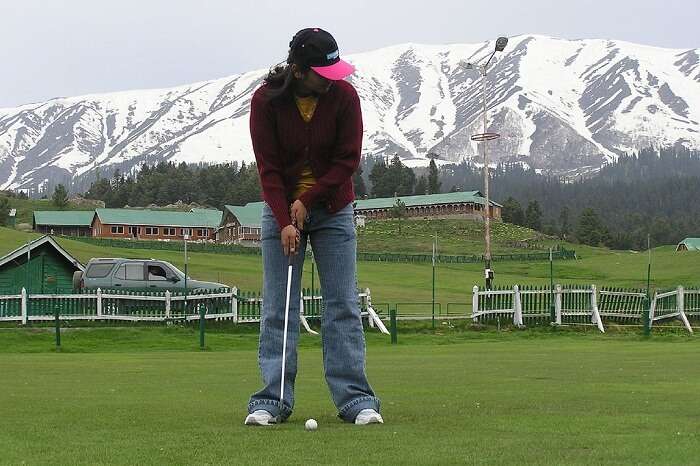 This is one of the offbeat things to do in Jammu and Kashmir. The Gulmarg Golf Club is coveted as one of the largest and highest 18-hole golf courses in the world. Playing golf in this 'Meadow of Flowers' is, indeed, one of the most fun-filled activities to do in Jammu and Kashmir. This destination has a natural golf course so enjoy this game in the lap of nature.
Timings: 08:30 am – 10:00 pm
Entry Fee: INR 800 for Indians | INR 1200 for Foreigners
Suggested Read: 15 Things To Do In Jammu In 2022: The Best Of Nature, Adventure, And Views!
5. Kashmiri Cuisine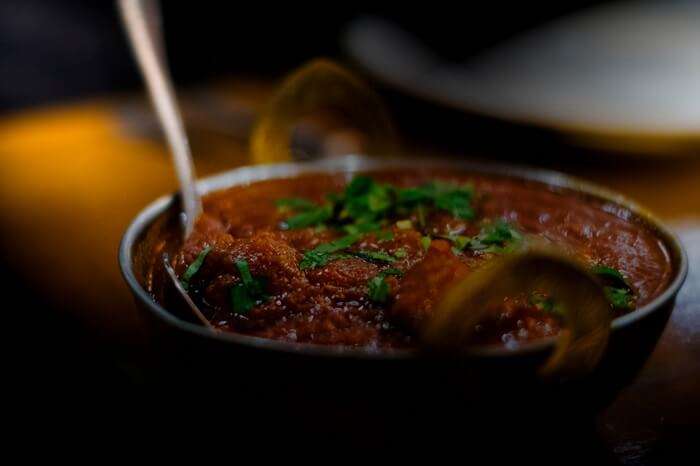 Like in any other destination across the world, trying the local cuisine is one of the most important things to do in Kashmir. We all have heard about the Kashmiri Kahwa (tea) and Lamb Mutton Rogan Josh. But the cuisine has many more sumptuous dishes. These include Nadroo Yakhni (yogurt based Kashmiri curry with lotus stems), Paneer Chaman (fried paneer simmered in tomato sauce and flavored with spices and fennel seeds powder), Dum Aloo, Matschgand (minced meatballs cooked in spicy red gravy), and Gushtaba (minced mutton cooked in flavorful yogurt gravy and spices).
Best Restaurants: Alchi Kitchen, Stream Restaurant, The Habit – Cafe & Grill
Suggested Read: Restaurants In Kashmir: 13 Places That Are Foodie's Paradise In Heaven On Earth
---
Planning your holiday but confused about where to go? These travel stories help you find your best trip ever!
---
6. Tourist Attractions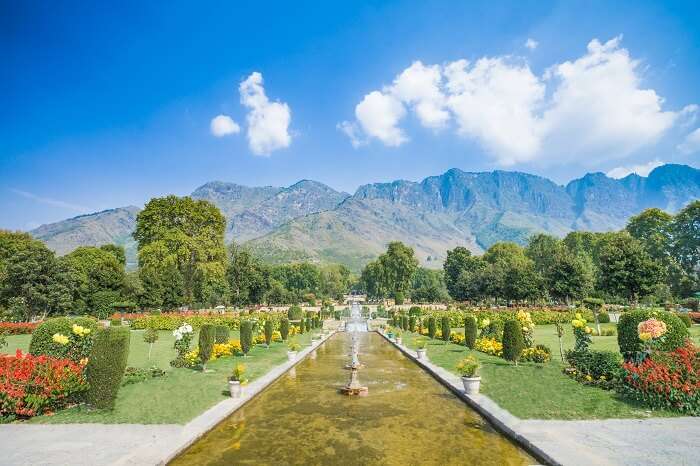 Be it a family tour, honeymoon, or an outing with friends, no one would want to miss the beautiful attractions of Kashmir. Of the various places to visit in Kashmir, Srinagar, Pahalgam, Gulmarg, and Sonamarg are the most popular ones. Heading to explore these cities is one of the most popular things to do in Kashmir.
Places To Visit In Srinagar: Dal Lake, Nehru Park, Floating Post Office, Shankaracharya Hill Temple, Jama Masjid, Tomb of Zain-ul-Abidin's mother, Shalimar Bagh, Nishat Bagh, Chashme Shahi, Pari Mahal, Hari Parbat Fort are the key attractions of Srinagar.
Places To Visit In Gulmarg: Maharani Temple, Ziarat of Baba Reshi, Khilanmarg, Apharwat peak, and Strawberry Valley are some of the places to visit in Gulmarg.
Places To Visit In Sonamarg: Thajiwas Glacier, Manasbal Lake, Ganderbal, Khir-Bhawani temple, and Narang temple are the major tourist attractions of Sonamarg.
Places To Visit In Pahalgam: Lidder River & Amusement Park, Deer Park & Zoo, Mamleshwar Temple, Betaab Valley, Sheshnag Lake, Aru Village, Matrand Sun Temple, Saffron fields, and Anantnag Sulpher Springs are some of the attractions of Pahalgam.
7. Shopping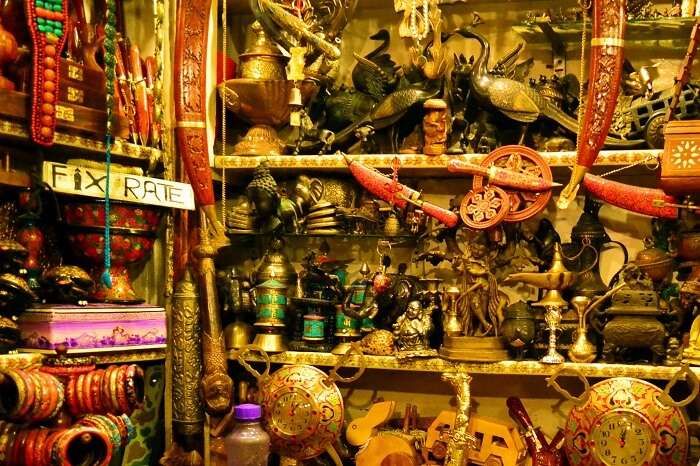 Shopping is one of the most common things to do in Kashmir. And no, I do not mean just antiques and other souvenirs. Tourists here can shop for exquisite Kashmiri handlooms and Pashmina shawls, antique copperware like samovars, Namda hand-woven carpets, local garments called Ferins, and expensive Doda Sapphire. And then there are flowers, fruits, and vegetables sold on the shikaras in Dal Lake. More than what you buy, how you buy will be the reason for your excitement here.
8. Pony Ride Excursions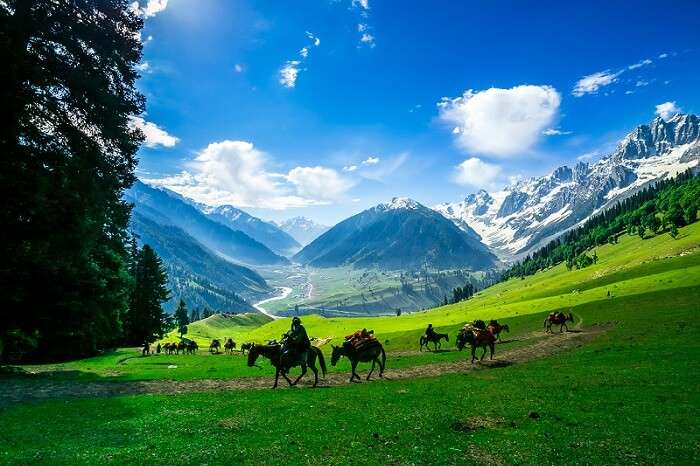 Pony is a common mode of transport in the valleys of Kashmir. Taking a short pony ride in the beautiful valleys is another interesting thing to do in Kashmir. Pony rides in Pahalgam, Sonamarg, Yusmarg, and Gulmarg are very popular. Pony rides are more common in places where transport cannot be motorized. Taking a pony ride is a great way to enjoy the real lifestyle of Jammu and Kashmir.
Suggested Read: Shopping In Jammu: 10 Top Places To Buy The Best Pashminas, Papier Mâché & Other Handicrafts In 2022
9. Old Srinagar Heritage Walk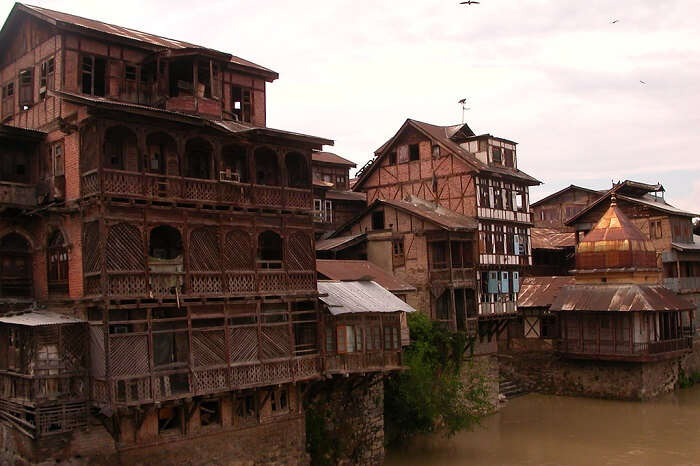 They say, walk more to know more. And the same is true with Srinagar. Taking a stroll is one of the best things to do in Srinagar. With some structures over 4 centuries old and gardens that are no less than a paradise, the city has an architecture that is influenced by 3 different styles and 3 different religions. Walking through the old town is one of the peaceful things to do in Kashmir. Visit the marvelous structures including Jamia Masjid featuring 370 pillars made of the Maple tree. Take a walk through the lanes of the old Srinagar that has old markets of spices, dry fruits and threads.
10. Wildlife Tour

The snow-capped mountains and dense forests of Jammu and Kashmir treasures some of the most wonderful and rarest species of flora and fauna. Best protected within the boundaries of over 7 wildlife sanctuaries and national parks in Jammu and Kashmir, you can explore these wildlife species by visiting any of these places including Hemis National Park, Kishtwar National Park, Dachigam National Park, Kazinag National Park, and Salim Ali National Park.
Snow leopard, musk deer, brown bear, Marmot, red fox, Himalayan black bear, golden eagles, Monal pheasants, and griffon vultures are some of the rare species that are found in this region. You can also go bird watching at one of the 24 wetlands in Jammu and Kashmir where over 500 different species of bird find a home. Gharana and Surinsar regions in Ladakh are ideal places to spot migratory birds. You would get to see Black-necked crane, European blue whistling thrush vulture, falcon and bar-headed geese.
Suggested Read: 11 Experiences That Make Ladakh In May 2022 A Heartwarming Trip
11. Indira Gandhi Memorial Tulip Garden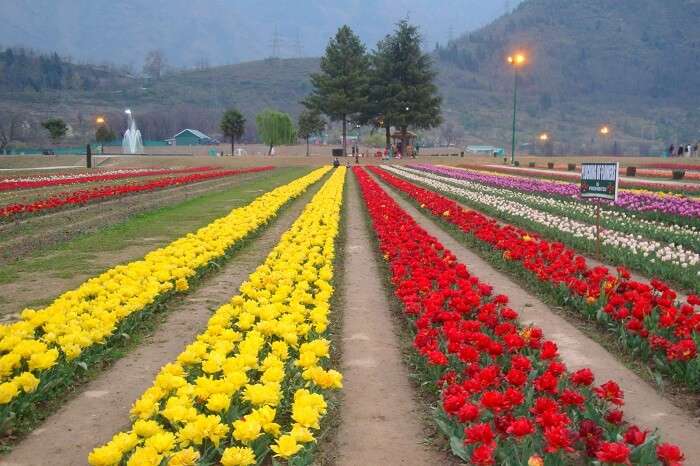 Your visit to Kashmir is incomplete without visiting this beautiful tulip garden. Called the Indira Gandhi Memorial Tulip Garden, it is one of Asia's largest tulip garden. Apart from tulip there are many other species of garden – hyacinths, daffodils and ranunculus. The best time to visit this garden is from March to May. Every year in April, tulip festival is celebrated in which tourists can enjoy the mesmerizing views of the garden at its full bloom.
Location: Jammu and Kashmir, Cheshma Shahi Road, Rainawari, Srinagar
Top Adventure Activities To Do In Kashmir
Kashmir is full of experiences and there is so much to do and see. And if you want to do something that is different from the regular tourist tours, here are some offbeat things to do and activities that you can do in this heaven on Earth:
12. River Rafting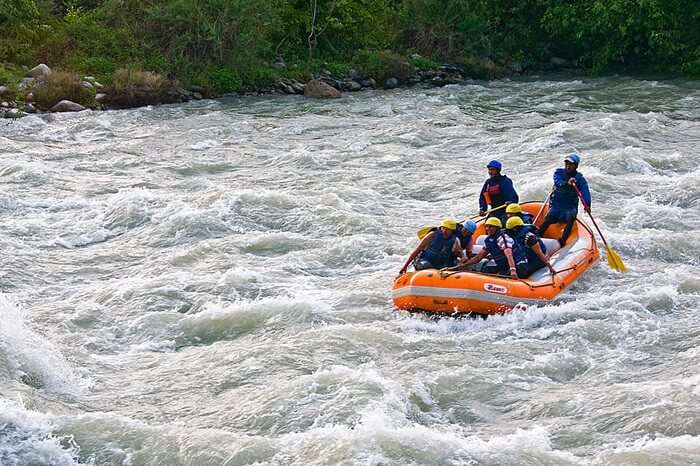 White river rafting is one of the most adrenaline rush giving adventurous things to do in Kashmir. The rapids here are easy or moderate, which implies that rafting in Kashmir is not very difficult. You can go rafting near Sonamarg as well. However, the white water rafting in the Lidder river in Pahalgam is more famous. Teamwork coordination is an important feature in river rafting and you must also follow the safety instructions given by the instructors
Details:
Short Lidder River Rafting: 3 km (Pahalgam) | Yarganpal to Yaneed Bridge | Grades II & III
Medium Sindh River Rafting: 8 km (Sonamarg) | Mamar to Satrun Margund | Grades II, III, & IV
Long Sindh River Rafting: 28 km (Sonamarg) | Mamar to Wayul Bridge | Grades II, III, & IV
Suggested Read: Snowboarding And Skiing In India In 2022: Top 14 Destinations
13. Paragliding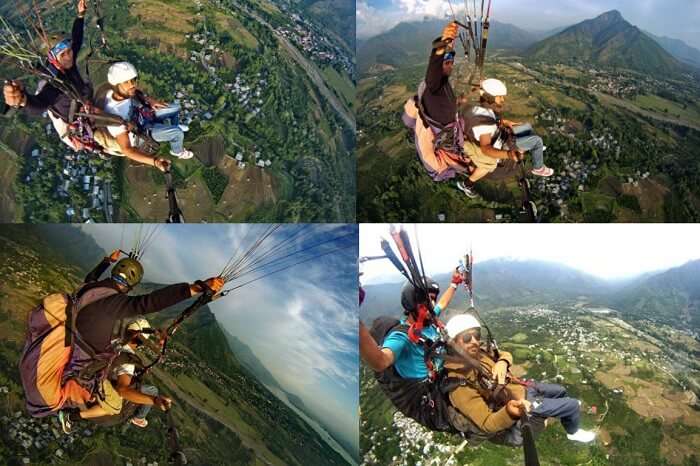 For all those adrenaline junkies, there is also an option to go for paragliding. The majestic beautiful valley beneath is a sight to behold. The unique view of the green valleys makes paragliding one of the most thrilling things to do in Kashmir. Paragliding options are available in Sonamarg, Gulmarg, Bhaderwah, Sanasar, and Harwan (Srinagar). Of these, paragliding in Harwan is most easily accessible as it lies on the route of the tour of the Grand Mughal Gardens.
Note: Refer to the Website for details about paragliding at Harwan.
Tip: Also try paragliding and hot air ballooning at Sanasar.
Suggested Read: 50 Places To Visit In Leh Ladakh For A Spell Binding Vacation In The Year 2022
14. Trekking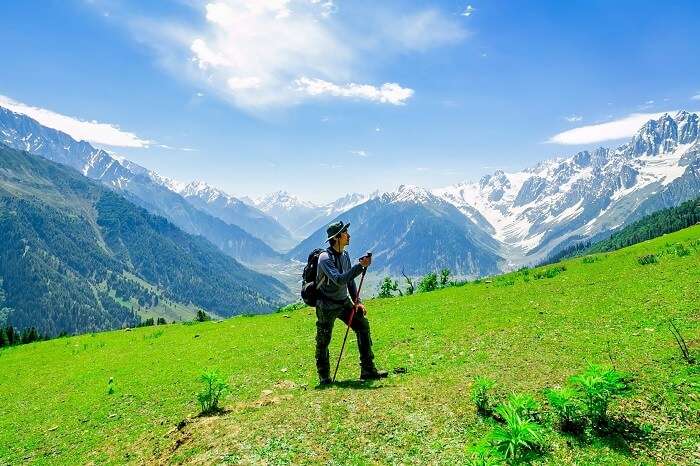 With mountains generously covering the landscape of Jammu and Kashmir, trekking has become one of the best things to do here. Though in the state of Jammu and Kashmir, trekking in Ladakh is more famous. There are short treks and hikes that tourists can take in the valleys of Kashmir. There are many high altitude alpine lakes in Kashmir, such as Vishansar Lake, Tarsar Lake, Gadsar Lake, Alpather Lake, and Satsar Lake.
Since these beautiful lakes can only be accessed after scaling the hills, trekking has become one of the best things to do in Kashmir for the nature lovers and adventure seekers. No matter how long the trek is, the final view from the top is definitely going to be breathtaking. Make sure you wear a comfortable and grippy pair of footwear to the trek. Carry enough water to drink, and wear you sunscreens too.
15. Skiing And Snowboarding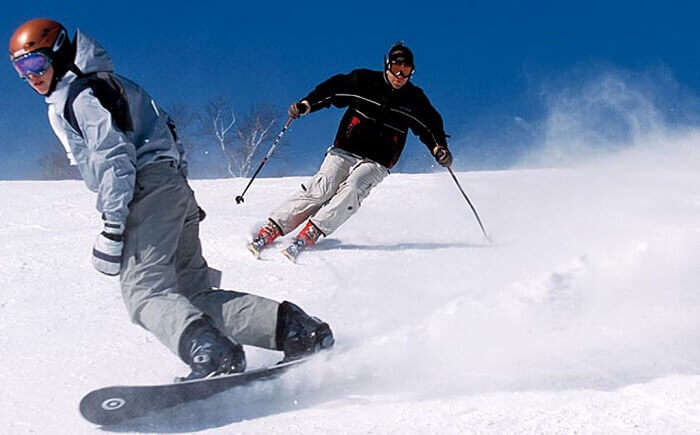 Kashmir is a cold region, with snow-capped mountains and freezing – cold river streams, and to experience it at its best, you must visit Kashmir in the winter season. This is one of the best things to do in Kashmir in Winter. With the onset of winters, Pahalgam, Sonamarg, and Gulmarg are entirely covered in snow. And this open ups an opportunity for winter sports. Snowboarding and skiing are the best things to do in Kashmir during winters, especially if you have an adrenaline rush to satiate. If you are looking for things to do in Gulamrg, then you should try skiing there.
Skiing Organizers: Powerhounds (Gulmarg) | Jawahar Institute of Mountaineering and Winter Sports (Pahalgam)
Adventure Seekers Can Also Take A Beginner Level Ski Course At Pahalgam:
Cost Per Person: INR 5,600 onwards*
Dates: 30th January to 2nd February and 5th February to 8th February
Contact Number: +91-99069678430
*Package inclusive of instructor, skiing dress, equipment, food, and stay
Suggested Read: 8 Tourist Circuits Of Ladakh To Cover The Best In 2022
16. Mountain Biking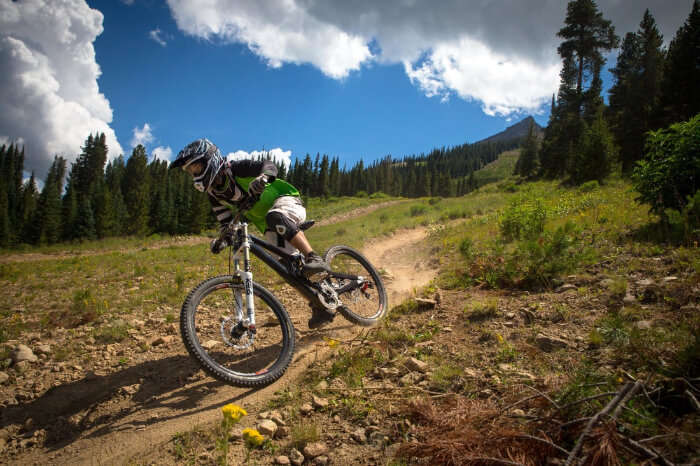 Ever thought of exploring the green valleys, snow-capped mountains, gushing rivers and still-clear lakes on a bike? If this has been your idea of fun then there is no better place than Jammu and Kashmir. The location, the scenery, and the terrain make this destination ideal to enjoy mountain biking activity. If you like smoother rides then Kashmir Valleys are apt but if like an off-roading experience then Ladakh's rugged terrain is the best. The challenging treks during your cycling journey would raise the bar of thrill too. The popular cycling routes include Srinagar to Sonamarg, Sonamarg to Manasbal lake, Srinagar to Gulmarg, Gulmarg to Pahalgam, and Pahalgam to Srinagar. And if you want to meet the mighty Himalayas, take the Srinagar – Leh highway route that goes through ten mountain passes.
17. Hot Air Ballooning

Jammu and Kashmir have countless options when it comes to adventure activities and they are not just limited to land and water. The vastness of the landforms here and the beauty of the scenic views make it a perfect destination for Aero sports too. Just like paragliding, hot air ballooning is also gaining popularity demand. The mesmerizing sight of the lush-green and floral hills, deep valleys, snow-covered mountain ranges, milky – white streams and those signature-style slope-roofed houses, from the top will really want you to extend your stay in this heaven on Earth. Valleys of Suru and Zanskar are the popular spots in Jammu for enjoying hot air balloon rides. The ride takes to a height of around 3,000 feet and lasts for about 2 hours. Winter months are the best time to experience this activity.
Suggested Read: Magnetic Hill In Ladakh: A Handy Guide To Unravel This Mystery In 2022!
18. Golfing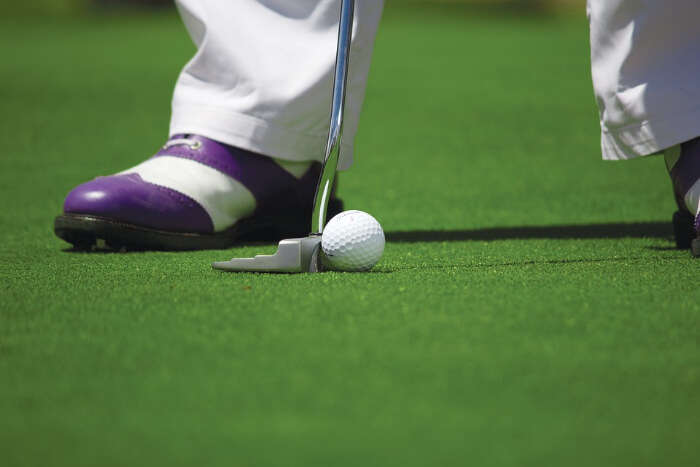 Image Source
Golfing at Pahalgam is one of the top activities to do in the city. The city houses a 9-hole golf course, also called 'Plateau' by the localities and is famous for numerous reasons including scenic beauty, high altitude and an array of facilities. Visitors coming to play this game pay at an hourly basis. Places surrounding the Pahalgam Golf course has stunning photo opportunities. Don't miss the chance to get yourself clicked at this popular spot.
Entrance Fee: INR 1200
19. Camel Safari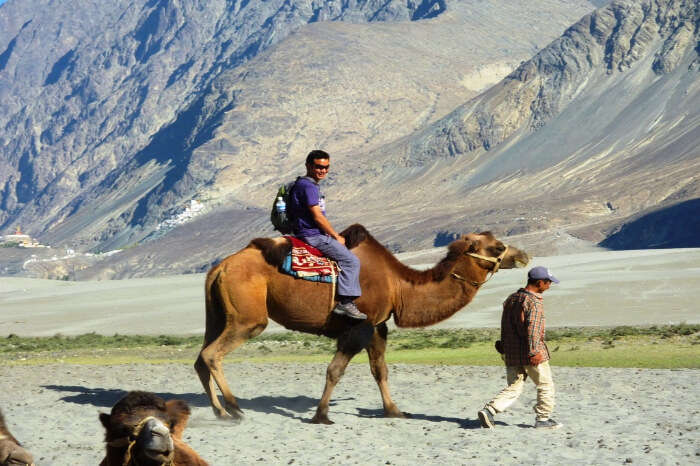 Among other activities, camel Safaris are one of the most popular attractions of Ladakh. This place is famous for its double hump bactarian camels. The safari starts in nubra valley from Hundar Village to Diskit and ends at Panamic village. Riding on the back of a camel through the is an experience of a lifetime which every tourist heading to Ladakh should try. The best time for this exciting safari is from July to September.
Fee: INR 500 for an hour (it takes about two hours for the ride to complete)
20. Camping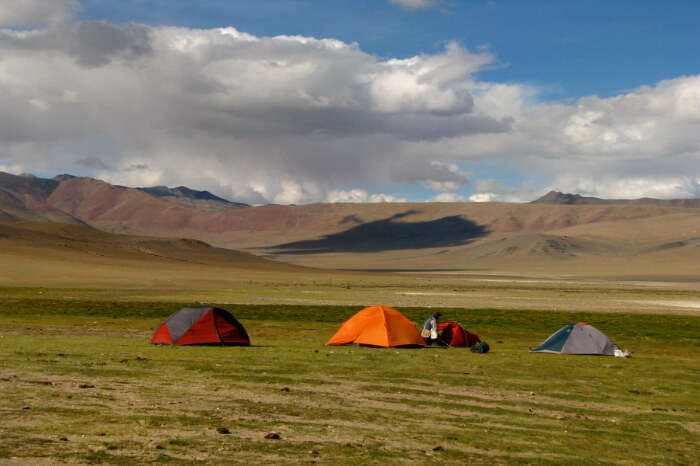 The three regions of Jammu, Kashmir, and Ladakh have numerous trekking spots making it a wonderful place for an activity like camping in Kashmir. Camping in Kashmir allows visitors to feel the ambiance of the beautiful place. Pahalgam is the ultimate destination to go for quaint camping. Other places include remotest valleys of Chatpal, Daksum, and Karnah.
Spiritual Things To Do In Jammu And Kashmir
If you thought Jammu and Kashmir is only about the breathtaking scenic beauty, here's a surprise for you. If this is heaven on Earth, there has to almighty's abode too. Here some of the popular temples, shrines, and monasteries in Jammu and Kashmir that you must not miss on your visit:
21. Amarnath Cave And Vaishnodevi Temple

Taking a pilgrimage to Amarnath Cave & Vaishno Devi Cave Temple is among the most religious things to do in Jammu and Kashmir. The Amarnath Yatra is done to worship the ice stalagmite Shivalinga. It is said that Lord Shiva explained the secret of life and eternity to Goddess Parvati. The pilgrimage takes place during July – August. This 45-days Shravan Mela is dedicated to Shri Amarnath Ji.
The Vaishno Devi Yatra is a pilgrimage to Mata Vaishno Devi. The Trikuta mountain, where the shrine is located, has one base but three different peaks. A similar structure is seen inside the cave. The three heads are said to be of Mata Kali, Mata Laxmi, and Mata Saraswati – Hindu goddesses. This yatra, too, takes place in the months of July and August.
Suggested Read: Visit These 19 Monasteries In Ladakh For A Purifying Experience In 2022
22. Ladakh Buddhist Monasteries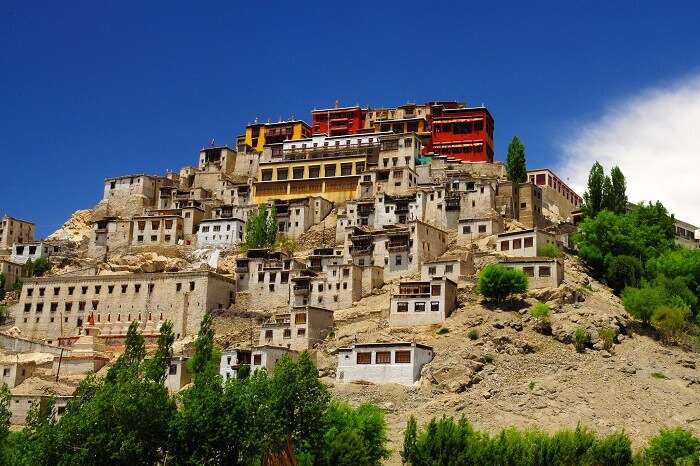 Of the numerous places to visit in Leh Ladakh, the Buddhist monasteries are the rarest gems of Jammu Kashmir tourism. An exploration of these Gompas is one of the most religious things to do in Jammu and Kashmir. Some of the most popular monasteries (gompas) of Ladakh are:
Hemis Monastery: Constructed by Stagchen Raschegn during the 17th century, the monastery is most popular for its masked dance during the Hemis festival.
Thiksey Monastery: Home to over 500 monks, the monastery houses many items of Buddhist art like wall paintings, statues, thangkas and swords.
Likir Monastery: Believed to be the first monastery to be erected by Tibetan monks, it was founded by Lama Dhwang during the 14th century. The monastery houses many Tibetan artifacts.
23. The Kheer Bhawani Temple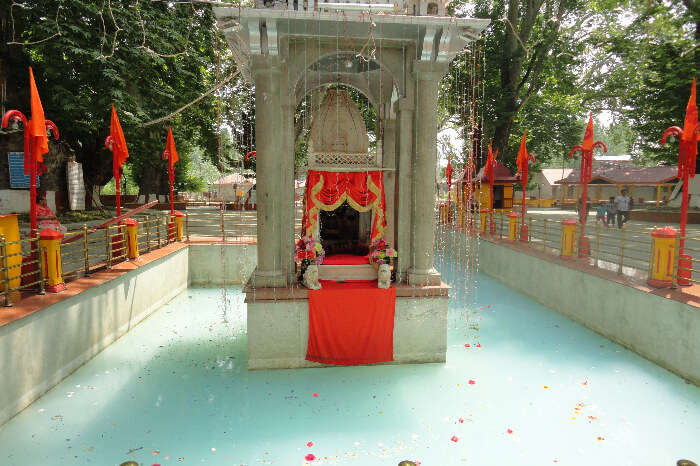 The Kheer Bhawani Temple is the most famous temple in the district of Srinagar. It is a temple dedicated to the Goddess Kheer Bhavani constructed over a sacred spring. There exists a small marble temple within this spring. Devotees offer milk kheer on eight days of the full moon in May. It is said that the Goddess changes the spring's color.
Location: Tulmulla – Dangerpora Link Rd, Tulmulla, Srinagar, Jammu and Kashmir 
Further Read: A Prison You Would Happily Escape Into : Trip To Kashmir
This place is indeed a heaven on the Earth, isn't it? So how can you afford to miss out Jammu and Kashmir from your places-to-visit bucket list? Plan a trip to Kashmir and head out to meet nature face-to-face and do try these things to do in Kashmir. Also make sure that you experience all the above-given things to do so that when you return home, you take a piece of Kashmir along with you. "Nair khaudaayas havaal!" ('Have a good journey' in Kashmiri.)
Disclaimer: TravelTriangle claims no credit for images featured on our blog site unless otherwise noted. All visual content is copyrighted to its respectful owners. We try to link back to original sources whenever possible. If you own the rights to any of the images, and do not wish them to appear on TravelTriangle, please contact us and they will be promptly removed. We believe in providing proper attribution to the original author, artist or photographer.
Please Note: Any information published by TravelTriangle in any form of content is not intended to be a substitute for any kind of medical advice, and one must not take any action before consulting a professional medical expert of their own choice.
Frequently Asked Questions About Things To Do In Kashmir
What activities can we do in Kashmir?
There are a bunch of activities that you can do in Kashmir, some of which are: Mountain biking, skiing, gondola ride, shikara ride, golfing.
What are the do's and don'ts in Kashmir?
Following are the do's and don'ts that you should keep in your mind while travelling to Kashmir.
1. Carry warm clothing with you, no matter which month you are travelling in.
2. Book hotels that provide room heating facilities.
3. Carry basic medicines with you.
4. Avoid carrying too much cash.
5. Hire licensed guides only for travelling.
6. Make sure to dress appropriately while visiting holy places.
Is it safe to visit Kashmir, given the covid situation?
Yes, Kashmir is totally safe to travel, given that you take all the necessary precautions and get yourself vaccinated with both the doses before travelling. Make sure to follow all the guidelines issued by the government like wearing masks at all times, maintaining social distancing and sanitizing your hands, to avoid any spread of the virus.
How can I go to Kashmir?
To fly into Kashmir, you can take the Srinagar airport. It is well connected to prime Indian cities. Kashmir is also well connected by a network of state and private buses. If you choose to come by train, you can get down at Jammu Tawi Railway Station.
Which month is best for Kashmir?
The best time to visit Kashmir is from March to October. You can experience three of the four basic seasons this place witnesses during this time – spring, summer, and autumn.
How can I go to Kashmir by train?
Situated at a distance of about 330km, Jammu Tawi Railway Station is the nearest railhead from Kashmir. You can hire private taxis or buses from outside the station to visit the beautiful Kashmir.
Are tourists safe in Kashmir?
Yes, Kashmir is safe for tourists and it is one of the most visited destinations in India.
Which food is famous in Kashmir?
Dum Aloo is one of the most famous dishes in Kashmir.
---
People Also Read:
Things To Do In Lachung Things To Do In Chail Things To Do In Kochi