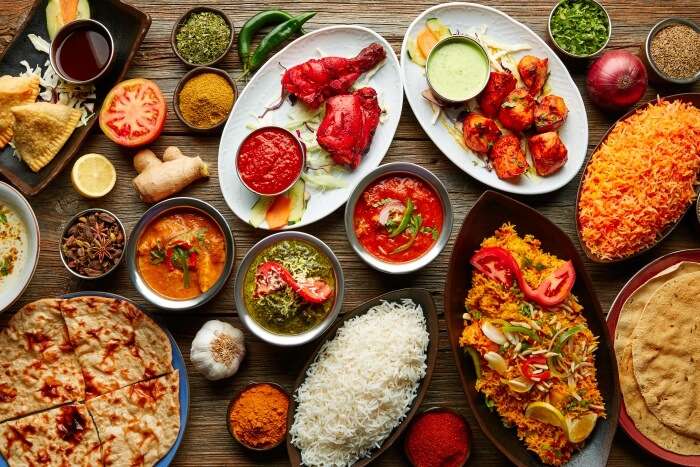 Europe is a preferred vacation destination for a lot of travelers. From Colosseum in Rome to Eiffel Tower in France, Europe is a host to a lot of different architectural marvels and beauties. The continent is rich in culture as well as traditions and you might as well find a lot of people from various walks of life.
There are many things that can get yourself engaged in while you are in Europe. You can watch the beautiful city of London by taking a ride on the London Eye or you can shop till you drop in the market of Florence!
Europe is also known for its multi-cuisine food chains spread across various countries. Indian cuisine is something that many people enjoy. The curries and the breads, all have gained a worldwide recognition for being rich in taste and having distinct traditional flavors. This is exactly what you'll get to taste in the Indian restaurants in Europe.
14 Must-Visit Indian Restaurants In Europe
When you are far from home, chances are that you might crave the food of your place and when such craving strikes, we don't want you to spend any time searching for restaurants; rather spend that time enjoying Indian food. So we have compiled a list of Indian restaurants in Europe.
1. Sanjha Chulha

Indian dishes are distinguishable due to their ingredients used and mouth-watering aromas – those who are well-versed with Indian cuisine will know this. The restaurant Sanjha Chulha serves some mouth-watering, authentic Indian dishes.
The place has a very comfortable and cozy vibe to it. The décor and interiors will even remind you of typical restaurants in India.
Address: 130, 0112 Davit Aghmashenebeli Ave, T'bilisi, Georgia
Phone: +995 596 56 13 13
Must Try: lababdar paneer
Google Rating: 4.0
2. Kebab and Curry

Indian cuisine is famous for its curries! Each curry has its own flavor and distinct taste. If you are on a vacation in Greece and craving traditional Indian food, then you have to visit Kebab and Curry to have some lip-smacking Indian dishes. As the name indicates, Indian curries at this place are a must try.
The decoration is done in an oriental way which looks very appeasing. The staff is warm and welcoming.
Address: Skouze 14, Pireas 185 36, Greece
Phone: +30 21 0428 5937
Must Try: mutter paneer, chicken jalfrezi
Google Rating: 4.6
Must Read: 35 Best Places To Spend Christmas In Europe In 2022
3. Nirvana Inde

After a long day of spending some time on the tourist sites and witnessing the magnificence of Eiffel tower, you are bound to feel hungry. If you are craving Indian food, then we know the ideal place you should visit – Nirvana Inde.
This is a great place to have authentic Indian food. The dishes are not heavy on the pockets and the portion served is also quite good.
Address: 6 Rue de Moscou, 75008 Paris, France
Phone: +33 1 45 22 27 12
Must Try: naan bread, lamb
Google Rating: 4.2
4. Benares Restaurant

Benares restaurant is a place that provides great service as well as amazing food by a super accommodating and friendly staff.
The interiors of the place are really good and will make you undergo a fine dining experience. It is a classy place that has a great presentation of its dishes.
Address: 12a, Berkeley Square, Mayfair, London W1J 6BS, UK
Phone: +44 20 7629 8886
Must Try: smoked trout
Google Rating: 4.3
Suggested Read: 13 Frolicsome Beaches In Europe For All The Excited Beach Bums Across The Globe
5. Masalas Restaurant

If you are in Cyprus and want to eat Indian meals, then you have to head to Masalas Restaurant. The place is famous for serving Indian food that is tasty and authentic.
Their menu has a large variety of dishes that you can choose from. The decor of the place is enthralling and makes the dining experience even better.
Address: Ithakis 10, Dhekelia Road, Larnaca 6013, Cyprus
Phone: +357 24 644950
Must Try: chicken curry, beef curry
Google Rating: 4.3
6. Chilli Chutney

This restaurant is a place to go if you want to have appetizing food from different cuisines. The Chilli Chutney restaurant is known for serving Indian and European dishes.
The restaurant has a quirky vibe to it. The service is fast and you get scrumptious meal in no time.
Address: 45 – 47 York Rd, Lambeth, London SE1 7NJ, UK
Phone: +44 20 7021 0202
Must Try: kebab
Google Rating: 3.2
Suggested Read: 17 Spots For Snorkeling In Europe Every Underwater Enthusiast Must Visit In 2022
7. Indigo Indian restaurant

The Indigo Indian restaurant is a place you are sure to like if you love Indian food. The entire place is well decorated. You also get to choose from lactose and gluten free options from the menu. It is one of those places that have something to offer to everyone.
The service is pretty fast and the staff is courteous. Another great thing about the place is that it has Hindi music playing in the background. So, you get to experience the real essence of India at this place.
Address: Budapest, Jókai u. 13, 1066 Hungary
Phone: +36 1 428 2187
Must Try: mango lassi, draft beer
Google Rating: 4.5
8. Indian by Nature

Whether you are a pro at identifying Indian dishes for yourself or a rookie, Indian by Nature will not disappoint you. The staff here is well versed with what they are serving and will happily recommend you dishes based on your preferences.
The service, the quality, and everything in between is commendable here. The portions of the food served is good and the pricing of the dishes is also reasonable.
Address: Pernerova 478/1, 186 00 Praha 8-Karlín, Czechia
Phone: +420 601 200 198
Must Try: chicken korma
Google Rating: 4.4
Suggested Read: Guess Which European City Gets The Title Of World's Most Liveable City This Year!
9. Little India

Little India is a place renowned for its vegetarian Indian food. The preparation of dishes is so tempting that you'll start drooling.
You also get non-vegetarian food served here which is equally delicious. The prices of the dishes are not heavy on your pocket and so you can eat to your heart's content.
Address: R. Adrião Batalha 29, 2450-162 Nazaré, Portugal
Phone: +351 262 408 081
Must Try: fish tikka masala
Google Rating: 4.7
10. Dishoom King's Cross

Dishoom King's Cross specializes in Indian food. You will get your classic Indian dishes but with a twist. The interior decoration of the place is beautifully, keeping all the Indian motifs in mind.
The place can get quite busy, so it is advisable to book in advance to avoid long queues.
Address: 5 Stable St, Kings Cross, London N1C 4AB, UK
Phone:
Must Try: butter chicken
Google Rating: 4.5
Suggested Read: This Winter 2022, Escape To The Best Honeymoon Destinations In Europe!
11. Tower Tandoori Restaurant

This restaurant is almost 40 years old! The place has been famous since quite some time and the staff here exactly knows the nitty-gritty of Indian cuisine. This is why, Tower Tandoori Restaurant serves delicious Indian meals.
You can customize the spiciness of food according to your own preference; mild, medium, or hot. The seating area is also great with a classic décor.
Address: 74-76 Tower Bridge Rd, London SE1 4TP, UK
Phone: +44 20 7237 2247
Must Try: lamb
Google Rating: 4.4
12. Chettinad Restaurant

Chettinad restaurant serves Tamil food. So, if you love south Indian cuisine, then you must try Chettinad Restaurant. The decor of the place has been kept Indian and seems very inviting.
They have a good amount of vegetarian dishes. There are even vegan options available at this place. It is a popular place for trying out south Indian food so you should try to book a table in advance.
Address: 16 Percy St, Fitzrovia, London W1T 1DT, UK
Phone: +44 20 3556 1229
Must Try: chicken dishes
Google Rating: 4.3
Suggested Read: 10 Castles In Bruges Which Reflects The Heritage And Grand Architecture Of This European Country!
13. Dishoom Shoreditch

The restaurant Dishoom serves Indian cuisines with an English twist. If you feel like having Indian food but want to try something different, then you should definitely come here. The place has a rustic vibe to it.
If you love Indian street food, then you are going to love this place. The place also serves great cocktails and drinks. It is a popular eatery hence it is busy on most of the days. But for the love of Indian food, you have to try this place out.
Address: 7 Boundary St, London E2 7JE, UK
Phone: +44 20 7420 9324
Must Try: kebabs, Lamb chops
Google Rating: 4.5
14. Potli

India is a nation of rich cultural heritage. There are so many states and each one is unique and colorful in its own way. This vibrancy is what you will find in the decor and interiors of this place. It very well describes what the country is like.
The place serves authentic Indian food and if you love some spiciness in your meals, then you are going to love this place. The staff is friendly and accommodating.
Address: 319-321 King St, Hammersmith, London W6 9NH, UK
Phone: +44 20 8741 4328
Must Try: dal, boar vindaloo
Google Rating: 4.4
Further Read: 31 Traditional Festivals In Europe That Will Up The Fun Factor Of Your Euro-Tour In 2022
Now that you have the list of some of the best Indian restaurants in Europe handy, we hope your eating itinerary is sorted. Make your Europe tour memorable by feeling at home in this continent.