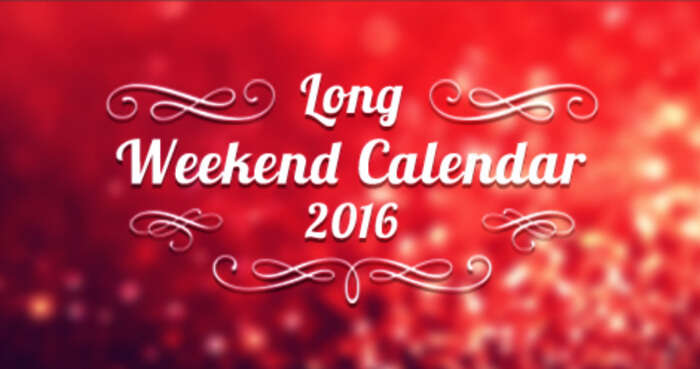 The last of 2015 is coming to an end with December slowly fading away. With 2016 just round the corner, it's time to start planning in order to make the coming year as rocking as 2015 was. Thanks to all the awesome festivals our country has, we get truck loads of long weekends that we usually end up wasting in our pyjamas and television sets. But not anymore! We have listed here all the long weekends each month of 2016 has in store for you & where all you can spend them…so that you may stay faithful to your wanderlust…
January: Glistening Snowscapes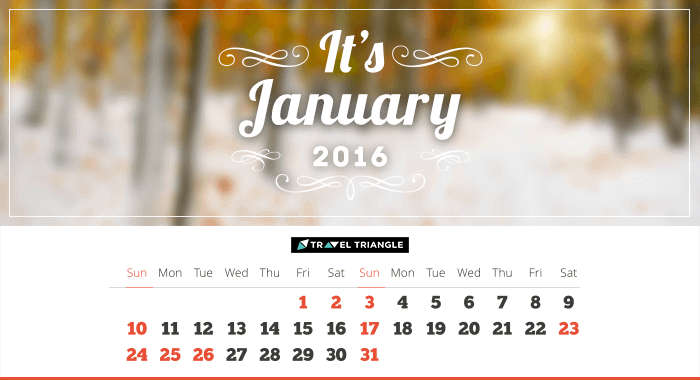 "January brings the snow, makes our feet and fingers glow…"
Long Weekend in January 2016: 1 Jan (Friday) – 3 Jan (Sunday) | 23 Jan (Saturday) – 26 Jan (Tuesday)
Where to have a snowball fight: Manali, Gulmarg, Darjeeling, Gangtok, Auli, Paris, Switzerland, Italy
Also Read: 12 Places To Visit In Winter In India That Will Ensure You Give Your Quilt A Miss
February: The Month Of Love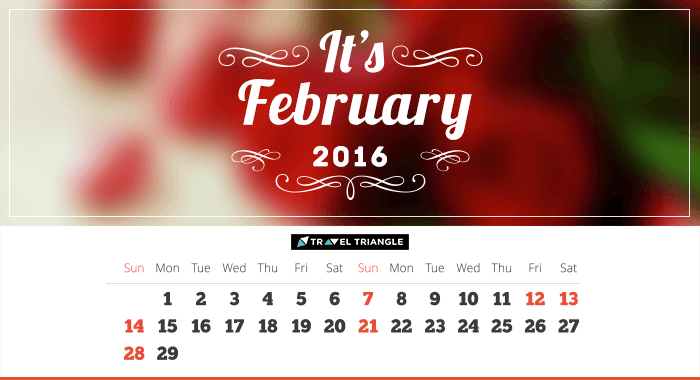 "The more I traveled the more I realized that fear makes strangers of people who should be friends."
Long Weekend in February 2016: 12 February (Friday) to 14 February (Sunday)
Where to romance: Goa, Coorg, Agra, Andaman Islands, Sangla Valley, Alleppey, Paris, London, Venice, New Zealand, The Caribbean, Seychelles
Suggested Read: 10 Most Romantic Places To Go On Valentine's Day
---
March: It's Spring Time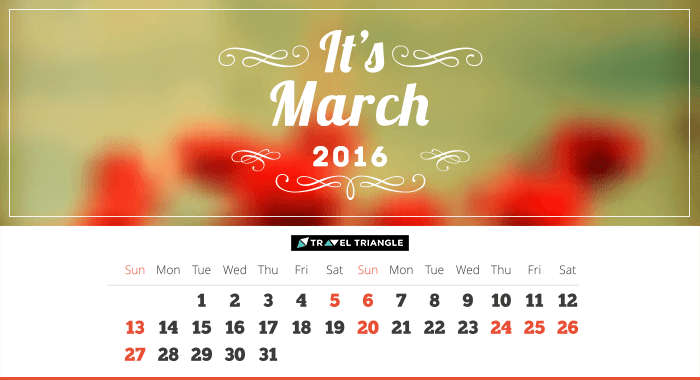 "I haven't been everywhere, but it's on my list!"
Long Weekend in March 2016: 5 March (Saturday) – 7 (Monday) | 24 March (Thursday) – 27 March (Sunday)
Where to get drenched in the festival of colours: Rishikesh, Vrindavan, Varanasi, Mcleodganj, Greece, Australia, Thailand
---
April: Easter's Eternal Blessings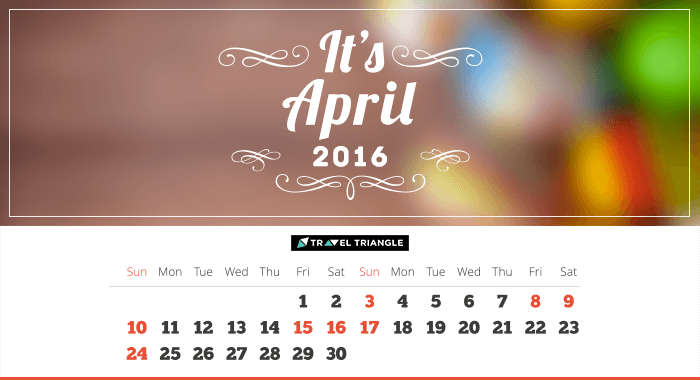 "You don't need magic to disappear. All you need is a destination."
Long Weekend in April 2016: 8 (Friday) – 10 (Sunday) | 15 April (Friday) – 17 April (Sunday)
Where to exchange Easter eggs: Nagaland, Kodaikanal, Valley of Flowers (Uttarakhand), Kalimpong, Costa Rica, Brazil, Canary Islands, Netherlands, Belgium
---
May: The Month for Mothers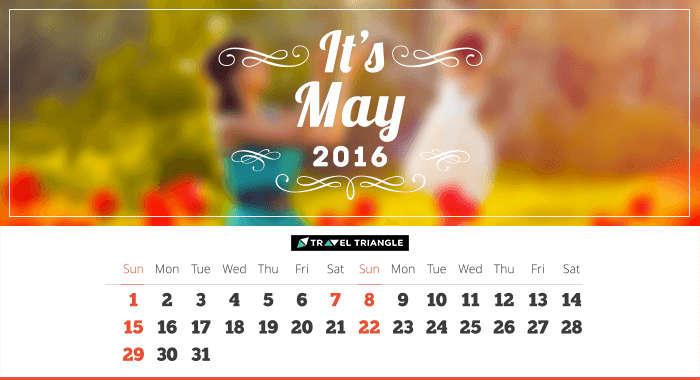 "Traveling is not something you're good at. It's something you do. Like breathing."
Long Weekend in May 2016: 7 May (Saturday) – 8 May (Sunday)
Where to take your mom on a vacation: Kerala, Hampi, Rishikesh, Bodhgaya, Nainital
Must Read: 11 Reasons Why Travelling With Your Mom Is The Best Thing In The World
---
June: Escape The Blazing Temperatures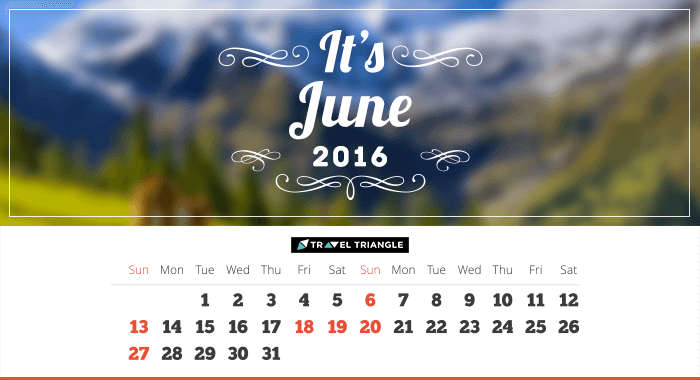 "I would rather own little and see the world, than own the world and see little of it."
Long Weekend in June 2016: 18 June (Saturday) – 20 June (Monday)
Where to beat the heat: Ooty, Munnar, Ladakh, Dalhousie, Darjeeling, Gulmarg, Pahalgam
Suggested Read: Sweat No More: The Best Places To Visit In India This Summer
---
July: The Arrival of Monsoon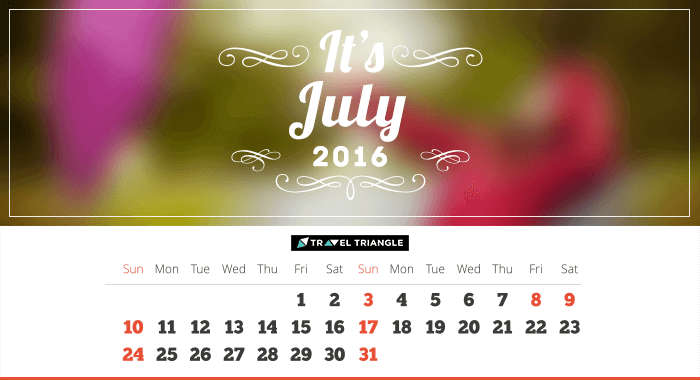 "It's bad manners to keep a vacation waiting."
Long Weekend in July 2016: 8 July (Friday) – 10 July (Sunday)
Where to welcome the first of the showers: Udaipur, Mount Abu, Pondicherry, Periyar National Park, Indonesia, Mauritius, Madagascar, Morocco
---
August: The Romantic Downpours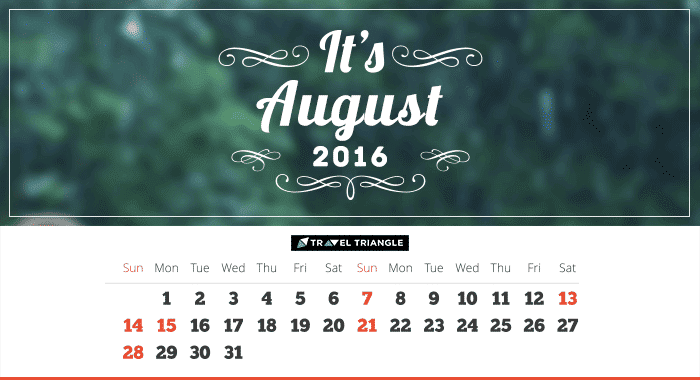 "Wherever you go, becomes a part of you somehow…"
Long Weekend in August 2016: 13 August (Saturday) – 15 August (Monday)
Where to dance in the rain: Udaipur, Kutch, Lonavala, Coorg, Pushkar, Wayanad, Iceland, Scotland, Holland, Ibiza
Also Read: 20 Monsoon Destinations In India That Will Make You Dance In The Rain!
---
September: The Fall of Autumn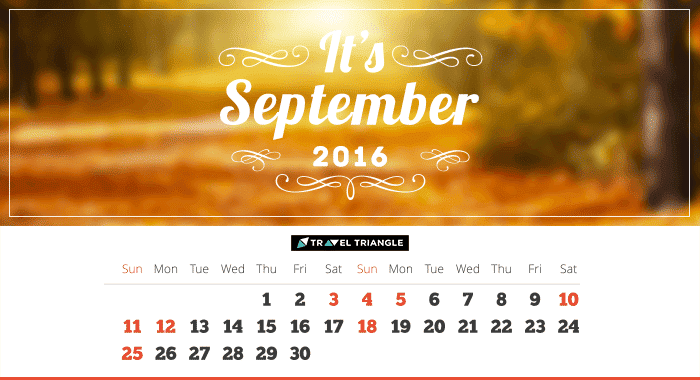 "Adventure may hurt you, but monotony will kill you"
Long Weekend in September 2016: 3 September (Saturday) – 5 September (Monday) | 10 September (Saturday) – 12 September (Monday)
Where to witness the transition from greens to reds & yellows: Amritsar, Khandala, Coonoor, Tarkarli, Kochi, Kyoto, Bavaria, Douro Valley (Portugal), Cotswolds, Maldives
---
October: The Halloween Month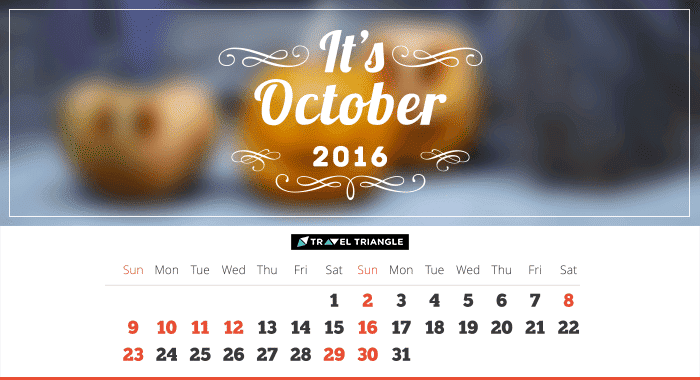 "Life's not meant to be lived in one place."
Long Weekend in October 2016: 8 October (Saturday) – 12 October (Wednesday) | 29 October (Saturday) – 31 October (Monday)
Where to celebrate the All Hallows Eve: Kolkata, Jaisalmer, Srinagar, Kanyakumari, Digha, Nepal, Germany, Vermont, Romania, London, Edinburgh, Dublin, Ibiza
---
November: Embracing the Winters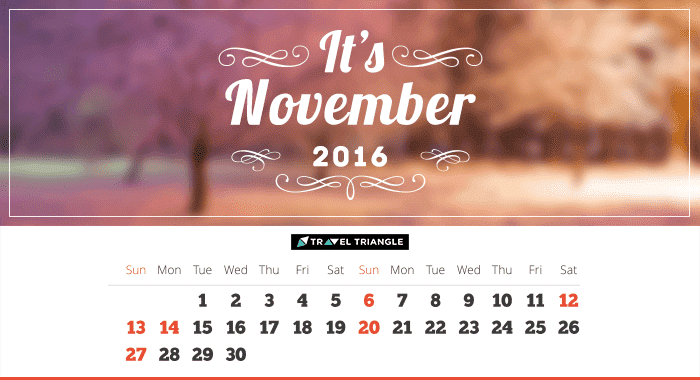 "A job will fill your pockets, adventure will fill your soul."
Long Weekend in November 2016: 12 November (Saturday) – 14 November (Monday)
Where to enjoy the first of the chilly winds: Almora, Sundarbans, Gir, Jaipur, Ajmer, Varanasi, Bharatpur, Kohima, Ziro, Hong Kong, Vietnam, Maldives, New Zealand, Italy
---
December: The Christmas Jingle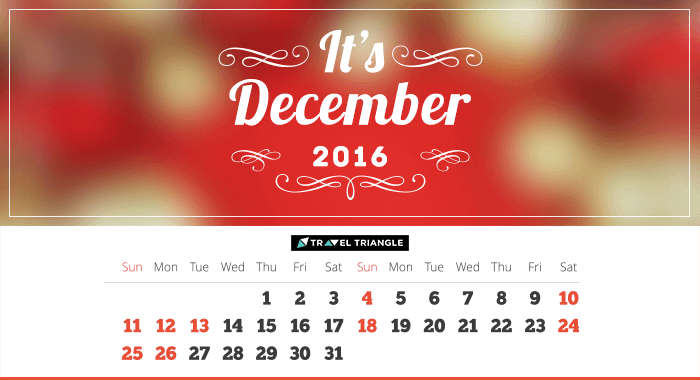 "Of all the books in the world, the best stories are found between the pages of a passport."
Long Weekend in December 2016: 10 December (Saturday) – 13 December (Tuesday) | 24 December (Saturday) – 26 December (Monday)
Where to celebrate the spirit of Christmas: Goa, Bangalore, Delhi, Konark, Chennai, Jodhpur, Edinburgh, London, Auckland, Sydney, Phuket, Belgium, Sri Lanka, Iceland
Suggested Read: 12 Gorgeous Places To Visit In India This Winter Season
Don't forget to save the calendar to keep a track of all these awesome long weekends 2016 has been blessed with. So, where are you wandering off to in every long weekend you get in 2016? Let us know in the comments below and share this piece of treasure with all your friends.
---

---
Long Weekend Trips Starting @ Rs 3499/-
Take a trip to spend the upcoming long weekend with your buddies.
✓ Stay at 4 star rating hotels with local sightseeing, meals and transfers.
✓ Travel in AC coach round trip (from Delhi).
✓ All Inclusive Deal– Camping, Jeep Safari & Trekking as per itinerary
✓ Sign up NOW to celebrate the long weekend out of town!
---
Embed This Image On Your Site (copy code below):