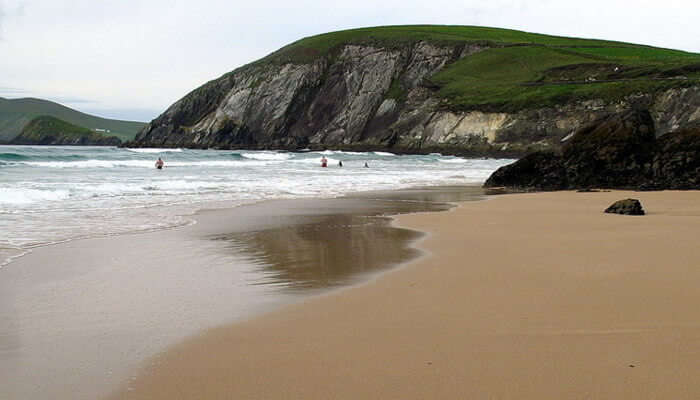 Image Source: Wikimedia Commons
Ireland is home to several fantastic beaches. From north to south, Ireland has plenty of beautiful beaches. For this reason, choosing the best Ireland beaches is very challenging. Below are the highlights of the top 10 Beaches in Ireland you should visit. Explore the Irish Sea and enjoy the daunting views of the ocean. Ireland is already famous for its lush landscapes and numerous castles among the travelers. Its wild beaches is another reason why you would love to spend some time here.
10 Must-Visit Beaches in Ireland
There are the world's most remarkable beaches in Ireland. From isolated bathers' bays to the exposed shoreline, there's something here for everyone. Though on a sunny day in summers, the water may not be as warm, the dramatic views and clear seas is a bliss.
1. Bundoran Beach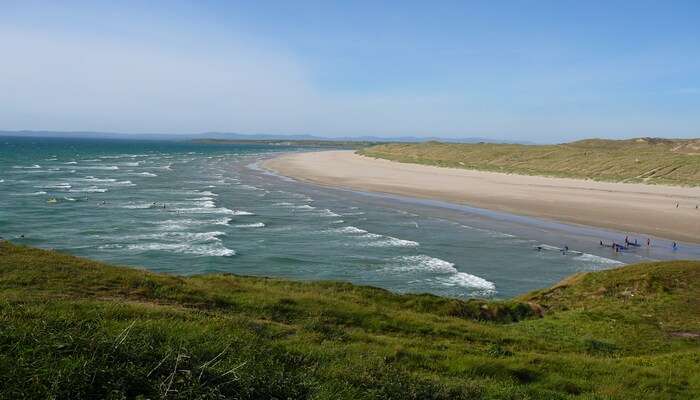 Bundoran is a famous beach town in the Donegal County of Ireland. People mainly visit this place to enjoy a relaxing holiday in the beach resort. Bundoran Beach is where the locals flock to as the mercury rises in the summer season. It is also an amazing location for surfers as the coastline offers good waves to ride. Bundoran was counted in one of the top 20 surf sites across the world by National Geographic. And, every summer, Sea Sessions – a yearly music & surf festival, takes place.
Location: Sea Road, Bundoran, Ireland
Things to do: Surfing
Galway Festival: Ireland's Most Sassy Event Is Happening & It'll Make You Go LaLaLa
2. Killiney Strand Beach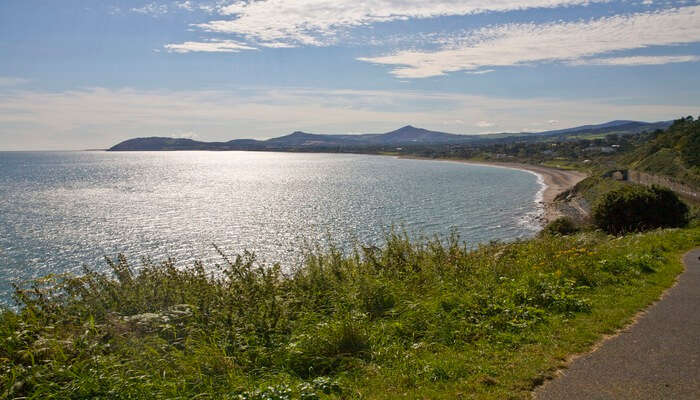 Killiney Strand Beach is a train journey from central Dublin to southern Dublin. Though the beach has stones, it is still possible to have an excellent swim in the shore. Another great way to spend your day here is by walking up Killiney Hill for the astounding panoramic views. You can also get to see the Wicklow mountains, pristine blue waters of the Irish Sea, and the Bray Head headland. You might even have an opportunity to get a sight of Wales provided the weather conditions allow.
Location: Killiney, Ireland
Things to do: Swimming, bathing
3. Coumeenole Beach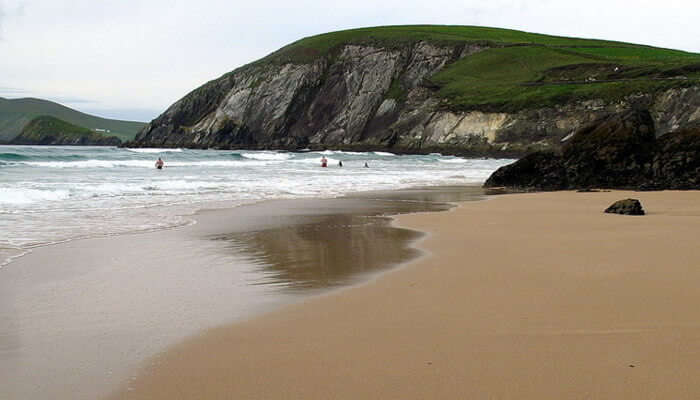 If you see the pictures of this stunning beach, you won't be able to believe that this beach exists in real life or not. However, the beauty is that real, Lonely Planet has once named it "one of the gorgeous places on earth." Unfortunately, because of unpredictable & intense tides, swimming is not advised here. However, one can walk up the surrounding cliffs and capture incredible views.
Location: Dingle, Ireland
Things to do: Coumeenoole North, Co. Kerry, Ireland
9 Homestays In Ireland Whose Interiors Will Blow Your Mind Away
4. Silver Strand Beach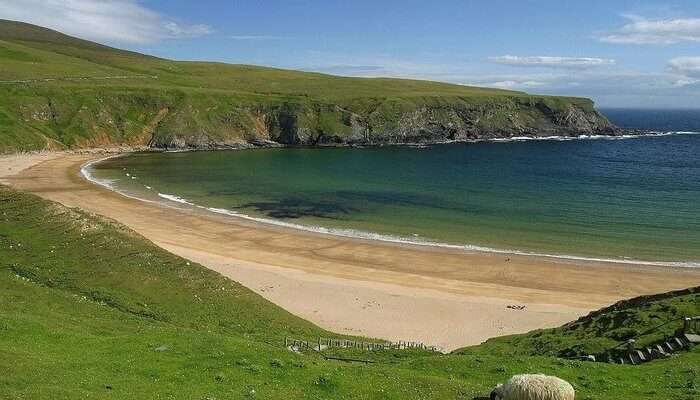 Silver Strand beach in Ireland is a small but unique beach. The rocky cliffs from both sides surround the flawlessly smooth, silky, and golden sand. You can go swimming, provided you're not too sensitive to the cold. You can have a feel of being in Spain or any other Mediterranean country if you get fortunate with the weather. You can enjoy this place with fewer crowds as this little heaven is very less known among travelers.
Location: County Gal way, Ireland
Things to do: Jet Skiing, swimming, surfing, body boarding
5. Inchydoney Beach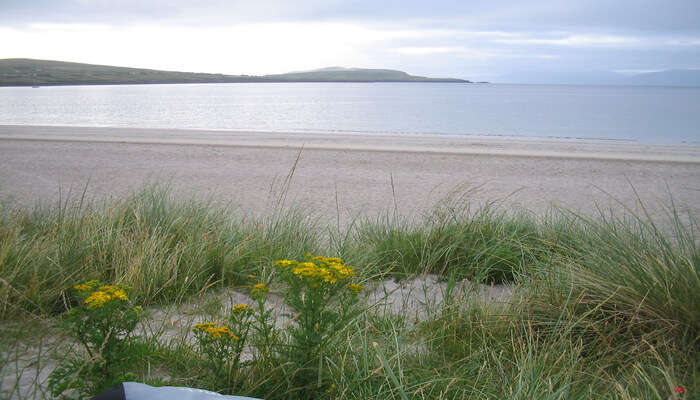 Inchydoney beach is a breath-taking beach with peaceful and spacious sands situated on the Irish island. For three back to back years, it has received several awards for ruling as the best beach among travelers. People come to this nice and clean beach to enjoy a little picnic. During the days of low tides, the water does not reach the shore, hence, making it perfect for a picnic. To make it easy for travelers, the beach is also connected to the Virgin Mary's Bank through a convenient causeway.
Location: Inchydoney Island, Inchydoney, Co. Cork, P85 AT27, Ireland
Things to do: Kite boarding, swimming, and windsurfing
10 Most Popular Resorts In Ireland: Epitomes Of Class, Elegance, And Stunning Views
6. Keem Beach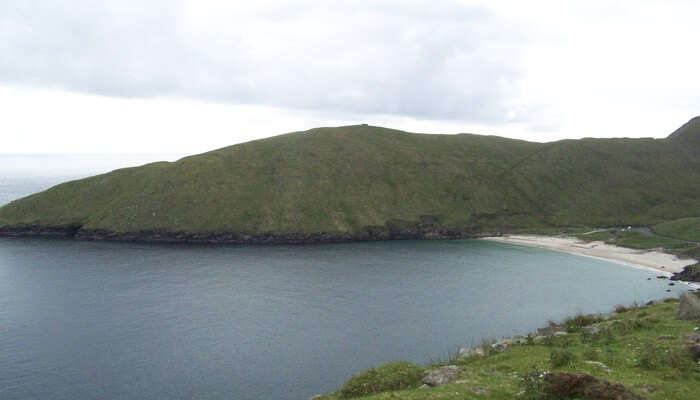 Snuggled in the valley (shape of horse-shoe), Keem Beach has a unique incredible bay, and the astonishing cliffs surround it. People are usually fascinated by Achill Island's Keem Beach. Croaghaun mountain road has high altitude sea cliffs(tallest in Ireland) and is the only way through which people can access this beach. Keem Beach is a famous spot for snorkeling enthusiasts & scuba divers. Many people trek to this secluded, but extraordinarily fascinating strand for the splendid views.
Location: Dooagh, Achill Island, Ireland
Things to do: Snorkeling
7. Black Sand Beach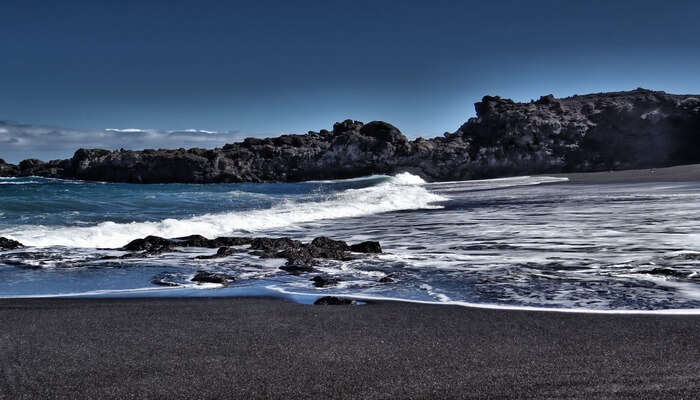 The Black Sand Beach Ireland is known for having black sand, against glittering water, especially at the time of sunset. The beach has lots of tourists of all nations. But by evening, the crowd is very less, and it is also a famous place for shooting wedding pictures. You could climb on the impressive black stack columns but at your own risk.
Black Beach Ireland has free parking, but the restroom charges a fee unless you are inside the restaurant. There are tiny black stones on the sand. On a stormy day, the waves are powerful and deadly.
Location: White Park Bay, Northern Ireland
Things to do: Strolling, beach combing
10 Exotic Resorts And Villas In Ireland That Offer A Luxurious Experience Like None Other
8. Portsalon Beach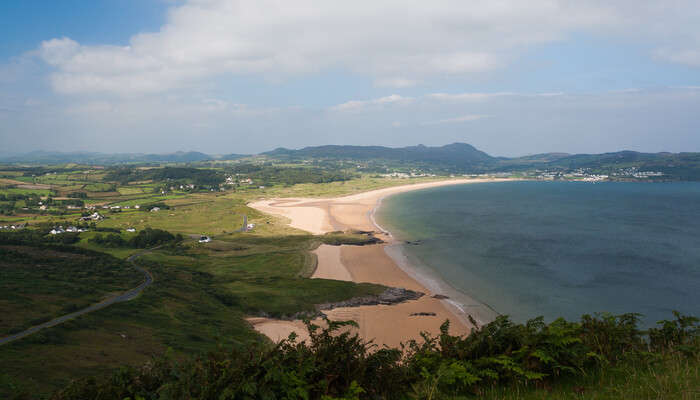 Portsalon Beach is on the banks of Lough Swilly and has beautiful golden sands. It is located in a Natural Heritage Area and smoothly tilts towards the Atlantic ocean. When seen from above, this beach is sumptuous. It is generally known as one of Donegal's most beautiful beaches and, indeed, one of Ireland's top beaches. Enjoy having long walks on the lovely golden sands surrounded by beautiful hills.
Location: Portsalon, Ireland
Things to do: Strolling, golfing
9. Inch Beach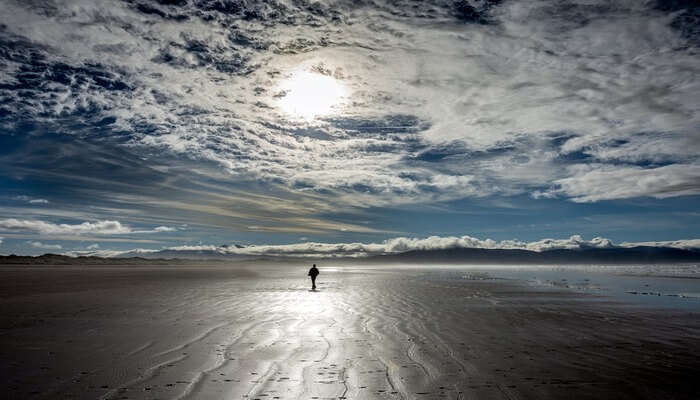 Inch beach is situated on the Dingle peninsula. It extends for three miles, and parts the docks of Castlemaine & Dingle. Numerous travelers arrive towards the peninsula from the east side, and Inch beach gives them an astonishing view to witness. It is a great beach for surfers. If you do not know how to surf, then you could take surfing lessons available at the institution near the beach. The beach also offers an excellent spot to enjoy watching surfers riding the waves in style. Have a cup of coffee at Sammy's after you have enjoyed your time at the beach.
Location: Inch, Ireland
Things to do: Panoramic photography
24 Fabulous Places To Visit In Ireland: The Ultimate Irish Bucket List For
10. Murlough Beach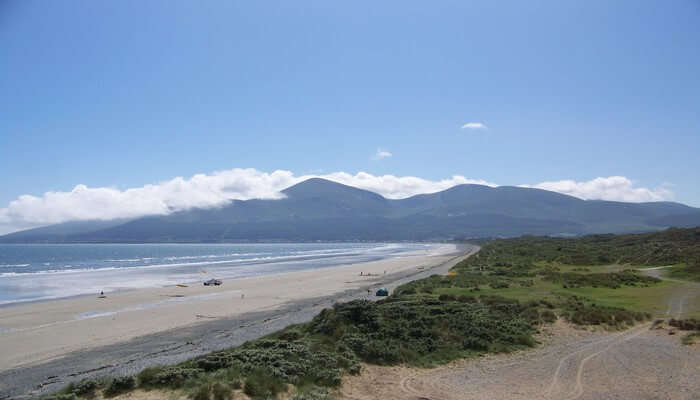 Murlough Beach covers a large leveled sandy beach with a 2 m wide pebble hill above the high sea level. A large area of the beach is classified as a National Nature Reserve. It is an ancient & delicate 6,000-year-old dune system since it is situated at the edge of the Mourne Mountains & Dundrum Bay. It is one of the excellent beaches in northern Ireland for bird watching & walking. One of Ireland's most extraordinary beaches, Murlough Beach offers sensational views.
Location: The Mourne Mountains, Northern Ireland
Things to do: Kite surfing and windsurfing
Best Time to Visit Ireland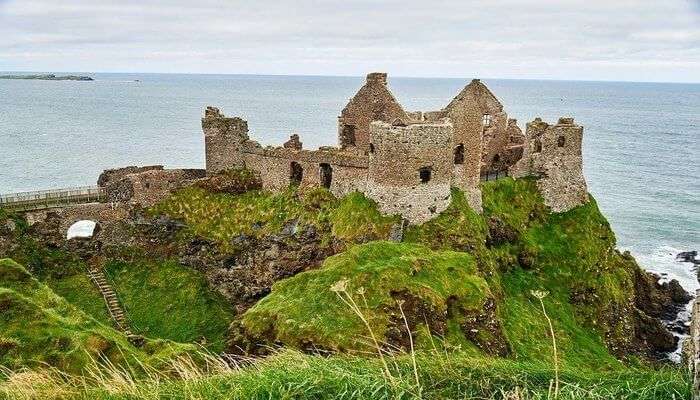 April, May, June, and also in September and October are the best time to visit Ireland. Unlike during the peak of summer, spring and autumn tend to be relatively mild in Ireland and have fewer crowds and more economical charges.
In winter, Ireland has colder temperatures and closed attractions, though it could be ideal for traveling both countryside & cities. When traveling in the off-season, there can be savings in hotel bookings.
Experience Ireland In December Like A Local By Indulging In These 8 Things
These Ireland beaches will offer you the most mesmerizing views of the Atlantic Ocean. Bask in the sunshine and breathe in the fresh breeze on your vacation in Ireland. These beaches may not give you a tropical feel but the raw and rugged beauty will still manage to win your hearts. Besides, if you are a beach person, you wouldn't want to miss visiting these places anyway.
For our editorial codes of conduct and copyright disclaimer, please click here.
Frequently Asked Questions about Ireland Beaches
Can you swim in Ireland beaches?
The Irish coast features dramatic rocky cliffs and rugged shorelines. There are many coastal swimming areas around the country where you can swim and indulge in other activities including paddle boarding, sea kayaking, etc.
Can you swim in Ireland in the summer?
Ireland offers innumerable chances for swimming throughout the year. The place is surrounded by water and have endless sandy beaches and hidden coves, stretches with big dunes, rock pools, lakes, and waterways.
Is the water in Ireland warm?
You can find the warmest water in the vicinity of Ireland, that is in the south-west, near the coasts of Kerry and Cork. The sea tends to be coldest around the off coast of Antrim. The temperature varies nearly 2 or 3 Celsius.
People Also Read: