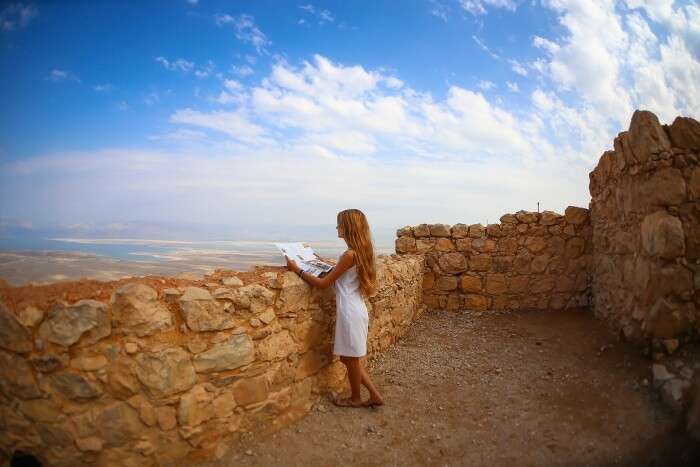 If you are willing to explore ancient history in the context of world's recognized ancient religious identities at one place, then visiting Israel will not go in vain. Tourism value of this West Asian nation at the Mediterranean Sea's eastern edge remains paramount. Large number of tourists arrive here throughout the year. Israel's capital city, Jerusalem is one of the oldest cities in the world while Tel Aviv is its biggest trade center. As a traveller, it is of extreme importance to know about the essence of a place you want to travel. This Israel travel guide would then be helpful.
Best Time To Visit Israel

As a visitor, you should be aware of the best suitable time to explore Israel. Through Israel travel guide, you can have the knowledge about perfect time to plan a visit. It is recommended that you visit this country anytime between December to April to avoid scorching summers. In wintertime, you can enjoy the fascinating tranquility of Dead Sea. Those visiting during the early springs can watch endless blooming of the deserts. Curious tourists flock during August to witness holiest Yom Kippur spiritual fest held every September.
How To Reach Israel

By Air: Tourists arrive at the Ben-Gurion International Airport in Tel Aviv. It is the country's major international airport nearby Jerusalem city. Mandated as a part of the Israel travel requirements, strict security checks are done by keeping security aspects in consideration.
By Road: Buses can be taken from nearby Jordan to Israel. There is direct bus service from neighboring Jordan's capital Amman to the cities of Tel Aviv, Nazareth, and Haifa by the King Hussein Bridge. Taxis can also be taken from these routes to reach Jericho, Ramallah, and Jerusalem. Other route to Israel is from neighboring Egypt's capital, Cairo from where you can avail the bus service. Buses operate from Cairo Gateway Plaza, also famous as Turgomen Garage or Metro Stop Orabi to Israeli cities and vice versa.
By Water: It is not a popular option to visit Israel by waters although a route does exist. Cruise service is available from Cyprus' Limassol to Haifa by Louis Cruises and Salamis Cruises to connect Israel to the world through waterways.
Questions like is it safe to travel to Israel often arise. Border to Israel facilitates 5 crossings for entry through roadways. They include 2 entries from neighboring Egypt for Nitzhana and Taba at south of Eilat to 3 from Jordanian border to Allenby King Hussein Bridge; Tiberias nearby Jordan River and Yitzhak Rabin respectively. Israel has sealed borders for neighboring countries of Syria and Lebanon. So, traveling to the country cannot be any safer.
Best Places To Visit In Israel
Options to visit beautiful beaches, amazing natural landscapes and explore great history as notable places to visit in Israel make it once-in-a-lifetime experience to evaluate its variegated tourist significance. Here is enlisted must-see places during Israel tour:
1. Acre

Historic significance of Acre makes it key landmark. For several centuries since Ottomans crusade Acre, it witnessed mingling of cultures with gradual inhabitants. Redefining past glories, this North Israeli city enchants history lovers to evaluate its buildings molded culturally to the ruins everywhere. A modern port is perfect place for evening strollers. Its local markets and restaurants serving great foods are worth trying.
Location: Northern Israel District, Israel
Suggested Read: 10 Best Places To Visit In Israel For An Extended Tour Of The Holy Land
---
Looking To Book An International Holiday?
Book memorable holidays on TravelTriangle with 650+ verified travel agents for 65+ domestic and international destinations.
---
2. Nazareth

Early settlements to Nazareth are recorded to be in 2200 BC while major city saw development to full-fledged establishment in 300 AD. Christians consider Nazareth their holy destination. Besides being valued for exuberant religious identities, this city is famous for historic and cultural richness amongst the places to visit in Israel. Travellers witness great archaeological richness and unique charm of Middle Eastern region not usually found in rest areas thus often denoted with a metaphor "the Arab Capital of Israel."
Location: Northern District, Israel; Website: www.nazareth.muni.il
Must Read: 10 Things To Do In Israel: Know Why It's On Every Wanderer's Bucket List
3. Sea of Galilee

One of the notable Israel travel tips is that visitors must head towards the Sea of Galilee which is also denoted with local name—the Kinneret. Due to being key water source for the country as the biggest freshwater lake catering to the water needs. According to the Christian faith, it was on the Galilee waters that Jesus miraculously walked. Modern day Sea of Galilee is famous destination for travellers to rejuvenate at its banks. They delve into various water sports activities.
Location: Nearby Tiberias, Tel Katzir settlements, Israel
Suggested Read: Honeymoon In Israel: The Beginning Of A Lifelong Romance
4. Golan Heights

Tourists are advised to relook packing list while traveling to Israel to explore its location diversities. Golan Heights mountainous ranges in the northern side are worth viewing. Tourists enjoy its spectacular landscapes to feel the natural reserves literally welcoming them. It is famous for hiking activities. Skiers find in Hermon Mountain at Golan Heights an ideal place to delve during winters.
Location: Nearby Yarmouk River and Hula Valley, Israel
5. Haifa

Israel travel guide advises why tour remains incomplete without visiting the 3rd largest city, Haifa. Located on Mount Carmel slops, modern Haifa city its diversified neighborhoods amalgamate multiple cultures. Its history spans to more than 3000 years. Tell Abu Hawam were its earliest settlements.
Haifa served as a dye-making center during 3rd century. Ruled by Canaanites to Phoenicians to Israelites to Persians and even Romans and Hasmoneans besides Byzantines to Arabs until Ottomans and finally coming under the British, cultural glimpses of them all still reflect here. UNESCO World Heritage site of Bahá'í World Center appeals the visits. Its vivacious beach literally keeps all tourists hooked.
Location: Mount Carmel, Haifa, Israel; Website
6. Tel Aviv

Modern Tel Aviv city or the 'Ancient Hill of Spring' is a great place to visit. Being the 2nd most populous urban establishment after Jerusalem, its beaches and nightlife are key attractions. It is hub of great shopping and ultimate culinary delights. This city's diversity also reflects from entertainment and cultural events held throughout the year. Israel travel guide highlights about its identity of emerging into a hub of technology. Today, Tel Aviv welcomes more than 2.5 million travellers from the global locations throughout the year.
Location: Tel Aviv District, Gush Dan Metropolitan Area, White City of Tel Aviv, Israel
7. Jerusalem

Strategically planned Israel travel tips keep Jerusalem in the must visit list for the travellers. This city is an oldest of the existing holiest cities in the world with unique identity of being a spiritual site for world's three major religions—Islam, Christianity and Judaism. Its exploration takes you to the ancient era reflected through Grand Wall; Al Aqsa Mosque, Western Wall and the Church of the Holy Sepulcher etc.
Four quarters of the Old City of Jerusalem namely Jewish quarter; Muslim quarter; Christian quarter and Armenian quarter describe its religious values.
Location: District Jerusalem, Jerusalem Municipality, Israel; Website
Suggested Read: 15 Scenic Israel Beaches That Flaunt The Best Of The Mediterranean
Things To Do In Israel
1. Visiting Ramon Crater for Hiking

Ramon Crater in Mitzpe Ramon, Israel has an identity of being world's largest erosion crater where you spend good time to assess remarkable view from the top. You must pack sufficient water, sun lotion, packed lunch, walking shoes, warm cloths if travelling in the winters and backpacks to keep your stuffs safe.
Hiking Distance: Approximately 6km
Timing: Sunrise to Sunset (June – September)
2. Relaxing at the Dead Sea Beaches

Dead Sea offers true fun exploration to travelers to float on the boats, relax on its beaches and much more fun activities. A visit to the beaches would ensure you get to relax yourself after a long day of travel and exploration. Sit back and unwind as you witness the Black Sea in all its glory.
Timing: Sunrise to Sunset
Suggested Read: 16 Best Things To Do In Beirut For The Perfect Mediterranean Experience
---
Planning your holiday but confused about where to go? These travel stories help you find your best trip ever!
Real travel stories. Real stays. Handy tips to help you make the right choice.
---
3. Exploring Eilat

Eilat is a town located near Jordan, on the Red Sea. An ultimate destination for relaxing purpose; Eilat is best suitable for involving in water sports activities like snorkeling, scuba diving as well as swimming alongside dolphins among others. The coral reefs here are a must to witness. You can spot various aquatic animals here and a once-in-a-lifetime experience.
Timing: Sunrise to Sunset
Suggested Read: 10 Places For Scuba Diving In Israel To Satiate Your Adventure-Lust
4. Visit to Jerusalem Ancient Pathways

Located on the plateau in Judaean Mountains, amidst Mediterranean sea and Red Sea, the old city of Jerusalem is known for ancient pathways where visitors stroll to feel as if they have gone back to the past era. Being one of the oldest cities of the world, Jerusalem is a pivotal place of sacred importance to the three religions, namely, Christianity, Judaism, and Islam.
Timing: Sunrise to Sunset
Suggested Read: 8 Restaurants In Hungary That Can Match Any European City For Culinary Travel
5. Visit To The Wailing Wall

Ancient Wailing Wall is the holiest site on earth for Judaism. It is worth observing during the visit. This is an old limestone wall in Jerusalem and can be seen as a small section of longer wall, known by the name of Western Wall. The construction of Wailing Wall began in 19 BC. The wall measures 19 m in height and 488 m in length. In Islam, it is famous by the name of Buraq Wall.
Timing: Sunrise to Sunset
6. Trip To Tel Megiddo

Considered a mysterious site to observe, Tel Megiddo is sprawling valley listed as UNESCO World Heritage Site. It is worth visiting for being a strategically important location to connect Egypt to Damascus. It is located around 30 kilometers southeast of Haifa. This place holds a historical significance with its Greek name, Armageddon.
Timing: Sunrise to Sunset
Suggested Read: 6 Museums In Italy Across 6 Cities. Which One Will You Choose For Your European Adventure?
7. Banias Nature Reserve For Water Hike

An ultimate tourist attraction, Banias Nature Reserve is famous for water hike in the backdrop of splendid waterfalls nearby Herodian site ruins. "Banias" is the actually a modern Hebrew and Arabic name of an age-old place that was located along a spring that was related to the Greek God, named Pan. This place is situated at the Mt. Hermon foot, at the north of Golan Heights.
Price: Adults: ₹ 530; Child: ₹ 265
Timing: 08:00 AM – 05:00 PM
8. Trekking at Israel National Trail

A great location for trekking, Israel National Trail attracts visitors who are looking for hiking and other related thrilling activities. This trail covers the whole country of Israel at the southern and northern borders. The usage of this path commenced from 1995. The trail covers some significant historical places, landscapes, and archaeological sites.
Price: ₹ 11,000/- (All Exclusive)
Timing: Refer to organizers for schedules
Suggested Read: Shopping In Czech Republic: For Adding More Charm To Your Wardrobe With A European Touch
Where To Stay In Israel?
Israel offers best accommodation options to its visitors. Its hotels facilitate best comfort to guests. Here is the list of popular hotels:
1. Shkedi's Camplodge

Located nearby Dead Sea, it is famous for iconic bonfire, private cabins, and dorm tents for families willing to explore seashore.
Location: Neot HaKikar, Israel
Price: ₹ 7000/- for Standard Cabin meant for 2 people per night
2. Genghis Khan in the Golan

Renowned Mongolian tents accommodation with all amenities is a perfect choice for family accommodation.
Location: Giv'at Yo'av, Israel
Price: ₹ 5000/- for 2 persons
Suggested Read: 35 Best Places To Spend Christmas In Europe 2021: Where Festivities Breathe Magic Into The Air!
3. Midbara

An excellent accommodation option in Zuqim area nearby southern part of Dead Sea connecting to Eilat, it provides luxurious and comfortable accommodation.
Location: Tzukim, Israel
Price: ₹ 20,000/- for family accommodation
4. Brown Hotel Tel Aviv

One of the famous hotels in Tel Aviv, it is cost effective and makes your stays truly comfortable.
Location: 25 Kalisher Street, Tel Aviv City Center, Tel Aviv, Israel
Price: ₹ 12,500/- for family accommodation
Further Read: 9 Restaurants In Berlin To Visit In 2022 That Offer Delicious Food & Gorgeous Views, All On One Platter!
Known for its history and culture, Israel is a country that cannot be explored without having a good knowledge about its roots as well as significant places. This Israel travel guide will not only make it convenient for you to prepare an itinerary but will even help you comprehend the essence of each place. Therefore, when planning your vacation in Israel , it is pivotal you go through these guidelines.
People Also Read
Tel Aviv Travel Guide Chicago Travel Guide Russia Travel Guide
---
Looking To Book A Holiday Package?
Book memorable holidays on TravelTriangle with 650+ verified travel agents for 65+ domestic and international destinations.
---