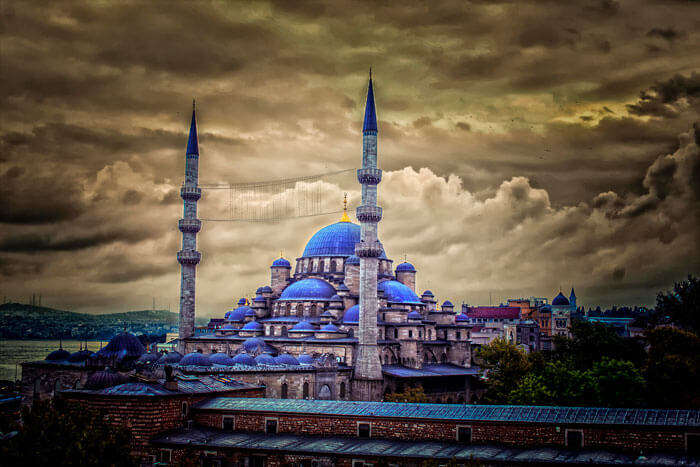 Istanbul is known to be a vibrant city that has been spreading its mystical allure all over the world for a long time. An eclectic blend of age old traditions with the peculiar sophistication and style of Europe can be witnessed at the most popular places to visit in Istanbul.
Top Istanbul Tourist Attractions
The city is known for its amazing time-honored attractions that have been beckoning tourists from all over the world. Besides, it is being noticed as a modern city with chic cocktail lounges and nightclubs, flourishing art and culture scene and designer boutiques selling stylish and elegant couture. Istanbul has everything for a discerning tourist!
Best Beaches In Istanbul
1. Dalia Beach

This is one of the most prominent beaches in Istanbul, located close to the Demircikoy Cove. It is perfect for enjoying a tranquil and peaceful time with your loved ones. One of the best places to visit in Istanbul, it is famous among honeymooners for its serenity.
Key Attractions: Dalia Beach has good options around for trekkers. Surfing and volleyball is common. Food lovers must try The Dalia Beach Café, famous for its delicious seafood and refreshing coffee.
Timings: 8 am to 6 pm
Entry Fee: 25 Turkish lira on weekdays; and 30 Turkish lira on weekends.
2. True Blue Beach

True Blue Beach offers a mesmerizing view of the sea and thus makes its place strong among top tourist attractions in Istanbul. The gently sailing boats and tiny islands seem to be floating in the heart of the sea.
Key Attractions: Sunset at the True Blue Beach is breathtaking. Plus there are excellent restaurants like Adana Kazancilar, Develi, and more. Live performances by local artists at the happening bars are just the perfect way to end a fun-day.
Timings: 9 am to 2 pm on weekdays; and 9 am to 4 pm on weekends
Entry Fee: Free
3. Golden Beach

Another beach in the list of best places to visit in Istanbul is the Golden Beach, perched close to Rumelihisari. It is located close to the confluence of the Black Sea and the Sea of Marmara and is famous for its vibrant scene.
Key Attractions: Activities like paddle boating, beach volleyball, mini golf, rock climbing and walking tracks are common at the Golden Beach. Further it is known for adventure sports like kayaking and fishing, and is perfect for swimming as well. Gastronomical delight is ensured at famous restaurants like La Terrasse Restaurant, Restaurant NISI Island and more.
Timings: Opens at 8 am
Entry Fee: 15 Turkish lira on weekdays; and 30 Turkish lira on weekends.
4. BURC Beach

Located close to the Black Sea Coast, BURC Beach is known for its extensive shoreline and colorful beach umbrellas perched here and there. Beach bars offer cool, refreshing drinks and delectable snacks.
Key Attractions: BURC is one beach where you can enjoy activities like a ride on catamaran, windsurfing, kite boarding, canoeing and kayaking. In the evening, glamorous beach parties create the perfect party mood.
Timings: 9 am to 8:30 pm
Entry Fee: 30 Turkish lira on weekdays; and 45 Turkish lira on weekends.
5. Solar Beach

Another one of Istanbul tourist attractions is the Solar Beach, the most popular private beach known for open air performances. Also indulge in endless sport activities and enjoy musical performances by local artists.
Key Attractions: Swim with the seals. Relish the delectable spread of local dishes and refreshing drinks at the famous BBQ Corner, Solar Bar and Beach Bar. And of course, there are some awesome parties where you can let yourself loose.
Timings: 8 am to 11 pm
Entry Fee: 25 Turkish lira on weekdays; and 45 Turkish lira on weekends.
Historical Monuments In Istanbul
Another thing Istanbul is famous for its deep history and cultural influences which can be clearly seen in the architecture. History Buffs must visit all these places.
6. Basilica Cistern

Basilica Cistern is a magnificent historical landmark of the city and an important spot among places to see in Istanbul – especially if you have any interest in history. It speaks volumes about the complicated way through which water was brought into the city from Thrace. It was built in the 6th century and was neglected for centuries together. Today music and light fills this cistern.
Key Attractions: A magnificent blend of music and light in the cistern area attracts a lot of visitors.
Entry Fee: 15.75 Turkish Lira
7. Aya Sofya

Add this to your list of Istanbul tourist attractions if you love art. One of the most renowned Byzantine masterpieces, Aya Sofya was constructed in the 6th century. This was a famous Church that was later on converted into a mosque, mesmerizing art enthusiasts with its glittering mosaics.
Key Attractions: Tombs of Ottoman Sultans; and fine carpets of the city displayed in mosque.
Entry Fee: 31.50 Turkish Lira
Tip: Take a guide along.
8. Topkapi Palace

Talking of key Istanbul tourist attractions, we couldn't miss the Topkapi Palace. Many generations of Sultans and their wives used to stay here. The females used to reside in a harem, closeted and away from the prying eyes of other men. Delicate kiosks and lush green courtyards are its Key highlights.
Key Attractions: Lush green courtyards and the Turkish bath.
Entry Fee: 31.50 Turkish Lira
Tip: Visit when there is no cruise ship anchoring in the town to avoid crowd.
9. Ayasofya Hurrem Sultan Hamam

Among prominent Istanbul tourist attractions are the Ottoman bathhouses, located close to the Sultanahmet Square. Truly spectacular, these exclusive structures were made for Roxalena, the scheming wife of Suleiman.
Key Attractions: Abundance of marble used in creative way, stupendous domes.
Entry Fee: 31.50 Turkish Lira
Tip: Listen to sound of gushing water that echoes around the domes.
10. Blue Mosque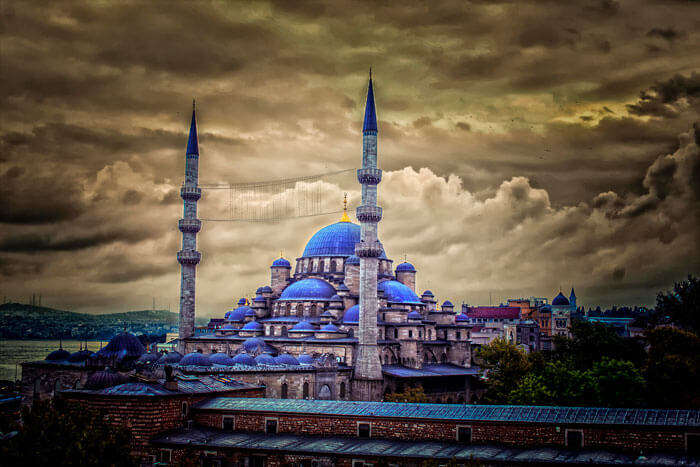 Opposite Aya Sofya, is the famous Blue Mosque, popular for its domed silhouette. Built in the 17th century, this popular historical landmark features among most interesting places to visit in Istanbul.
Key Attractions: Walls peppered with fine quality Iznik Tiles, six huge minarets.
Tip: Enter in the mosque from the side entrance towards Hippodrome to enjoy its magnificence.
Best Restaurants In Istanbul
Istanbul is a paradise for foodies. Gorge on delectable Turkish delicacies and street food. These restaurants in Istanbul will provide you with a fine dining experience.
11. Cipriani Istanbul

Located close to the Levent Business District, Cipriani Istanbul offers excellent Italian food. Enclosed terrace that allows 75 people to be seated comfortably is its Key high point.
Key Attractions: Magnificent views of the city from the ballroom, besides the food of course.
Tip: Visit this restaurant during evening to catch the glittering sky lit view.
12. Changa

Even though it's best known for excellent fusion food, Changa is where one should try classic Turkish dishes. Located close to the Taksim Square, it is housed in Art Nouveau Townhouse.
Key Attractions: The townhouse, almost 103 years old, imparts the restaurant an ancient feel.
Tip: The restaurant serves only from October to June.
13. Muzedechanga

Restaurant Muzedechanga is located within the lush gardens of Sakip Sabanci Museum, in a building that looks like a glass box. It offers lights meals and a chance to dine all through the day.
Key Attractions: An impressive array of delicacies, and the beautiful decor.
Tip: After visiting the museum, grab some light snacks in this restaurant.
14. Borsa Restaurant

Known to offer an eclectic blend of taste with style, Borsa restaurant is known to offer authentic recipes. Turkish cuisine in its traditional avtar can be enjoyed while enjoying the impressive decor.
Key Attractions: Modern methods of serving food.
Tip: Skip lunch to make room for more dinnertime goodness. Relish the best of Turkish delicacies here.
15. Nicole Restaurant

Located on the Beyoglu's Tomtom Suites terrace, Nicole Restaurant was previously known as La Mouette. It is famous for its Albanian style liver in an imaginative way, apart from other Turkish delicacies.
Key Attractions: Nicole restaurant offers a panoramic view of the city.
Shopping In Istanbul
And, for shopaholics, there are colorful markets and swanky malls. Splurge all your good-earned money on the souvenirs and Turkish handicrafts.
16. Grand Bazaar

A shopping haven for shopping enthusiasts, it is designed in a maze like structure and is perfect for buying rugs, jewelry, tea, spices and souvenirs. Buy ethnic Turkish products and cheap yet trendy apparels.
17. Mall of Istanbul

Another gem in the list of awesome places to visit in Istanbul is the Mall of Istanbul. It offers an exclusive range of global brands, along with chic gourmet restaurants.
18. Istinye Park

This open air shopping hub is known for housing numerous global brands and stands out among the shopping places to see in Istanbul. There are 300 shops and an IMAX theatre as well.
19. Kanyon Istanbul

Sprawled in 400,000 square feet area, there are 160 shops in Kanyon shopping mall. It is one of most buzzing tourist attractions in Istanbul, and sells exclusive and highly luxurious global brands. The green outdoor space is worth enjoying.
20. Palladium

Looking like a giant glass sphere, Palladium is a distinguished one from the lot of places to see in Istanbul. One can buy international as well as Turkish products while enjoying at its cafes, in-built theatre and the food court.
Istanbul is a breathtakingly beautiful destination that offers an amalgam of traditional as well as modern attractions. A mix of options is what makes it one of the most popular tourist places in the world.