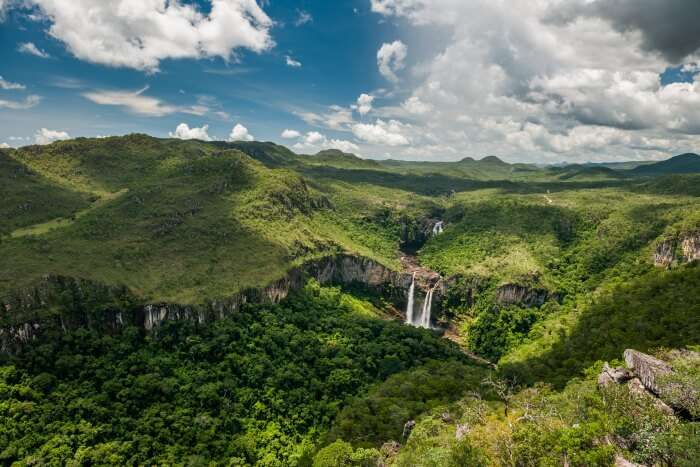 This exotic National Park in Brazil is hard to spell, harder to pronounce, and certainly not a very easy place to find. Surrounded by lovely white sand, lakes and natural beauty, this brimming epitome of paradise is found on the northern tip of Brazil. It began tourist spot in the late 1980s. This archipelago has so many hidden treasures in it, and one of them is Jericoacoara National Park.
Jericoacoara National Park is an amazing place that will make your jaw drop with utmost awe. This national park in Brazil is treasured in the state of Ceará, and on its seashore, is located the Jericoacoara beach. If you do not believe that such magnificence and beauty exists, then the Jericoacoara National Park in Brazil is where you should go.
About Jericoacoara National Park

The beauty that has always attracted people like iron does magnet, is the National Park's abundance in white sand. This beautiful Park is filled with crystal clear lakes and serene beaches. And laying your hands upon some coconut water along with a relaxed nap on the hammocks is a 'must do'.
The sea is ideal for water sports like kitesurfing, windsurf, and wave surfing. The bare beauty of the sunset from the top of the dune is so mesmerizing that its an image worth not forgetting. Not a single street light or lamp can be found on this beautiful island, as there actually are no streets there! Just small sandy paths that would lead you to and from many pousadas to the many restaurants. During the night, one will find many places to soothe their ears with live bands and music. This place oozes with tourists and is filled with backpackers and Brazilians alike.
Must Read: 10 Brazil National Parks That Will Let You Explore The Realms Of Wildlife At Its Best
Jericoacoara National Park Map
Things To Do In Jericoacoara

1. Catching waves and winds- This white sanded island is well known for its perfect conditions for high-intensity sports. There number of water sports like surfing and windsurfing that will leave the salt water taste in your mouth and sand in your hair.
2. Sail the Seas- Get out on water instead of soaking up the sun on the shore. The deep blue water is an obvious highlight of Jericoacoara's beach scene.
3. Discover the dunes- Take a ride on a buggy or jeep and for those looking for a slower pace, the horseback ride is available too. You can also surf the dunes by picking up on a sand board. You'll discover the otherworldly beauty of the dunes either way.
4. Take pictures at Pedra Furada – Pedra Furada is not just a perfect spot for a dramatic beach picture, but also one of the most hyped spots that are loved by the crowd.
5. Explore the lighthouse- The best view of Jericoacoara isn't at the beach. Instead, it is the lighthouse that is created on the Serrote Hill. A beautiful 360-degree view of the area, including the sand and the waters, can be captured perfectly.
6. Kayak through mangrove forest- For a sport with no wind and waves, head to Mangue Seco, about 5 kilometers away from Jericoacoara. Take a kayak through the waters to see more of this unique environment.
7. Join the capoeira crowd- Capoeira is a time-honored tradition that is practiced throughout Brazil. It is an interesting sight to lay your eyes upon this beautiful form of martial art in the Jericoacoara's dunes.
8. Check out the local churches – Igreja de Jericoacoara, Nossa Senhora do Rosário de Fátima and Igreja Nossa Senhora da Consolação are the local churches that have beautiful artwork architecture. These are the perfect places to unravel the history of Jericoacoara. Yearly, on December 13th, the locals hold a huge festival to attract people from all over the world.
Suggested Read: Brazil Wildlife: A Mini Guide To Explore The Enchanting Carnival Land Of South America!
Best Time To Visit Jericoacoara National Park

Jericoacoara is an exotic national park with apt time to enjoy your trip between July 30th to December 31st, depending upon the average temperature and humidity. The temperature of this place is usually hot and humid with very low chances of precipitation throughout the year.
Suggested Read: Restaurants In Brazil: These 10 Brazilian Eateries That Lend Fine Dining A New Meaning
How To Get To Jericoacoara National Park

Your target airport would either be Fortaleza or the Jericoacoara airport. The airlines to Jericoacoara include GOL and Azul. Also, bus services are available from Fortaleza to Jericoacoara which also has an option of VIP services and a morning and afternoon departure.
Suggested Read: 10 Brazil Theme Parks For An Enthralling & Reviving Holiday With Your Loved Ones!
Accomodation In Jericoacoara National Park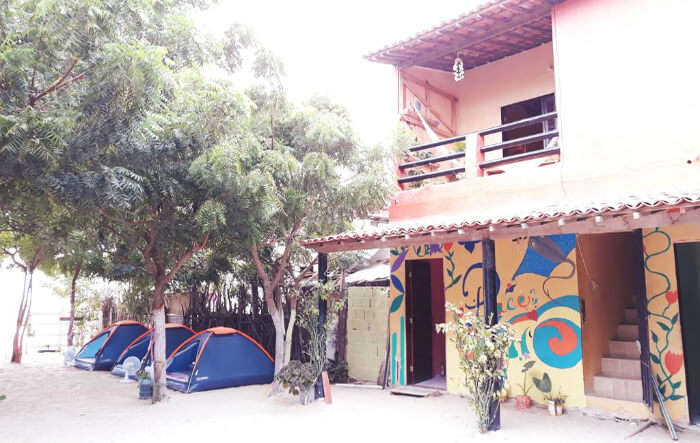 There are quite a few hotels and pousadas in Jericoacoara which are according to the budget. Some of the options are:
1. Hostel America do Sul- This beautiful hostel is located just outside the center and is probably the most affordable place to stay in Jeri. It has complementary and decent breakfast as well as a very relaxing atmosphere.
2. Hostal Jeri Arte –This place would be the best for the creative heads out there. Consisting of a relaxing atmosphere and filled with tropical garden and a kitchen, this is the perfect place to stay in
3. Essenza Hotel- The name speaks for itself, splash out and stay in the essence of the tropical atmosphere in this luxurious hotel. As a tourist, it is quite costly (300 US dollars per night) .
Further Read: 6 Romantic Places In Brazil For Falling In Love Again!
For the thrill seekers and water babies, this place is a win. From dusk till dawn, it is filled with adventures, sports, fun, and excitement that pretty much fits in the budget as well. So what are you waiting for? Start booking your tickets for a trip to Brazil and experience the world of Jericoacoara.
People Also Read:
National Parks In Texas Itatiaia National Park Pantanal Matogrossense National Park
---
Looking To Book A Holiday Package?
Book memorable holidays on TravelTriangle with 650+ verified travel agents for 65+ domestic and international destinations.
---