Jyoti shares her wonderful honeymoon experience to Mauritius. She elaborates on all the watersports activities, nature visits, and the sightseeing that she did there. Her package which was booked via TravelTriangle, included their flights, hotels, and sightseeing – all for a cost of INR 148,000.

I had great expectations from my honeymoon and, fortunately, all of them were fulfilled in Mauritius. I wanted a destination for my husband and me that would allow us to spend some quality time together and Mauritius proved to be the perfect pick.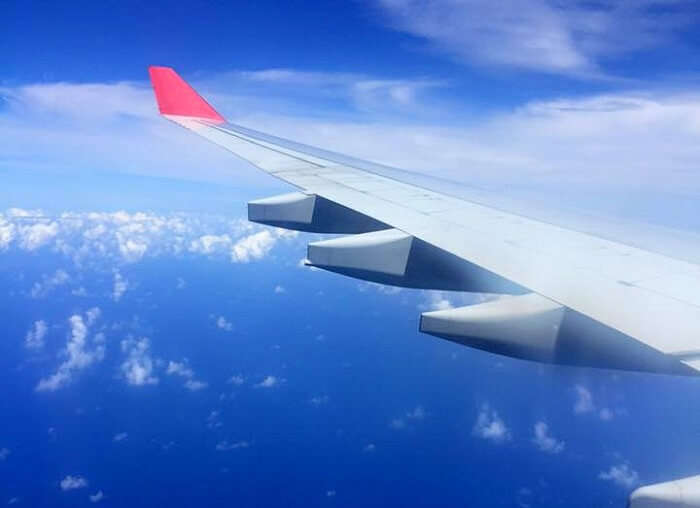 Having researched a lot about the best honeymoon destinations, I finally chose Mauritius for I found that it was a mix of both – nature and lifestyle. Thus, the choice was made.
I came across TravelTriangle via a Facebook ad and gave in my details for suitable quotes and itineraries. True to their promise, I soon found myself with calls from various destination experts offering me a customized package as per my will.
I chose the best one from 'Youngistan Travellers' and settled when it came to the land and air package for my honeymoon.
Day 1 – The romantic beginning

After landing in the country, we were transferred to our hotel 'Tarisa Resort and Spa Mauritius'. This was a beautiful and spacious property and we loved it at the first sight. We were welcomed with drinks and snacks and the room allotted to us had romantic freebies like a t-shirt, palazzo, sparkling champagne, and a fruit basket. I was in love with the hotel and its hospitality.
Suggested Read: 33 Things To Do On Mauritius Honeymoon For A Ultra-Romantic Affair In 2022
Day 2: North Island Tour – The urban experience

We did the North Island Tour of Mauritius this day and it was a nice urban experience. Port Louis, the capital of Mauritius had a lot of Bollywood attractions including the 'Marie Reine de la Paix and Signal Hill' where the church scene from hit Bollywood movie 'Mujhse Shaadi Karogi' was shot. Apart from the Bollywood connection, Port Louis also gave us the 'Jumbo Shopping Complex' which turned out to be the perfect place for buying all kinds of things ranging from food items to souvenirs.
Day 3: Ile Aux Cerfs – The island of water sports

Ile Aux Cerfs proved to be a magical experience. The private island offered us amazing water sports activities and the 4 rides that we did included – Parasailing, Speed boat ride, Underwater sea walking, and Tube ride. It was an out of the world experience for us and I will never forget the view that was offered by the parasailing experience.
We were also taken to a nearby island where all the island scenes from the movie 'Kaho Na Pyar Hai' were shot. It was beautiful beyond imagination.
Honeymoon Resorts In Mauritius
Day 4: South Island Tour – Perfect day, perfect weather

South Island Tour turned out to be quite great, mostly because of the pleasant weather. We visited the grand Shiva Temple, the prison where 'Anjam' – a hit classic movie was shot, and finally the shipbuilding factory.
There was a 'ship model/miniature shop just outside the factory and we bought 4 of the small models. It is said that these hand made ships are lucky – so much so that Bollywood star 'Abhishek Bachchan' got married to the Bollywood queen 'Aishwarya Rai' when he bought a model ship from here. These ships cost around INR 1000, per piece and we couldn't resist but buy a few, for good luck's sake!
Suggested Read: 12 Exciting Water Sports In Mauritius For An Out-Of-The-World Experience In 2022
Day 5 – Blue Safari

Since it was our leisure day, we decided to make the most of it by doing the Blue Safari. (Not included in the package)
This turned out to be a wonderful experience and I loved the underwater sub scooter ride. We also did the 'Swim with the Dolphins' and it was a magical experience seeing the cute dolphins in such close proximity.
Day 6 : Casela Nature Park

This again being a leisure day, was spent in the Casela Nature Park. (Not included in the package) This was a beautiful lush green park where we saw a lot of animals. We did the 'Interaction with Lions' and 'Walk with the Lions' among the many activities there. Witnessing and touching the 'King of the Jungle' was an exhilarating moment for both my husband and me.

Later, we also did the 'animal safari', which turned out even better. Overall, the day was well spent and quite enjoyable.
Suggested Read: Shopping in Mauritius In 2022: 12 Spots That Offer Both Luxurious & Crafty Items!
Day 7: Saying goodbye to fond memories

We checked out from the hotel at about 12 and proceeded for the complimentary couple's massage that was scheduled for us. The massage was a relaxing experience and marked a perfect end to a beautiful journey.

Mauritius for my husband and I turned out to be a magical destination. It was an ideal place for a new beginning and we were glad that our journey began in a sunny background of laughter and fun. A perfect romantic destination – spending time in Mauritius gave us an opportunity to know each other better.
High Points –
Ile Aux Cerfs, Blue Safari, and Casela Nature Park. The weather in South Island tour was amazing and we loved the miniature ship models that we bought. Jumbo Shopping Centre in Port Louis and various Bollywood attractions that we saw there.
The difference between quotes taken from Yatra, MakeMytrip etc. and TravelTriangle was around INR 30,000 and that itself tells you how good and value for money the deal was.
Low Points – There were continues leisure days in our itinerary, we would have preferred if there were gaps in between. We were not told about clubbing Mauritius and Dubai – had I been informed, I would have used the leisure days for Dubai.
Tips to future travelers –
It is a perfect destination for all those wanting to spend quality time with their loved ones.
A must go place for all the honeymooners.
Exchange money from India and then go, for Mauritius offers a bad exchange rate in comparison.
Further Read: Nitesh's Honeymoon In Maldives Will Inspire You To Plan A Romantic Vacation With Your Amor
If you want a similar exciting honeymoon like Jyoti's, then plan your honeymoon holiday with TravelTriangle. Mauritius is a perfect destination for couples where they can have the best of island vacation and take a break from the hustle bustle of the city life. Have an enjoyable experience on your honeymoon.