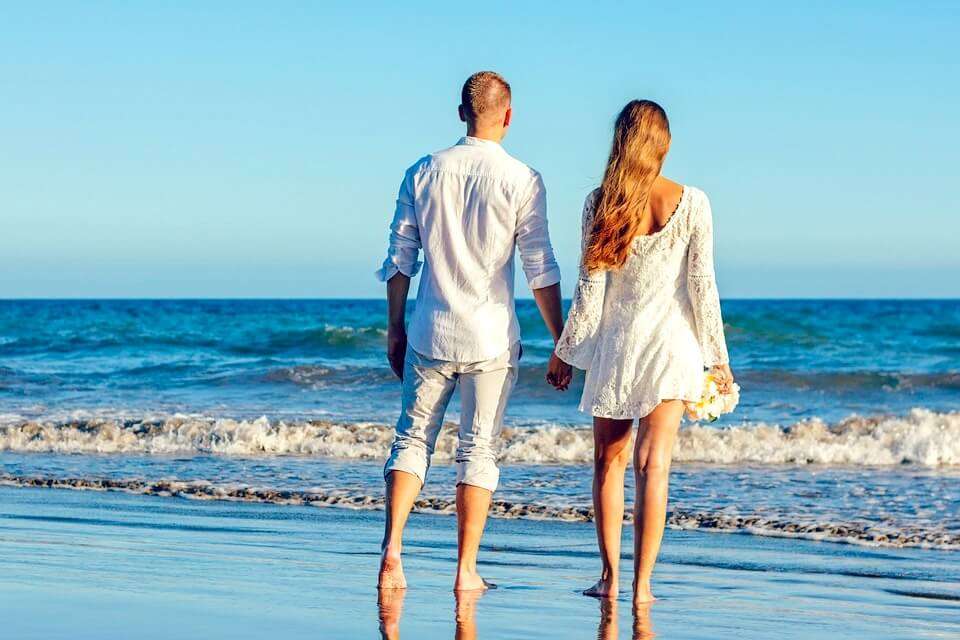 Rightly called as the Paradise Island, the gorgeous side of Mauritius unveils with powdery white sands on ethereal beaches. The unbelievably romantic places to visit in Mauritius make it the go-to destination for newlyweds. From enjoying your sweet private time to exploring the adventures together, things to do in Mauritius and places to visit there, has a ton of both. It is not very hard to imagine a romantic time over crystal blue lagoons, coral islets and unspoiled beaches right? However there's more to Mauritius than just its tropical beauty. You can enjoy an unparalleled time experiencing world famous water sports, trendy bars, restaurants and clubs. From a romantic walk in the gardens to a relaxing day at the spa, Mauritius will be full of pleasant choices.
13 Things To Do On Your Mauritius Honeymoon
Planning a honeymoon trip? Read on for things you can do on your honeymoon in Mauritius. So without further ado, here's our top 10 list of must do's
Beach-hopping: Typical Sweetness
Car Ride: Be Your Own Master
Shopping: Go Local
Food Indulgence: From Streets To Fine Dine
Chamarel Village: Home To The Seven Colored Earth
Ile aux Cerfs: Treasure Island
Relish Mauritian Spas: Pamper Thyself
Pamplemousses Botanical Garden: A Scenic Treat
Grand Bassin: It's A Lake Thing
Skydive: Experience The Thrill
Le Morne Brabant: Witness Mauritius' Unparalleled Beauty
Underwater Wedding: An Experience Like None
Catamaran Cruise: For A Titanic-Like Experience
1. Beach-Hopping: Typical Sweetness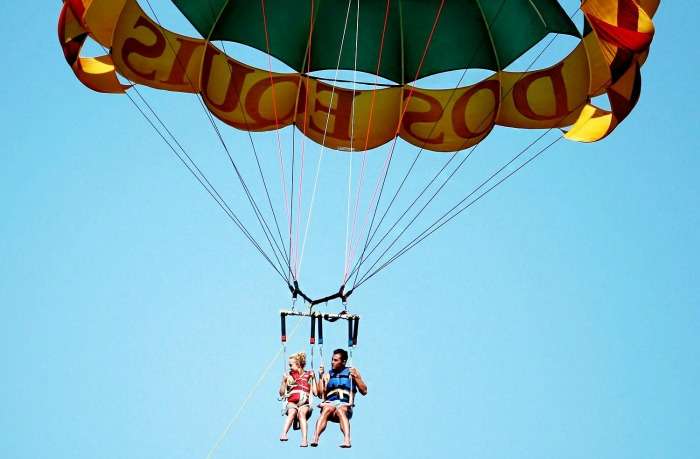 Mauritius honeymoon is incomplete without a mid-night candle-light date on one of the endless white beaches or a blissful time soaking up the sun with your partner. Island's finest beaches like Grand Bay, Pereybere, Belle Mare, and Blue Bay give you all the excuse to cuddle with your partner on the cool sand. Naughty adventure on your mind? Try holding her through a parasailing session or taking her on a fun-filled ski ride.
The best time to visit Mauritius for honeymoon for beach hopping is between April-June and September-December. This lets you skip the abundant rainfall that shows up during February and March.
Must Read: Breathe In Nature In The Depths Of Black River Gorges National Park
---
Mauritius Honeymoon Packages On TravelTriangle
Begin your married life with an exotic honeymoon trip to Mauritius. Experience the best of Mauritius with North and South island tours: Inclusive of Hotels, Sightseeing, Transfers, & Meals. Best Prices Guaranteed. Customizable Package & Free Guidance From Destination Experts.
---
2. Car Ride: Be Your Own Master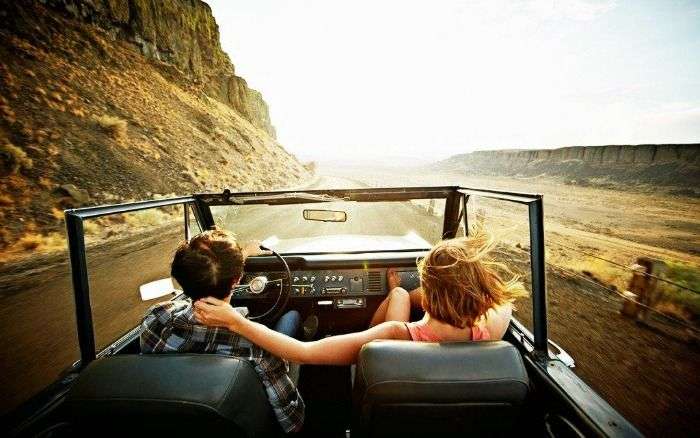 Image Source
Renting a car is definitely one of the most romantic things to do in Mauritius. The island has an extensive motorway and widespread coastal roads. While taxis could be expensive and time consuming, a car is at your disposal 24/7. Don't miss out on the opportunity to wind through sugarcane plantations, city centre, and markets all at your free will. Take a romantic scenic drive from Pamplemousse towards Pieter Both or down south to Chemin Grenier and Le More. Nothing compares the freedom of driving around with your partner to explore the whole island.
Price Per Car: INR 9,000 onwards
Must Read: Paragliding in Mauritius: An Exhilarating Activity To Experience A Dash Of Adventure In 2018
3. Shopping: Go Local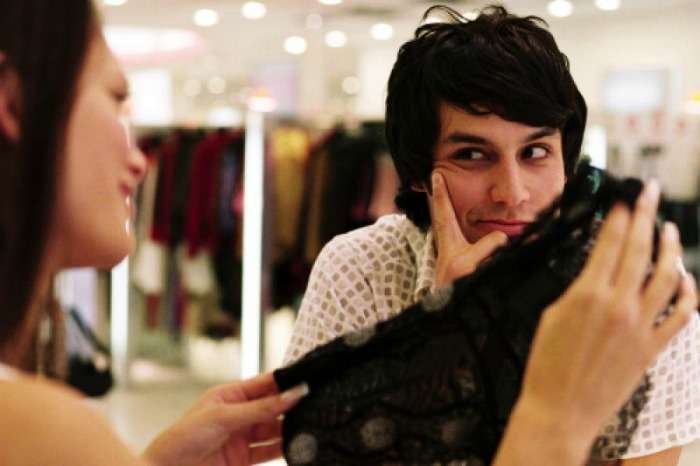 Image Source
Being on a honeymoon is all the more reason to go shopping on this exotic island. The island is a shopping paradise with reasonable prices, quality products and amazing range. Some of the places to visit in Mauritius for shopping include Grand Baie Bazar, Goodlands, Quatre Bornes and so on. Take advantage of the situation and buy that seductive dress you always wanted to wear while out with him!
Suggested Read: Make The Most Of Your Mauritius Trip With These Goof – Proof Tips In 2019
4. Food Indulgence: From Streets To Fine Dine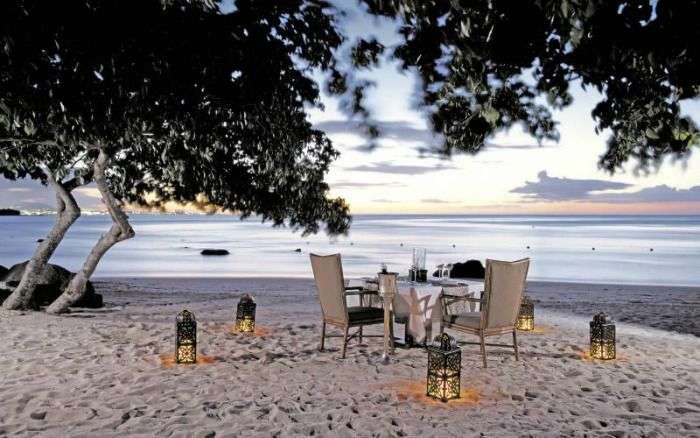 Image Source
The Mauritian land offers a unique mix of Creole, African, Indian and Chinese influences. Make sure you experience both: street food as well as a romantic fine dinner. The must try from the Mauritian streets is dholl puri served with hot chili paste. The best places to try these are at Dewa & Sons on Rose Hill and Chapeau La Paille in Port Louis. On the other hand some of the top Mauritius hotels and resorts like Oberoi offer in house set up to enjoy a private romantic dinner with your loved one. This saves you the effort of stepping out to look for a romantic reservation.
Must Read: 10 Enchanting Honeymoon Destinations In South Africa
5. Chamarel Village: Home To The Seven Colored Earth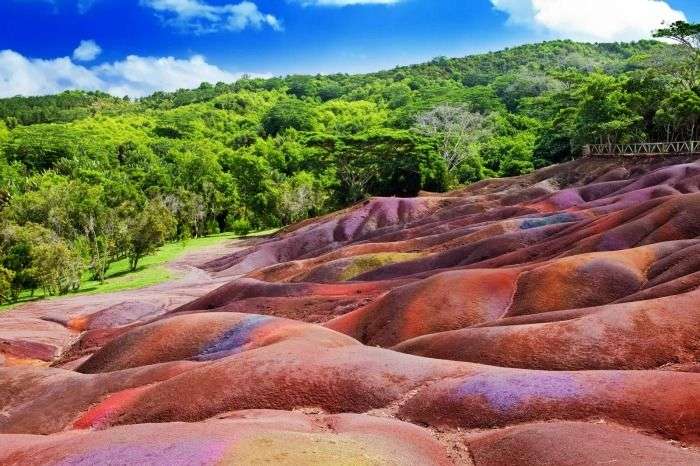 Image Source
The little village of Chamarel in South Mauritius is one of the most famous Mauritius attractions and one of the best places to visit in Mauritius for honeymoon. This village is famous for its colored surfaces (result of some geological locchaa) with a mix of purples, yellows, oranges, and reds. The uneven volcanic surface is also home to the highest waterfall in Mauritius. These natural beauties are usually visited as part of a combined trip popularly known as the visit to "Seven Colored Earth". Keep this on the top of your list of "Places to visit in Mauritius" during your Mauritius honeymoon.
Mauritius Honeymoon Tips: This could be a great place to propose your better-half all over again and make them fall for you!
Suggested Read: Nightlife In Mauritius: 10 Hotspots To Blend In The Vibe
6. Ile aux Cerfs: Treasure Island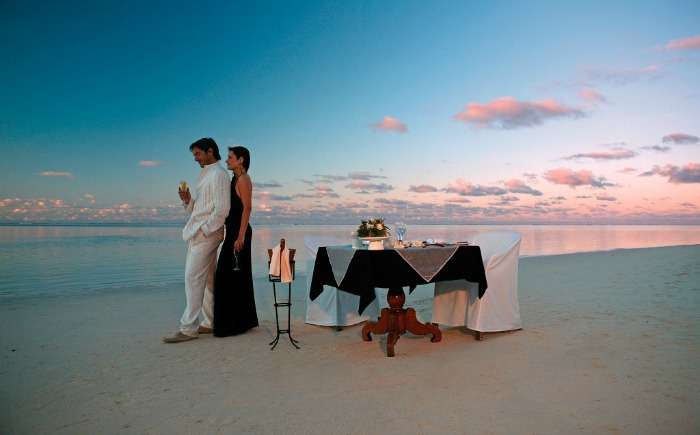 A Mauritius attraction you just cannot afford to miss during your Mauritius honeymoon is the Ile aux Cerfs, an island located off the East coast. Popularly known as the Treasure Island, this picturesque getaway is famous for its spectacular white sandy beaches, palm trees and turquoise blue water. You can relax on the beach, prepare a barbeque with your partner, and go parasailing. With array of restaurants on the island such as the Chez Tino offering the view of the harbor from its terrace, you can as well indulge in some sinful exotic flavors over a romantic meal.
Suggested Read: Romance Aboard A Catamaran Cruise On Your Mauritius Honeymoon For Memories Of A Lifetime
7. Relish Mauritian Spas: Pamper Thyself
You simply can't run short of romantic things to do in Mauritius, and relishing a spa treatment definitely tops the chart. Spa treatment is also one of the best things to do in Mauritius in February as the month is really hot. The Spa at Four Season Resort Mauritius at Anahita is one place where you will find a mix of Indian, African, Chinese and European therapeutic spas. You and your partner would love to be buffed with their signature Mauritian fusion spas and massage. It's a two – three hour soothing experience that'll get you started for the forthcoming nights on your Mauritius honeymoon!
Price Per Therapy: INR 1,500 onwards
Suggested Read: 12 Best Beaches In Mauritius For Your Next Reviving Holiday In 2019!
8. Pamplemousses Botanical Garden: A Scenic Treat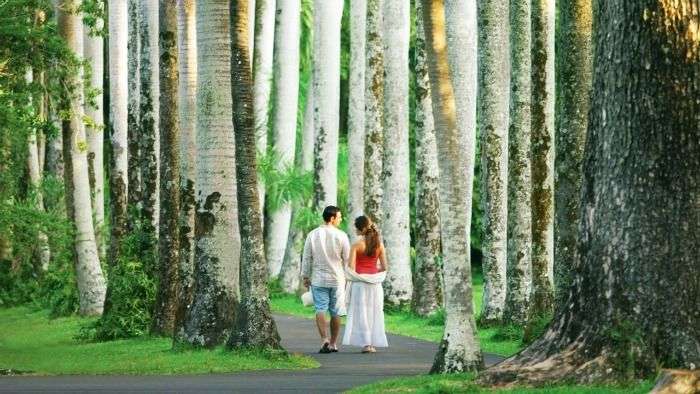 The southern hemisphere of the island houses one of the oldest of its kind botanical garden. The lush landscape is certainly one of the best places to visit in Mauritius. Explore the variations in species with more than 85 varieties of palm trees and other flora. Apart from the greenery, the fish ponds laid beautifully inside are worth visiting on your Mauritius honeymoon.
Entry Fee: INR 100 per person
Suggested Read: 15 Most Romantic Mauritius Honeymoon Beach Resorts
9. Grand Bassin: It's A Lake Thing
High up in the mountains, almost 1800 feet above sea level, lies a breathtaking lake, which is among the most romantic Mauritius honeymoon destinations. The Grand basin is also considered as a sacred lake as per Hindu beliefs. This interesting legend must make a part of your places to visit in Mauritius as it is believed that the waters inside the crater communicates with the waters of holy Ganges of India. Indian connection, yahan bhi?!
10. Skydive: Experience The Thrill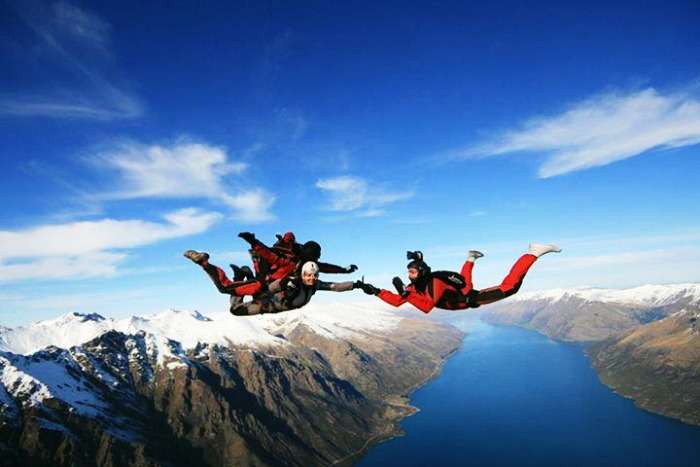 If you and your partner are heading to Mauritius during summers and enjoy extreme sports then Skydiving has to be one of the things to do in Mauritius. Head to the north east side of the island to experience the spectacular aerial view with approximately 10,000 sq ft skydive. The 360º view of Mauritius will leave you with an unforgettable experience for a lifetime! Not much can be said about this one, it's the experience that will count!
Skydiving Price: INR 25,000 onwards
Must Read: 10 Best Holiday Destinations In South Africa To Enliven Your Soul
11. Le Morne Brabant: Witness Mauritius' Unparalleled Beauty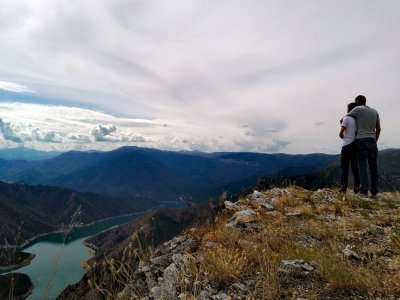 Image Source
What could be more romantic than watching the way Mauritius spreads its charm from a mountain top holding your partner close? Indeed, it is one of the most romantic things. The tip of Le Morne mountain which is one of the best Mauritius honeymoon spots offers breathtaking views of Mauritius and is a world heritage site. Visit this place that offers peace and privacy for you two and watch the beautiful scenes!
Suggested Read: Citadel Fort In Mauritius: A Comprehensive 2018 Guide To Help You Plan Your Trip Well
12. Underwater Wedding: An Experience Like None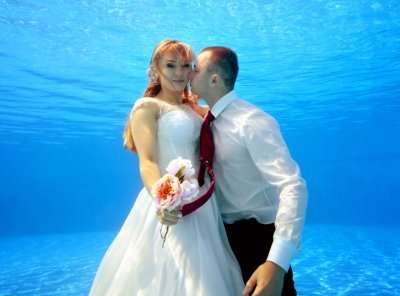 If you and your partner are looking for the most thrilling and romantic experience then underwater wedding is something whose very thought will blow your mind away!It is, undoubtedly, one of the most unique things to do in Mauritius honeymoon. Prepare yourself for a dream-like wedding experience that some resorts of Mauritius offer. Exchange vows in the presence of fishes & colored corals and cherish the memories forever!
Price For Underwater Wedding: INR 2,00,000 onwards
13. Catamaran Cruise: For A Titanic-Like Experience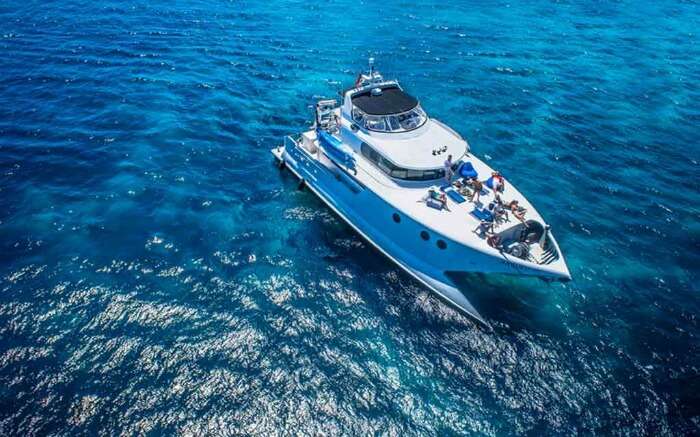 One of the most romantic things to do in Mauritius on your hoenymoon is to head on a catamaran cruise. It is one of the best ways to enjoy the scenery of Mauritius. Soak up some sun and drift along the ocean wind. Enjoy a glass of champagne and you can even make Titanic pose on the edge of the cruise. It is a great place to take pictures too.
Price: INR 3,200 per person for two hours
Travel Checklist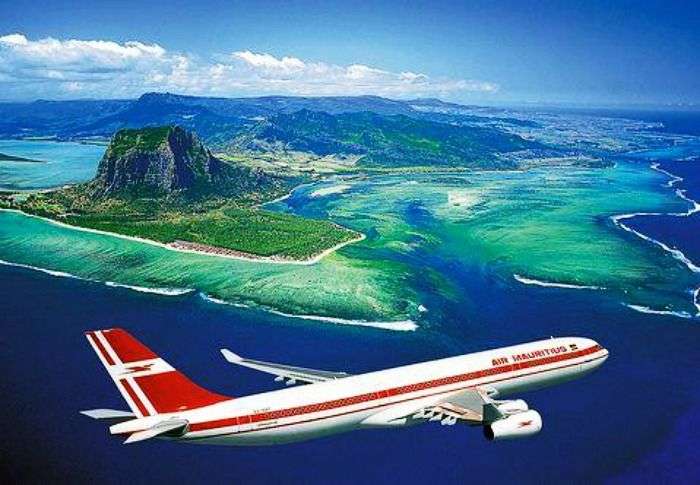 Image Source
These are the things you should keep in mind if you are going on a romantic holiday to Mauritius with your spouse.
Tip: Don't forget to click the most bizarre selfies with your love at the Curious Corner of Chamarel.
Mauritius Visa: Indian nationals get a maximum 60-day visa upon arrival to Mauritius. However, you must fulfil the following criteria for this:
a confirmed accommodation booking in Mauritius
a sponsorship letter
a confirmed return flight ticket
enough funds to last during their stay in Mauritius (minimum of USD 100 per day)
You can find more details about the eligibility criteria and others details on the IATA website.
Flight Charges: The one-way ticket to Mauritius starts from Rs. 63,000 per person during peak season. However, if you are booking a few months in advance, you will easily get a ticket between Rs. 30,000 and Rs. 35, 000 per person. You can book a ticket for the date of your choice on the Air Mauritius site
Mauritius Honeymoon Package: It is best to avail a package deal. You can find several packages listed here. The basic package starts from INR 58,000/- (per person for 6 nights) and goes up to as high as INR 1,14,000/-
Suggested Read: Curepipe In Mauritius: 5 Reasons Why It Is An Unrivalled Getaway
A Romantic Stay In Mauritius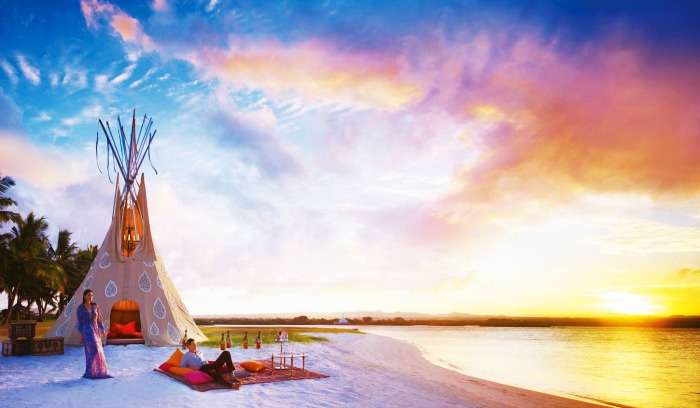 Image Source
Living in Mauritius is all about luxury. The island has some of the best luxury residences you'll find anywhere in the world. Here we list top 5 romantic hotels and resorts in Mauritius:
One&Only Le Saint Geran
Constance Belle Mare Plage
Lux Belle Mare
Four Seasons Resort Anahita
The Sands Resort
Mauritius Weather
During the summers, from November to May, Mauritius weather is hot, humid and wet. The average temperature ranges between 20° C and 28° C. And if you are near the coast, it may well touch a scorching 30 degrees. Winters though are a bit of a relief. The temperature falls, but not drastically, and you get the much-required relief from the humidity. This makes Mauritius a great winter escape.
Further Read: Mauritius Vs Maldives Vs Seychelles Infographic: Which Is Your Ideal Holiday Paradise?
Can't wait to embark on your honeymoon already? Well, we understand. Don't keep yourself waiting and plan your trip to Mauritius with TravelTriangle in advance. Just pick your dates, customize the itinerary, and get ready to venture out! Happy honeymooning!
Frequently Asked Questions About Mauritius Honeymoon
Q: What to pack for honeymoon in Mauritius?
A. Sunscreen, shorts, flip-flops, light waterproof jacket, a formal outfit, and mosquito repellent are important items to pack for your Mauritius honeymoon. Also, if you have snorkeling gear, don't forget to carry it; will save you rental charges.
Q: What are the must things to do in Mauritius on honeymoon in winters?
A. Since Mauritius enjoys a tropical climate and winters are supposed to be on the drier side, you can indulge in as many activities in Mauritius from Scuba to sky diving.
Q: Which are best islands for honeymoon in Summer in Mauritius?
A. Ile aux Cerfs, Isla de Ambre, Ile aux Cocos, and Serpant Island are some of the best islands in Mauritius to visit during summer season.
Q: Which is best for honeymoon – Maldives or Mauritius?
A. While both the destinations are perfect for a romantic honeymoon, Maldives definitely outshine the other in certain cases. The beaches are better and it has got more private islands for a serene experience. But if you're looking for a non-cliche experience on a budget, Mauritius is comparatively cheaper. However, the best way to take a call is by comparing your budget with each destination and the kind of experience you & your significant other dreams of.
---
Looking To Book An International Honeymoon?
Book memorable honeymoon on TravelTriangle with 650+ verified travel agents for 65+ domestic and international destinations.
---
Comments
comments