The west coast of Sri Lanka is full of many scenic, uncrowded beaches and an assortment of convenient and peaceful locations. One such nice place in the west coast of Sri Lanka, is Kalutara. Also known as Kalutota, Kalutara is a lovely coastal town.
Kalutara in Sri Lanka is a very popular tourist attraction site and a peaceful coastal retreat. This town has a lot of sea setting locations as well as rich in the intriguing history. Be it the food or the cultural hotspot centers or beach bound activities, Kalutara has it all.
It is perfect for a family holiday and if you are looking for a detailed Kalutara travel guide, then you have come to the right place. Let's discuss in detail, the things that you can do in Kalutara as well as other necessary information.
About Kalutara

Kalutara or Kalutota, is a coastal town in the west coast of Sri Lanka and is the perfect spot for a nice family vacation. The town holds some lovely beaches, where you can go to enjoy some peaceful time in nature.
Kalutara has a lot of heritage sites, which speaks of the rich history and ethnicity of the place. Starting from 'Kalutara Chaitya', a Buddhist worship place, which consists of a hollow stupa, the only one in the entire world. There are other attractions like the Richmond Castle and the Asokaramaya Temple.
The Calido beach is a must visit, when you go for vacation in this lovely place and there are many beautiful and luxurious beach resorts that you can dwell in while on your stay in Kalutara.
Not only this, you will find some of the best and freshest seafood in Kalutara. Starting from lobster to cuttlefish and many other fish delicacies. Mangosteen, a juicy fruit with a fleshy white core and a purple cover is native to this region and Kalutara is the biggest hub for producing Mangosteen.
Go through this Kalutara, Sri Lanka travel to know more in detail about this lovely, exotic location.
Best Time To Visit Kalutara

Weather in Kalutara is pretty consistent al throughout the year, although you may come across monsoon season in summer and the winter months are comparatively dry. So, you can visit Kalutara almost any time of the year as the temperature remains pretty constant throughout the year.
Things To Do In Kalutara
Kalutara has a lot of tourist attraction sites and sea side locations worth exploring. Here we have gathered a list of 10 best things to do in Kalutara. Take a look at the list to know more.
1. Richmond Castle

Richmond Castle is a beautiful two storey mansion, located in Kalutara. This mansion was built during 1900 t0 1910 by a wealthy philanthropist, Don Arthur de Silva. This stunning building has a stunning architecture, with Burmese teakwood construction, colored glasses from Scotland and beautiful Italian tiles. This construction speaks of the lavish architecture of its time. The exquisite frames and pillars adds to the charm of the place. The castle, presently is maintained by a public trustee and is open to all the visitors.
2. Asokaramaya Temple

Asokaramaya is a Buddhist temple, built during 1870s and situated in the town of Kalutara. The temple was built with the idea of providing a home to the disciples of Aluthgama Sangharatne from all over the world. The temple is decorated very beautifully with various intricate structures and lovely murals of Lord Buddha, adorning the walls of the temple. There is a hall where the sermons are preached, a drawing room, a bell tower and a Bodhi tree. There is a lot to explore in Asokaramaya temple.
Must Read: Our Enchanting Trip To Sri Lanka Was The Perfect First Time International Vacation
3. Kalutara Chaitya

Located just to the south of the Kalutara Bridge, Kalutara Chaitya is a must see, when you are visiting Kalutara. The temple is situated right on the edge of the northern entrance of the city and holds immense historical value. Kalutara Chaitya is the first temple to hold a hollow stupa. Gangatilake Stupa, as it is known, is the only hollow stupa in the entire world.
4. Calido Beach

Calido Beach is another beautiful place that you should visit on your trip to Kalutara. The Kalu River, which runs through Kalutara ultimately falls into the sea, resulting in a spit of land between the Kalu River and the sea. The water here comes in gentle waves and quite shallow giving visitors the opportunity to take a dip in the water.
Suggested Read: An Offbeat Vacation In Sri Lanka That Uncovered Some Unbelievable Places!
5. Fa Hien Caves

Fa hien caves also known Pahiyangala, is situated in Kalutara. It is a major tourist attraction spot and legend has it that the caves have been the living spot for a Chinese travelling monk named Fa Hien. The caves are also a place of archeological interest. Archeological excavations have unearthed many skeletal remains of pre historic humans in this place. The caves are located on the top of a cliff and you might need to climb a few stairs to reach the top and find the cave.
6. Brief Garden

Brief garden is a very beautiful garden stretch in Sri Lanka, near Kalutara. The garden has developed over a stretch of 5 acres of land and is home to many old trees and bushes. This beautiful garden is divided into different sections, each comprising of different theme. This lovely garden is the perfect place for some nice photography.
Suggested Read: 19 Exotic Wedding Venues In Sri Lanka That Let You Take The Vows With Love, And Amidst Luxury
7. Kechimalai Temple

It is the island's first mosque. Built near the sea on a hill, this mosque has been the worship spot for the ancestors of the Muslim community of Sri Lanka. With Arabian styled architecture, Kechimalai mosque is the oldest and first mosque in this country.
8. Boat Ride in Kalu Ganga River

If you want to enjoy some peace and quiet you can go along a boat ride on the Kalu Ganga River. The ride will take you along fishing villages along the west coast of Sri Lanka, where you can explore the waters more closely.
Suggested Read: 6 Adventure Places In Sri Lanka To Quench The Thirst Of Your Inner Daredevil!
9. Kalutara Bridge

Under the British, Dutch and Portuguese influence, Sri Lanka has seen the development of many historic sites. Kalutara Bridge is one such significant landmark originated during the colonial period in Sri Lanka. It is the connecting link between the western and southern borders and a must visit location.
10. Koggala Sea Turtle Conservation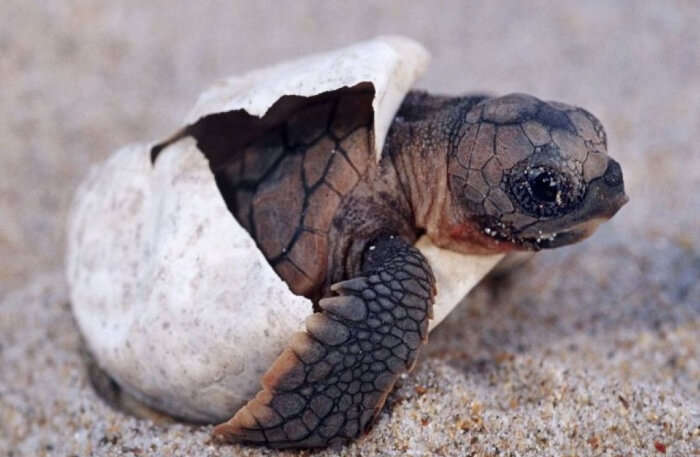 If you love Turtles then you can head to Koggala on a day trip from Kalutara. The Koggala Sea Turtle Conservation Project gives you the opportunity to learn more about these creatures and you will love spending time with these adorable marine creatures.
Suggested Read: Top 10 Restaurants In Anuradhapura For An Unforgettable Food Tour In Sri Lanka
How To Reach Kalutara

Travelling to Kalutara is quite simple and there are many ways in which you can reach this lovely coastal town.
You can reach the place by Train, which is one of the most convenient way to reach Kalutara. The train journey takes you along the Southern Coastal line and the view along your route is simply stunning. Kalutara has two stations. The main station located near the town Centre and another one on the North of the town.
If you opt for a bus, then there are many public as well as private buses that run along Galle road. You can catch a bus from Galle Road or from the main bus station in Fort.
You can also rent chauffer driven vehicles or take your own private vehicle and drive to Kalutara.
What To Pack

As like any tropical region, you can expect the whether to be balmy and humid. Keeping this thing in mind, pack your clothes accordingly along with swim wears. Take plenty of light clothing with you and pairs of slippers or sandals.
You can also carry sunhat and sun shades to protect yourself from the sun rays. An effective sunscreen is a must have along with insect repellents.
Visa And Currency

The currency that runs in Sri Lanka is the Sri Lankan Rupees. If you are visiting from outside of Sri Lanka, make sure to exchange your money for Sri Lankan Rupees.
Also if you are a British citizen then you need to have a valid passport to visit here. The minimum time period on your passport should be 6 months from the entry date and you also need a visa.
Further Read: 10 Things To Do In Kalutara To Make It A Once In A Lifetime Experience
Here you have a detailed guide on Kalutara. Enjoy a hearty stay and visit all the beautiful locations on your trip to Kalutara, Sri Lanka. And to do that perfectly, book a trip to Sri Lanka with your loved ones right now!
People Also Read
Tel Aviv Travel Guide Davao City Travel Guide Manila Travel Guide
---
Looking To Book An International Holiday?
Book memorable holidays on TravelTriangle with 650+ verified travel agents for 65+ domestic and international destinations.
---