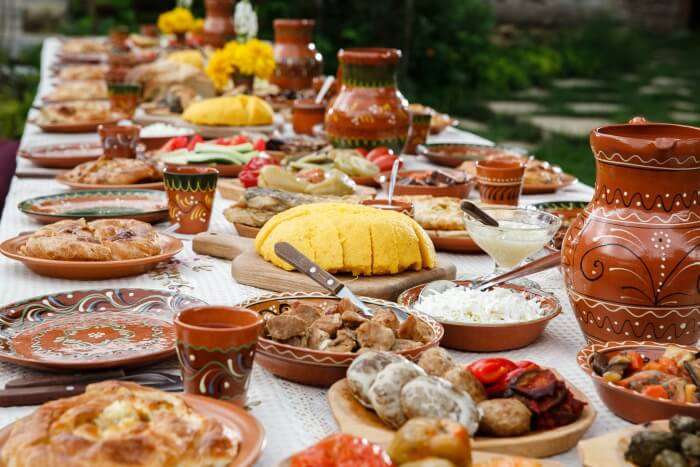 A landlocked country in Eastern Europe, Moldova used to be a part of the Russian Empire. It is surrounded by Romania and Ukraine. One of the things that Moldova is best known for is its sumptuous wine. Wine is so ingrained in Moldova's cuisine that people usually make their own, so the wine cellars produce wines mainly for the purposes of exporting them to other countries.
The predominant religion that most people follow in Moldova is Orthodox Christianity and consequently you will surely find many religious buildings, monasteries and churches in Moldova. As a result, many tourists visit Moldova for its wine, cuisine, culture, and the serene natural landscapes.
As Anthony Bourdain says, "Meals make the society, hold the fabric together in lots of ways…." Moldovan cuisine too doesn't just give us an insight into the flavours preferred by the people here but also into their culture and way of life. In order to have an authentic experience in this country, make sure you visit the amazing Moldova restaurants, for they are the ultimate gateway to its culture.
12 Best Moldova Restaurants
It is never easy to find one place where you can get the delicious, quality food. Hence, we have arranged a list of some of the best restaurants in Moldova to ensure your gourmet desires are satiated.
1. Popasul Dacilor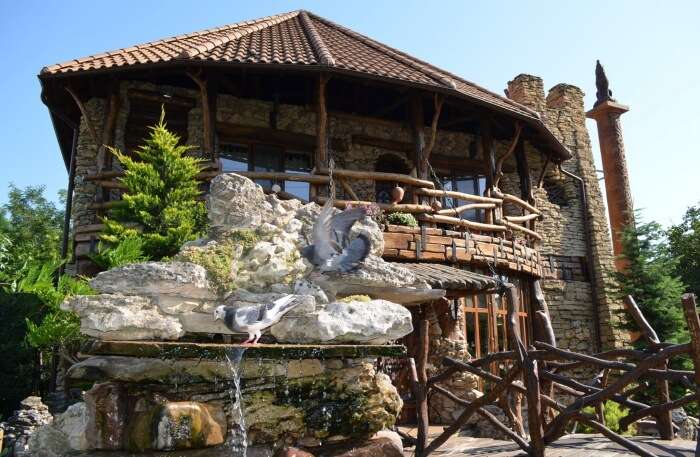 Image Source
Inhabiting an old manor house, it is one of the most popular culinary hotspots located in Chisinau – the capital of Moldova. Embellished with beautiful and authentic interior décor, this venue provides a wide array of culinary options and has quite a hospitable staff.
It has two terraces from where you can enjoy the glorious vista of the city as you feast on your scrumptious meal. Its indoor setting can seat 150 people. So, if you are searching for restaurants in Moldova, Chisinau, then do remember visiting Popasul Dacilor!
Specialty: Halt Gauls
Address: Valea Crucii St 13, Chisinau, Moldova
Contact: +373 691 50 543
2. La Taifas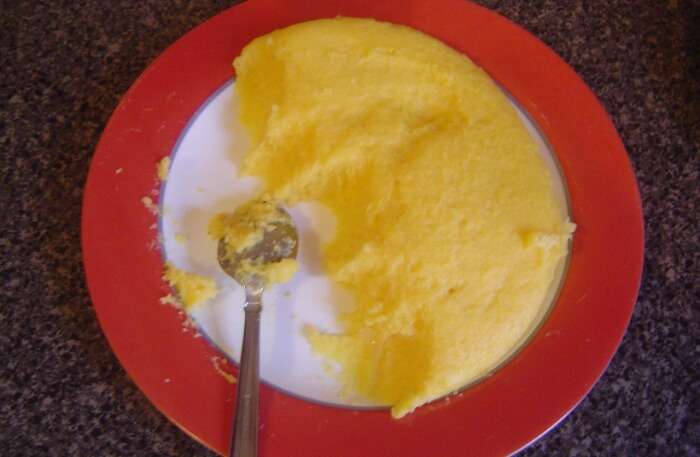 Image Source
La Taifas is an extravagant three-storeyed building with each floor serving a different purpose. The topmost floor is ideal for the couples who wish to spend a romantic evening over some delectable cuisine and wine; the second floor is a banquet hall for communal occasions; the first floor is the restaurant.
It serves traditional Moldovan dishes; make sure you try their mamalyga, plastindia, and chirba along with their wine as you enjoy their live Moldovan music. This is where visitors come to get a real taste of Moldovan food while relishing the scenic view.
Specialty: Chirba, Plastindia, Mamalyga
Address: La Taifas, Bucuresti, 67, Chişinău, Moldova
Contact: +373 22 22 76 92
Must Read: 13 Frolicsome Beaches In Europe For All The Excited Beach Bums Across The Globe
3. El Paso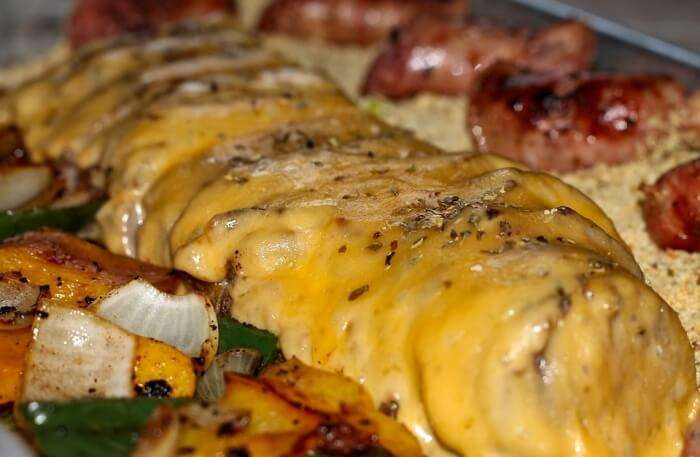 Image Source
If you're ever in the mood for Mexican, while in Chisinau, make sure you visit El Paso. They import their ingredients from Mexico and their quesadillas and fajitas are famous amongst the locals. They even have a terrace for an authentic al fresco dining experience, while their interiors are decorated in Latin and Mexican embellishments.
Their restaurants are flooded with the aroma of their delicious food, tempting the passers-by to walk in and taste their lip-smacking cuisine.
Specialty: Quesadilla, Fajita
Address: Strada Armeneasca 10, Chişinău, Moldova
Contact: +373 22 921 166
4. View Café & Restaurant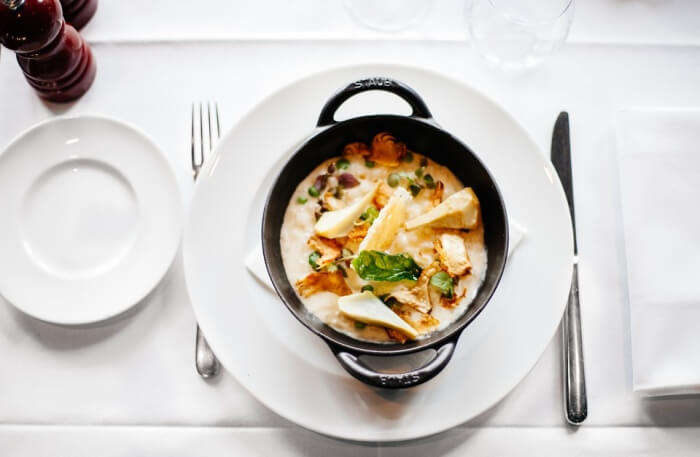 Image Source
Located on the 8th floor of the Nobil Luxury Boutique Hotel, this lavish establishment offers a glorious vista of the cityscape just like the name suggests. Their experimental kitchen excels at the fusion of Italian and French tastes before adding a touch of local flavor to them, serving up a stimulating feast for your taste buds to devour.
It's one of those restaurants Moldova restaurants that have a rather upscale and posh eatery, playing live piano music to maintain a pleasant atmosphere for you to enjoy your meal.
Specialty: Rabbit stew with tomatoes and apples in apple wine
Address: View Café & Restaurant, 49/1 Mihai Eminescu str., Chişinău, Moldova
Contact: +373 684 00 480
Suggested Read: 35 Best Places To Spend Christmas In Europe 2021: Where Festivities Breathe Magic Into The Air!
5. Gok-Oguz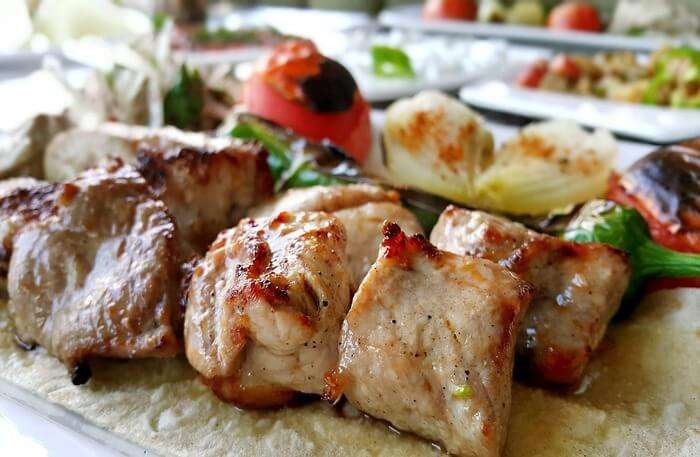 Image Source
Gok-Oguz is the only restaurant in Chişinău that serves authentic cuisine peculiar to the southern Gagauz region, along with a Bulgarian fare. Gok-Oguz employs a peculiar method of using animal skins to preserve meat, sheep milk cheese, and curd. Their nomadic past is the reason why their diet is dominated by dairy products and meat.
Gok-Oguz thus provides some authentic Gagauz cuisine and is known for their lamb specialties, exceptionally hospitable staff, and ambient courtyard setting. They also have private and semi-private indoor as well as outdoor seating arrangements.
Specialty: Lamb and cheese specialties (Gustarica "Budjak", Shurpa, etc)
Address: Strada Calea Orheiului 19/A Chișinău MD, Strada Calea Orheiului 2059, Chișinău, Moldova
Contact: +373 22 468 852
6. Tucano Coffee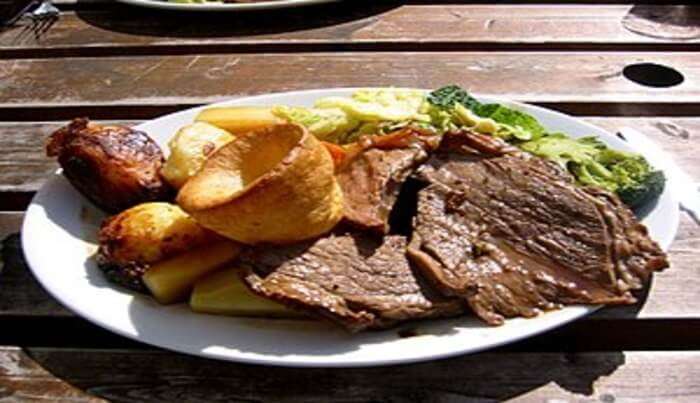 Image Source
They promote the philosophy of 'Love.Peace.Coffee.' throughout the world with their coffee chains. Making coffee from 100% authentic Arabica imported from African and Latin American plantations, their coffee-making processes are completely ecological, which is why, they are the members of SCA (Specialty Coffee Association).
They make, arguably, the best cheesecakes in the entire town and offer a wide range of coffees and delicacies for you to choose from. Their hippie philosophy also extends to the several events they host such as photo displays, painting exhibitions, and musical events, led by local artists. So, you can enjoy your coffee while experiencing some exquisite cultural entertainment.
Specialty: Specialty Coffee, Oreo Cheesecake, Berry Cheesecake, Poppy Cheesecake
Address: Street A.Puşkin, 15, Chişinău, Moldova
Contact: +373 211 444
Suggested Read: 14 Essential Europe Travel Tips For The First-Timers Taking A Euro-cation In 2022!
---
Planning your holiday but confused about where to go? These travel stories help you find your best trip ever!
Real travel stories. Real stays. Handy tips to help you make the right choice.
---
Suggested Read: 17 Spots For Snorkeling In Europe Every Underwater Enthusiast Must Visit
7. Vatra Neamului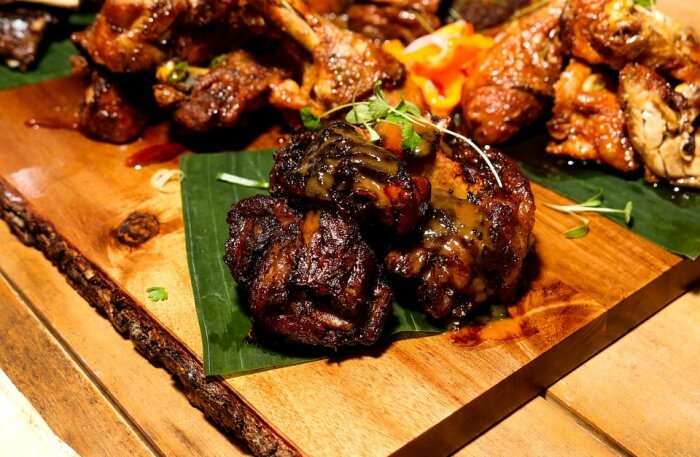 Image Source
This restaurant is popular among the locals and has many regulars. As a result, many tourists keep visiting this restaurant to enjoy its Romania-inspired cuisines. The place also organizes a live music played by a band and offers a gorgeous view of the city from its terrace where the visitors can sit and enjoy their meal with some fine wine.
Owned by Nicolae Avram, this establishment provides some of the best services in the entire city and has therefore gained much attention from the locals as they can enjoy a great, authentic meal in a tranquil atmosphere.
Specialty: Romanian inspire fish and meat cuisine
Address: str. calea Bucuresti 29, Balotești 077015, Romania
Contact: +373 22 22 68 39
8. Creme de la Crème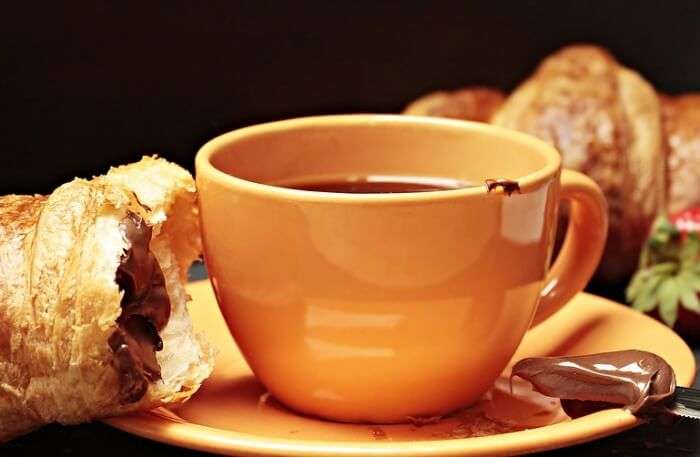 Image Source
If in the mood for some heavenly dessert, after a sumptuous meal, head over to Creme de la Crème. You could also have a meal out here, albeit this joint is predominantly famous for its dessert. It is the perfect joint for a brunch. You could have their steak plates before you taste their croissants and delicious coffee.
Because of its French-inspired aesthetic, it has a Parisian-style hall and interior décor. Although it may sound like a rather posh and expensive joint, it offers a wide array of options to choose from at reasonable prices. Make sure you visit Creme de la Crème if you happen to be in town.
Specialty: Viennese coffee, French croissants
Address: Strada Alexandru cel Bun 98A, Chișinău, Moldova
Contact: +373 22 222 011
Suggested Read: Guess Which European City Gets The Title Of World's Most Liveable City This Year!
9. Pegas Terrace and Restaurant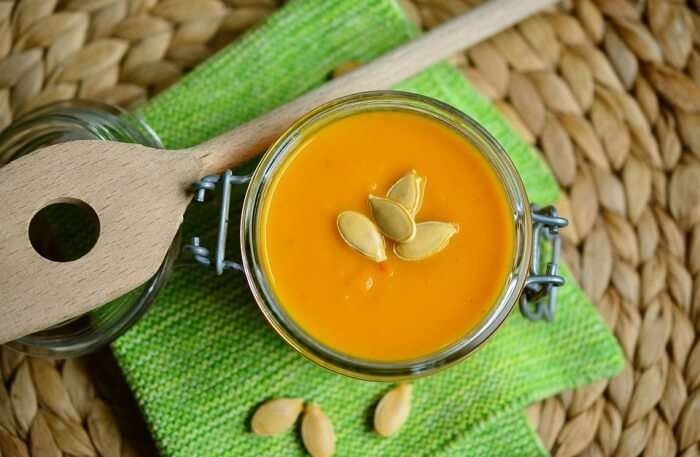 Image Source
Pegas Terrace and Restaurant is a lavish eatery that is ideal for a pleasant dinner with your family. It has got a verdant lawn in its terrace that makes for a splendid playground for children to enjoy playing in. The staff here is extremely hospitable and cater to you and your child's every need.
The terrace also offers a very beautiful view. The restaurant is conveniently located and thus easy to find. Having started out as a small joint, it has now become the grand establishment that it is, over the span of 15 long years. This is evident from the footfall it receives.
Specialty: Cheese Cream Soup, Pumpkin Soup, Filet Mignon, Rabbit
Address: Albisoara St 20/1, Chisinau, Moldova
Contact: +373 788 00 600
10. Propaganda Café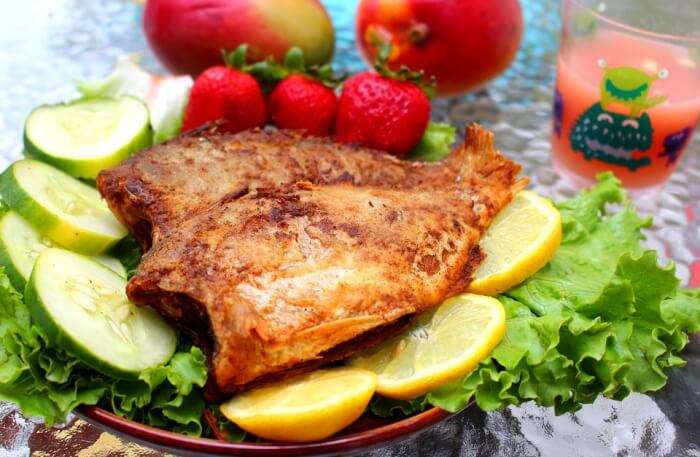 Image Source
The humour of its name is not lost in the names of the dishes they serve either. Having created its own niche audience for its eccentric aura, the restaurant has dishes like "Back to the USSR".
Their options are rather cheap and having a meal at this café is like being transported to an ancient Moldovan-style house all of which accounts for its peculiar atmosphere.
Specialty: Anky kind of meat, fish (They've got a new special everyday)
Address: Strada Alexei Şciusev, Chișinău, Moldova
Contact: +373 600 96 666
Suggested Read: This Winter, Escape To The Best Honeymoon Destinations In Europe In Winter 2021-22!
11. La Placinte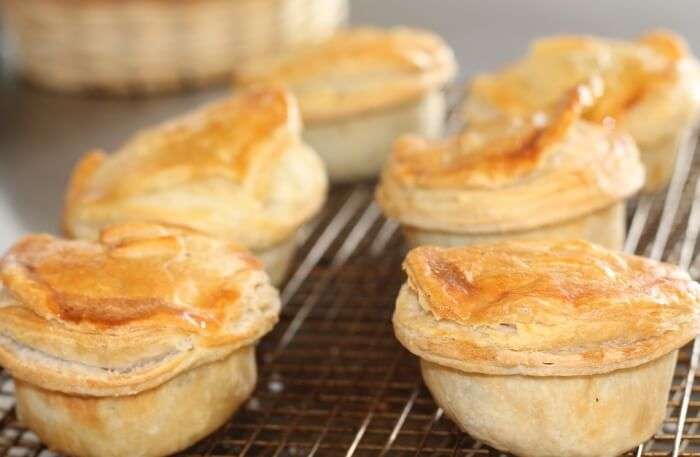 Image Source
For some authentic Moldovan cuisine, make sure you head to La Placinte. La Placinte has a chain of restaurants all over the country. It has gained favour among both locals as well as tourists.
They pride themselves over the locally sourced ingredients. Moreover, their meals are quite affordable. Do not forget to try their dish, 'Placinte' – a cake-like pastry filled with cheese or apples
Specialty: Desserts
Address: Strada Sverdlov 75, Tiraspol, Moldova
Contact: 022 26-54-04
12. Sălcioara Restaurant

Image Source
Located in downtown Chișinău, the interiors are styled in traditional Moldovan décor. This is an upscale restaurant that serves authentic Moldovan cuisine made from fresh, locally sourced vegetables.
They have gathered recipes from older generations of people coming from different villages and countries like Greece, Turkey, Balkans, Ukraine, and Russia to create a unique national cuisine. They also organize private events and communal gatherings.
Specialty: Roasted pork served with polenta, stewed beef with vegetables oven baked in clay-pot, Beef tongue with mushrooms and cheese, etc.
Address: Alexander Pushkin St 39, Chisinau, Moldova
Contact: +373 22 21 11 87
Further Read: 31 Traditional Festivals In Europe That Will Up The Fun Factor Of Your Euro-Tour In 2021-22
We hope that the extensive list of Moldova restaurants helps you undergo a flavorful experience as you indulge yourself in the authentic dishes each of them serves. If you plan to come to this country while you are traveling in Europe, don't forget to visit these amazing restaurants and get a glimpse into the country's culture.
---
Looking To Book A Holiday Package?
Book memorable holidays on TravelTriangle with 650+ verified travel agents for 65+ domestic and international destinations.
---