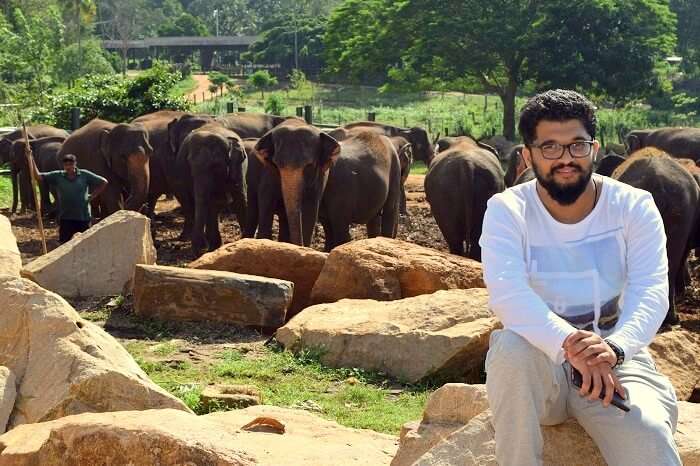 Often the first international trip turns out to be the memorable experience that defines a person as a traveler. On a friends trip to Sri Lanka, along with his best buddy Rahul Rai, Parvez experienced the timeless natural beauty, gorgeous seafood, and warm hospitality of the emerald island.
I have visited a lot of unexplored places in India and I wanted my first international trip to be on the same lines. Sri Lanka seemed like a perfect place to explore as it fits right into my budget, had a lot of seafood (which I completely adore), and has natural beauty in abundance.
While I was searching for Sri Lanka tour packages, my friend recommended that we should try booking with TravelTriangle. Indeed, their prices were reasonable and had flexible itineraries which helped us utilize the time frame to the maximum for the places we wanted to visit.
Details of our friends trip to Sri Lanka
Trip Cost: INR 34,000 (for 2 people)
Trip Duration: 3 nights 4 days
Places Visited: Colombo, Kandy, and Kalutara
Agent Name: Direct Link
Inclusions: Transfers, accommodation, breakfast, sightseeing, and taxes
Exclusions: Flights, meals, and museum entrance fee
Shivani from TravelTriangle helped us in booking a friends trip to Sri Lanka by keeping all of our pre-requisites like budget, choice of destination, and time of travel into consideration. Thankfully, it all worked out and with that, I was in all preparedness to venture outside India for the first time.
Day 1: Baby elephants and a heavenly hotel view
After taking an early morning flight from Bengaluru, we landed in Colombo at 5:30 am. At the airport, our driver-cum-guide Madhusan was present to receive and take us to our first destination- Pinnawala Elephant Orphanage. Since it was 7 am, and their gates wouldn't open for an hour, it gave us time to have breakfast.
We sat in a cafe for breakfast where something odd happened that we felt dumbfounded by. The waiter came to our table and gave us a different menu that was more expensive. We felt a little cheated and that's when our driver took us to another restaurant where there was good food, and no double standards. Even our driver acted like this happened every day in Sri Lanka. I guess it was normal for locals to rip off tourists by doubling the food prices.
Our Vacation In Sri Lanka Was Blessed With Scenery We Could Find Nowhere Else!
Sightseeing on our friends trip to Sri Lanka started with a visit to the Pinnawala Orphanage where we got a chance to interact with elephants and feed milk to cute baby elephants. After that, we proceeded on our route and stopped at a spice farm near Kandy where a friendly tour guide named Uncle Sam showed us around. He explained to us in detail about the different spices being grown like cinnamon, cardamom, clove, and cocoa. In this garden was where I had the first tea of my life; I must say it was wonderful.
Post lunch, we reached Kandy and checked into the Heaven Seven Hotel. The accommodation in Kandy exceeded all our expectations. After we moved into our room, I dropped a message to Shivani from TravelTriangle thanking her for recommending this hotel room which had such an incredible view.
 A Surprise Romantic Vacation In Sri Lanka For Our First Marriage Anniversary!
Later in the evening, we visited the Tooth Relic Temple followed by a cultural show in Kandy that showcased some of the local art and cultural performances of Sri Lanka.
Day 2: A speed cruise on the Madhu River
The second day began with a lovely breakfast at the Seven Heaven Hotel. Afterwards, we checked out from Kandy and visited a tea factory on the way to Kalutara. On our arrival, we began a scenic tour of the tea gardens where we were introduced to some of the finest tea in the world. On our way out, my friend and I made sure to purchase some tea powder.
Next up on our itinerary was the Madhu river cruise where we jumped on a speedboat and explored the Mangrove forests and small islets that were located on the river course. The sightseeing finished with a quick visit to a turtle farm, after which we reached Kalutara at 7 pm and checked into The Coco Royal Beach Resort. This evening, our driver Madhusan took us a to an extraordinary local village celebration near Kalutara. A fine and luxurious place to unwind, absorb the culture, and end the second day of our friends trip to Sri Lanka.
Best Things To Do On A 4D/3N Family Trip To Sri Lanka!
Day 3&4: Sightseeing and shopping in charismatic Colombo
This day, we got up early, enjoyed the peaceful morning vibe at the Kalutara Beach before eventually readying ourselves for a check-out. From there, we started around 10 am for our short journey to Colombo.
In Colombo, we quickly checked into the GSH Colombo Hotel and freshened up for another day of sightseeing and shopping. However, our driver informed us that since it was a Sunday, all major places to shop would be closed. This led to a short alteration in our plans as we decided to cover most of the places to visit on this day itself.
Our Much Awaited Romantic Getaway In Sri Lanka
It was an amazing day of sightseeing that began with a visit to the National Art Gallery, Independence Memorial Museum and Square, Galle Face and Town Hall.
On the final day of our friends trip to Sri Lanka, we visited a government-run market for souvenirs called Laksala. It was a good place to shop where we found everything being sold at a very reasonable price. For lunch, we visited the Ministry of Crabs restaurant where we had some delicious seafood that gave us a foodgasm moment on our trip! The final few places we saw on this day were the Hamilton Canal Park and the Fort Railway Station. After this, our driver dropped us at the international airport for our flight to Bengaluru.
Charming Places To Visit On A Trip To Sri Lanka
Sri Lanka turned out to be a dream for food lovers like me. We tried many different dishes like String Hoppers, Prawn Curry, Mongolian Chicken, and Crab. Apart from the food, the hospitality shown to us on this friends trip to Sri Lanka really made a world of difference to our experience.
Last but not the least, a big thank you to TravelTriangle and Direct Link for planning and coordinating this trip to perfection. All the bookings, accommodations, and sightseeing details were already taken care of before we arrived at any destination.
High points:
Exploring rural Sri Lanka on the Madhu river cruise was a great experience
Feeding milk to baby elephants in Pinnawala was a one-of-a-kind experience that I will never forget.
Finally, the heaven seven hotel in Kandy was the best accommodation we got in Sri Lanka because of the lovely service and the unforgettable view from our room.
A destination that always stays under budget and over expectations. Book your Sri Lanka tour package and witness the richness and luxury of the emerald Island!
---
Looking To Book An International Holiday?
Book memorable holidays on TravelTriangle with 650+ verified travel agents for 65+ domestic and international destinations.
---