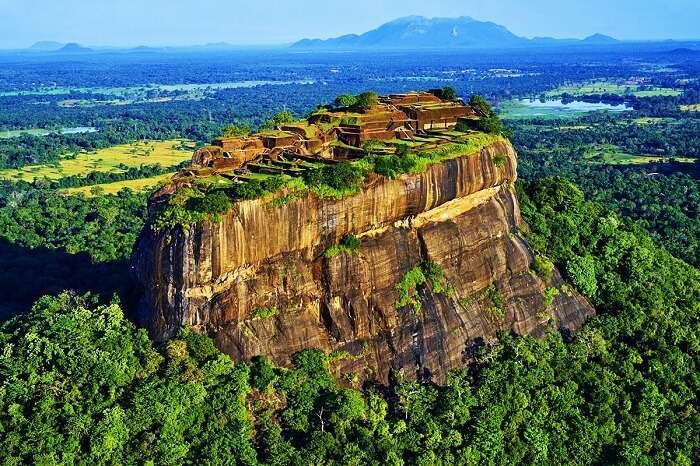 Full of romantic landscapes, stirring mountains, lush green tea gardens and golden beaches, the island nation of Sri Lanka is nothing short of magnificent. The country has no shortage of beautiful awe-inspiring spots, natural, historic and cultural, each more picture perfect than the next. Take a trip to these spots the beautiful places in Sri Lanka and you would find it difficult to leave.
Most Beautiful Places In Sri Lanka 2020
While you're planning your next vacay to this serene country, scroll down to know where all you can head for an amazing trip with your friends and family. Make sure you cover all the must-have experiences here!
1. Ella
Get enamored by the stunning views through Ella Gap overlooking a spectacular gap in the southern mountain wall. Situated in the middle of beautiful countryside, with small vegetable plots, tea plantations on the hill slopes and forests on the tops this hill station is nothing less than breathtaking. Ella undoubtedly, is one of the most beautiful places to visit in Sri Lanka.
---
Sri Lanka Holiday Packages On TravelTriangle
Book your Sri Lanka trip from TravelTriangle: Inclusive of Hotels, Sightseeing, Transfers, & Meals. Best Prices Guaranteed. Get Customizable Package & Free Guidance From Destination Experts. Book Now!
---
2. Nuwara Eliya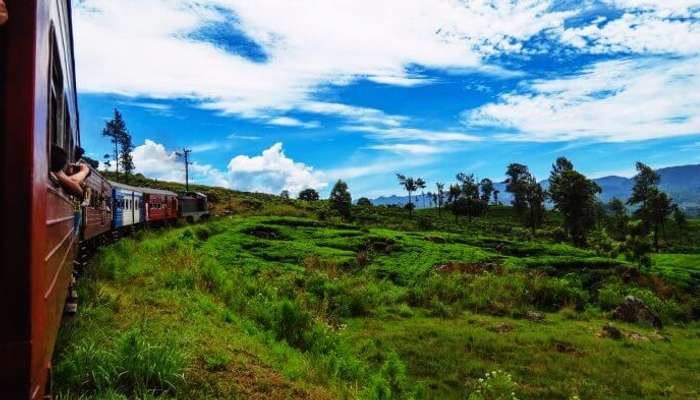 A 19th century hill station Nuwara Eliya retains its colonial ambiance with its golf course, gentlemen's clubs and mock-Tudor buildings. It is one of the most beautiful locations in Sri Lanka for a scenic rail ride. Experience the stunning views of the surrounding tea plantations, waterfalls and dramatic mountains the train takes you from Kandy to Nuwara Eliya. You wouldn't want the ride to end!
Suggested Read: 6 Adventure Places In Sri Lanka To Quench The Thirst Of Your Inner Daredevil!
3. Pinnawala Elephant Orphanage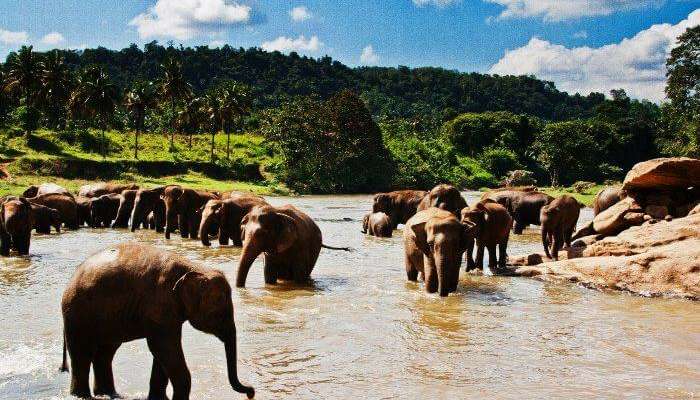 Can you imagine anything as heartwarming as staring at baby elephants as they enjoy a river soak? And at this beautiful place in Sri Lanka – the Pinnawalla Elephant Orphanage you can! It won't be hard to believe if you wouldn't want to leave this paradise. This place is 13 km away from the town of Kegalle and one can come from any public transport. This is a very popular tourist destination and gives visitors a very different kind of experience. Watching the baby elephants doing mischief and moving here and there is a lifetime experience. One cannot get to see all this anywhere else. When you will come to this place, you will get many small reasons that you will definitely love this place. Therefore, whenever you come to Sri Lanka do visit this place.
Suggested Read: 10 Places To Visit In Badulla For A Fulfilling Vacation In Sri Lanka In 2019
4. Polonnaruwa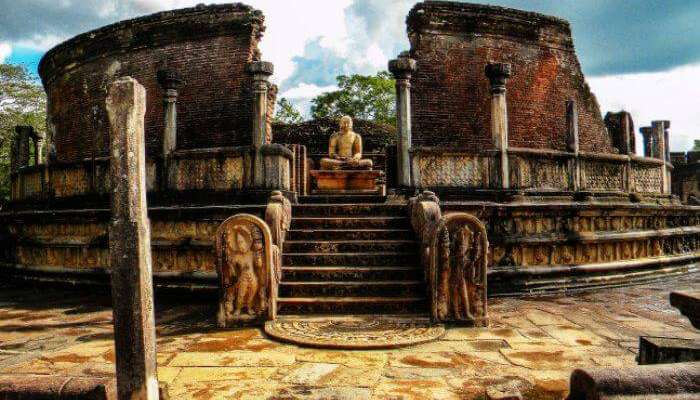 The next place in the list is again a city that is popular for the temples. You could easily spend your day imagining the ancient city life at the ruins of Polonnaruwa. Well preserved and full of archaeological treasures with hundreds of ancient structures like tombs and temples, statues and stupas it is difficult to not be amazed by the ruins here. This is known to everyone that Sri Lanka is the country of temples and also it has many monuments and heritages that depict its history and culture. Polonnaruwa is one such place that is very popular among the tourists and one will get to experience the real life of Sri Lanka here.
So, if you are a spiritual person and also you have an interest in knowing the history, culture, and tradition of different countries, then you must visit this place. This place will give you the exact glimpses of Sri Lanka history and culture. One would wonder as what are the things here, which will give the sneak peek of the Sri Lankan history? The answer to this question is that there are the remains of the old buildings and monuments that were once standing here.
Suggested Read: 10 Best Villas In Mirissa To Soak In A Mesmerizing Sri Lankan Holiday Like Never Before!
5. Adams Peak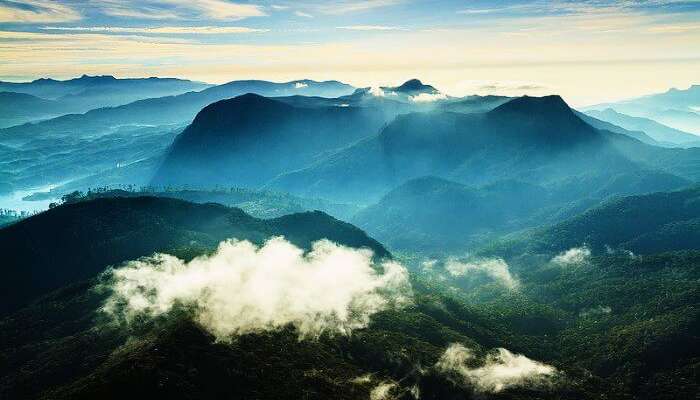 The next destination that we are going to add to this list is Adam's peak. Adam's peak is amongst the most beautiful places in Sri Lanka. Climb the slopes at night to watch a breathtaking sunrise at dawn that would be hard to forget. A biodiversity hotspot and a UNESCO World Heritage Site, it is difficult to match the spectacular views from Adams Peaks in the whole of Sri Lanka. The name itself of this place is unique and so is the destination. This place is situated in middle Sri Lanka and that one thing for which it is known is called Sri Pada. Sri Pada is basically considered as the footprints of Buddha.
This is in the form of a rock creation at the mountain above. Apart from this spiritual and religious importance, this place is known for the beauty that the vivid greenery provides it. Along with that, if you will go to the top of the peak, then you will witness some really amazing views of the surroundings. So, the little difficulties that you will have to bear are worth for the kind of experience that the place gives you.
Must Read: 19 Reasons Why I Would Rather Be From Sri Lanka Than Anywhere Else
6. Mirissa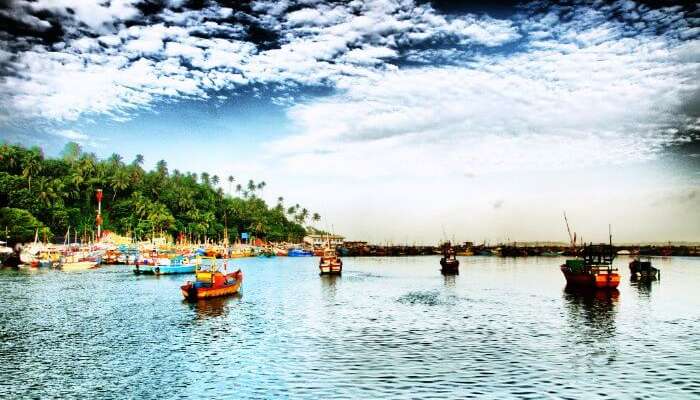 Spend your days, soaking in the sun on a hammock and whale-watching at the little village of Mirissa, one of the most appealing beach hideaways in Sri Lanka. The real world will be forgotten as soon as you enter this beachy paradise. Mirissa definitely has to be on your list of beautiful places to visit in Sri Lanka for an amazing holiday. Not everyone is fond of the rush and crowd of the city. Many of us want to spend our holidays in peace and in some quiet places. So, if you too are one such person and you are in Sri Lanka, then you should definitely visit this beautiful village called Mirissa.
This is the village where most of the citizens living are fishermen; therefore you will get a very close view of the life of the local people. You can even go fishing with the fishermen and have a look at the whales and other big fishes. Some of the very popular and tastier fishes are found here, like tuna. When you are in this village, do not forget to eat the local cuisine that is very tasty. Also, in the evening time, you can go to the beaches and spend your time relaxing there. So, there are enough reasons for which one can easily fall in love with this small, but beautiful village.
Suggested Read: Most-Visited Tourist attractions in Sri Lanka
7. Yala National Park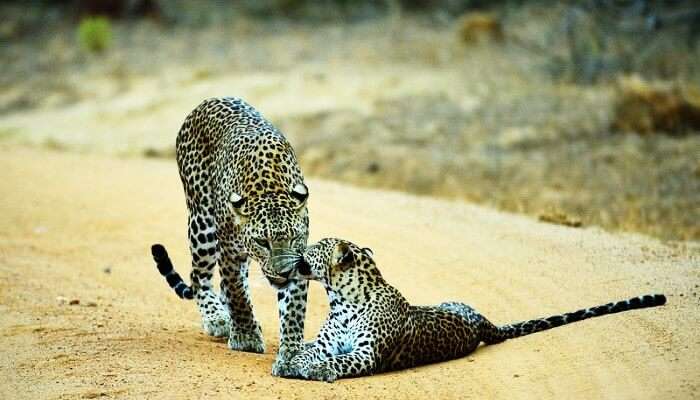 Get dazzled by the leopards at Yala National Park, home to one of the highest densities of leopard in the world. Full of grassy plains, forest, lagoons, and coastline, this National Park is no less than a big cat paradise. A complete package of natural beauty and heritage, Sri Lankan beautiful places will capture your heart. A visit to all these gorgeous spots will make a trip an unforgettable experience. This place again comes in the list of the most visited places of Sri Lanka. It is somewhat 200 KMs away from the town of Bentota.
This is one of the most popular wildlife sanctuaries not just in that particular area, but among all the sanctuaries of Sri Lanka. One should hire a jeep to have a ride across the jungles of the Sanctuary. This ride of yours will be full of fun and adventure. One can even spot many elephants and leopards while the jeep ride in the jungle. By just reading this article one can imagine how adventurous it would be to have such a ride. Therefore, Yala National park is one such place that one cannot miss at any cost if they are in Sri Lanka.
Suggested Read: Hikkaduwa In April: A Guide To Plan A Perfect Summer Vacation In Sri Lanka's Little Paradise
8. Colombo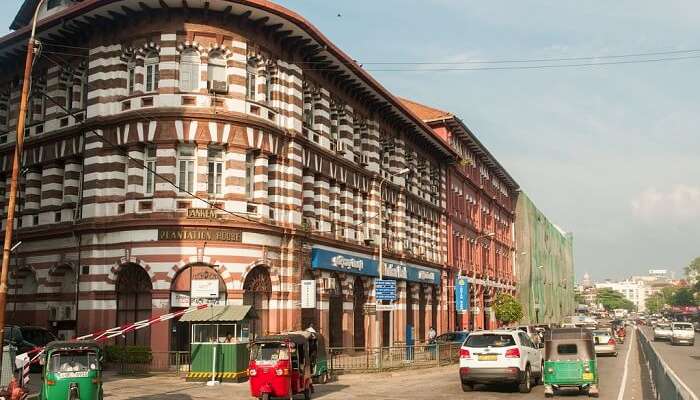 Image Source
Next place on the list is the city of Colombo. This will be completely unfair and your trip will not be complete if you do not visit the city of Colombo, which is the capital of Sri Lanka. There are several places in this city that you can visit and that will attract you definitely. The city is beautiful overall and the beauty of it cannot be described in words. To visit the whole city one can book a cab or tuk-tuk and can make a list of places that can be visited. It is sure that one will be able to visit the whole city in one day.
9. Jaffna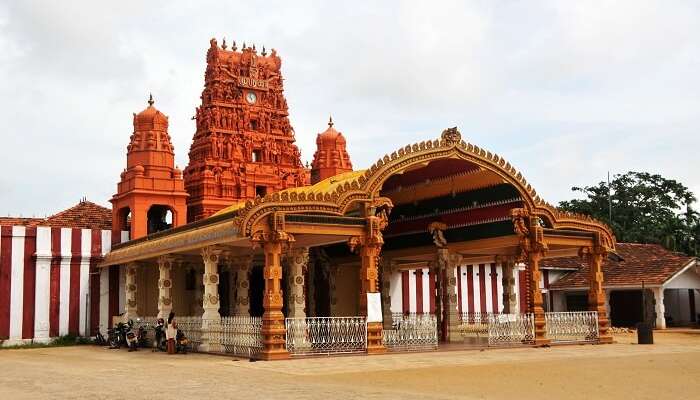 Image Source
This place is also called the city of temples in Sri Lanka, as it has some of the most beautiful temples of Sri Lanka. The most visited temples of all in this place are the temple of Nallur Kovil. This temple has the most of the visitors always and this is the most crowded of all temples. Other temples nearby too are visited by the people who come to visit this one. Apart from these temples, the other center of attraction of this place is the Jaffna Fort. This fort is not just a beautiful monument to see but is also the symbol of the history of Sri Lanka.
So, the city of Jaffna is not just for the spiritual kind of people, but those who are a little bit interested in history and culture can also visit this place. With these main spots, another point of attraction in Jaffna is the Nagadeepa Vihara Purana temple. This temple too is known for its glory and beauty and is a must visit. One can easily reach this temple through waterways, thus you can hire a boat and they can come to this place. The area surrounding provides you with the most peaceful environment and one can go for meditation and all.
10. Ulpotha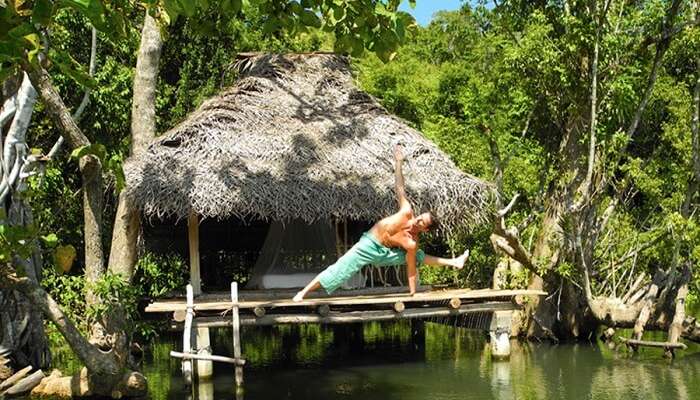 Image Source
One thing more for which Sri Lanka is popular is the studies in Ayurveda and Yoga. The village of Ulpotha has some really good centers, where you can practice yoga and that too in the midst of nature. This place looks like next to heaven and spending time here is very pleasurable. There are many yoga as well as Ayurveda retreat centers. So, even if you are least interested in these things, you should come here to gain more interest.
11. Trincomalee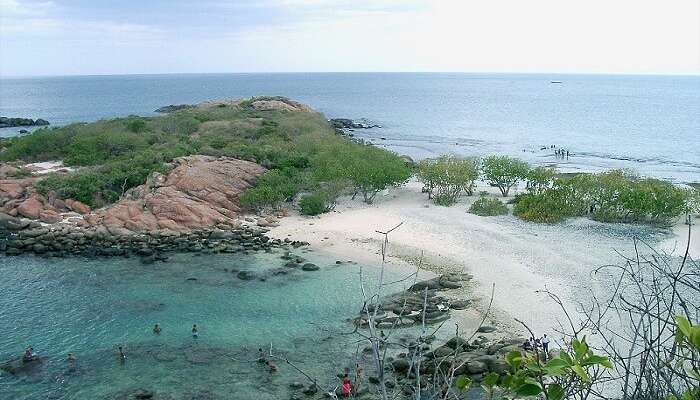 Image Source
For the people who love water sports and want to live underwater life, he or she can visit this place. This beach is one of the ideal beaches of Sri Lanka. This has everything that a beach should ideally provide to its visitors. The best part about this beach is that it has some really amazing scuba diving instructors. Therefore, one can go and have the real underwater experience there in the nicest of the way. Apart from this, there are few temples around, so you can go and see them too.
If you are wondering what you are not much interested in spirituality and all, then why should go to visit a temple? The reason why it is suggestive to visit temples in Sri Lanka is that they are not merely the home for God, but also a beautiful creation of man. The architecture of the temples is marvelous. So, when in Sri Lanka you should not skip visiting any of the temples and especially the one that comes in your way.
Suggested Read: 10 Romantic Beach Resorts in Sri Lanka to Melt Your Hearts Away
12. Kandalama
Image Source
Again, we are talking about a beautiful yet calm and pious destination of Sri Lanka. This is again a village and the name of this village is Kandalama. This is a guarantee that the experience that you will get here cannot be achieved anywhere else in the world. This is a place, where you can go for the ride to skies. Yes, you read it right! There is a hot balloon service here, which will take you up above the skies.
This is merely a village, but the arrangement, it has is not less than a city. If you want to spend your night there in the village, you can book a room for yourself in any of the hotels nearby. There are many 5 star hotels here and one need not worry about the luxury and comfort that is provided by it. Along with the luxuries, the surroundings that this place has is very soothing and thus it could be counted in must visit places.
13. Tissamaharama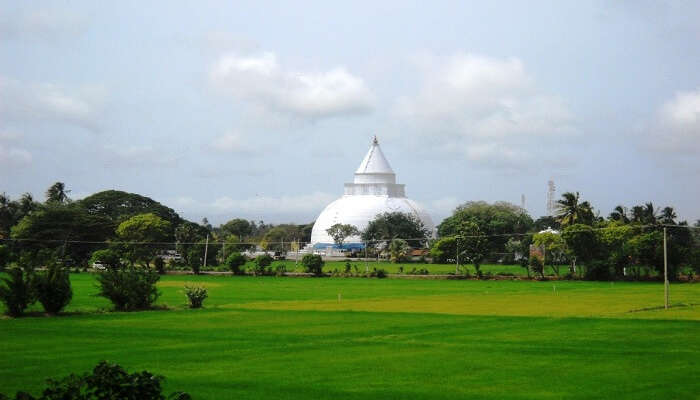 Image Source
This place is considered the best for those who are keenly interested in photography and stuff. Photography enthusiasts are really passionate about their work and what not they do for getting that perfect shot. If you too belong to the same category, then you should come to the town of Tissamaharama. This place has most scenic surroundings and you can get that perfect shot of flying birds here at this place.
Also, if we talk about the beauty of this place, then there is an artificial, but magnificently beautiful lake here. The name of this lake is Tissa Wewa Lake. Also, this place has some important and amazingly beautiful stupas like Yatala Vehera Stupa and many more. One must know that the people in Sri Lanka are the followers of Buddhism; therefore these stupas are very common in various places.
Suggested Read: 4 Things To Do In Kolonnawa, Sri Lanka For An Amazing Holiday!

14. Anuradhapura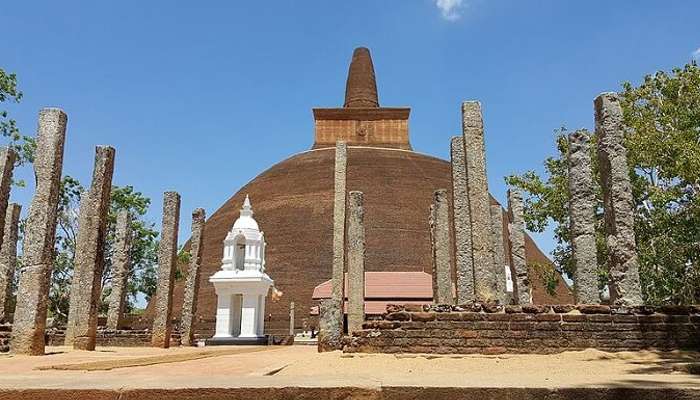 Anuradhapura is one of the ancient capitals in in Sri Lanka that is famously known for its Bodhi Tree. It is the same tree under which Lord Buddha achieved his enlightenment. Hence, the tree is also called the Tree of Enlightenment. The tree was not always there. Sanghamitra brought the cutting of the tree to the town.
Apart from Bodhi Tree, Anuradhapura has a number of most evocative temples and religious sites. If you are in Sri Lanka in search of spirituality, then you should definitely come to this place. The brick stupas of dagobas are another thing you cannot afford to miss.
Best time to visit: September and April
How to reach: It takes 4 hours from both Kandy and Colombo to reach Anuradhapura. You will find frequent buses from Kandy and Colombo to Anuradhapura
Suggested Read: 5 Beautiful Places To Visit In Anuradhapura That You Should Have Already Explored!

15. Horton Plains National Park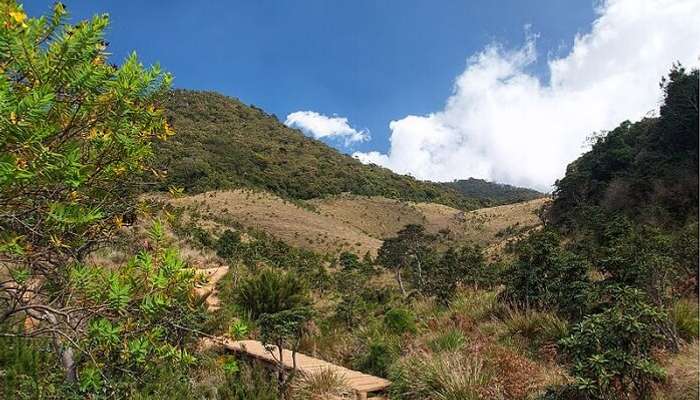 The list of the best places to visit in Sri Lanka is incomplete without the mention of Horton Plains National park. For those who enjoy being in nature and love hiking should definitely make a trip down to the Horton Plains. The terminal point of hike os the world's end from where you will get to enjoy the ethereal views. You will also find misty waterfalls, enchanting lakes, and a variety of flora-fauna in the park
You will need at least a day in the park. The hike to the world's end is 4 km long and it takes about 4 hours to complete the whole circuit. Do not miss the Far Inn Hunting Lodge that act as a cafe and a visitor centre.
Best time to visit: January to March
How to reach: You will find direct train services from Ella, Nanu Oya, ad Haputale
Suggested Read: Visit The World's End At Horton Plains National Park

16. Sinharaja Forest Reserve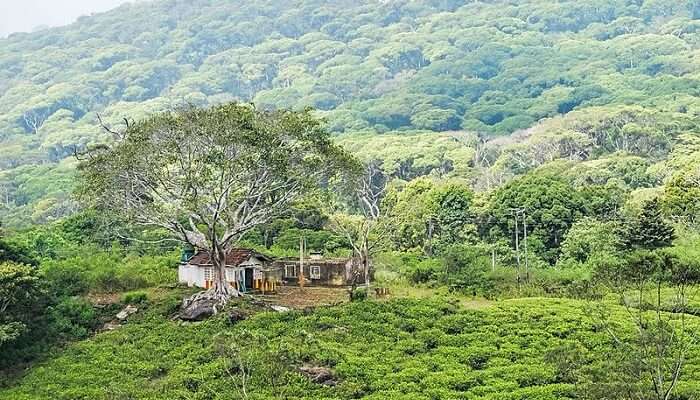 If there is one thing in abundance in Sri lanka, it is flora-fauna. The home of lions, Sinharaja Forest Reserve is a paradise for wildlife enthusiasts and nature lovers. The reason why you should visit this place is that you will find a variety of endemic birds and mammals.
SInharaja is also the last viable area of tropical rainforests in Sri Lanka and hence an important biodiversity hotspot. No wonder it has been recognized as a UNESCO world heritage site. It is also bordered by the rivers on both sides.
Best time to visit: January to March. The rest of the months experience heavy rainfall. You could also try in August till October but the precipitation is high.
How to reach: There are three entrances to the park; Kudawa, Pitadeniya, and Morning side entrance. Vehicles are not allowed inside.
Suggested Read: 3 Best Places To Visit Near Sinharaja Forest Reserve Sri Lanka

17. Udawalawe National Park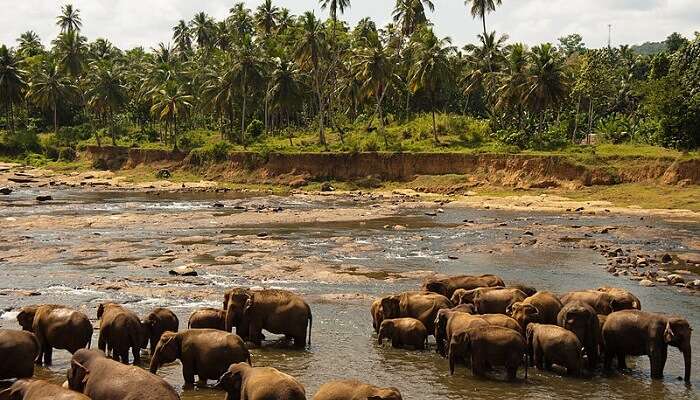 If you want to get a sight of elephants in Sri Lanka, then put Udawalawe National Park on your list because it is hard not to notice an elephant here. Located on the border of boundary of Sabaragamuwa and Uva, the national park was formed to provide home to the wild animals that were displaced during the construction of Udawalawe Reservoir on the Walawe River.
The enchanting scenery and lush greenery of the area will make your jaw drop. Spot a variety of birds and wild animals like leopard and other mammals. There is even a transit home that houses baby elephants who have lost their parents.
Best time to visit: October and January are the best months to spot Asian elephant herd. September is the mating time.
How to reach: Dickwella Airport is the nearest airport. It takes about an hour to reach the national park from airport. You can get direct flights from Colombo.
Suggested Read: 4 Amazing Places To Visit In Udawalawa On Your Sri Lankan Escape This Year!

18. Tawalantenne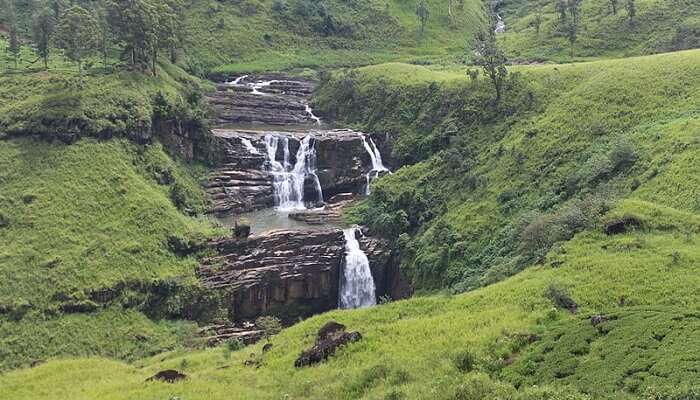 A village in the central province of Sri Lanka, Tawalantenne is best known for St. Clair Falls. The mighty fall is one of the widest in Sri Lanka, and hence, known as Little Niagra of Sri Lanka. The breathtaking beauty of the waterfall will make your heart burst with joy when you lay your eyes on it.
The enchanting beauty of the waterfall surrounded by lush greenery lures locals and tourists to take a road trip down to Tawalantenne is this is why you should too. If you are spending a good amount of days in Nuwara Eliya, then you should definitely put this on your itinerary.
Best time to visit: Avoid going during monsoons
How to reach: You will have to walk down to the waterfall. However, to reach Tawalantenne, you can hire a car to reach the spot. Ask the staff at your hotel or accommodation to arrange a drive for you.
Most Beautiful Attractions In Sri Lanka
Also, check out the most beautiful attractions in Sri Lanka that we could not miss ouut from the list of most beautiful places in Sri Lanka. These tourist attractions should definitely be on your Sri Lanka itinerary.
19. Commonwealth War Cemetery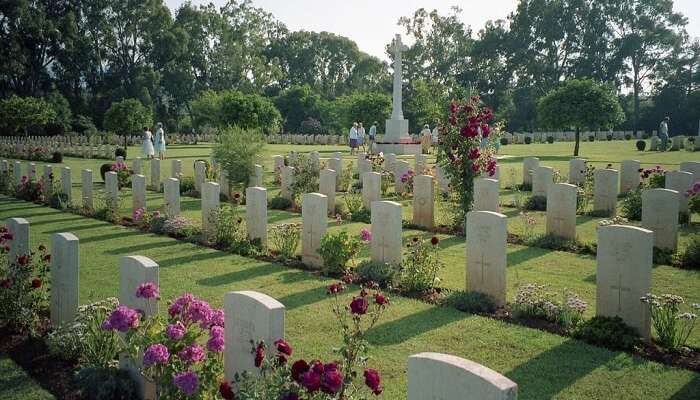 Image Source
This place is not regarded as the typical spot for the tourists to visit, but a lot of people come here. There is nothing fancy about this place, yet you should come here to pay your homage to the soldiers who quit their lives for the sake of their country. It is not necessary that the man who has sacrificed his life should belong to your country only.
Be it any country and be it any person, if someone is doing a noble job, then this is our duty to appreciate them. So, when visiting Sri Lanka and especially to Kandy, do come and visit the Commonwealth War Cemetery. Here, you will find that there are people who are paying their tributes to the martyrs.
Suggested Read: 12 Waterfalls in Sri Lanka That Unveil Country's Bewitching Landscapes
20. Unawatuna Beach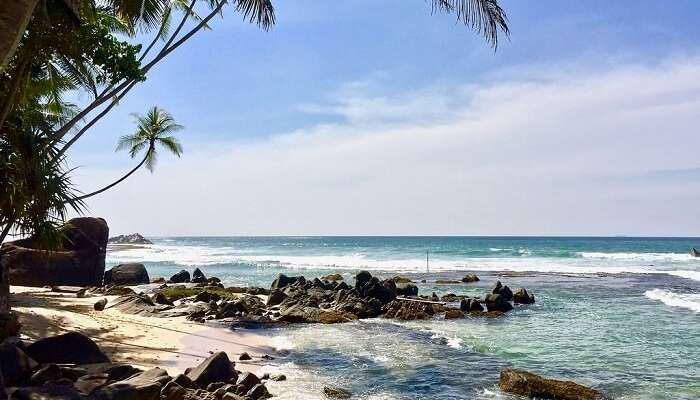 Image Source
As mentioned earlier, Sri Lanka is known for its beautiful beaches, not just among its neighboring countries, but in the whole of Asia. Not just beautiful, the Srilankan beaches offer an awesome nightlife and many water activities to the people that come. One such awesome beach is the Unawatuna beach. This beach is very popular but is a bit different from the other beaches of Sri Lanka. While every other beach is known for the happening life that it gives to its tourists, this beach is known for the kind of calmness that it provides to the visitors there.
If you want to spend a good light afternoon, then you can simply come to this place and relax. The water and the sand here provide a very good environment overall, thus making it again a must visit place. This place is the least crowded, but you will get everything that you require. One should not understand that since this is a quiet place, they cannot have fun here. If you want to have fun, then you can dive in the water or can even go to the nearby restaurants and cafes and can chill.
21. Sigiriya Museum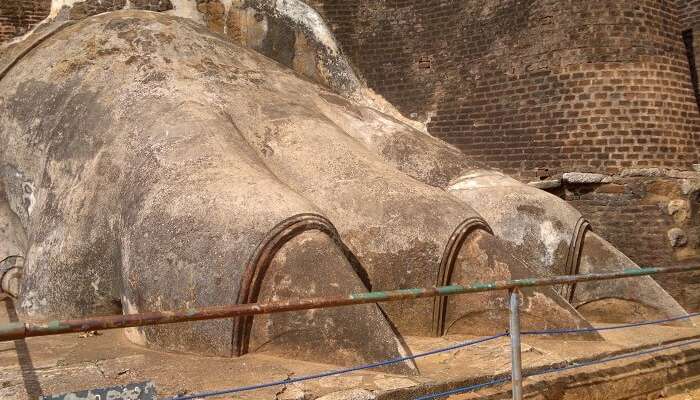 Image Source
In this article, there is a mention of the Sigiriya Rock Fortress. Here we are discussing about the Sigiriya Museum. This museum will become the favorite of the person who is even least interested in history. The museum has such things preserved that clearly depict the tradition and history of Sri Lanka and Sigiriya. Apart from this, the museum is beautiful also, which gives you one more reason for paying a visit.
Suggested Read: 15 Stunning Beaches In Sri Lanka That Will Make You Go 'Wow'!
22. Perandeniya Botanical Gardens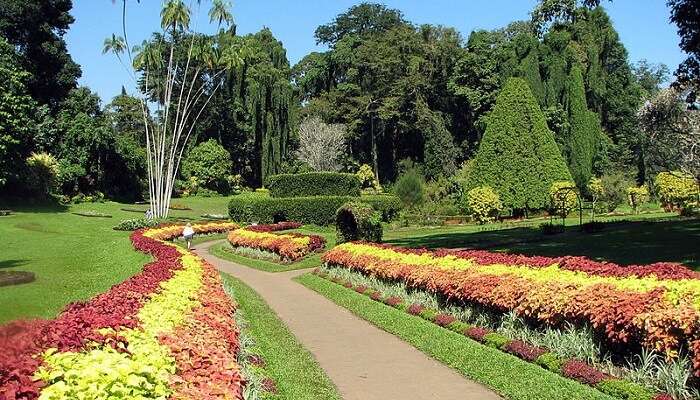 If we are talking about the most beautiful places in Sri Lanka, then why leavePerandeniya Botanical gardens in kandy out of the list? The spraling 147-acre of garden has 4,000 species of plants and 10,000 variety of trees on display.
The lush greenery of the garden is invigorating making it a perfect spot for having a picnic with your family. There is even a cafetria in the park where you can enjoy local and western cuisine. 
Location: Kandy, Sri Lanka
Opening hours: 8:30 AM – 5 PM
Entry Fee: INR 1500 for adults and children above 12 years of age.
Suggested Read: 19 Photos that will make you wish you were in Sri Lanka Right Now!
23. Dondra Lighthouse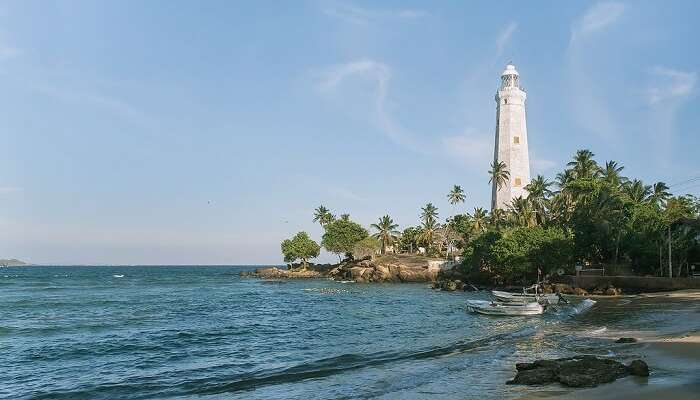 Image Source
Dondra lighthouse was made in the era when Sri Lanka was a colony. This could be understood by the way of its construction. This building is very tall and you will get a very good view of the nearby surrounding areas when you stand on the top of it. This looks beautiful because of the rows of palm trees that are there across the building and also because it seems as if the top of this building is meeting the sky.
One can come to visit this place along with his whole family. This is actually the place where families come and hang out together. You can click as much photographs as they want and can enjoy the scenic sunset that could be easily seen from the top of this lighthouse. The place is situated almost 165 km away from Colombo and therefore one can come here easily by any transportation from Colombo.
24. Dambulla Cave Temple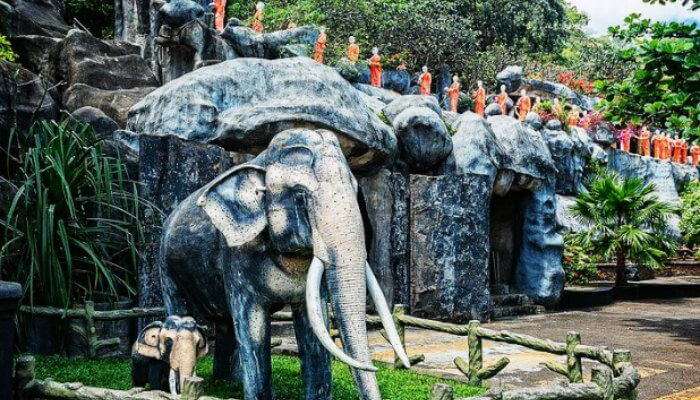 It is hard to not be stunned by the beautiful murals and statues in this beautifully preserved cave with over 150 statues of Buddha. Experience the peace and silene in this stunning cave temple that bear testimony to the extraordinary cultural artifacts in ancient Sri Lanka.
25. Old Dutch Fort At Galle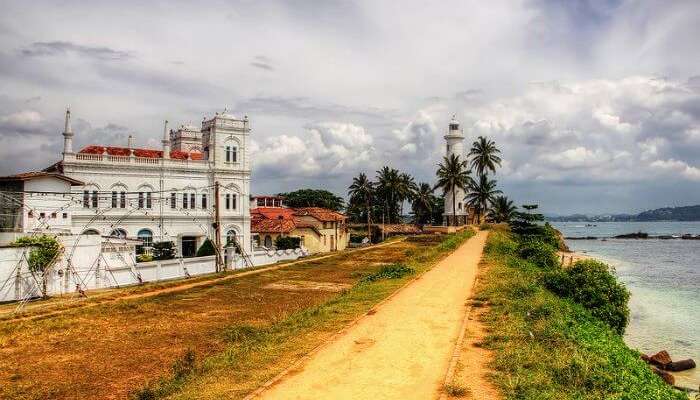 Experience a peaceful afternoon, staring at the endless sea from the charming Galle Old Dutch Fort, the best-preserved sea fort within South Asia. Nothing is going to make you want to turn back! This place is for those who are deeply interested in history. It is said that the establishment of this fort dates back to the 16th century. The maintenance is not perfect, but one can see history peeping through the fort. There is a sea nearby and you can get that perfect view from the top of the fort. One can even walk on the shore too.
26. Sigiriya Rock Fortress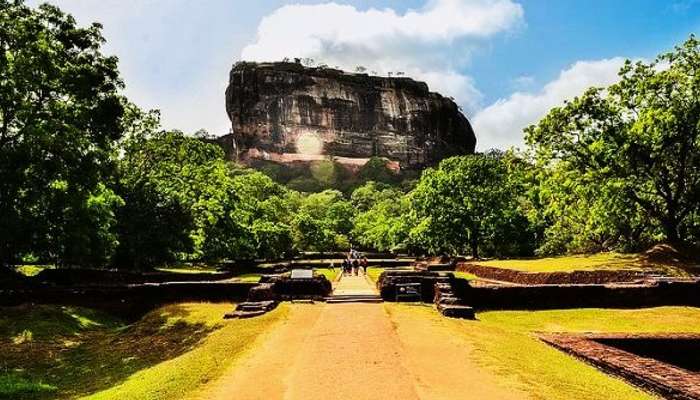 Perhaps one of the most dramatic sights in Sri Lanka, get lost amongst the ancient remains, remarkable frescoes and water gardens at the astonishing Sigiriya Rock Fortress. Don't miss the magnificent view from the top, with jungle and rolling hills in every direction. Who would want to leave? Sigiriya is a place that is one of the world heritage sites. This place has uncountable reasons that will make you fall in love with this place. The first thing is its beauty, which is par excellence because of the mesmerizing vegetation it has all around. Due to many other reasons and including the beautiful greenery, it is said that if you do not pay a visit to this place, then your Sri Lanka trip would remain incomplete. The monument here is basically a fortress that is built in the middle of the greenery. The fortress is fully made up of rocks. So, if you will climb and go up, you will get a 360-degree view of the surrounding areas. This would be a brilliantly amazing view to watch. However, the way to reach this place is not that difficult, but even if you face a little problem then it is worth.
27. Beira Lake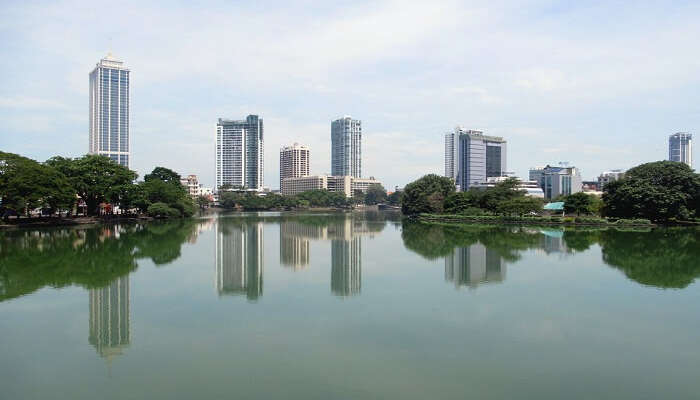 Image Source
Sri Lanka is undoubtedly a beautiful city, but commercialization has made its place in the country. Thus, resulting in overcrowded places and markets, but if you want to spend really peaceful time in Sri Lanka, then Beira Lake is the place for you. After that long and tiring shopping and travel if you want to sit calmly and relax your mind, then come to Beira Lake and have a boat ride there. You will feel as if all your tiredness and tension has gone.
The lake is very beautiful as it has green water and also because of the lots of Ducks that remain in the water and appear in front of the visitors during the boat ride. One can even go with a paddle boat as they too are available for rent. This lake offers an overall peaceful experience to the visitors.
Suggested Read: Talalla Beach: A Guide To The Most Serene Sri Lankan Beach With Turquoise Waters
28. Arugam Bay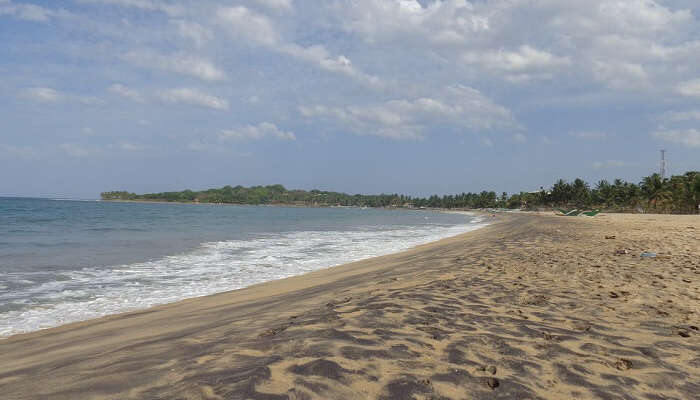 Image Source
Apart from all other beautiful natural features, Sri Lanka is best known for its beaches. There are many popular beaches in this country and it is said that they come in one of the most beautiful beaches in Asia. The beaches here are not just for the sake of enjoyment along the side of the sea, but one can even enjoy going in the water. One can get such an amazing experience after visiting Arugam Bay. It is said that this beach is the most enjoyable of all. One can easily dress up in their swimwear and can go into the water if they want.
Apart from this, the beach offers a lot of water activities too, to its visitors. These activities include diving, speed boating, and many others. What makes this beach beautiful of all the beaches in Sri Lanka is the blue water that it has and the coconut trees that are there on the beach. With all these features, this beach has become one of the most popular tourist destinations in Sri Lanka and is a must visit.
29. Temple Of The Tooth Relic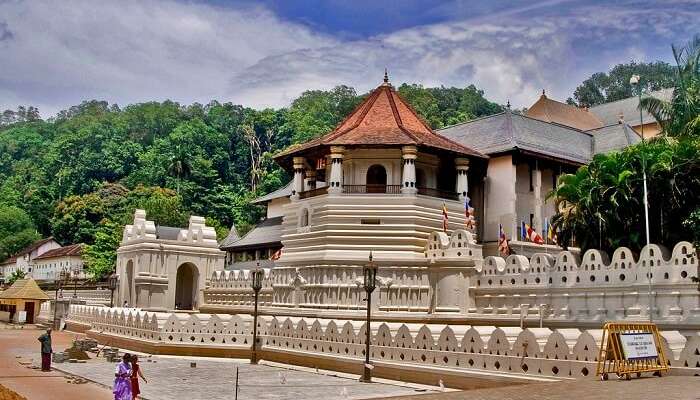 Image Source
Next place in this is the one that is very unique and beautiful in every way. We are here talking about the Temple of Tooth Relic. This temple is very popular and most of the tourists coming to Sri Lanka come here definitely because of its uniqueness. Like many other popular places of Sri Lanka, this too comes in the world heritage sites and is marked so by UNESCO. The temple is spiritual and historical both.
So, people come here are interested in both subjects. It is said that the tooth relic that the temple has is of Buddha. Also, there is this saying that one who will hold that tooth relic will be the governor of the kingdom. This temple is located in the city of Kandy.
Suggested Read: 8 Best Places To Visit In Kandy – Sri Lanka's Spiritual Capital
30. Bentota Beach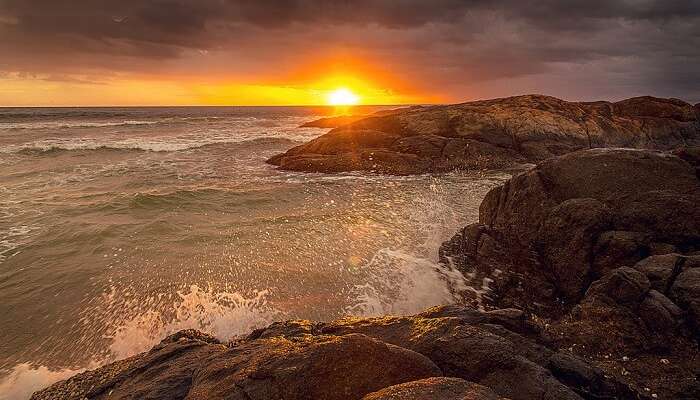 At a distance of 65 km from the city of Colombo is the beautiful beach named Bentota. It is one of the most beautiful beaches in Sri Lanka and a must-visit spot on your trip there. Unwind and relax on the golden sand of the Bentota beach and enjoy the beautiful sea views. One can also enjoy a boat cruise on the Bentota river and those who are looking for some adventure can enjoy some exciting water activities at the Bentota beach.
Further Read: 31 Reasons Why You Should Never Visit Sri Lanka
A complete package of natural beauty and heritage, a Sri Lankan beautiful places will capture your heart. A visit to all these gorgeous spots will make a trip an unforgettable experience. So what are you waiting for? Book your trip to Sri Lanka with TravelTriangle plan your Sri Lanka holidays 2019 right away!
Frequently Asked Questions About Beautiful Places In Sri Lanka
Q. How many days are enough to visit Sri Lanka?
A. You can visit Sri Lanka for 4 to 5 days as there are many places that you can explore there.
Q. What is there to do in Sri Lanka in May?
A. You can go for surfing, visit Yala National Park and more places in Sri Lanka. Sri Lanka's sandy beaches, timeless ruins, tea gardens, and prominent peaks have attracted travelers from around the world for centuries. Watch our Sri Lanka travel video to get an up-close look at the undeniably alluring attractions in this region.
Q. Where is the best area to stay in Sri Lanka?
A. There are a number of places to visit in Sri Lanka that have some of the best staying options, from hotels and resorts to homestays and hostels. Some of them are: Colombo, Arugam Bay, Galle and Matara, Kandy, Dambulla Area, and Anuradhapura.
Q. Is Sri Lanka safe for tourists?
A. Since there has been a constant development in the tourism industry of Sri Lanka, the country has become safer for tourists over the years. It is completely safe for travelers who can spend some quality time in the country without any hassle.
Q. What is Sri Lanka known for?
A. The country of Sri Lanka is known for various factors, including the religious aspects. The rich Buddhist culture is quite prominent here. Apart from Buddhism, there are other religions too that are well known in Sri Lanka. The country is also renowned for its historical richness, attracting tourists from different countries of the world.
Q. Is it worth visiting Sri Lanka?
A. Yes, the country of Sri Lanka is one of the best tourist destinations in the world, as there's a lot to explore and experience in this Asian country. Adventure lovers can go for hiking on the beautiful trails; nature lovers can admire the tea plantations, waterfalls, and greenery; and history buffs can have a relishing experience while learning about the country's vast past.
Q. What should I buy in Sri Lanka?
A. When you are exploring the different markets in the country of Sri Lanka, you must keep some of the stuff in mind for a great shopping experience! Some of the best souvenirs that you can find in Sri Lankan markets are: tea, spices, moonstone carvings, handwoven accessories jewellery and gems, Buddha statuettes, elephant figurines, Ayurvedic cosmetics, etc.
Comments
comments