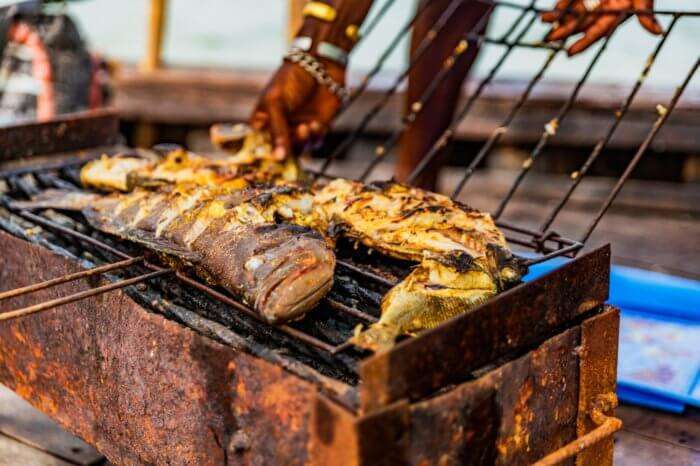 If you are to visit Kenya you have to try some of the Best Kenya Street food out there. If you are a foodie then you simply cannot resist some of the dishes that are found in the country. The unique taste of Kenyan food is something which you will enjoy. There are a number of dishes which are worth trying. However, the best ones are listed below. Take a look and don't forget to try these when in Kenya. You can also go through some Kenya food facts before, trying them out.
10 Best Kenyan Cuisines To Taste
You can try a number of different local delicacies when in Kenya. The people of Kenya has great taste and their local food are quite popular among the tourists. This local food in Kenya is sure to satisfy your taste buds in every way possible. Unless you try some of these delicious and mouth-watering food items, you wouldn't know the taste of Kenya. You can even find Indian food in Kenya if you didn't know that. Having said that, now let's take a look at the food items which is a must try in Kenya.
1. Ugali

This is undoubtedly the most popular dish in Kenya. This happens to be the staple diet for the people of Kenya. It is made from cornmeal which is added to warm water and heated until it turns dense. The dish looks like a thick dense paste of cornmeal. The dish has the consistency of heavy dough. Locals are known to consume ugali with a few cooked vegetables or saucy stew. For them, it's their normal meal. However, you should totally give their staple dish a try. This has a unique taste which you may not have tasted before and thus, it is considered to be one of the best Kenyan Cuisines.
Where to eat: At any street side or local restaurant.
Must Read: 10 Best Places To Visit In George For Exploring New Horizons Of South Africa!
2. Kenyan Pilau

This is one of the most delicious dishes to try out in Kenya. This combination of cooked rice with various spices like cardamom, cloves, cumin, and cinnamon is known to please your taste buds like no other. The rice is usually fragranced and is great to eat. It is consumed with a form of meat stew along with a few slices of onions and tomatoes. The spices used in the rice is what gives its unique taste. This is a dish which you simply cannot miss while staying in Kenya. This dish too is considered to be one of the best Kenyan cuisines for you to try.
Where to eat: Haandi, Kisumu
3. Sukuma Wiki

If you are a vegetarian then you can totally enjoy this amazing vegetarian dish in Kenya. The dish is quite popular among the locals and is known to make with a lot of leafy vegetables. Other than that it also contains tomatoes and onions as well. The flavour is added with a few sprinkles of mchuzi mix which is a kind of secret salt used by the Kenyans. They may also add stock cube flavouring. The blend of all the items in the dish makes it delicious to taste. Even if you are non-vegetarian, you should give this dish a try.
Where to eat: About Thyme
Suggested Read: 7 Grand Stellenbosch Museums For A Sneak-Peek Into South Africa's Intriguing History
4. Kenyan Stew

When in Kenya, you know it's time to have the famous Kenya stew. This lovely dish is made with a number of different meats. They mainly use goat stew, beef stew, chicken stew and a slew of other animals as well. Kenyan stew may also contain a few chopped vegetables as well which may include carrots, potatoes, peppers or peas. It only increases the taste of the dish. The sauce used in the stew is made from a light tomato base and accented with salt, pepper, and onion. Not to forget they also add their secret ingredient mchuzi mix. Try this Kenyan cuisine and know how real stew tastes like.
Where to eat: Fogo Gaucho
5. Nyama Choma

Kenyan food is incomplete without the mention of nyama choma which is also known as roasted meat. For all the ones who love to eat roasted chicken or other meat should definitely give this a try. The Kenyans are known to make two different types of nyama choma and that is a chicken one and the fish one. The dish is usually made with a bit of extra flavouring only to enhance the taste. At some restaurants, you may also find some special variation made by them. This is undoubtedly one of the best Kenya food dishes to try.
Where to eat: Yuls Restaurant
Suggested Read: George Nightlife: 10 Glamorous Spots To Experience South African Nightlife!
---
Planning your holiday but confused about where to go? These travel stories help you find your best trip ever!
Real travel stories. Real stays. Handy tips to help you make the right choice.
---
6. Matoke

This is yet another must try dish in Kenya. The dish is actually from Uganda but it is quite popular in Kenya. The dish is mainly made of bananas that are cooked in a pot along with onions, tomatoes, chili's, garlic, lemon juice, meat, and onions. This is a very usual kind of dish which you may not have tried before. The bananas are cooked until they turn really soft. As the cooked banana starts to form a thick sauce with the other ingredients, the dish is ready. This tastes the best when eaten with rice, chapatti or ugali.
Where to eat: At any local restaurant.
7. Kenyan Bajias

This is simply the Kenyan form of French fries. This glorious dish is loved by all. The potatoes are sliced like chips and then seasoned with a batter and then deep fried. It is then served hot with a tomato salsa dipping which is totally worth trying. If you love French fries which we all do then you must try this dish.
Where to eat: Artcaffe Karen
Suggested Read: Shopping In Pretoria: 10 Best Places For Buying The Best Of Everything In South Africa
8. Chips Mayai

This can be described as French fry omelet which is really tasty to try. This is made with Kenyan chips that are placed in a frying pan before they are covered with a batter of beaten egg and cooked thoroughly. Once the omelet is ready, it is served with chopped tomatoes. This is a kind of good calorie dish which will provide you with enough energy to explore your surroundings. The dish also happens to be popular in Tanzania. Try this dish in order to taste fries in a different way.
Where to eat: Merica Hotel Restaurant
9. Mandazi

This dish is mainly known for its the amazing smell that can be smelled from lies away. This deep-fried dough is quite popular among the locals. The amazing smell of the dish is surely going to entice you to have it. This dish is treated as a breakfast item or evening snack. Is quite filling and is better to enjoy it with a cup of sweet tea.
Where to eat: At any local food stall.
Suggested Read: An Ultimate Guide To Explore The Best Sights From Mombasa To Nairobi, The Melting Pots Of Africa!
10. Mutura

This is yet another great dish that you simply cannot afford to miss in Kenya. This is Kenyan sausage which is a protein-rich snack. This is best to have with beer. It is mainly made with goat meat. The smoky taste of the dish is hard to resist. This is one of the most authentic dishes that you can try in the streets of Kenya.
Where to eat: Talisman Restaurant
Further Read: Oudtshoorn Wildlife: 10 Must Visit Places Where You Can See The Diverse Wild Species Of South Africa!
So these are some of the most popular and authentic dishes in Kenya that you have to try. These Kenyan delicacies are going to give your taste buds a new taste. Some of the dishes are really good and you must try them while being there. So, while you're on a verge to plan your vacation to Africa, make sure to taste these delicious delicacies.
---