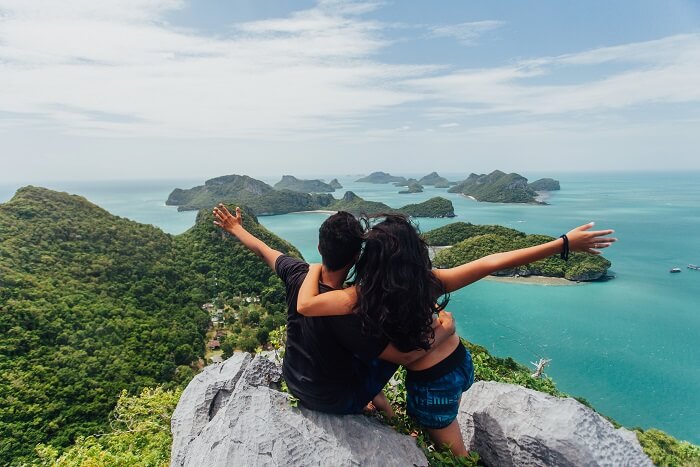 Thailand has an extraordinary amorous atmosphere in every region and island. And Koh Samui is no different. In fact, with its warm climate, gentle sea breeze, and beautiful beaches, the island boasts of all the essentials of a wonderful honeymoon in Koh Samui.
This Koh Samui honeymoon guide is here to help you plan the ultimate romantic escape in one of the best islands in Thailand. Check out this hand-picked list of the most romantic attractions, restaurants, and hotels.
Things to know about a Koh Samui honeymoon
Location of Koh Samui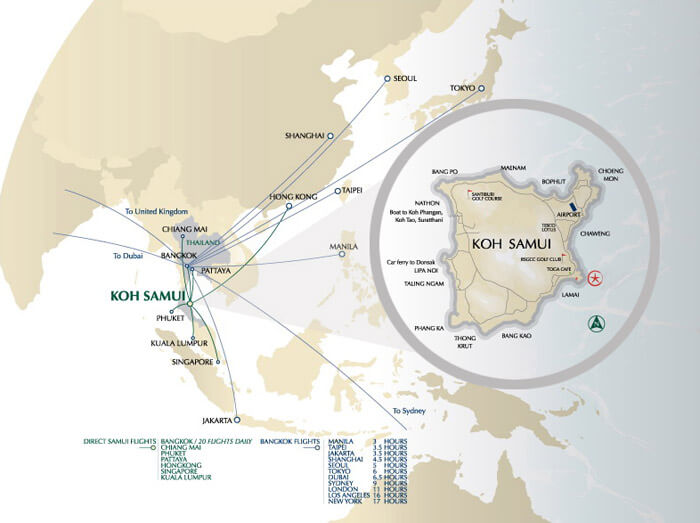 Koh Samui, Thailand's second largest island, is located in the Gulf of Thailand. It is located to the south of Bangkok & Pattaya and to the northwest of Phuket.
How to reach Koh Samui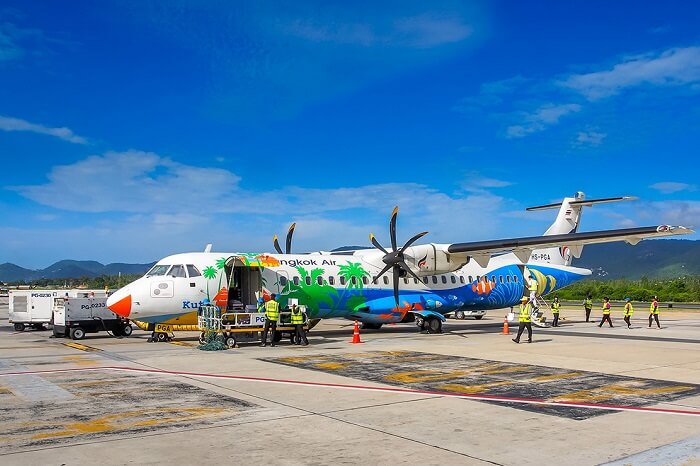 Koh Samui has its own airport that caters to flights mainly from Bangkok, Phuket, Pattaya, or Singapore. Bangkok and Singapore are further well-connected with all major cities globally. These include the Indian cities of Delhi, Mumbai, Chennai, Kolkata, and Hyderabad.
Option 1: Take a flight to Bangkok and then fly to Koh Samui.
Option 2: Take a flight to Singapore and then fly to Koh Samui.
Option 3: Take a flight to Bangkok and then fly to Surat Thani. From here, take a ferry to Koh Samui.
Best time to visit Koh Samui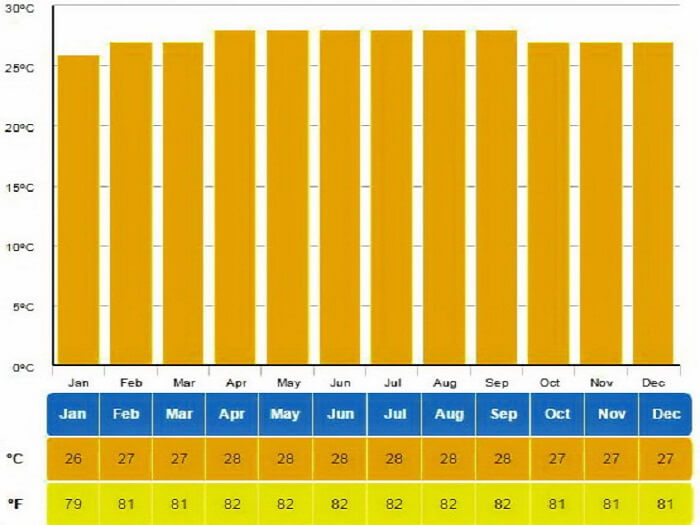 Koh Samui has 3 distinct seasons – the dry season (December to March), the hot season (April to August), and the rainy season (September to November). Being an island destination, the temperature fluctuations are minimum. Therefore, Koh Samui is considered as a year-round destination. However, it is generally suggested to avoid monsoons.
Romantic places to visit in Koh Samui on your honeymoon
Best beaches in Koh Samui for honeymoon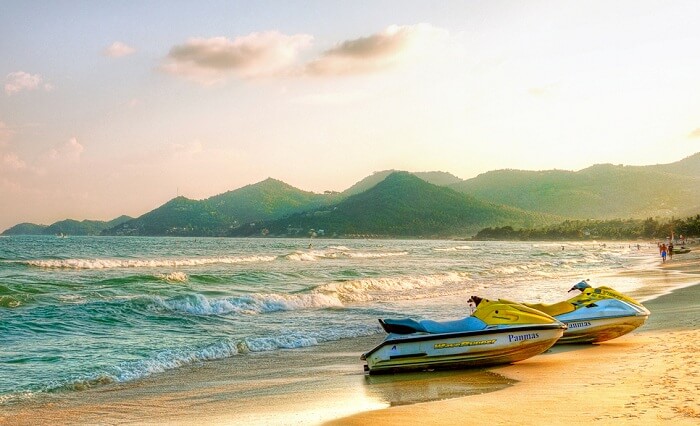 Most people would associate the beaches in Koh Samui with the rave escape parties. But, with their beautiful white sand & crystal clear waters, these serve as perfectly romantic hotspots for the couples to explore on their honeymoon in Koh Samui. Some of the beaches also offer options for kitesurfing, sea kayaking, snorkeling, and scuba diving for couples who enjoy some thrilling experiences.
The popular Koh Samui beaches – Chaweng, Lamai, Bophut, and Lipa Noi – may be a little crowded, But the scenic views and the long coastline ensure some romantic time for the honeymooners. And then there are some pristine beaches in Koh Samui. These include Silver Beach, Choeng Mon, and Taling Ngam.
Must Read: 11 Luxurious Koh Samui Hotels To Unwind On A Flawless Tropical Vacation!
Other beautiful natural attractions in Koh Samui and surrounding areas
1. Hin Ta and Hin Yai rocks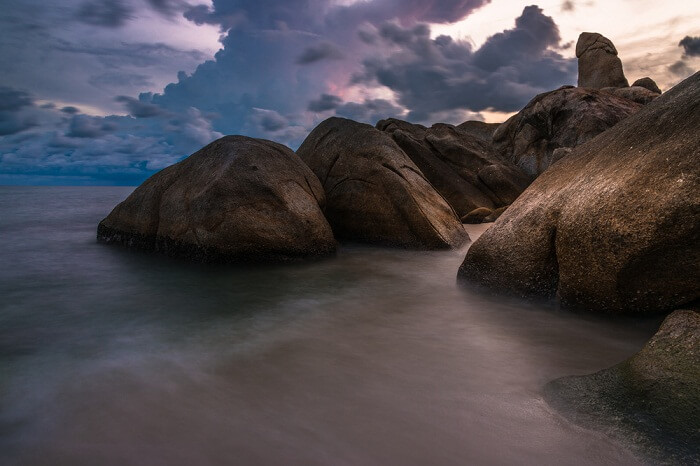 Hin Ta (Grandfather rock) and Hin Yai (Grandmother rock) are fascinating rocky formations on the Lamai Beach that lies on the south coast of Koh Samui. Their striking similarity to the male & female genitalia have been a source of wonder for ages. And the place, in general, is so romantic that no couple on their honeymoon tour of Koh Samui should miss it.
2. Na Muang Waterfall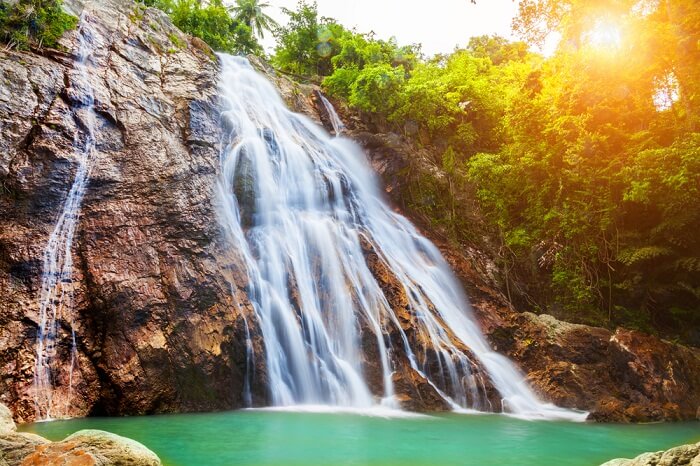 Of the numerous waterfalls located in Koh Samui, the two Na Muang falls are arguably the most beautiful. A natural staircase of rocks & tree roots leads to the base of NA Muang 1, where a large natural pool beautifully sits. Couples can take a dip in this pool and enjoy the beautiful views around. A further walk of 10 minutes leads to Na Muang 2. The 2 natural beauties are, undoubtedly, among the most romantic tourist places in Koh Samui.
3. Angthong National Marine Park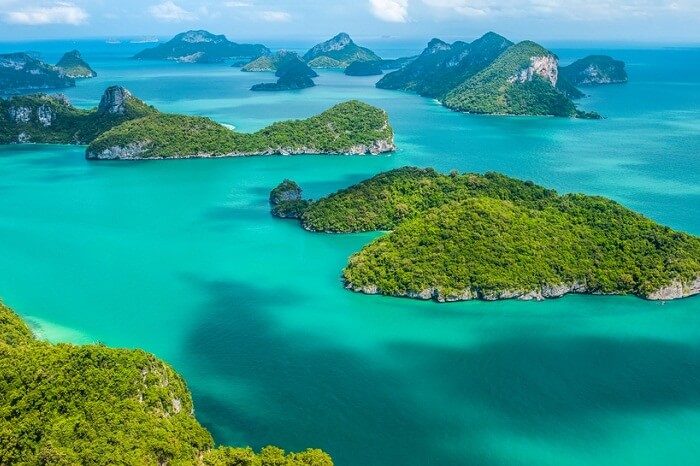 The 42 islands that are a part of the famous Ang Thong National Marine Park of Thailand are other romantic places to visit on a Koh Samui honeymoon tour. These islands consist of towering limestone mountains covered with thick jungle. Sandy beaches, waterfalls, hidden caves, and lakes dot these tiny islands. The marine park is also the home to a wide array of exotic wildlife and sea creatures.
Note: Koh Tao, or the Turtle Island, is another closely located island that can be covered in a Koh Samui honeymoon tour.
Religious places in Koh Samui
1. Big Buddha Temple (Wat Phra Yai)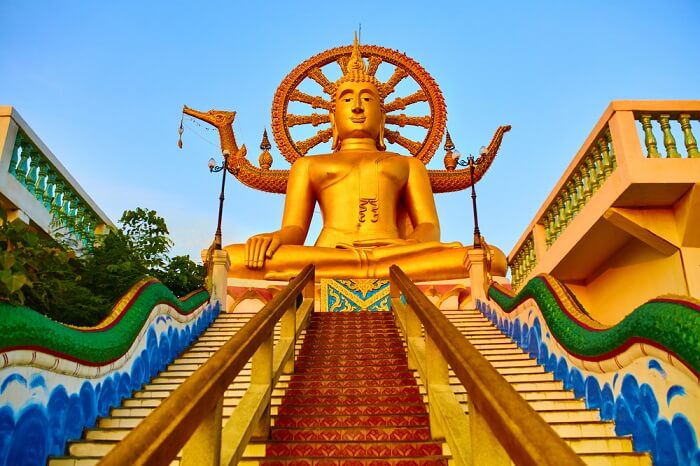 The northern coast of Koh Samui is famous for the 12-meter high Golden Buddha statue that can be seen from miles away. It is a part of the Wat Phra Yai or the Big Buddha Temple that has many different shrines and other small Buddha statues. The temple complex also houses a small market with food stalls and shops selling various lucky charms & other souvenirs.
2. Wat Plai Laem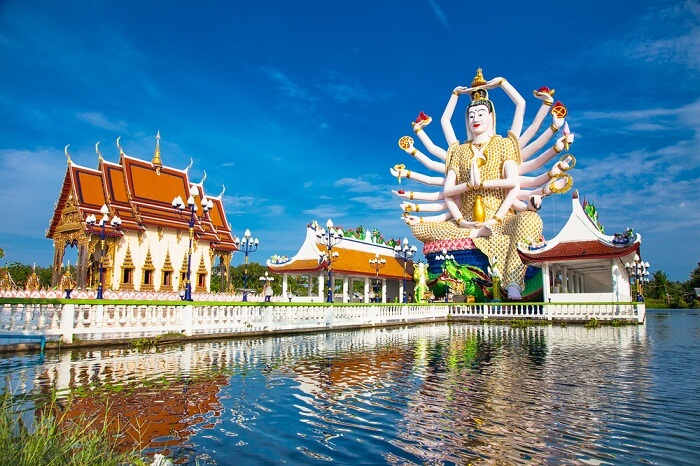 Located very close to the Big Buddha Temple is the colorful Wat Plai Laem that appears to be floating in the middle of a lake. This Buddhist temple is known for its ornate decor & art. However, it is the 18-arm image of Guanyin (the Goddess of Mercy) that makes it so famous.
Romantic things to do in Koh Samui on your honeymoon
1. Snorkeling and scuba diving in Koh Samui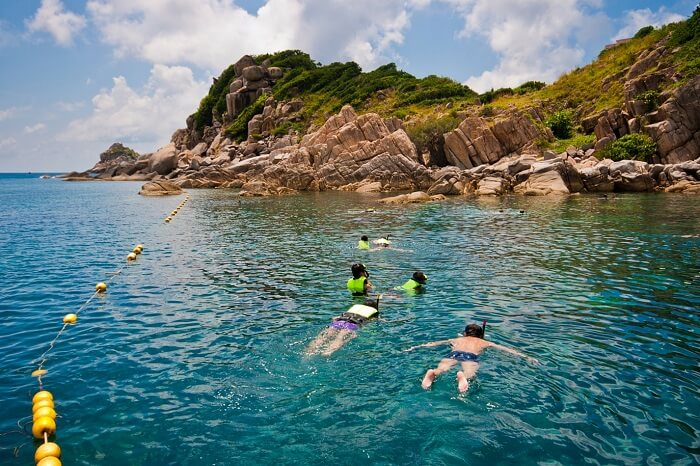 Couples are sure to enjoy gliding through the warm waters and viewing the exotic marine & coral life. Scuba diving and snorkeling are two highly adventurous and, at the same time, romantic activities in Koh Samui.
Where to try: Chaweng Beach and Coral Cove are known for clear waters that are perfect for scuba diving. Couples can also take snorkeling tours to Koh Tan, Koh Nang Yuan, Koh Phangan, and Angthong National Marine Park.
Other adventurous things to do in Koh Samui for couples: Going on sea kayaking tours to Angthong National Marine Park & Koh Tan and hiking through the tropical forests
2. Attending the cabaret performances at Koh Samui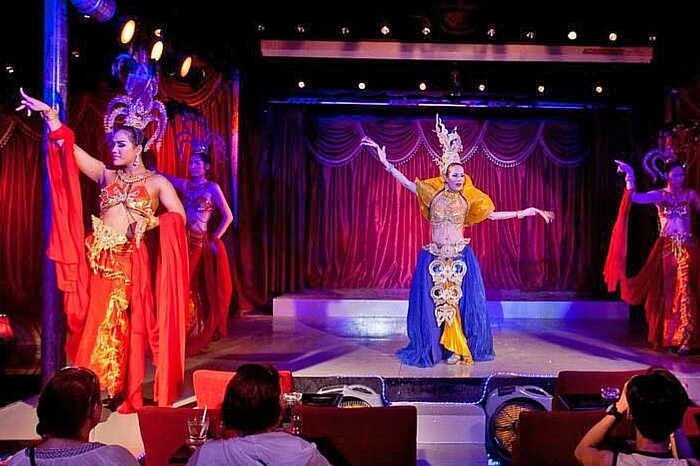 The Paris Follies Cabaret attracts both couples and men of all ages with their ladyboy cabaret performances that are erotic and highly entertaining.
3 Shopping at the night markets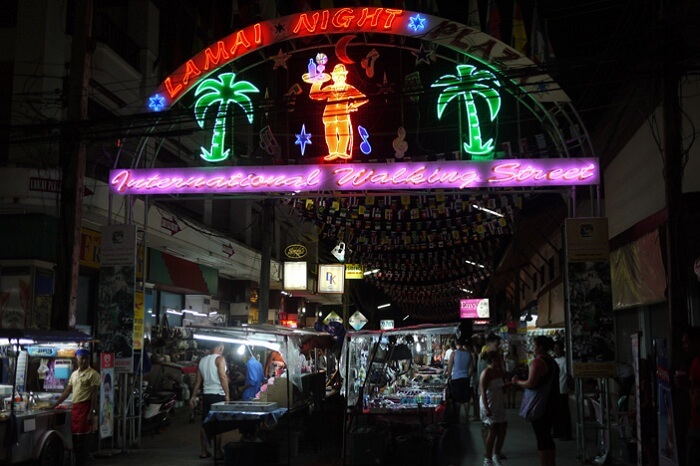 Time to gift your significant special some local products. Of course there are some amazing malls, including the Central Festival Mall in Chaweng. But Lamai Night Walking Street and Chaweng Night Market offer some high standard products at very low prices. You can definitely buy souvenirs from here.
Other highlights of the nightlife in Koh Samui: Escape parties on half moons and new moons of every month, parties with fire dances at Ark Bar & Swing Bar, and clubbing scene at Soi Reggae
Must Read: Koh Samui Nightlife Guide: Pubs, Bars, & Beach Parties
4. Dining at the exotic beaches and other romantic restaurants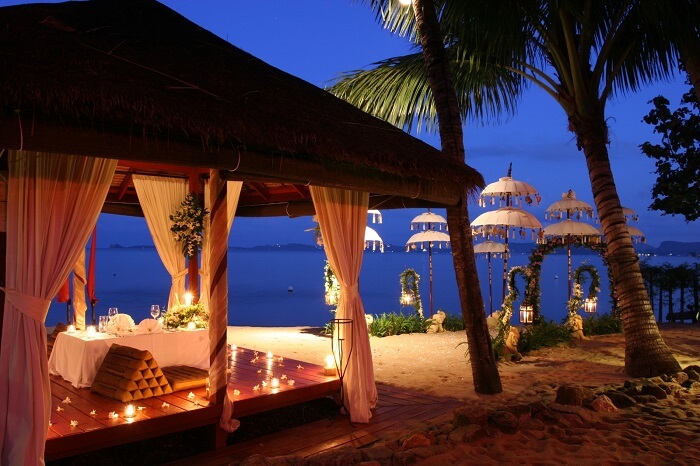 There's no pleasure greater than being in the company of your beloved while you savor the outstanding delicacies on your plate and there's no experience more romantic than an exclusive dinner in a romantic setting. Luckily, Koh Samui offers you both.
Beachfront restaurants in Koh Samui for couples: Zazen Restaurant on Bophut beachfront, Dining On The Rocks at Big Buddha, beachfront dining at The Banyan Tree Resort, and The Dining Room on Lamai beachfront
Other romantic restaurants in Koh Samui: Tree Tops Sky Dining at Chaweng, Arabian Nights-styled The Boudoir in Maenam, and the Brazilian-themed Zico's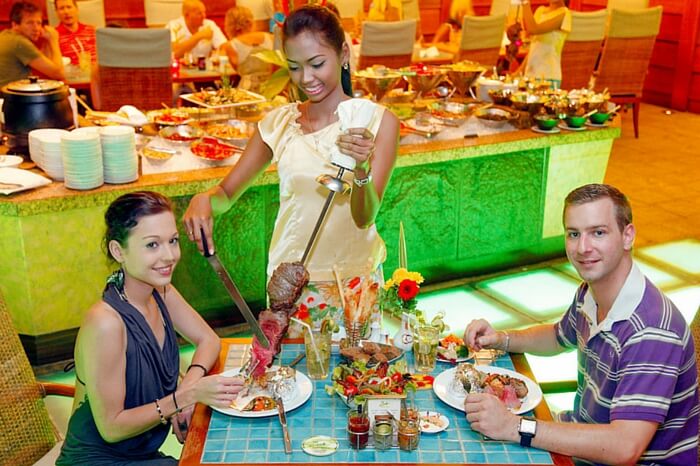 5. Taking spa treatments and full-body massages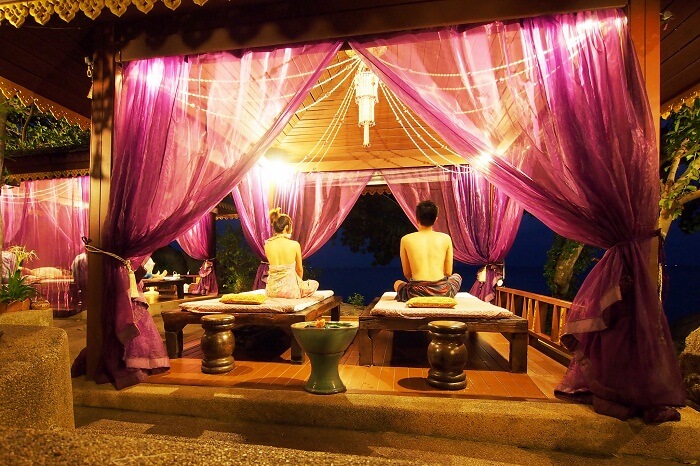 There are several stand-alone spas as well as spa resorts in Koh Samui that offer the best of spa & massage services. After a day full of sightseeing and activities in Koh Samui, couples can head for some relaxing & rejuvenating sessions at these spa centers. Many of these also offer couple spa sessions.
Must Read: 15 Spectacular Things To Do In Koh Samui
Romantic resorts in Koh Samui to stay on your honeymoon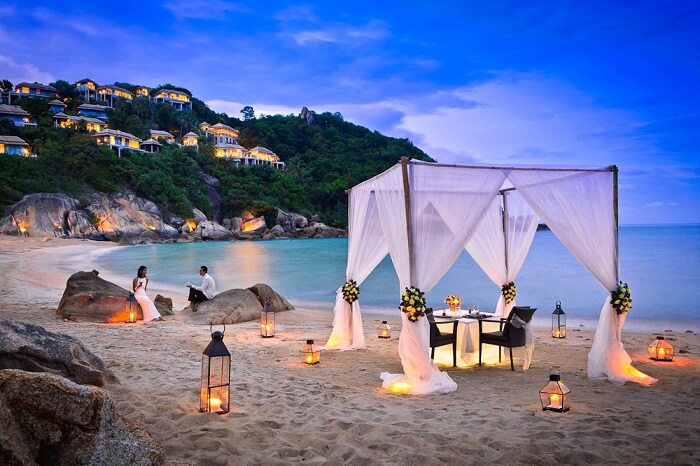 There are a number of boutique resorts in Koh Samui that are perfect for a romantic stay. These offer a wide array of stay options, including pool villas, overwater bungalows, and luxe suites. With their supreme privacy, relaxing spas & pools, candlelit restaurants, private beaches, and modern amenities, the best hotels in Koh Samui for honeymoon are perfect in every way for a romantic stay.
Koh Samui honeymoon villas: Banyan Tree resort in Lamai, Sareeraya Villa & Suites in Chaweng, KC Resort & Over Water Villas in Chaweng, and Bophut Resort & Spa
5 star resorts in Koh Samui: Four Seasons Resort at Ang Thong, W Retreat at Maenam Beach, Intercontinental Baan Samui Resort at Taling Ngam, and The Tongsai Bay on Choeng Mon Beach
4 star resorts in Koh Samui: The Library on Chaweng Beach, Zazen Boutique Resort & Spa on Bophut Beach, and Rocky's Boutique Resort in Lamai
Budget resorts in Koh Samui: Peace Resort Koh Samui on Bophut Beach and Ark Bar Beach Resort on Chaweng Beach
So, if you are looking for a honeymoon destination, you now have the answer. Get ready to be allured as you head for a honeymoon in Thailand.
Further Read: 6 Exotic Places To Visit In Thailand For Your Honeymoon
Comments
comments