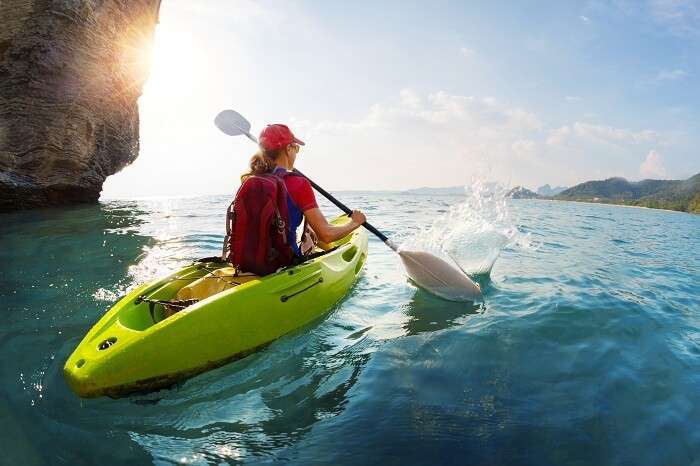 Koh Samui – a hive of activity – has too many choices to offer. From snorkeling through the vivid sub-aquatic life to relaxing at the exquisite spas, and from elephant trekking to partying hard on the beaches – the list of things to do in Koh Samui seems endless. So, the next time you visit Sri Lanka, head to Koh Samui and add these things in your itinerary for the perfect holiday.
Best Time To Visit Koh Samui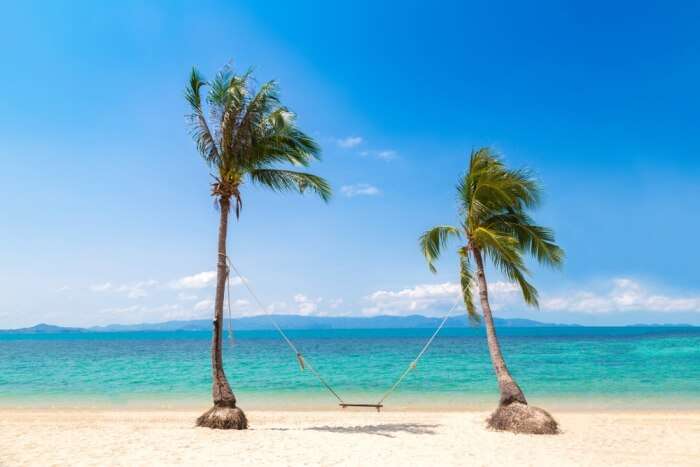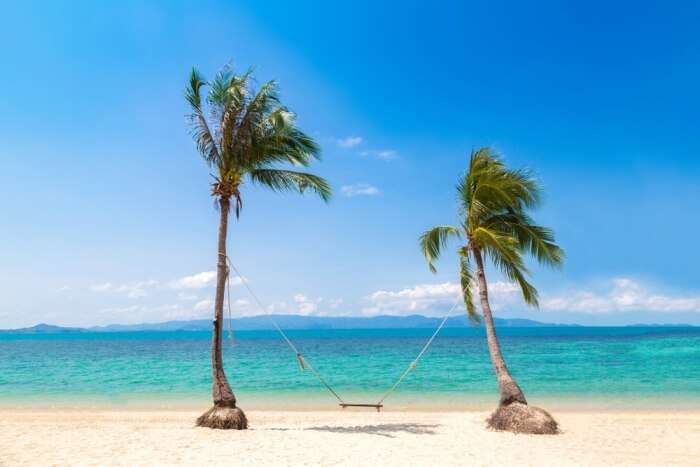 If you are looking for sunny days and little to no rainfall, which is ideally the best to explore Koh Samui, then late December to April are the perfect months to plan a trip here. March and April are great to spot whale sharks, and enjoy water activities here, making this period, the best time to visit Koh Samui.
24 Best Things To Do In Koh Samui
Here is a hand-picked list of the top things to do in Koh Samui. Scroll down patiently. There is something for travelers of all tastes and interests.
Snorkeling And Scuba Diving
Kitesurfing
Sea Kayaking
Swimming
Elephant Trekking
Off-Roading
Go Karting
Spa
Shopping
Partying
Ladyboy Cabaret Shows
Dining
Crocodile Show
Temple Tour
Mummified Monk
Nathon Town
Maenam Beach
Secret Buddha Garden
Hin Ta And Hin Yai
Lamai Beach
Paragliding
Shooting
Ziplining
Cooking class
Water Sports In Koh Samui
There are various water activities that tourists love to try in this city of Thailand. Koh Samui is the perfect place to get indulged in water sports that will pump your adrenaline for good!
1. Snorkeling And Scuba Diving – View Exotic Marine Life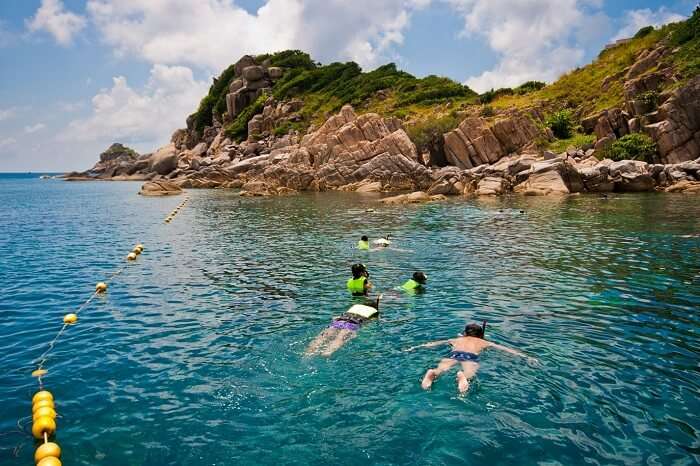 Gliding through the warm waters of the Gulf of Thailand, viewing the exotic marine & coral life, and riding the speedboats before diving in the clear waters offer aquatic freedom in the wondrous underwater world like no other activity. This makes snorkeling and scuba diving the best Koh Samui activities.
Where to try: Snorkeling tours to Koh Tan, Koh Nang Yuan, Koh Phangan, and Angthong National Marine Park are offered from Koh Samui. Clear waters off the Chaweng beach and the Coral Cove are best suited for scuba diving.
Must Read: 10 Best Beaches In Koh Samui To Visit On Your Next Trip To Thailand
2. Kitesurfing – For Adventure Enthusiasts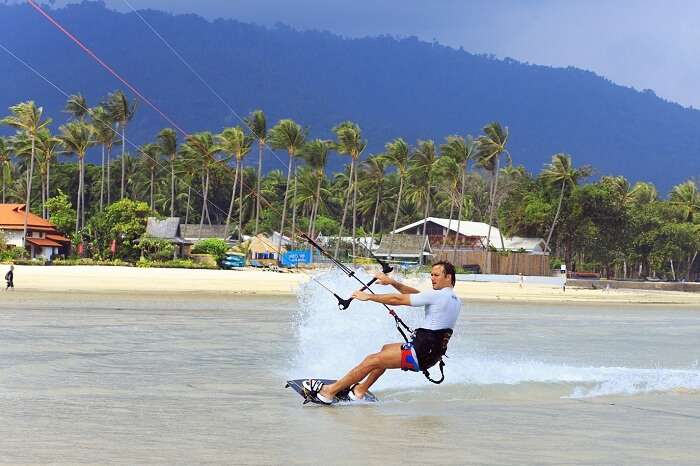 Kitesurfing, or kiteboarding as it is more commonly known, is one of the most adventurous things to do in Koh Samui. The kitesurfing spots in Koh Samui offer flat and shallow waters to surf safely. The absence of jellyfish, rocks, waves, jet skis, and speed boats make the conditions just ideal for this sport. You will find plenty of beaches in Koh Samui to indulge in the activity.
Where to try: Hua Thanon and Nathon
Suggested Read: Know How This Couple's Honeymoon Trip To Thailand On Budget Turned Out To Be Their Best Adventure!
3. Sea Kayaking – A Popular Water Sport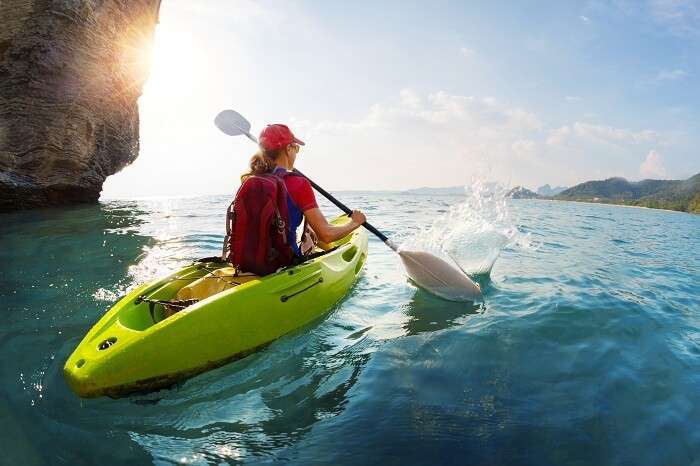 Kayaking is one of the best things to do in Koh Samui for couples, solo travelers, friends, and families. Among the most popular water sports in Koh Samui, kayaking offers a chance to explore the crystal clear waters, surrounding islands, secluded beaches, and overhanging coves.
Where to try: A number of Kayaking tours are offered from Koh Samui. But the kayaking tours to Angthong National Marine Park, Koh Mudsum, and Koh Tan are most popular.
Suggested Read: 12 Kickass Water Sports In Thailand For The Water Babies To Enjoy
4. Swimming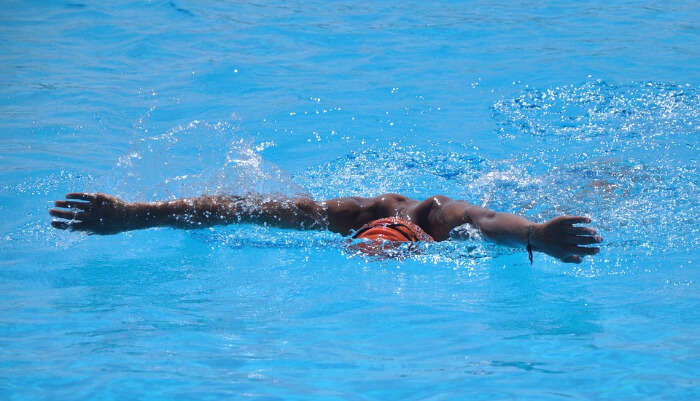 Koh Samui is blessed with some beautiful waterfalls. These include the Wanorn Waterfall near Lipa Noi and Hin Lad Waterfall near Nathon. But the two Namuang waterfalls are most famous. Swimming at the cool and fresh waters of the natural pools of the Namuang waterfalls is one of the most relaxing things to do in Koh Samui – for couples, solo travelers, and even families.
Suggested Read: 11 Luxurious Koh Samui Hotels To Unwind On A Flawless Tropical Vacation!
Land Adventure Activities In Koh Samui
From trekking to go-karting, the adventurous activities that you engage yourself in are plenty. Have a walk in nature and familiarize yourself with the island of Koh Samui!
5. Elephant Trekking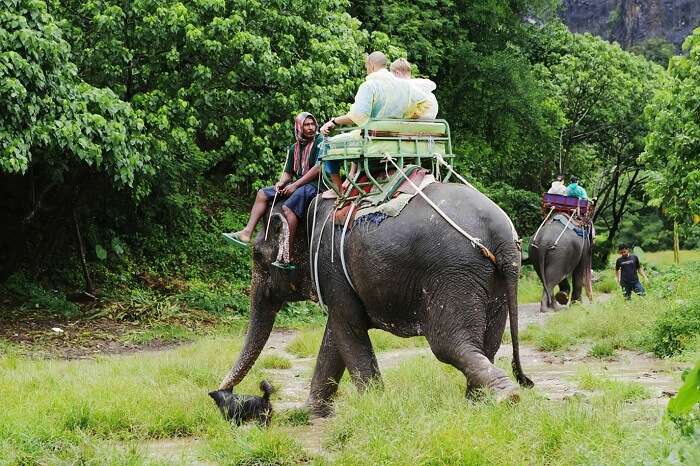 Elephant – a symbol of strength and royalty – is the national animal of Thailand. The island of Koh Samui has a vast stretch of tropical forest in its centre. A journey through the forest on an elephant back takes you through exotic flora & fauna, refreshing waterfalls, and verdant forests. This is one of the best things to do in Koh Samui with family.
Suggested Read: Thailand 7 Days Trip: There's So Much To Learn From Rakshita's Experience
---
Planning your holiday in Thailand but confused about what to do? These Thailand travel stories help you find your best trip ever!
Real travel stories. Real stays. Handy tips to help you make the right choice.
---
6. Off-Roading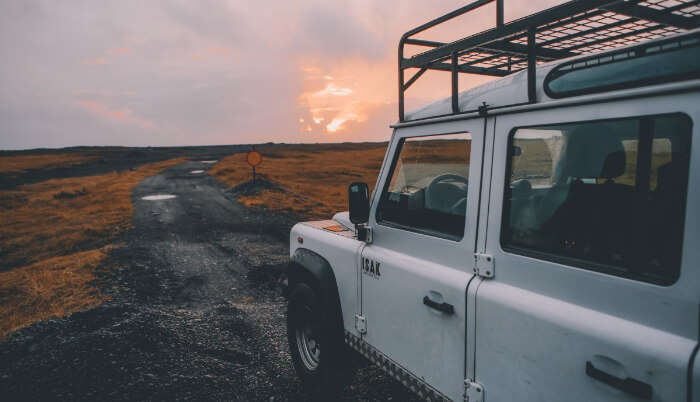 There are many options to cover the major tourist attractions in Koh Samui. Of these, motorcycle tours and jeep safaris are most popular. The Offroad 4WD Jeep Safari takes you through both popular and lesser known places of the island. From the beachside Grandmother & Grandfather Rocks to the mountaintop viewpoints, the jeep safari covers it all. It is definitely one of the interesting things to do in Koh Samui with kids. You could aso take day trips from Koh Samui to explore more beauty of this island.
Suggested Read: Thailand In September: A Pocket Guide For An Amusing Vacation
7. Go Karting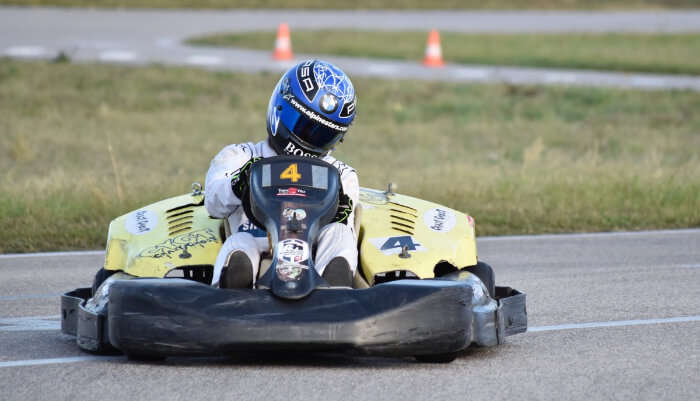 Go karting is among the thrilling things to do in Chaweng, especially if you like speed and thrill. The place is ideal for teenagers and youngsters. However, there is no upper age limit for the sport.
Where to try: Easykart at Chaweng Lake
Timings: 10 am – 1 am
8. Shooting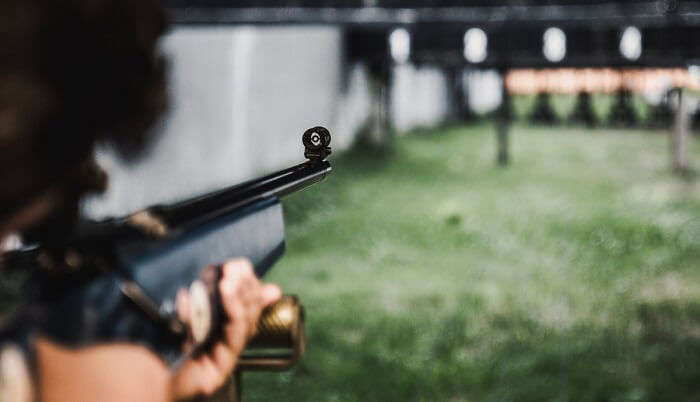 One of the unique things to do in Koh Samui is shooting. You will find a shooting range on the island where you can fire some rounds. It is a great way to exhaust all your frustration and get the adrenaline pumping through your veins. It is okay if you are not a pro. You can practice your aim and also have fun during the experience.
Where to try: Koh Samui Shooting Range
Suggested Read: Is Thailand In October Really A Good Time For A Vacation? Here's Your Answer
Things To Do In Koh Samui To Pamper Yourself
Who wouldn't want to try out the things that can help in unwinding and satiate your shopping spree! These options mentioned below will make you love the island of Koh Samui even more!
9. Spa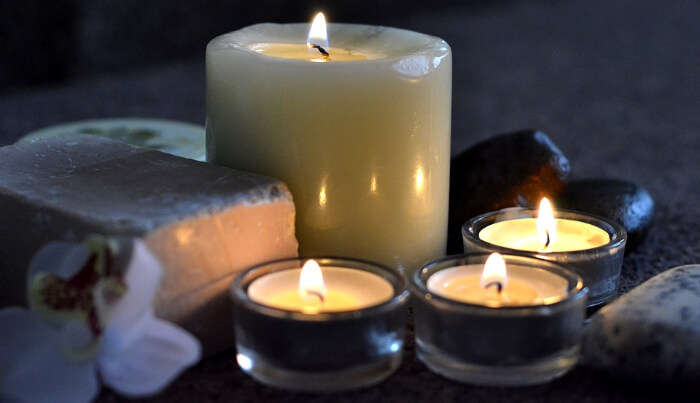 Taking spa treatments and foot/ full-body massages are the best things to do in Koh Samui when it rains. They are relaxing and enjoyable at the same time. Yes, there are stand alone spas all over the island. But the spa resorts in Koh Samui offer the best spa and massage services.
Suggested Read: 15 Best Resorts In Koh Samui
10. Shopping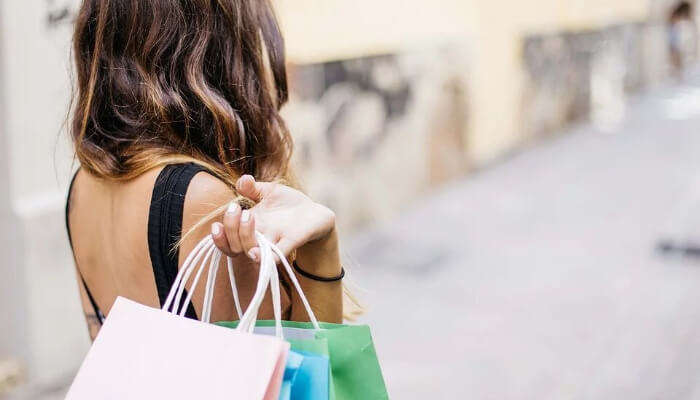 Shopping in Koh Samui goes beyond the chic malls. Yes, the Central Festival Mall in Chaweng and other malls in Koh Samui are of the highest standards. But the Lamai Night Walking Street and Chaweng Night Market make shopping in Koh Samui a unique experience.
Suggested Read: 22 Exciting Things To Do In Bangkok – Thailand On A Holiday
Entertaining Things To Do In Koh Samui
Your trip would remain incomplete if you haven't seen the entertaining side of Koh Samui. Make your trip worthwhile by undergoing the fun-filled experience in the islands!
11. Partying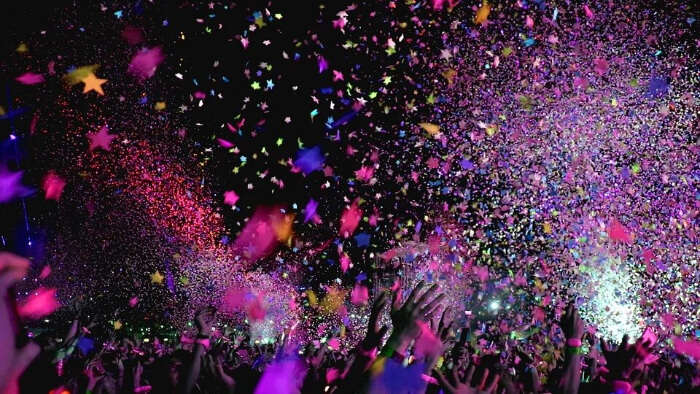 The people of Koh Samui sure know how to party. The Koh Samui nightlife has been attracting a young crowd of revellers on the white sandy beaches, pubs, bars, and more. Attending the Full Moon party at the nearby Koh Phangan; Black Moon & Half Moon parties on Koh Samui; and dancing all night at the famous pubs of the island are the best things to do in Koh Samui at night.
Suggested Read: Koh Phangan Island: Enjoy The Full Moon Party On The Beach & Turn Into A Party Wolf
12. Ladyboy Cabaret Shows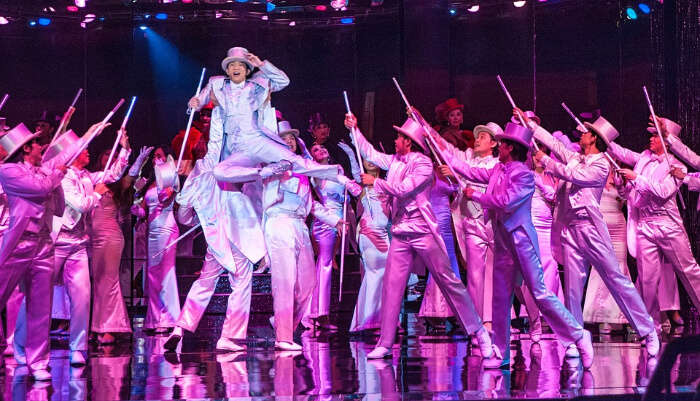 And the nightlife in Koh Samui is not just limited to parties. The ladyboy cabaret shows may not be appropriate for people of all ages. But the erotic dance performances by the lovely ladyboys in shining clothes have been attracting a lot of audience. For the same reason, attending the Paris Follies Cabaret is one of the best things to do in Chaweng district of Koh Samui.
Suggested Read: 7 Attractive Cruises In Thailand For A Wonderful Trip To The Land Of Smiles
13. Dining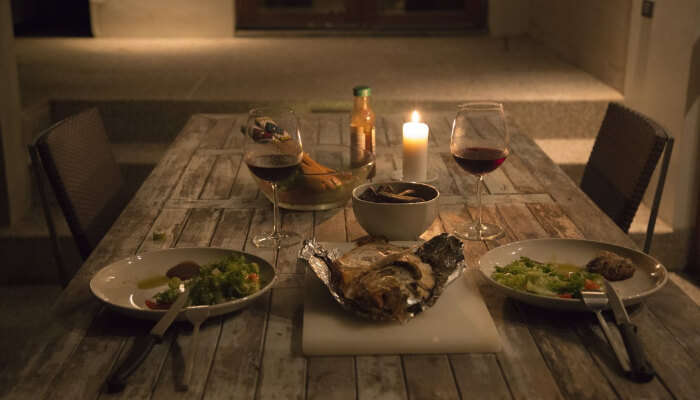 Like any other destination, Koh Samui too has some of the finest restaurants. And the beachfront dining experiences add to the charm of these restaurants. You could go on a romantic date on your Koh Samui Honeymoon
Where to dine: Beachfront Club at Fisherman Village in Bophut, Dining On The Rocks at Big Buddha, Treetops and 9Gems Lounge Restaurant in Chaweng, and Kob Thai Restaurant in Lamai
Suggested Read: Koh Phangan Island: Enjoy The Full Moon Party On The Beach & Turn Into A Party Wolf
14. Crocodile Show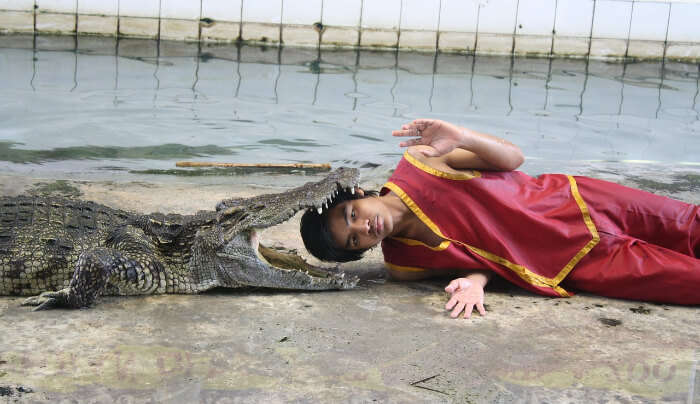 Attending a crocodile show is among the unique things to do in Koh Samui. The Crocodile Farm is home to Siamese crocodiles, caimans, saltwater crocodiles, snakes, lizards, monkeys, and more. Watch the performers put their hands and face right into the mouth of the crocodiles or play with the fangs of the snakes.
Opening hours: 10 am – 6 pm
Show timings: 12 pm – 1 pm, 2 pm – 3 pm, 4 pm – 5 pm (Crocodile Show) | 1 pm – 2 pm, 3 pm – 4 pm, 5 pm – 6 pm (Snake Show)
15. Thai Cooking Class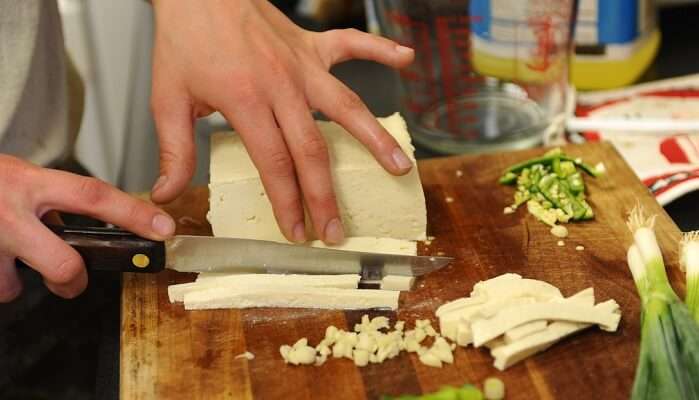 Image Courtesy: Ellsworth.af.mil
When you are on a long vacation on the island and looking for things to do in Koh Samui for couples, then you should join a cooking class. Even science has proven that cooking together increases love and coordination in a couple. So, why not take a chance? You will also get to learn a new cuisine. If you are a foodie, then this one is a must.
Where to try: Samui Institute of Thai Culinary Arts
Suggested Read: 10 Best Things To Do In Koh Lipe That'll Add More Fun & Thrill To Your Thai Vacay!
Religious Things To Do In Koh Samui
Since Koh Samui is also renowned for its temples as well as monasteries, planning a visit to such sites is a must! Make sure you add the below-mentioned places!
16. Temple Tour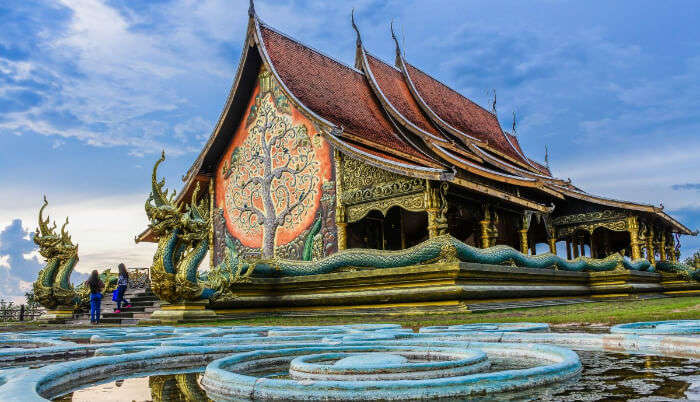 Taking a temple tour of the Buddhist temples and shrines is one of the religious things to do in Koh Samui. These beautiful tourist attractions in Koh Samui are known for their beauty and their religious significance for the Buddhists.
Do not miss: Big Buddha, Wat Plai Laem, Laem Sor Pagoda, Wat Kiri Wongkaram, Wat Samret, and Wat Rattanakosin
17. Mummified Monk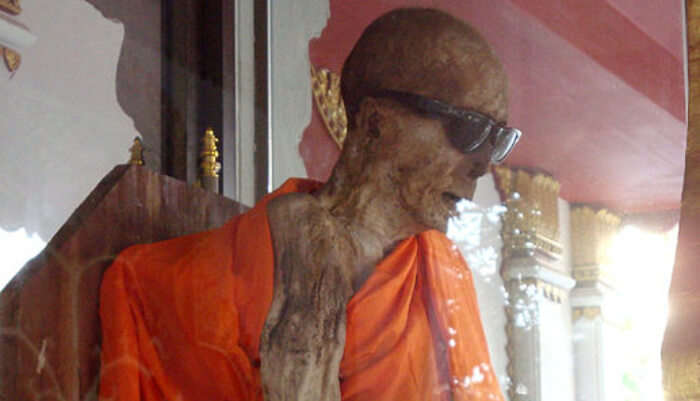 Unlike the other temples, Wat Khunaram is famous for the mummified monk that is kept on display here. The mummified body of Loung Pordaeng is kept in a glass casket in the temple. Visiting the mummified monk is a unique experience offered at this tourist attraction of Koh Samui.
Suggested Read: 7 Best Places That'll Guide You Where To Eat In Koh Tao On Your Next Thai Sojourn
Sightseeing In Koh Samui
There's no doubt that the tourist attractions make the trip to Koh Samui more interesting and even satisfying. Do add these places to your travel plan and make your experience worth remembering!
18. Nathon Town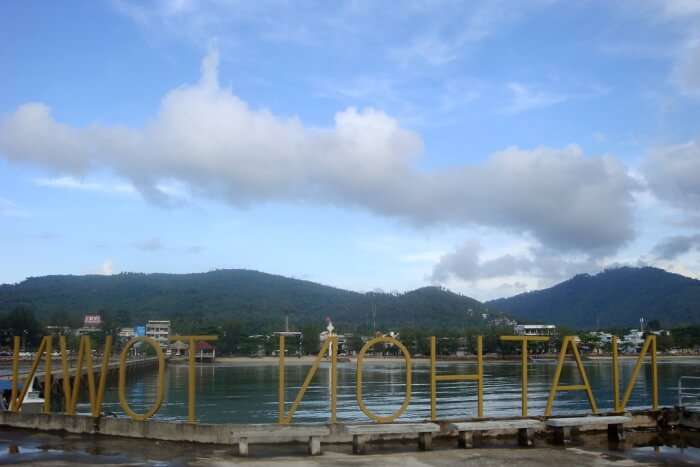 This town is the capital of Koh Samui, located close to the ferry port. The capital is known for a variety of shops as well as eating spots where tourists flock in every year. On your visit to this place, don't forget to check out the Chinese shop houses where you can find gold and a huge variety of goods. When searching for souvenirs, do plan to visit this place as you'll get them here at a reasonable price.
19. Maenam Beach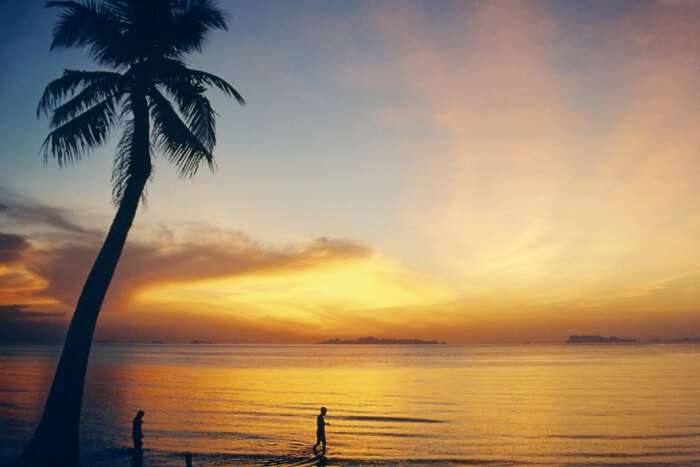 If you're a backpacker, you're definitely going to love this place. Since the island of Koh Samui is believed to be a bit expensive, this is the perfect place for those looking for cheaper tourists spots. The beach stretches till around 7 kilometers and is lined with palm trees. The nightlife that you'll experience here is peaceful. This is the perfect place to find an escape from the bustling life of city.
Suggested Read: Top 15 Restaurants In Thailand For Indians Who Don't Want To Rely Solely On Thai Cuisine
20. Secret Buddha Garden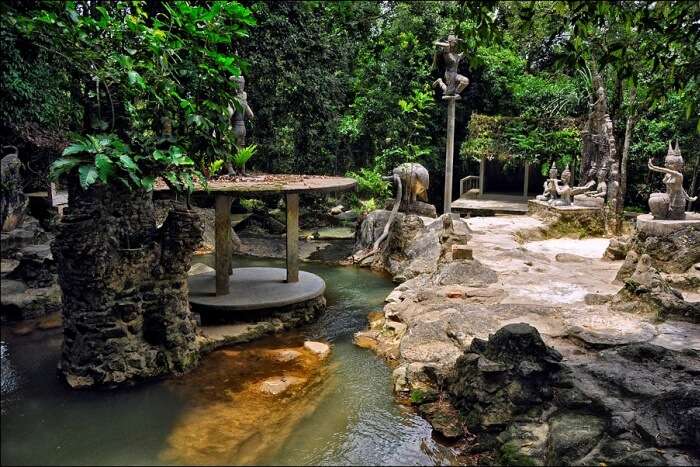 If you have a thing for exploring the hidden gems of Thailand, then visiting Secret Buddha Garden would definitely satiate your soul! The garden holds a rich history and was established in 1976 by Nim Thongsuk who began by bringing various intricately designed sculptures to the land he owned.
21. Hin Ta And Hin Yai
For those who are interested in the cultural aspects of this city, this tourist attraction would definitely be worth the visit. This place is famous for its rocks that are mentioned in the vast folklore of Koh Samui. These rocks have a mythical story that is based on a couple Ta and Yai. The couple was said to have been caught by the sea storm and transformed into these rocks! Visiting this place would be one of the romantic things to do in Koh Samui.
Suggester Read: 7 Best Trips From Koh Samui To Explore Everything That Lies Beyond Thailand!
22. Lamai Beach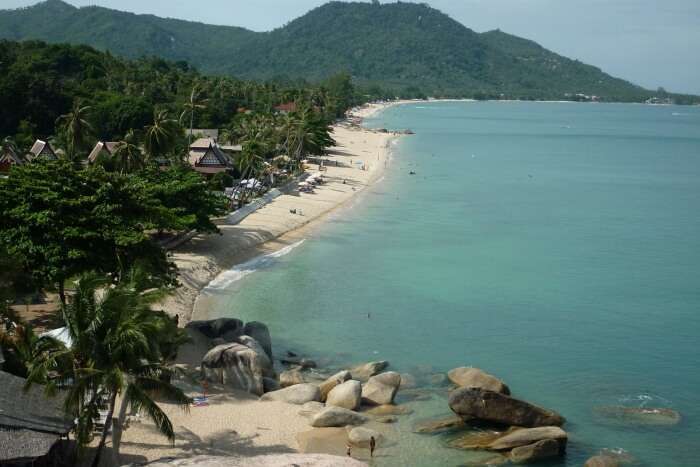 This is a quiet beach where you can experience tranquility after a long day. If you're seeking a place where you can unwind and rejuvenate yourself, then visit Lamai Beach. This beach is also an ideal spot for swimmers, as the water is deeper at this region of Koh Samui. Visit this place to try the amazing bars and restaurants. Strolling around this beach during the evening would be one of the most pleasurable things to do in Koh Samui, Thailand.
Suggested Read: 10 Exotic Beaches In Vancouver: One Of The Top 10 Beach Cities In The World
Adventure Activities In Air In Koh Samui
We have already covered land and water. Now, here are afew adventure activities that you can enjoy while being in the air. Trust me, you will have equal, if not more, adrenaline rush.
23. Paragliding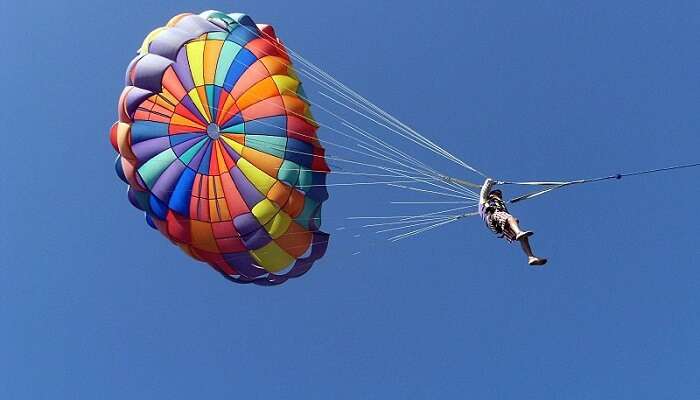 What is the best way to enjoy the scenic landscapes of the island? Simple. Just go paragliding. You may think that it is not one of the top things to do in Koh Samui but it is. Let go of your fears and get a bird's eye views of the beautiful island. It is slowly gaining popularity and can be done all round the year except on rainy days.
Where to try: South east of Koh Samui island
Suggested Read: Paragliding In Sri Lanka – A Detailed 2022 Guide On Everything About This Adventure
24. Ziplining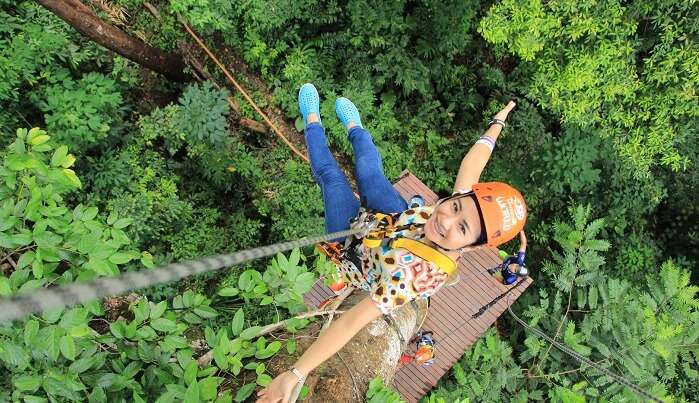 While there are a lot of experiences to have on the island, ziplining is one of the thrilling activities to do in Koh Samui. Go whee in the air as you get from one point to another tethered to a rope and pulley. The best thing about ziplining in Koh Samui is that you get to enjoy the experience from a staggering height.
Where to try: Maenam, Bophut, Choeng are some of the locations where you can enjoy ziplining.
How To Reach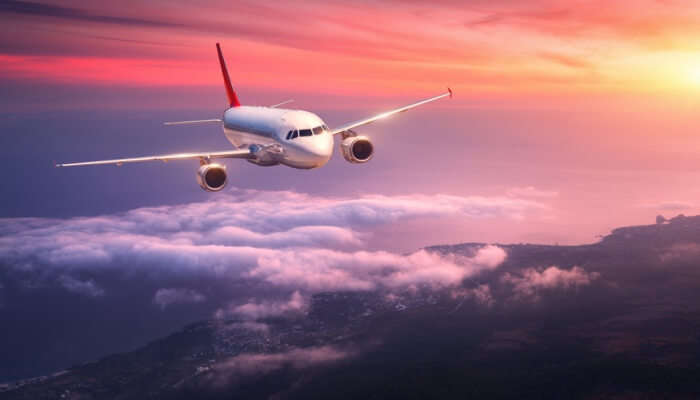 The two ways to reach Koh Samui are by air and water. One can either take a flight or a ferry to reach Koh Samui. Direct flights are available from India but are quite expensive. So, one can take flights from cities like Bangkok, Phuket and Pattaya to reach Koh Samui. While ferries are available from Surat Thani or Don Sak.
Further Read: 8 Unique Koh Samui Restaurants To Know The Real Thailand
With the handy list of the best things to do in Koh Samui, you can be sure of a fun-filled and happening holiday on the island. Each interesting activity mentioned above will add value to your trip and keep you indulged. So, without further ado, plan your vacation to Koh Samui and begin your journey in the resort island.
Disclaimer: TravelTriangle claims no credit for images featured on our blog site unless otherwise noted. All visual content is copyrighted to its respectful owners. We try to link back to original sources whenever possible. If you own the rights to any of the images, and do not wish them to appear on TravelTriangle, please contact us and they will be promptly removed. We believe in providing proper attribution to the original author, artist or photographer.
Please Note: Any information published by TravelTriangle in any form of content is not intended to be a substitute for any kind of medical advice, and one must not take any action before consulting a professional medical expert of their own choice.
Frequently Asked Questions About Koh Samui
What are the free things to do in Koh Samui?
Some of the best free things to do in Koh Samui are visiting beaches, the statue of Buddha, Wat Plai Laem and more.
What are the things to do in Koh Samui for bachelors?
Some of the best things to do in Koh Samui for bachelors are night markets, elephant walk, Lamai night plaza and more.
What are the things to do near Manathai Koh Samui?
The top things to do near Koh Samui are strolling on Lamai beach, water activities, experiencing spa therapies and more.
Which is the best month to visit Koh Samui?
February, March, and April are the best months to visit Koh Samui. If you are planning a vacation in the months of November, December, January, it is suggested that you reschedule your vacation as the weather is not good around this time.
Which is the best part of Koh Samui to stay?
Chaweng Beach, Choeng Mon, and Lamai are some of the best areas to stay in Koh Samui. Chaweng Beach is where you will find a number of resorts, restaurants, and pubs.
When is the rainy season in Koh Samui?
The rainy season in Koh Samui lasts from late November to January. The island is even hit by a few cyclones. So, avoid planning a holiday in these months.
Is Koh Samui expensive?
Koh Samui is not expensive. You will find hotels, resorts, restaurants, and bars of all ranges. So, it is up to you how much you want to splash.
---
People also read:
Romantic things to do in Phuket Koh Samui travel tips Koh Samui shopping
Comments
comments