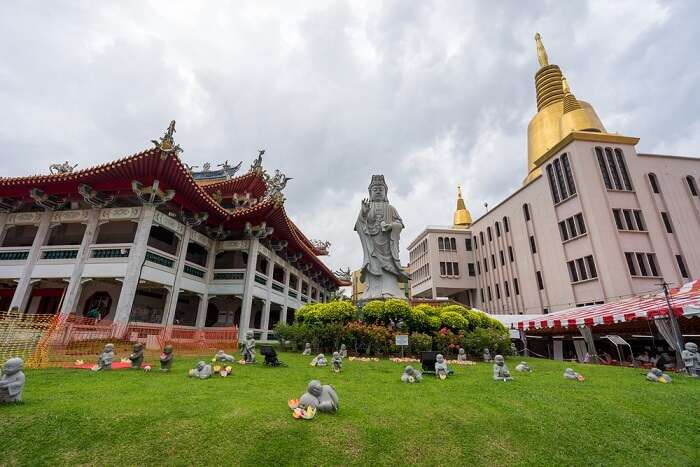 The 'Kong Meng San Phor Kark See Monastery' in Singapore, otherwise called the Bright Hill Pujue Chan Monastery, is a Buddhist sanctuary situated in 'Bishan', Singapore. It was built in the mid-twentieth century, by Zhuan Dao, to spread Buddhism. The monastery also gives sanctuary to priests. This religious group is the largest Buddhist sanctuary in Singapore. Built between 1920 and 1921, the plot for the monastery was donated by one 'Tay Woo Seng', a Chinese businessman. The plot was on Thomson Road. Of all the traditional Chinese forest monasteries to be built in Singapore, Kong Meng is the first.
At first, the monastery was known as Phor Kark See. But since it is situated at 'Kong Meng San', which roughly means "Bright Hill", also formerly known as "Hai Nan Mountain", the monastery was later renamed to 'Kong Meng San Phor Kark See Monastery'. Originally, the monastery was a two-story building, which of those consisted a shrine room, living quarters, and a visitors' room. However, over time, through collected funds, and with donations by humanitarians like 'Aw Boon Haw', and 'Aw Boon Par', the monastery was gradually expanded. And then, when Hong Choo became the monastery's abbot in 1947, the complex expanded exponentially.
From two shrine halls, the Pagoda became capable enough to accommodate 10,000 Buddhas. One single prayer hall became as large as ten football fields combined. With this, Kark See became the most peaceful, largest, and the most majestic place for the practice of Buddhism in the whole of Singapore.
About Kong Meng San Phor Kark See Monastery

The monastery has, since the first day, attracted a number of devotees. All along, donations have been pouring in from various sources. Using these funds, the monastery has always been developing. However, the biggest donation was made by the He Hui Zhong family, on behalf of their company, in 1980. They donated a sum of $5.3 million, with which the monastery began the construction of Evergreen Bright Hill Home. The home was opened in 1983.
The monastery introduced the Compassion Fund, on 15th January 2002. This fund was presented to those retrenched workers, who did not come under any kind of aid schemes. The last draw for this scheme was up to $2,500 per individual.
Kwang Sheng succeeded Hong Choon to be the abbot on 5th June 2004 and is still serving the monastery. Under his leadership, extensive steps were taken for the propagation of the Buddha dharma. He, along with his followers, set up the Dharma Propagation Division, which taught Buddhism and the ways of practicing it. For the youth of Singapore, the youth ministry called the KMSPKS Youth was set up to provide the youth with a platform to learn about Buddhism. This further let the youth in serving society through Buddhist teachings.
On 13th September 2006, the monastery opened the 'Buddhist College of Singapore', the country's first Buddhist College. The college presents a bachelor's degree in Buddhism; a four years degree and there are a number of courses at 'Kong Meng San Phor Kark See Monastery'. The monastery has always been compassionate towards the destitute. Since the day of its conception in 1920, the monastery has seen a lot of development; older buildings have been modified, while newer additions are still being made. Newer practices have also started.
Essential Information About The Monastery

Here is what is known about the 'Kong Meng San Phor Kark See Monastery' opening hours. While activities are going on at all times within the monastery, outsiders, and visitors are not allowed in the campus at all times. On all the days of the week, visitors are allowed between 6 AM to 9 PM. However, on Saturdays, the hours have been shortened to 9 AM till 4 PM.
Address: 88 Bright Hill Road, Singapore, 574117
Location: Bishan, Singapore.
Founder: Zhuang Dao
The entry to the monastery is free, and visitors are to enter through Gates 1 and 3.
While there is no definite dress code for entering the monastery premises, it is advisable to wear clothes that cover your knees and elbows. It shows respect to the traditions. Also, be particular about removing your footwear at the given places. Do not enter where you are not asked to. Keep your voices down, and be sensitive while clicking photographs. It is always nice to ask for permission before clicking any; you will find a monk or two nearby at all times.
Suggested Read: 15 Singapore Travel Tips You Must Follow For A Value For Money Experience!
Things To Do In The Monastery
So, if you visit the monastery at the present day, you will be welcomed by a number of buildings and activities, which may not be in some earlier commentary. Take a look for what all you can do here!
1. The Religious Constructions and The Crematorium

When you visit a place like this, i.e. a place of religious importance, you will be presented with a number of buildings, which have a variety of purposes to serve. You will find places to sit and rest in housing quarters, etc. But the most important ones are the religious buildings, where all the religious work gets done. And a trip of this particular monastery would be incomplete without a visit to the Stupas, the elaborate praying halls, the bell and drum tower, or even the dharma hall. The monastery has a very well kept crematorium. Alongside, there is a columbarium that houses more than 2,00,000 niches. It is here that you will realize the love and respect, people here have for their departed.
Must Read: 14 Ethereal Festivals In Singapore That Will Force You To Ditch Yours
2. Avalokitesvara and The Hong Choo Memorial Hall

Here is a statue that stands as a testament to the position that compassion holds among the Buddhists. Right between the Dharma Hall and the Pagoda, you will find a beautifully designed and detailed statue of Avalokitesvara. For your knowledge, Avalokitesvara is a Boddhisatva that is supposed to stand for compassion among human. You must definitely visit the Hong Choo memorial hall that was erected in 2004. It is a remembrance of the foremost abbot of the monastery. Under him, the monastery gained footage and saw extensive development. At Hong-Choo, you'll additionally get the possibility to look at and take pictures of the Bodhisattva sculpture that stands between the temple of ten thousand Buddha's and Dharma Hall.
Suggested Read: 20 Romantic Places To Visit In Singapore For Your Honeymoon
3. The Bodhi Tree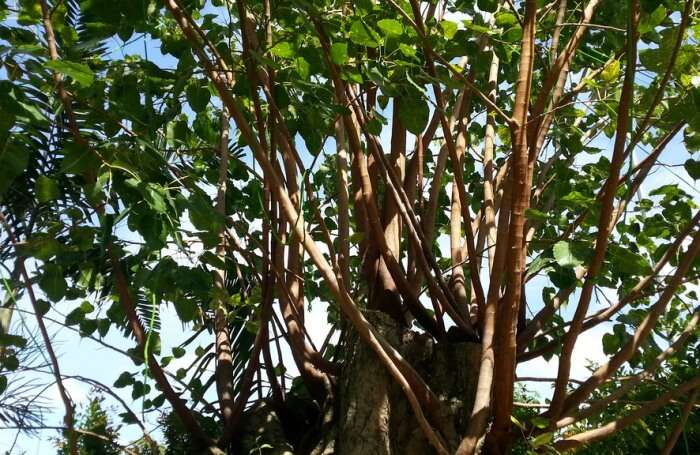 You must also go sit under the sacred Bodhi Tree. You will be blessed. Nonetheless, you will feel peace and tranquility. This tree has a significant history of its own. The sapling of this tree is a sapling from the Bodhi tree at Anuradhapura, in Sri Lanka. The tree at Anuradhapura is, in turn, is a sapling from the sacred 'Bodhi Tree' of 'Bodh Gaya', in India, under which Shakyamuni Buddha was known to have attained enlightenment. This monastery will serve you with the chance to look at the most important Buddha bronze statue in Asia. Do not miss out on a glimpse of one of Asia's largest Buddha statues. It can be found in the Hall of No Form. The statue weighs 55 tons and is 13.8 meters tall. While you are here, also go take a look at the multistoried college building, and the impressive 4 storey car park with 200 parking spaces.
Suggested Read: 16 Best Adventurous Activities in Singapore To Make You Scream In Thrill
4. Buddhist Culture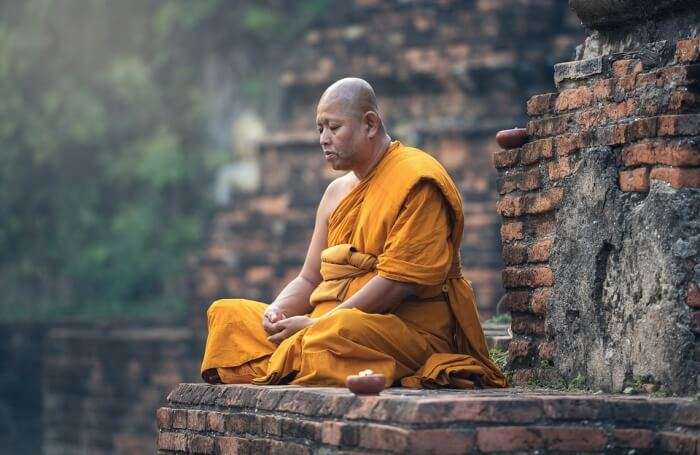 Religious leaders and students are offered to teach guests regarding the monastery. This monastery is that the best destination if you would like to find out regarding and observe Buddhist cultures and beliefs. From this monastery, you furthermore may have an honest probability of understanding the various beliefs that conjure the life and times of Indians and Buddhist. In present-day Buddhist still practices rituals throughout special occasions. This can provide you with the chance to find out the various rituals undertaken by the leaders once practicing healing prayers.
Once here, you will really feel the peace creep into you. You will be relieved of all worldly worries once you are in one of these buildings. It is hard to define the tranquility, and the realization of peace one feels in the monastery. It is something one feels only when they are present.
Suggested Read: Blast From The Past: 11 Spectacular Historical Places In Singapore
Upcoming Events At The Monastery

While prayers and ceremonies go on all around the year in the monastery, the monastery holds a few special events annually, or at specific times. Here are a few events and practices that the monastery is meant to host in the coming times. Most of these activities will be made a regular affair once they are started so that you have a chance to experience the peace when you are there next. The kind, that the activity is of, has been listed along with:
Shui Lu Grand Prayer. (prayer, Dharma; a ceremony to cleanse all sentient beings of their sufferings.)
Relaxation and Mindfulness Meditation. (join Kwang Sheng to learn meditation techniques that lend you extreme peace and relaxation)
Eight Percepts (details unavailable)
Shui Lu Meal Offerings. (meal offerings to the Buddha and Sangha, ceremony)
108 Bell Resonance. (Welcome 2022 with the 108 deep resonances of the bell)
Chinese Buddhism Course, 2022. (Buddhism course in Chinese, to be started in 2022)
2022 Saturday Parent Dharma Class. (Learn ways to incorporate Buddhist techniques in daily life for harmony and peace)
How To Reach The Monastery

Transportation is quite advanced these days. It is fairly easy to get to the 'Kong Meng San Phor Kark See Temple'. From any major transit station in Singapore, you will either find a bus or underground transport to the monastery.
Further Read: New Year Celebration In Singapore 2022: Head Down To Lion City To Welcome The Next Year With A Bang
So, what are you waiting for? Plan your trip to Singapore for a soothing experience in this divine place and have an amazing holiday with your loved ones like never before! Are you ready for it yet? Make sure you pack a few extra clothes as a city like Singapore can surely change your mind and who knows if you end up extending your fun packed vacay?
---
Looking To Book An International Holiday?
Book memorable holidays on TravelTriangle with 650+ verified travel agents for 65+ domestic and international destinations.
---