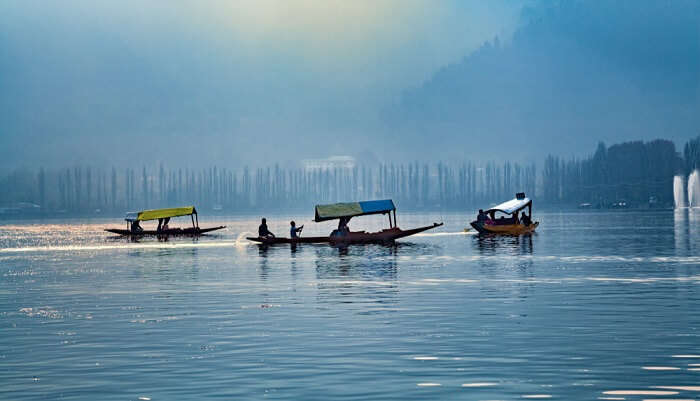 Lakes are the most peaceful place to cherish your mind and inner soul. It also helps in brainstorming activities as working people often inspire great ideas from natural surroundings and rejuvenate your thoughts here. Delhi is the capital of India which comprises a modern lifestyle, heritage buildings, a populous city due to cooperate companies. For a family getaway at the weekend, friends outing and to spend time with your love, lakes are the most breathtaking place to relax and do fun-related activities. If you are looking forward to explore some beautiful lakes in and around Delhi, then include some of the below-listed lakes to plan your holidays with your loved ones.
If you are more of a beach person, then you will surely love to visit serene lakes to create beautiful memories for a lifetime.
Best Lakes in and around Delhi
Planning for a perfect getaway in natural sites with your loved ones? Then these lakes in and around Delhi are the most scenic places to visit for spending quality time with your loves ones. Check out the lakes to visit near Delhi and plan your travel accordingly.
Sanjay Lake
Naini Lake
Bhalswa Lake
Surajkund Lake
Bhardwaj Lake
Ballabgarh Lake
Sukhna Lake
1. Sanjay Lake, Delhi

One of the most popular of all the lakes in and around Delhi among the locals and tourists, it was artificially developed by Delhi Development Authority for creating a natural spot in Delhi so that people would enjoy with their families and friends doing fun activities like boating. The lake is scenic and the ducks swim in a group that is pleasing to the eyes. One can sit here for hours admiring and refreshing their mind
Location: Trilokpuri, East Delhi, India
Timings: 6 am to 6 pm
16 Best Places To Visit Near Delhi In August For That Dreamy Escape
2. Naini Lake, Delhi

Image Credit: Tony Young for Wikimedia Commons
Naini lake in Delhi is known for its beautiful landscapes where families enjoy their weekend. One can adore the natural surroundings of the lake, indulge in boating for some adventurous experiences with their loved ones. Be a responsible tourist and follow eco-friendly practices to maintain the cleanliness of the place.
Location: Model Town, Delhi, India 110009.
Timings: 9:30 am to 6:30 pm
46 Weekend Getaways From Delhi Under 5K To Take
3. Bhalswa Lake

Bhalswa Lake was formerly a huge source of water for the locals and is known for the largest water bodies of Delhi. This lake is also referred to as a horseshoe lake due to its original shape and structure. A perfect picnic spot at the weekend with families and friends. This lake is close to those who live in North Delhi.
Location: Bhalswa Jahangir Pur, Northwest Delhi, India.
Timings: 11 am to 6 pm
70 Incredible Places To Visit Near Delhi: Within 600 KM From The Capital!
4.Surajkund Lake

Image Credit: Jyoti Prakash Bhattacharjee for Wikimedia Commons
A 10th-century reservoir was built by the Rajput king Surajpal to conserve water during monsoons which are just 50km away from Delhi. A perfect retreat for families to spend their weekends and there are accommodations available at affordable rates near the lake. One can enjoy the location and admire the architectural ruins of the late century. This is one of the best lakes near Delhi to visit.
Location: Suraj Kund Rd, Lakewood city, Surajkund, Faridabad, Haryana 121010, Delhi
Timings: 10:30 am to 8:30 pm
22 Picnic Spots Near Delhi In Summer For A Quick Breezy Break
5. Bhardwaj Lake, Faridabad

This is one of the lesser-known lakes in and around Delhi that remains unexplored by many. In case one is seeking some alone time to spend in solace, this place is perfect to spend some time. You can also try hiking as there are rocks around the lake, and click stunning photographs with the mesmerizing landscape.
Location: Asola Wild Life Sanctuary, Asola, New Delhi, Haryana
Timings: Till 6 pm
39 Super Fun Places In Delhi That Make It The Happiest City
6. Ballabgarh Lake

Image Credit: Sumitgupta02sg for Wikimedia Commons
A natural lake in Badkhal village near Faridabad is splendid where you can try activities like fishing, boating and bathing as the water is so clean and pure. It was built by the empire of Nahar Singh to avoid water scarcity in the area. You can plan a trip here on the weekend to chill with your family and friends for a tranquil experience.
Location: Faridabad, Haryana, India.
Timings: 9 am to 5 pm
22 Super Awesome Places To Visit Near Delhi In Monsoon
7. Sukhna Lake, Chandigarh

Image Credit: Harvinder Chandigarh for Wikimedia Commons
A serene lake that lies in the foothills of the Himalayas is 245km away from Delhi is a major picnic spot for travellers. People often visit here to do boating and enjoy the natural breeze of the lake. A perfect destination for bird watchers to witness numerous colourful species and one of the best lakes to visit near Delhi. Come here with your family for a good weekend getaway and to escape from hustle and bustle of everyday routine. The lake was constructed by Charles-Edouard Jeanneret and the place is known for its "care of the body and spirit".
Location: Sector I, Chandigarh- 160017, India
Timings: 5 am to 8 pm
So, if you are planning a trip to Delhi and want to look for lakes to visit in and around Delhi, then this sorted list of lakes will help to get an idea about these lakes. Whether you are planning a trip with your family or friends or want to get indulged in an adventurous trip by planning a solo tour, the curated list of these lakes will never disappoint you because of their natural splendour. 
5 Amazing Lakes In Ahmedabad That No Traveler Would Want To Miss
For our editorial codes of conduct and copyright disclaimer, please click here.
Frequently Asked Questions
Is it safe to travel to the lakes in Delhi during covid times?
Yes, it is completely safe to visit during covid in Delhi if you follow the mandatory precautions and keep updated about the restrictions imposed by the government. Avoid overcrowding places and travel safely. Always carry a negative PCR report which was tested recently and get fully vaccinated before you plan a trip.
What are the best lakes to visit in and around Delhi?
Visit places like Sanjay Lake, Naini Lake, Bhalswa Lake, Surajkund Lake, Bhardwaj Lake, Ballabgarh Lake and Sukhna Lake. Include any of these places to travel with your friends or family to plan a perfect weekend.
What are the top activities to do at the lake?
Admire the beauty of the landscape, check whether trekking is possible in that area, do fishing if it is allowed and release them again in the water, boating in a group is more fun. Do things that make you feel happy and be a responsible tourist at the places you visit.
Is it safe to visit the lake with kids?
Yes, there is no risk in visiting a lake with your kids but be cautious when you indulge in adventure activities like boating, swimming, trekking and so on.
What is the best time to visit the lake?
You can visit lakes throughout the year as they always remain good but check the water level during monsoons as heavy rain may lead to an increase in the water level. Avoid staying near the lake during nighttime. Enjoy the sunsets, capture stunning photographs and try to leave early.
What are the best lakes to visit near Delhi as a couple?
Visit Surajkund Lake, Bhardwaj Lake, Ballabgarh Lake and Sukhna Lake. Include any of these places to travel with your love to plan a perfect weekend and enjoy the romantic landscapes.