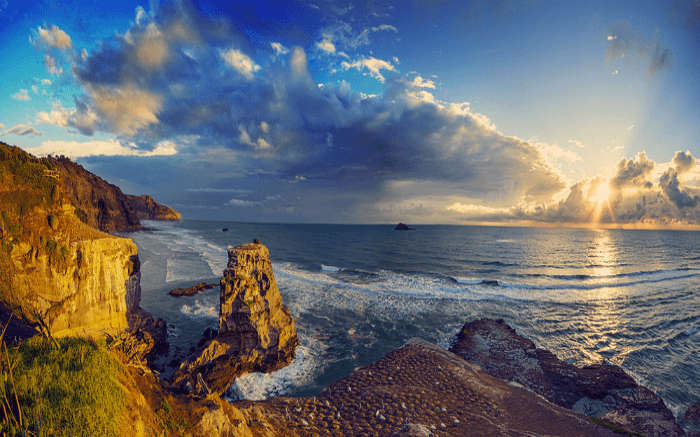 Beaches, for some reason, are the ultimate vacation therapy. They embrace the ocean breeze, play around with salty mist, and lure you with swaying palm trees. Waters and beaches in the Pacific are special where black sand, turquoise waters, and jagged rocks create a dreamy setting around. Adding magic to the Pacific Ocean experience are Auckland beaches that make for prime coastal attractions in North Island.
As you travel to these beach destinations in Auckland you would find them nothing short of a dreamy setting with the best of untarnished nature and adventure inducing places. Catch the real excitement because almost all of these beach destinations are a few hours drive from the city center. Get around and experience the best of New Zealand beaches in the city of Auckland!
The best Auckland beaches for activities
1. Karekare Beach – The best of Waitakere Ranges Regional Park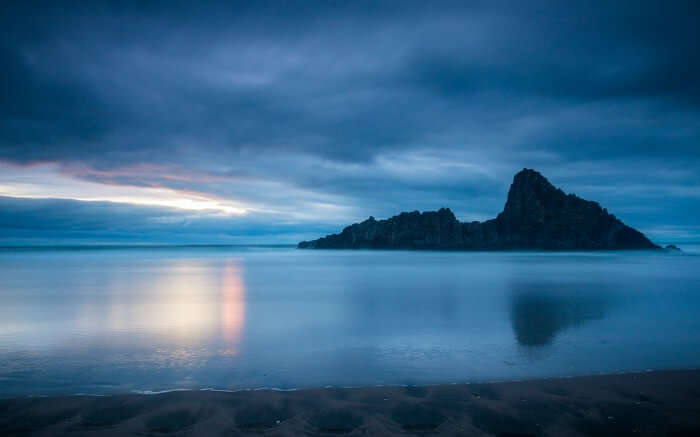 A leisure stroll at the Karekare Beach with someone special is all you need in a while. The beautiful rock formations around the beach create a picture of a fantasy world. For a true nature lover, there are plenty of attraction. Windswept lands patrolled by big waves make Karekare one of the most exciting beaches in West Auckland. Also, the beach has some secluded spot ideal for photography, care to find it?
Popular attractions: Karekare Waterfalls, waterfall, and surfing spot
2. Mission Bay – Auckland city's seaside allure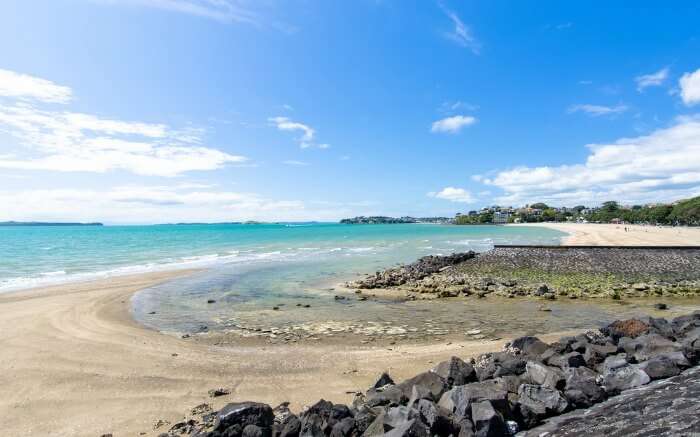 Considered as one of the safest Auckland Beaches for year round swimming, the Mission Bay has a wonderful Rangitoto Island as the backdrop. Biking track, fitness park, and great lighting at dusk make this beach a crowd puller. There are quite a few eateries around that you must-try.
Popular attractions: Water activities, colorful fountain, and playing area
3. Whatipu Beach – More of wild and wilderness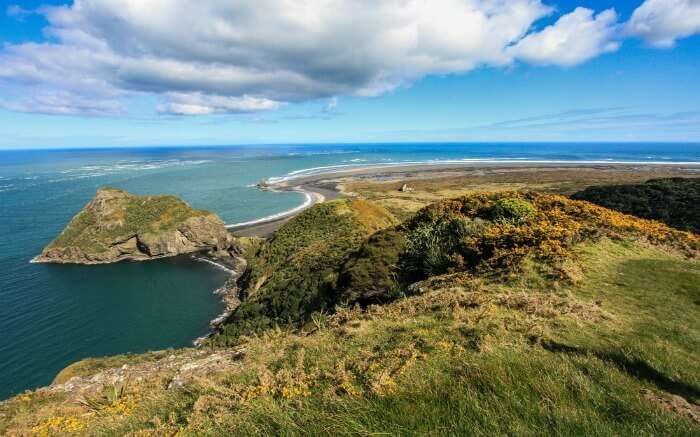 Rightly explaining New Zealand's fond tag as the adventure capital of the world, Whatipu Beach is an adventurer's delight. With caves, bushes, and rugged trails along the west coast, the Whatipu Beach is the wonderful beach located in the Waitakere Ranges. The beach area managed by the Auckland Council Regional Parks has the 'wow' factor that brings tourists to this one of the popular destinations in the heart of Auckland.
Popular attractions: Coastal dunes and wetlands
4. Muriwai Beach – Popular for gannet spotting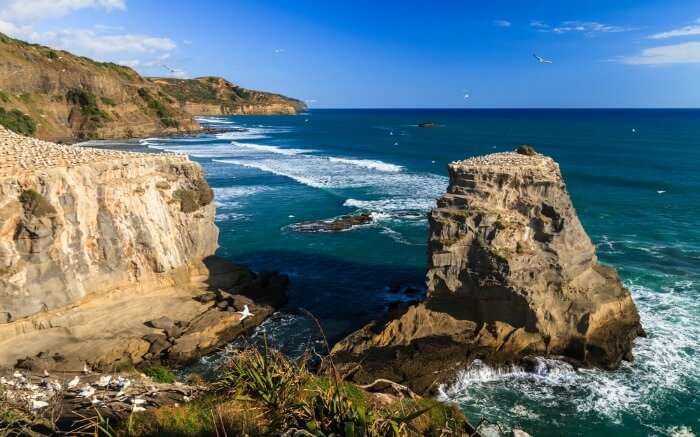 Muriwai Beach on the west coast of Auckland is a popular beach in Auckland where you should be headed and the reasons are pretty specific. You can't get enough of the black sand and beach surfing there. A famous recreational spot, Muriwai offers magnificent coastal views adorned by rising waves, large boulders, exciting viewing platforms from where you can catch breathtaking nature views. The beach is an hour drive from the center of Auckland.
Popular attractions: Gannet colony and bird watching
Must Read: 25 Romantic Places To Stay In Auckland To Spark Up Your Relationship
5. Piha Beach – The black sand beauty of the western coast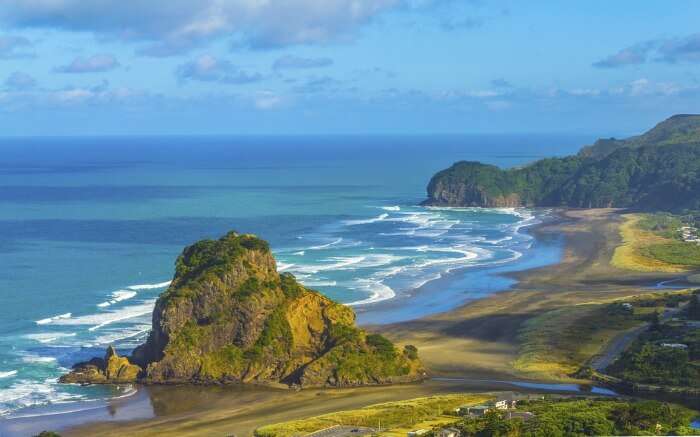 Picturesque locale and violent waves hitting the cliff would leave you mesmerized as you plan to visit Piha – one of the most popular Auckland beaches. The Lion Rock that splits the beach into two sections makes it a photographer's muse. If you are up to explore more, find a track that leads to the Kitekite falls. A 25-minute trek will take you to the 3-tiered fall with a 40 m drop. It is located towards the rear of the beach.
Popular attractions: Beach surfing and black sand
6. Point Chevalier Beach – Picnic spot near Waitemata Harbour

Chevalier Beach is another of the favorite Auckland beaches that you might consider visiting. With lesser people visiting it, this one makes a wonderful secluded spot by the beach. Chevalier has its own beach parking facilities. On a rough day, the beach also experiences high tides! Be wary.
Popular attractions: Children's corner with a lot of activities, paddle board at the Point Chev Yacht Club
7. Anchor Bay – The best of Tawharanui National Park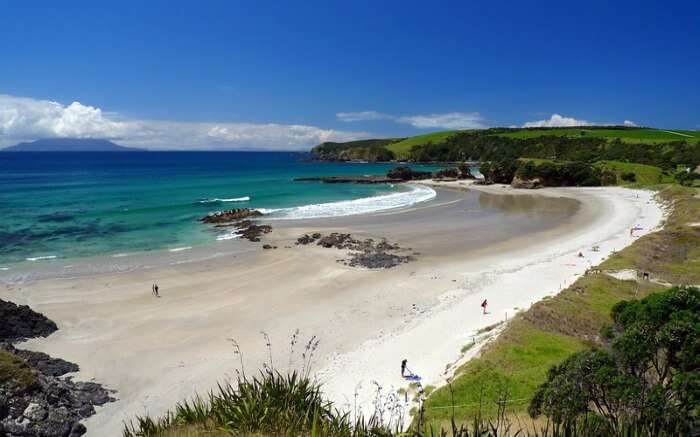 Take a leap into the rock pool, or jump from the big rock into the blue waters of Anchor Bay, it is certainly one of the best beaches in Auckland that you must visit. Considered as bird's paradise, this beach has plenty of attractions for the tourists and usually brims with tourists during the summer month.
For the best experience, you must try camping (contact local authorities for permission) there and catch the breathtaking sunrise view. A range of birds can be spotted on the beach. These birds mostly live in the national park area.
Popular attractions: Tawharanui National Park and bird watching
8. Omana Beach – A perfect picnic spot in Auckland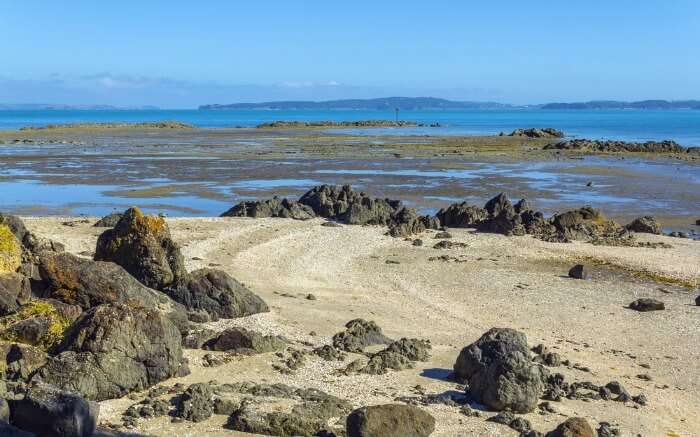 Located by the Omana National Park, the Oaman Beach is a 40-minute drive from Auckland and an ideal place for a family outing. This New Zealand beach thrives on spectacular views and beautiful surroundings. It is indeed a place that you must visit for a perfect outing when you are in Auckland.
Popular attractions: Inner Hauraki Gulf
Park timings: 8 am – 5 pm (winter) & 8 am – 8.30 pm (summer)
Suggested Read: 10 Best Places To Visit In Auckland For An Unforgettable NZ Vacay
The most serene and secluded Auckland beaches
9. Bethells Beach – A secluded coastal destination with adorable views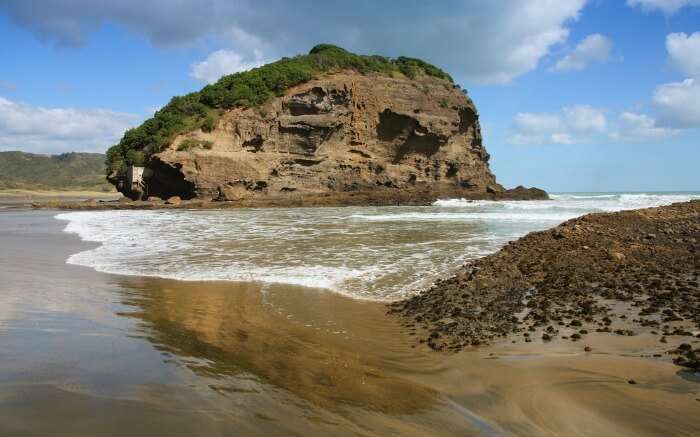 Another of the best beaches in Auckland known for sand dunes, exciting trails, and low tides! The Bethells Beach has the wild surroundings to fetch you ample of room to explore and make the best of your beach holiday in Auckland. Don't forget to take a leisure walk around the cliff and caves, they are truly stunning.
The cliff top walks from Bethells Beach (Te Henga) further towards the south of Muriwai Beach takes you into a world of amazing vistas off the Auckland's west coast.
10. Karioitahi Beach – Black sand and windswept cliffs around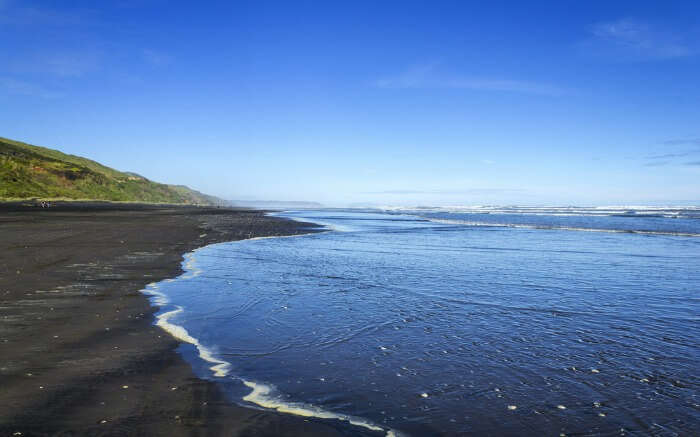 If you are in a hot pursuit of the best black sand beach in Auckland then head to the Franklin district. Kariotahi Beach is the place where you catch the contrasting view of white froth on the stark black sand. As fascinating as it looks, the beach is also known for bike hiking trail along.
11. Orewa Beach – Golden sand paradise, an ideal day trip from Auckland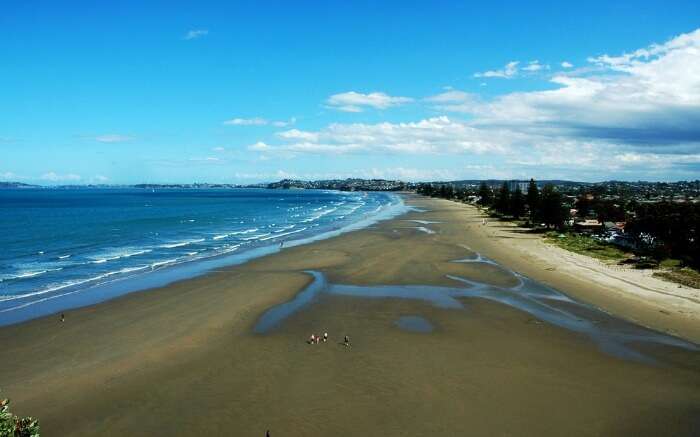 32 km north of Auckland city, Orewa beach is a great place for paddle-boarding, fishing, and has some exciting water activities for you. The never-ending stretch of golden sand is an allure. The soothing sound of crashing waves would take away all your weariness.
12. Cheltenham Beach – Some calm ocean water therapy by the city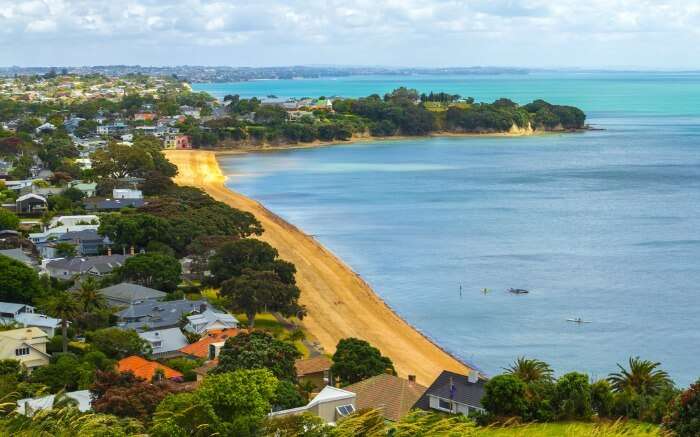 Located in the close proximity to the North Head Historic Reserve, the Cheltenham Beach is located in Devonport Town Centre and is one of those Auckland Beaches where you can spend leisure moments with family and friends. The views of Hauraki Gulf, Waitemata Harbour, and Auckland City skyline from the North Head Reserve are remarkable and worth a watch.
13. Oneroa Beach – Winery, scenery, and lots of ferries around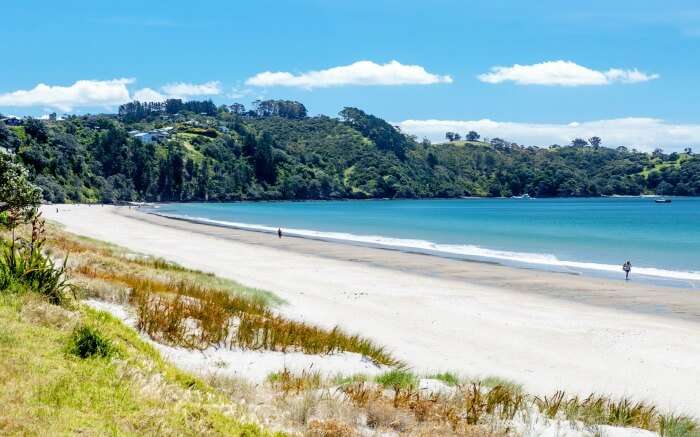 Wineries, Oneroa club, and moments of solace by the ocean, Oneroa Beach is hot, happening, and is a perfect beach therapy for you. And the beach is even more beautiful than its pictures.
14. Long Bay Regional Park – A camper's delight by the beach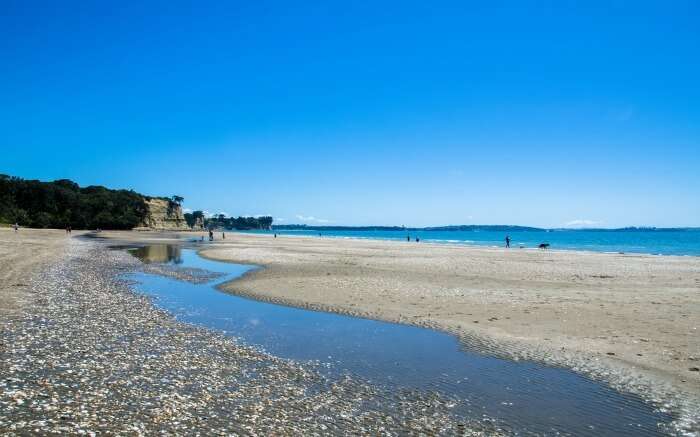 A popular beach paradise in the north of Auckland, the Long Bay National Park has a wonderful stretch of grassland, picnic spot all decorated in cliffs. Granny Bay, Pohutukawa Bay are the nearby attractions located almost an hour walk downhill further from the beach. You can be assured of some great views in the offering.
15. Waiake Beach – A walk into the serenity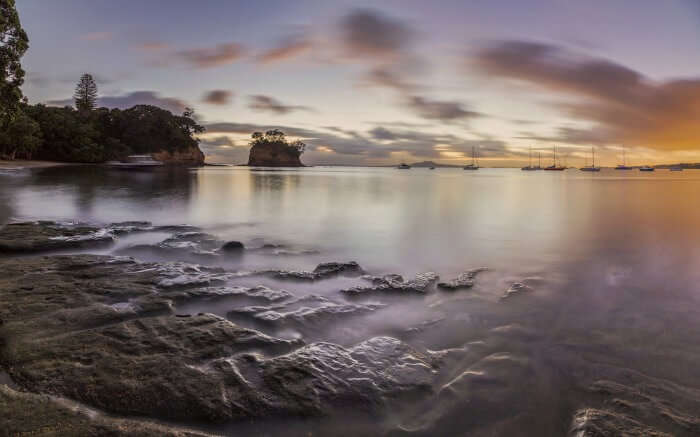 Amazing views and epic sunsets are the major highlights of this beauty that never fails to fascinate the onlookers. White sand, clean waters, and rough boulder structured in a cool way make it one of the wonderful beaches in Auckland. Pontoon floating in the midst of the ocean and other boats and boat ramps make the Waiake Beach a beach lover's fancy.
Further Read: 10 Best Things To Do In Auckland: Activities And Attractions For A Wonderful Trip
Take a dip into the serenity as these New Zealand beaches make the perfect dose of awesomeness that your wandering soul is looking for. Book a New Zealand tour package now!