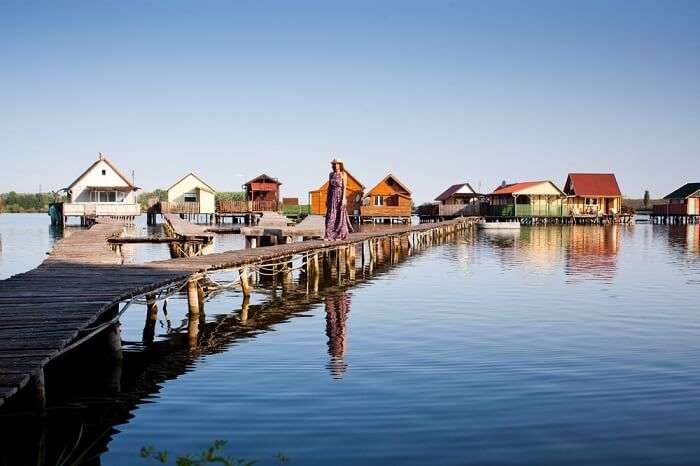 Apart from a rich heritage and distinct history, Hungary is known for multiple natural wonders that make it an unparalleled tourist attraction! It houses the largest thermal water cave system of the world as well as the largest natural grasslands in Europe, and we don't think the country needs any further introduction! Hungary's landscape would be incomplete without its stunning lakes, whether it is Balaton or Tisza. What you might not have heard enough of are the gorgeous lakes in Hungary; which is why we have compiled a list of the 10 best lakes in Hungary to help you plan your time in this marvelous nation better!
10 Best Lakes In Hungary
So, before you scroll down and take a look at these utmost gorgeous lakes in Hungary, make sure you sit down with a notepad and take a note of all the best spots that you think are perfect for rejuvenating and don't want to miss out on during your next international trip!
1. Lake Balaton
It is not possible for one to know about Hungary and not about Lake Balaton! With more than 590 square kilometre of area, it is easily the largest lake in Central Europe but with a depth of approximately 3 metres, it is surprisingly shallow. It comes with a package of stunning beaches and excellent vibes, making it one of the most popular tourist places in Hungary. One can not just swim, but also sail in the calm waters here! Lake Balaton in Hungary has become the central point for many resorts that have developed around it, some of the most famous ones of them being Keszthely, Siófok, and Balatonfüred. If it works out for you, try adjusting your time in around Balaton Sound, a crazy music festival that is organised at Zamárdi, a resort on the lake's southern shore. You can drive down from Budapest to Lake Balaton or take a train, if you want to save the extra bucks and it will hardly take 1.5 hours.
Location: Western Hungary
Must Read: Head To San Marino Now: The Fastest Growing Travel Destination In Europe
2. Lake Hévíz
It is the second largest thermal lake in the world and one needs no more reasons to visit Lake Heviz. It is visited by tourists from across the world for its healing properties that have gained tremendous popularity over the years. Many species only exist in this lake, owing to its temperature as well as unique chemical composition. Heviz Spa is built around the lake and you should definitely head there during your time in Hungary to relax yourself while the healing benefits of the water do good to your mind, body and soul.
Location: Heviz, Hungary
3. Lake Fertő
The largest salt lake in Europe, and the third largest Central Europe; this lake is a shared jewel of the two neighboring countries of Hungary and Austria. It covers an area of more than 300 sq. km's of which the majority lies in Austria. At its deepest, the lake's depth is hardly 1. 365 رياضة 8 km's which makes it an extremely shallow lake. It is an absolute delight for bird lovers since many exquisite migratory birds take rest here! Since it is surrounded by reeds on all sides, it makes for an ideal habitat for wildlife as well!
Location: Austria, Hungary
Suggested Read: 10 Best Norway Restaurants To Try All Delicacies On Your Next European Vacation!
4. Lake Bokodi
One of the most unique Hungary lakes is Lake Bokodi which actually serves as a cooling agent for the power plant in the village of Bokod. Since the water is perpetually warm, you will never get a chance to look at this lake frozen. However, it does offer spectacular views to all its visitors. With many piers on such a small lake, and tiny yet vibrant houses built atop; this lake exudes a vibe of brilliance and magic.
Location: Bokodi Village, Hungary
5. The Tarn of Megyer-hegy
This artificial lake is located in Borsod-Abaúj-Zemplén county. It is hidden by large cliffs on all sides and one can only reach it finishing a hiking trail, obviously on foot. The secluded location of this lake adds to its charm and makes it one of the most interesting tourist attractions in Hungary. Apart from the gorgeous views, it is also known as one of the most popular hiking trails in the region. Visit this lake if you want to get enticed by the lovely views!
Location: Sárospatak, 3950 Hungary
Suggested Read: 10 Beaches In Sweden That Are Worth Going On A Vacation To Europe
6. Lake Tisza
Lake Tisza is technically a reservoir and hence, is also referred to as the Kisköre Reservoir. In fact, it spans over an area of more than 127 sq. kilometres and hence is a fairly large one. It is situated at the southeastern edge of Heves county. Tisza Dam was built in 1973 but it got filled only in the 1990's, and actually gave birth to Tisza Lake, a popular Hungarian tourist attraction today. With a maximum depth of approximately 17 meters, this is a fairly deep lake. After the completion of this reservoir, it was recognized and titled as an official tourism destination by the Hungarian government. If you are looked for an alternative which is not as crowded or expensive as Lake Balaton, you should definitely consider spending time at Lake Tisza.
Location: Heves County, Hungary
7. Lake Velence
It spans over an area of more than 27 sq km;s and hence is the second largest natural lake located entirely in Hungary. It gets its name from its location, i.e. at the foot of the Velence mountains in Fejér county between Budapest and Székesfehérvár. Since approximately 33% of the area is shrouded by reed, it lures many unique bird species that seek shelter in natural reserves in Europe. The warm, sunny weather here and the shallow waters of 1.6 metres make it one of the warmest lakes in Hungary. Moreover, it is said that the water of the Velence lake has regenerative powers and gives relief to the fatigued body because of its content of sodium and magnesium. Also known as the sister of the Balaton Lake, you have to visit this place during your time in Hungary!
Location: Velence, Hungary
Suggested Read: Guess Which European City Gets The Title Of World's Most Liveable City This Year!
8. Lake Feher
Situated north of the town of Szeged and spanning an area of 14 sq. km's, the etymology of its name has been derived from the word Fehér, which translates to the colour white. Lake Feher is a part of the complex of the Kiskunság National Park, and is the largest saltwater lake located entirely in Hungary. It houses approximately 300 bird species, and it is a significant layover for many migratory European birds here who stop here to take some rest and feed themselves. This lake is a delight to the eyes during the migratory season when one can spot cranes, wild geese, and many more species on Lake Fehér. All these reasons make Lake Fehér a favourite for wildlife enthusiasts!
Location: Kiskunság National Park, Hungary
9. Tapioca Lake
Tapioca is an eccentric cave system located in the heart of a small town called Tapioca and it runs for 300 metres. It is situated to the west of Lake Balaton and was opened for the public only in 1912, approximately 10 years after it was discovered. One of the best things to do here is to hire a small boat and explore the cave system. Only some 15 metres below the town, there is a 5 km long cave system which criss-crosses the Miocene limestone layers; including the cave lake filled mostly with karst water. The discovery of this cave is another interesting story, that goes back to 1903 when a few were digging for wells and found this instead. The cold carst water and the thermal water from the deep come together to make this a unique lake system!
Location: Tapolca, Kisfaludy Sándor u. 3, 8300 Hungary
Suggested Read: Top 9 Places To Visit In Zagreb To Savor The Best Of South Europe
10. Lake Neusiedl
A unique nature reserve which offers a wide array of activities to water sports enthusiasts, Lake Neusiedl is a sprawling expanse idyllic vineyards. It is located in the state capital which houses the popular Esterhazy Palace, many significant monuments and with a very pleasant climate; makes for a must visit during your time in Hungary. Head to this place if you are looking for some peace and solace and find it in the stunning sunset on the steppe lake's shore, in a stroll through the countryside, or at the St. Martins thermal spa.
Location: Austria, Hungary
Further Read: A View From This Europe's Tallest Skyscraper Will Leave Your Jaw Dropped!
The above lakes in Hungary might not even make up 10% of the tourist attractions that this country houses! So, visit the country to know what we are talking about by planning your international trip to Hungary with TravelTriangle for an impeccable experience!
Disclaimer: TravelTriangle claims no credit for images featured on our blog site unless otherwise noted. All visual content is copyrighted to its respectful owners. We try to link back to original sources whenever possible. If you own the rights to any of the images, and do not wish them to appear on TravelTriangle, please contact us and they will be promptly removed. We believe in providing proper attribution to the original author, artist or photographer.
Please Note: Any information published by TravelTriangle in any form of content is not intended to be a substitute for any kind of medical advice, and one must not take any action before consulting a professional medical expert of their own choice.
Frequently Asked Questions About Lakes In Hungary
What are the most famous lakes located in Hungary?
Hungary is blessed to have some of the most beautiful lakes in the entire world. Some of the famous lakes located over there are Lake Balaton, Lake Heviz, Lake Bokodi, Lake Tirza, and many more.
What are some of the best places to visit in Hungary?
Some of the best places to visit in Hungary are Budapest, Eger, Debrecen, Lake Balaton, and Lillafured.
What are some of the most beautiful lakes located in Hungary?
Most of the lakes in Hungary are mesmerizingly beautiful. They are situated amid glorious mountains and the lush greenery of thick forests. Some of the famous lakes are Lake Neusiedl, Tapioca lake, lake Feher and many more.
What is the largest salt lake in Europe?
Lake Ferto is the largest Saltwater lake in Europe. It is located between Austria and Hungary.
What are the everyday activities that tourists can take part in Hungary?
Many people prefer to take part in several activities in the lakes in Hungary. جدول مباريات يورو ٢٠٢١ Some of them are Kayaking, cycling, stargazing, hiking, motorboating, and many more.
Which lake is the largest in Europe?
Lake Balaton is the largest lake located in Europe. Its area is more than 590 square km.
What is the best time to visit Hungary?
Hungary has fantastic weather all year round. But the right time to go there is between June to August. You will be able to explore the place quite comfortably.
How many days are enough for exploring Hungary?
You can explore the entirety of Hungary within three days. If you do not have much time, you can even cover the place within two days.
{
"@context": "https://schema.org",
"@type": "FAQPage",
"mainEntity": [
{
"@type": "Question",
"name": "What are the most famous lakes located in Hungary?",
"acceptedAnswer": {
"@type": "Answer",
"text": "Hungary is blessed to have some of the most beautiful lakes in the entire world. Some of the famous lakes located over there are Lake Balaton, Lake Heviz, Lake Bokodi, Lake Tirza, and many more. "
}
}
, {
"@type": "Question",
"name": "What are some of the best places to visit in Hungary?",
"acceptedAnswer": {
"@type": "Answer",
"text": "Some of the best places to visit in Hungary are Budapest, Eger, Debrecen, Lake Balaton, and Lillafured."
}
}
, {
"@type": "Question",
"name": "What are some of the most beautiful lakes located in Hungary?",
"acceptedAnswer": {
"@type": "Answer",
"text": "Most of the lakes in Hungary are mesmerizingly beautiful. They are situated amid glorious mountains and the lush greenery of thick forests. Some of the famous lakes are Lake Neusiedl, Tapioca lake, lake Feher and many more. "
}
}
, {
"@type": "Question",
"name": "What is the largest salt lake in Europe?",
"acceptedAnswer": {
"@type": "Answer",
"text": "Lake Ferto is the largest Saltwater lake in Europe. It is located between Austria and Hungary. "
}
}
, {
"@type": "Question",
"name": "What are the everyday activities that tourists can take part in Hungary?",
"acceptedAnswer": {
"@type": "Answer",
"text": "Many people prefer to take part in several activities in the lakes in Hungary. Some of them are Kayaking, cycling, stargazing, hiking, motorboating, and many more. "
}
}
, {
"@type": "Question",
"name": "Which lake is the largest in Europe?",
"acceptedAnswer": {
"@type": "Answer",
"text": "Lake Balaton is the largest lake located in Europe. Its area is more than 590 square km. "
}
}
, {
"@type": "Question",
"name": "What is the best time to visit Hungary?",
"acceptedAnswer": {
"@type": "Answer",
"text": "Hungary has fantastic weather all year round. But the right time to go there is between June to August. You will be able to explore the place quite comfortably. "
}
}
, {
"@type": "Question",
"name": "How many days are enough for exploring Hungary?",
"acceptedAnswer": {
"@type": "Answer",
"text": "You can explore the entirety of Hungary within three days. If you do not have much time, you can even cover the place within two days. "
}
}
]
}
Comments
comments