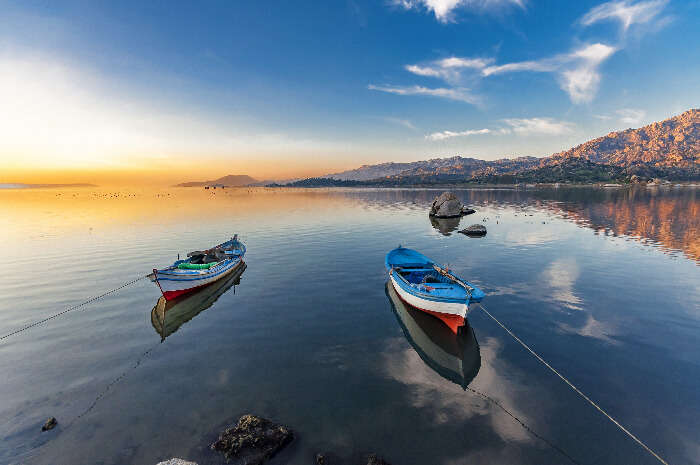 Traveling is good for the soul, especially when it is around the natural beauty. One such gift of nature is lakes. Lakes are a beautiful place of magnificence which can be a charming retreat for people because of the flourishing flora and fauna. Curious to know which are the most well-known lakes in Turkey?
7 Best Lakes In Turkey
The majority of the lakes here are freshwater lakes. However, others have salty waters. There are some crater lakes as well. Turkey surely has an abundance of lakes from the east to the west coast. Here they are:
1. Lake Van
Lake Van is Turkey's biggest lake and is situated at the eastern end of the country. It's a saline soda lake and doesn't freeze even during the winters. Many water sports are conducted at this lake, such as inshore powerboat racing and sailing. Lake Van is made of a minimal portion of an enormous basin adjacent to mountains, surrounded by plateaus and volcanic peaks from 3 sides.
Must Read: 6 Best Things To Do In Pamukkale To Slay In This Turkey Town Like Never Before!
2. Lake Salda
Straight in Burdur lies Lake Salda, which is famous for the greenish-blue shades of the water and the white sand that encompasses it. The isolation around the Lake Salda makes it more special. At first look, it will make you feel like you're at the beach – but it's truly just an impressive lake!
Simply pack your favorite food and drinks and spend the day lounging in the magnificence of this breathtaking natural wonder – and yes, you must take a dunk in its cool waters to refresh yourself!
Suggested Read: Top 5 Mesmerizing Temples In Turkey Which Are Absolutely Worth Visiting On Your Next Trip!
3. Bafa Lake
Just 25 km away from Soke, Bafa Lake is at the southeast end of the Buyuk Menderes Delta. Lake Bafa secures the biological system by offering a winter habitat to a plenty of bird species. Around 300,000 birds take refuge here, such as Pelicans, sea eagles, and cormorants. Hence, it's a must-visit spot for those who love bird watching. Also, there are many apartments and villas available nearby to rent.
Suggested Read: 11 Best Things To Do In Ankara To Witness A Unique Side Of Turkey
4. Lake Tuz
If you are traveling to Cappadocia, stop by Lake Tuz. The name Lake Tuz literally implies Salt Lake in the Turkish, highlighting the fact that it is the largest Saltwater Lake in the country. In fact, 60% of consumable salt in Turkey originates from this lake.
The lake is arranged against a mountainous background with a strong history that still stands in the waters, making Tuz the most extraordinary spots to hit on the Turquoise Coast. The sustaining wetlands of the lake attract a huge amount of flamingos here. This lake is also a great option for keen bird watchers.
Suggested Read: Islands In Turkey 2022: 6 Spectacular Islands In The Europe Of Asia
5. Lake Eğirdir
Lake Eğirdir has freshwater fish such as trout, bass, and carp. You can watch fishermen catching them at the border of the lake, and you can directly buy some from them and enjoy a BBQ near the lake. The bass is just found in Eğirdir area, so make a point to must try freshly prepared sauce bass meal when you visit this place!
Eğirdir includes a two millennia old palace. Around this palace, you can discover shops selling rose-scented baskets and rose creams, or rose-water for beauty purposes. You will go gaga on viewing the great surroundings around the lake Eğirdir.
Suggested Read: Snowboarding In Turkey: For An Ultimate Snowy Adventure Amidst The Serene Alpines
6. Lake Sapanca
Turks have chosen Spanaca Lake as a family holiday spot, classic for picnic and summer getaways. This lake is close to Turkey's greatest city, Istanbul, which means anybody on a vacation to Turkey can easily visit the lake.
The water activities that can be enjoyed here are water-skiing, kayaking, and canoeing. Accommodation facilities range from luxury spa resorts to basic camping sites as per your preference.
Suggested Read: 10 Popular Festivals In Turkey That Make It An Irresistible Holiday Destination!
7. Turkish Lake District
What about a bunch of lakes at a single location? Located in south-west Turkey at the foot of the grand Taurus mountain range, the Turkish Lake District has picked up popularity due to its tranquil and picturesque environment.
Comprising of various lakes such as Beysehir, Aksehir, and Burdur, this lake area is picked by those who prefer mountain climbing and hiking as the panorama from the top of the mountain is just marvelous.
Further Read: 23 Intoxicating Things To Do In Turkey That Will Sink Deep Into Your Soul
From white travertine terraces to pristine beaches, from ancient castles to majestic mosques, Turkey has it all. But its beautiful lakes have a different kind of auro, altogether! These were some of the famous lakes in Turkey, which you must visit for sure, if you are seeking a peaceful getaway! So, So, plan a trip to Turkey and head to these picture-perfect Turkey water-sides.
---
Looking To Book A Holiday Package?
Book memorable holidays on TravelTriangle with 650+ verified travel agents for 65+ domestic and international destinations.
---