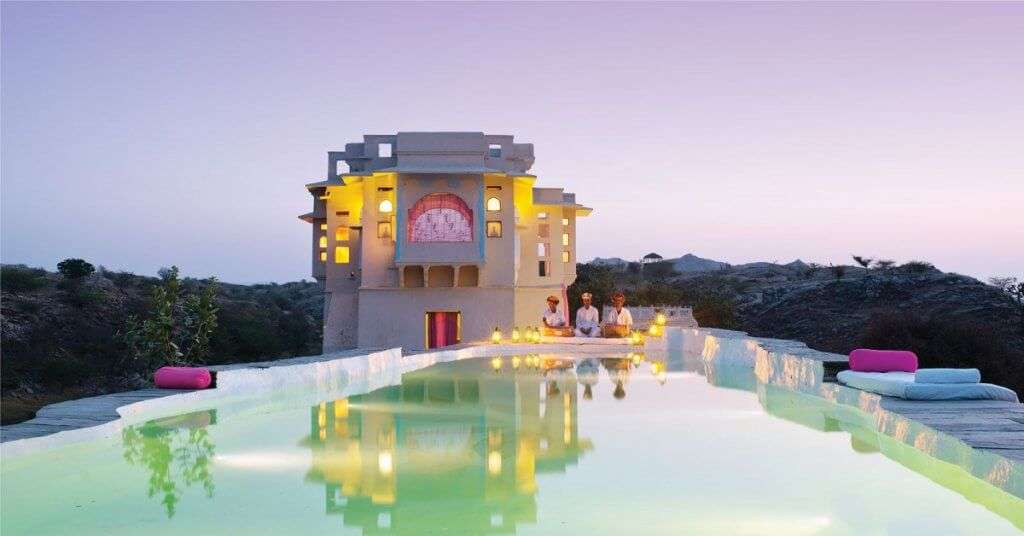 A 19th century hunting lodge, belonging to the then Thakur of Raipur, Lakshman Sagar Resort is a little-known property that's perfect for a slow traveler who wants to spend the time in best of experiential resorts. Here, you get to witness the essence of rural Rajasthan through cultural performances and decor, and still get to experience the best of luxury with your private plunge pool right outside your thatched-roof cottages.
This is not the place you check-in merely to dump your luggage, go sightseeing and spend the night away. This property is a destination in itself, where you come for unforgettable experiences.
This post will get you in acquaintance with its exclusive features, and other tourist information like tariff, location etc. So, let's get it started.
What's special about Lakshman Sagar?
1. The colorfully decorated mud cottages reflect the beauty of rural Rajasthan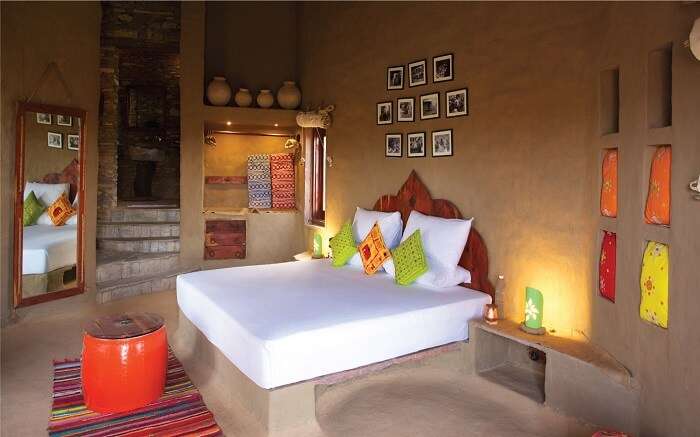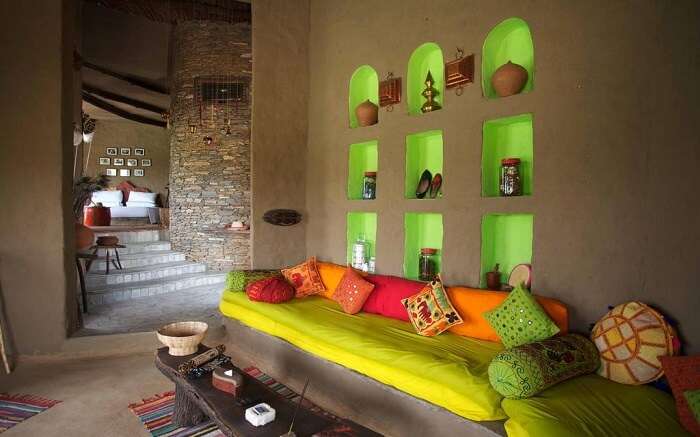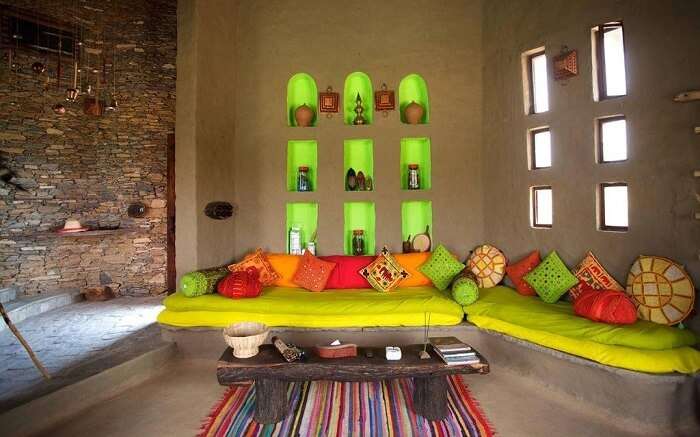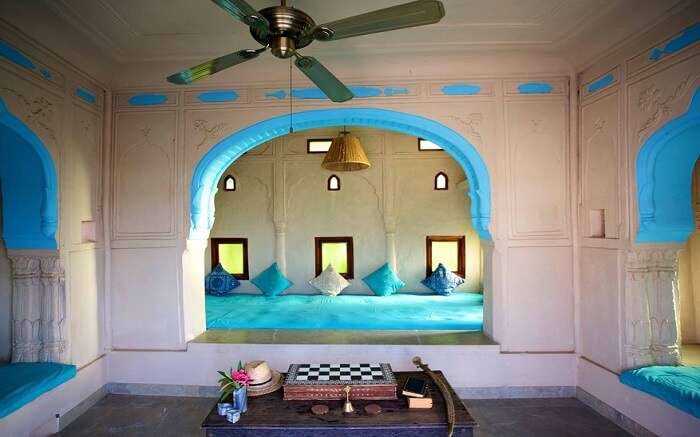 Inspired by ecotourism the property features 12 mud & stone cottages covering 900 sq ft Each of the cottages are decorated with colorful elements like cushions, rugs, lamps and curtains. The colors have been wit-fully adapted, balancing with classy and rural look.
2. Each cottage comes with a private plunge pool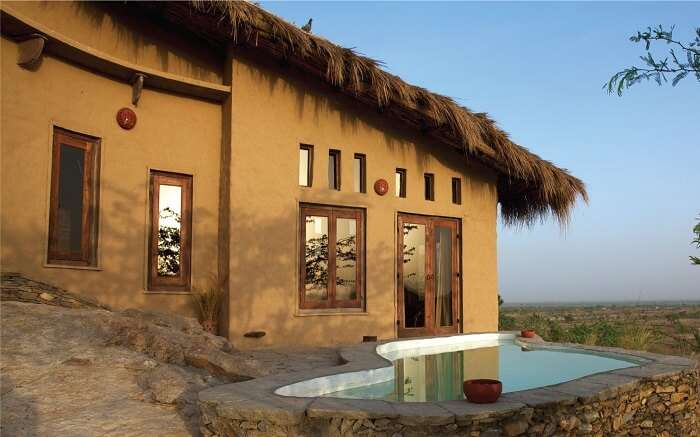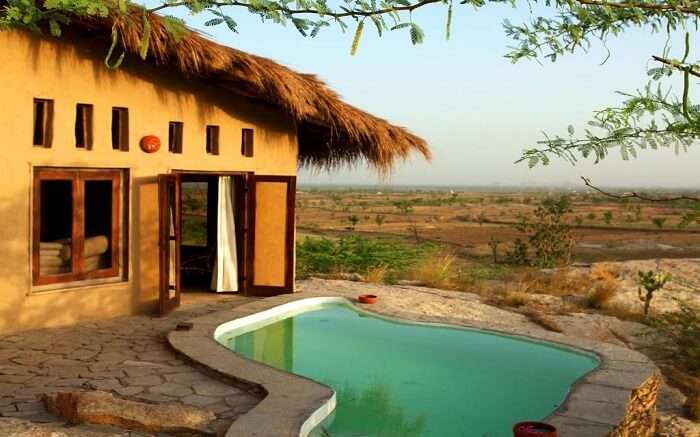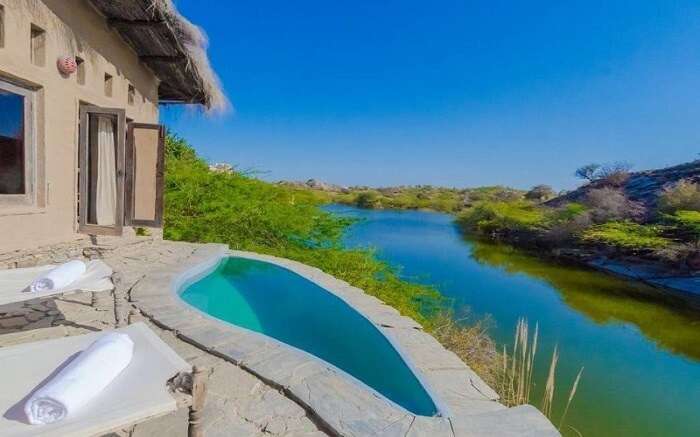 These mud and stone cottages aren't about colors alone, each of them come with a plunge pool. You also have cots right beside the pool for sunbathing.
3. Rock cut pool where evenings are made beautiful with folk music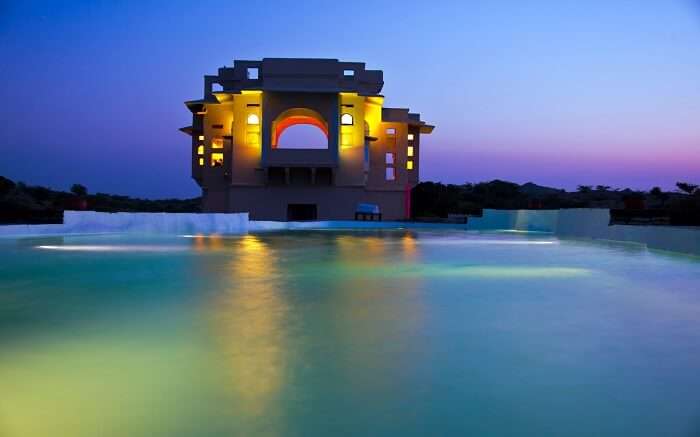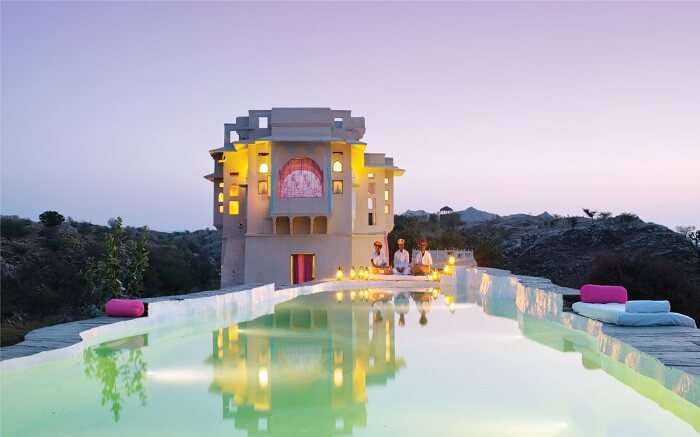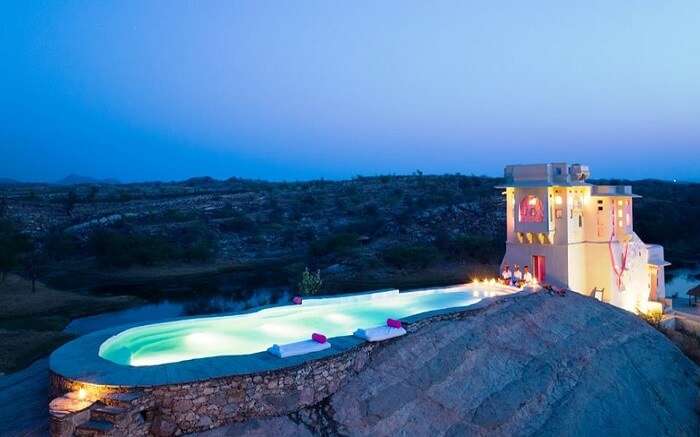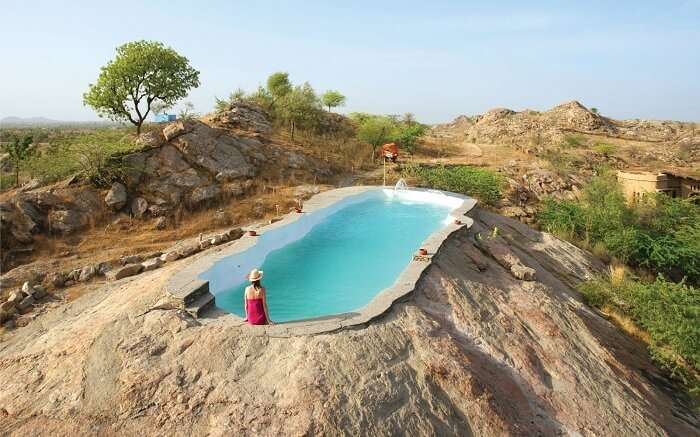 Beside the private plunge pool, you also have a crater-like rock-cut pool overlooking the impressive edifice of the property. The cultural music performance by the pool is another reason to spend more time by or in the pool.
Suggested Read: 10 Exclusive Stays In Rajasthan That Will Leave You Spoilt
4. Sundowners at the Zanana terrace will satiate your wanderlust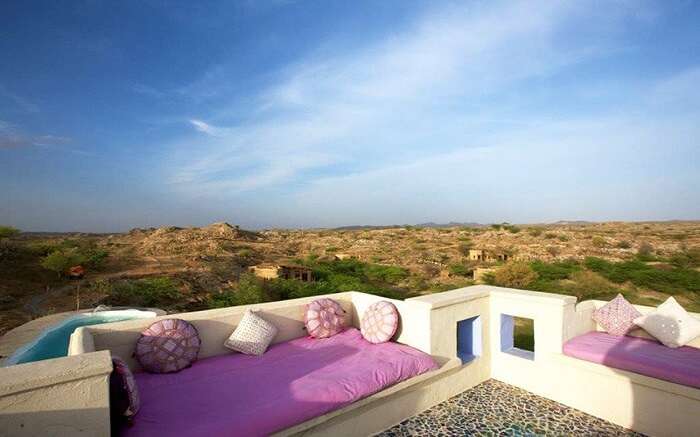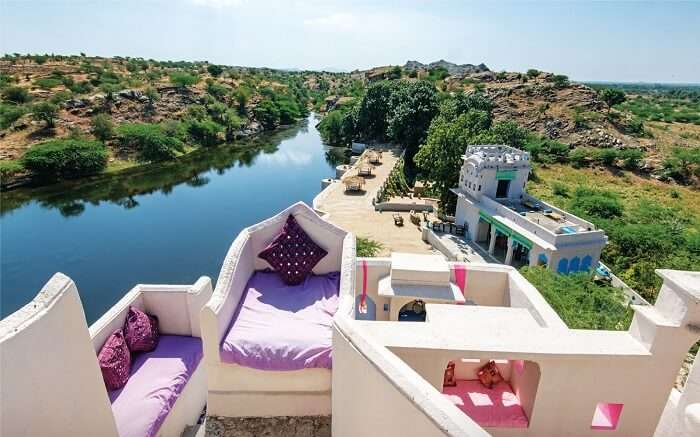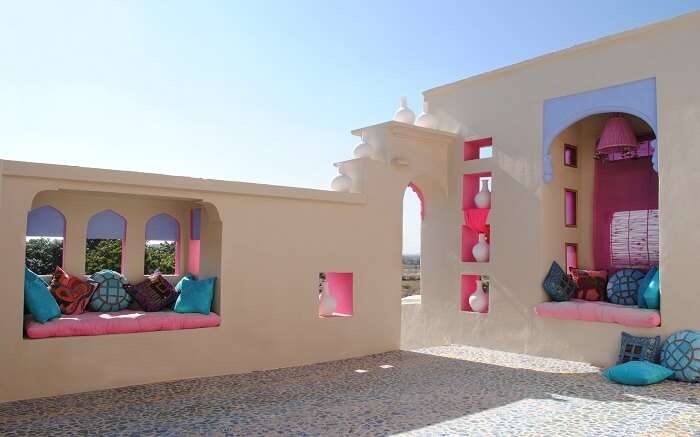 When the sun is about to set, order a glass or wine and we're pretty sure you'll be living the best time of your life.
5. You get to get high with local liquor tasting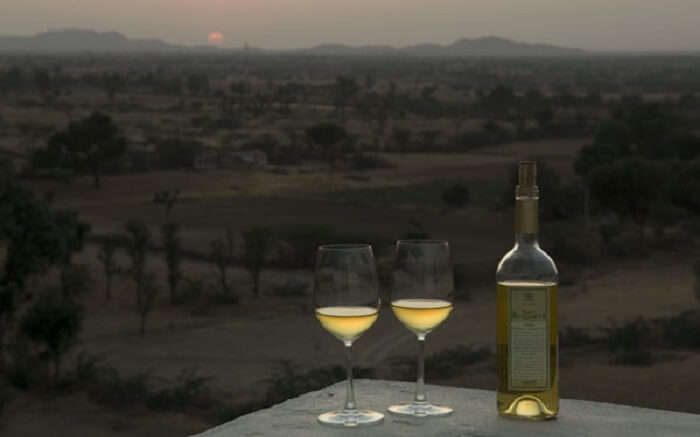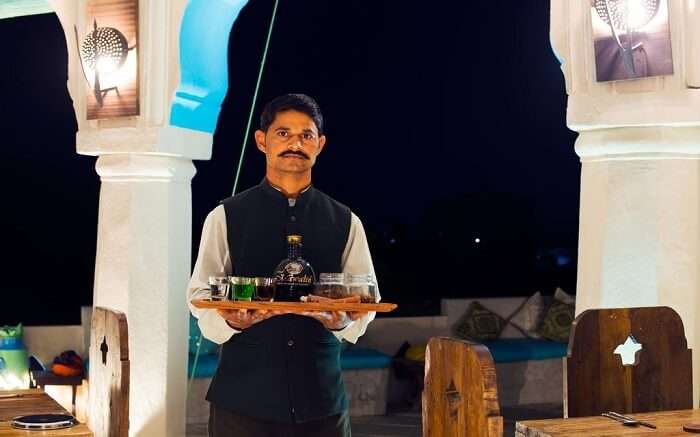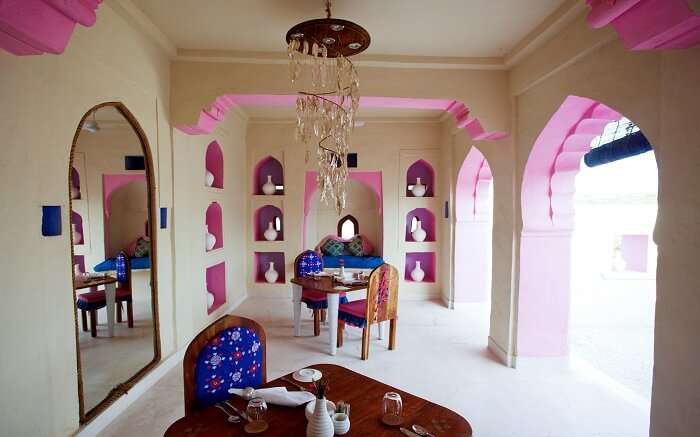 It's always a better plan to go Desi. When in Lakshman Sagar Resort, sip in the finest of local liquor and get high on the spirit of Rajasthan.
6. Organic vegetation sprinkle the homely and healthy touch to the culinary experience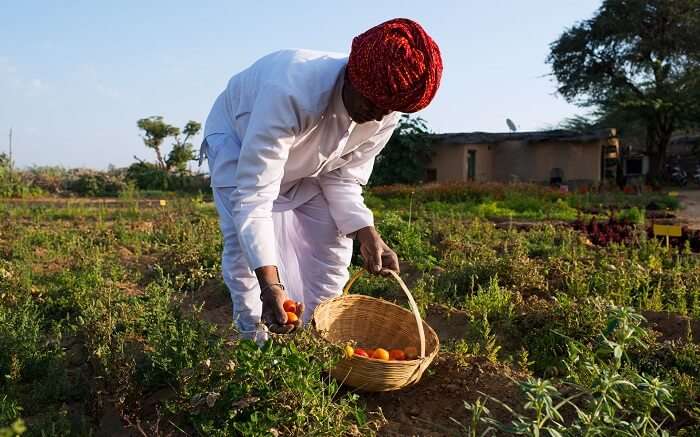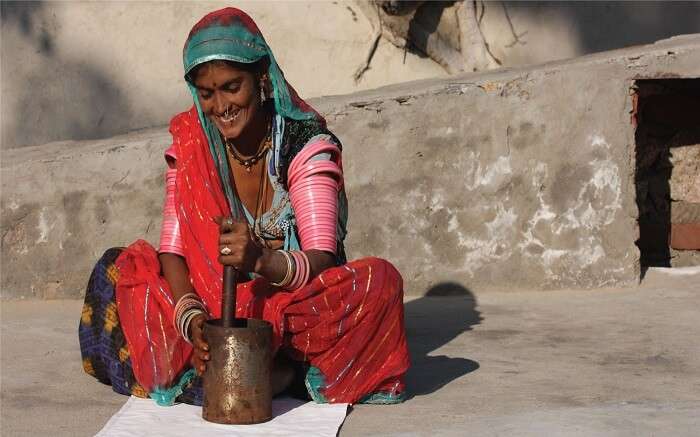 The 'no-menu' concept of Lakshman Sagar, allows the guest to enjoy the local flavors as per their preferences. The food is prepared with ingredients grown in-house, or sourced locally.
7. You begin your mornings with fields breakfast and conclude the day with bonfire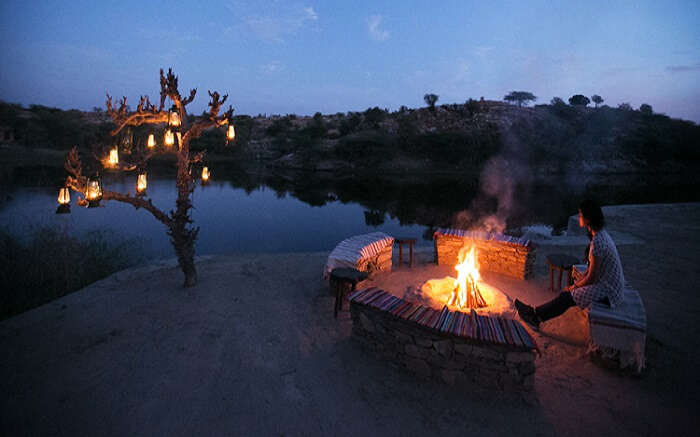 Your mornings begin the rural way, with breakfast amidst the fields on a cot. The nights are beautified with bonfire, right by the lake.
Suggested Read: Stay At These Heritage Hotels In Rajasthan & Bask In The Royal Magnificence
Other special features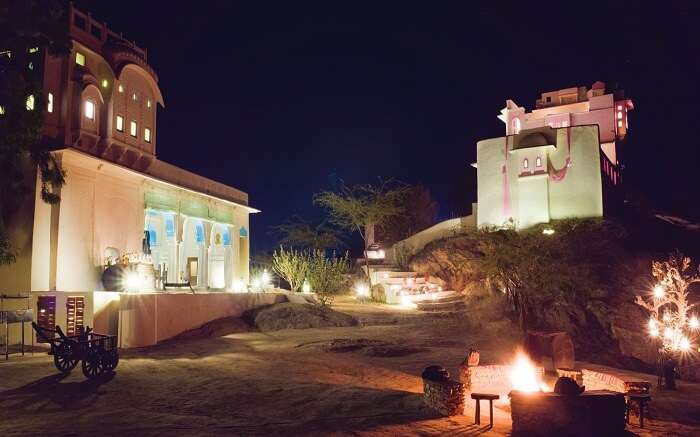 Lakshman Sagar Resort goes miles ahead when it comes to offering experiences during the stay. Here, the guests unwind with Yoga & meditation sessions. To get an insight to local culture, they are village tours. Fishing, jeep safaris, Raipur Fort visit, and a trek to Fatehgarh Fort further add on to the memories.
Essential tourist information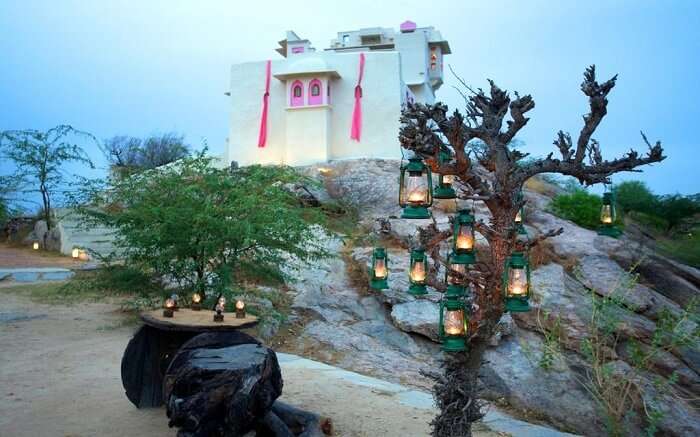 Now that you're all set for a staycation in the Lakshman Sagar, don't skip these important pieces of information:
Best time visit
Just like many other places to visit in Rajasthan, Pali District too is best visited in the winter season. Monsoon season is good to visit to, and it's usually less crowded during this time. However, humidity might be an issue for you. Summer can be harsh, but the evenings are usually pleasant.
Tariff
Per night tariff in Lakshman Sagar Resort may vary due to different aspects, such as number of days, season and other factors. If you're booking in the winter season, which is the best time for a trip to Rajasthan, the the starting tariff per night is INR 15,675 for two adults. This price may again vary if you look up for deals online, or connect with resort's authorities through mail or phone call regarding the same.
We'd love to hear about your stay in Lakshman Sagar! Share your reviews in the comment section.
Further Read: 25 Stunningly Colorful Festivals Of Rajasthan