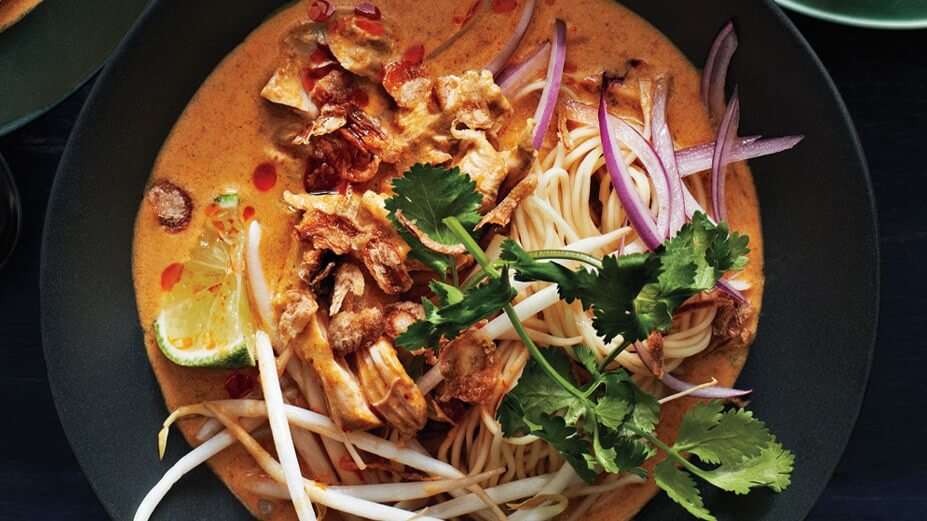 Laotian cuisine or Laos food originated from an erstwhile northern region names Lao that is a part of China at present. As Laos migrated to the Northeastern part of Thailand, Laos food became an integral part of the food in Northern Thailand. In fact, Laos food has been one of the most strong influencers of Thai cuisine though it has never been acknowledged. So let us dig into this story of an underdog and see what actually makes it unique and different from Chinese and Thai food.
What Laos Food's Like!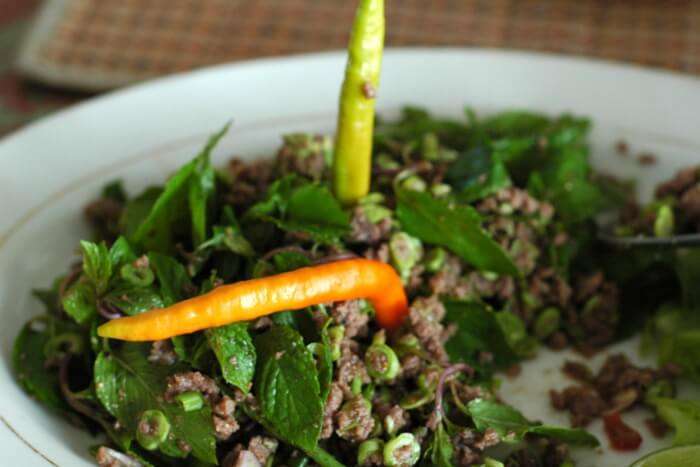 One of the main features of Laotian food is their sticky rice which is essentially the very core of their culture and existence. 'Luk Khao Niaow' – as the Lao call themselves actually means 'descendants of sticky rice. Moving forward, Lao food is marked with myriads of oriental spices, salads and meat preparations that as a unique streak. The various local flavors contribute in its own way to the Lao food to add to its uniqueness. This apart, Laos food also shows some French influence that it earned during its colonial days when it was a part of French Indochina.
Some of the most popular dishes that the Laotian cuisine is famous for include their stews, bamboo shoot soup, lambs and other meat dishes. Coming out of the umbrella of Thai cuisine, Lao dishes are out to find an identity of their own. And the good news is that is gathering both acceptance and appreciation among foodies as well as food critics from all over the world. Let us take a look at some of the Lao dishes that have made it to the international platter.
7 Popular Food Of Laos
From the delicious rice-based cuisine to delicious curries, Laos won't only offer you its scenic beauty but a variety of flavors too.
1. Khao Lam Bamboo Sticky Rice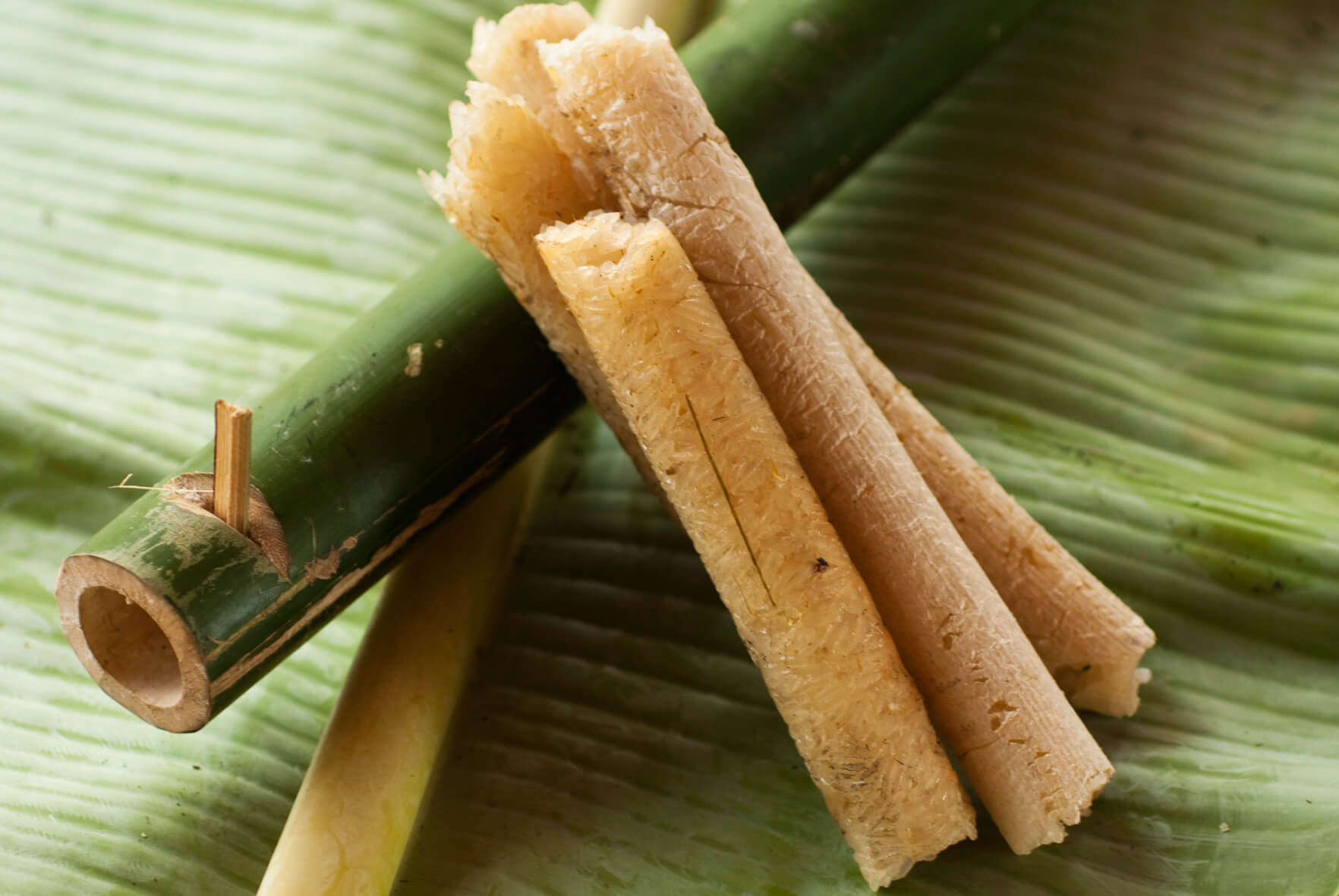 Steamed rice in a bamboo tube is a signature dish for most of the oriental cuisines and also a popular Laos street food. Khao Lam Bamboo Sticky Rice is a very famous Laotian sweet dish where sticky rice is treated with coconut cream and red or black bean to be filled in a bamboo tube and roasted until all the ingredients are cooked and blended together to give a sweet aromatic treat. It is such a popular food for the Laotians that it is sold on the streets.
Where To Find – Anywhere on the streets of Laos
---
Planning your holiday in Thailand but confused about what to do? These Thailand travel stories help you find your best trip ever!
Real travel stories. Real stays. Handy tips to help you make the right choice.
---
2. Mok Pa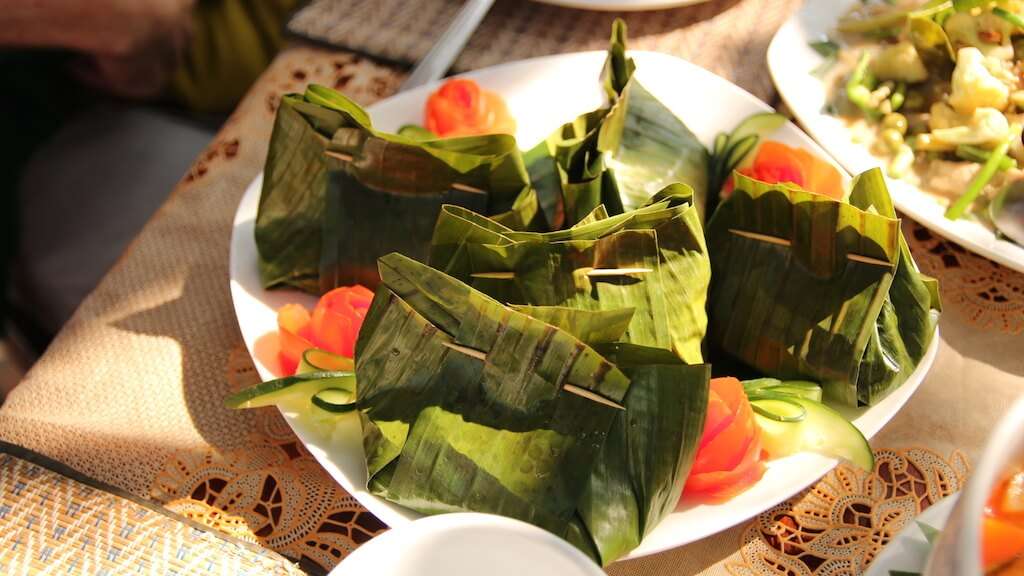 Laos food culture can be seen in its unique and flavorsome dishes, and among those is Marinated fish. Steamed or grilled wrapped in banana leaves is a common delicacy in most of the Asian cuisine. But the treatment of the dish is what gives it a distinct characteristic of its own. Mok Pa is a signature dish from Lao in which white fish is pounded and seasoned with exotic spices such as chili peppers, basis, kefir leaves, fish sauce, spring onions, and salt; wrapped in banana leaves and steamed bamboo baskets. The soft and flaky texture of the fish soaked in the varied aromatic spices melts into your mouth.
Where To Find – Miengchaokao Restaurant, Ban Nongbone, Vientiane, Laos
Must Read: 10 Best Things To Do In Laos That Will Help You Discover A New You
3. Sin Dad Barbeque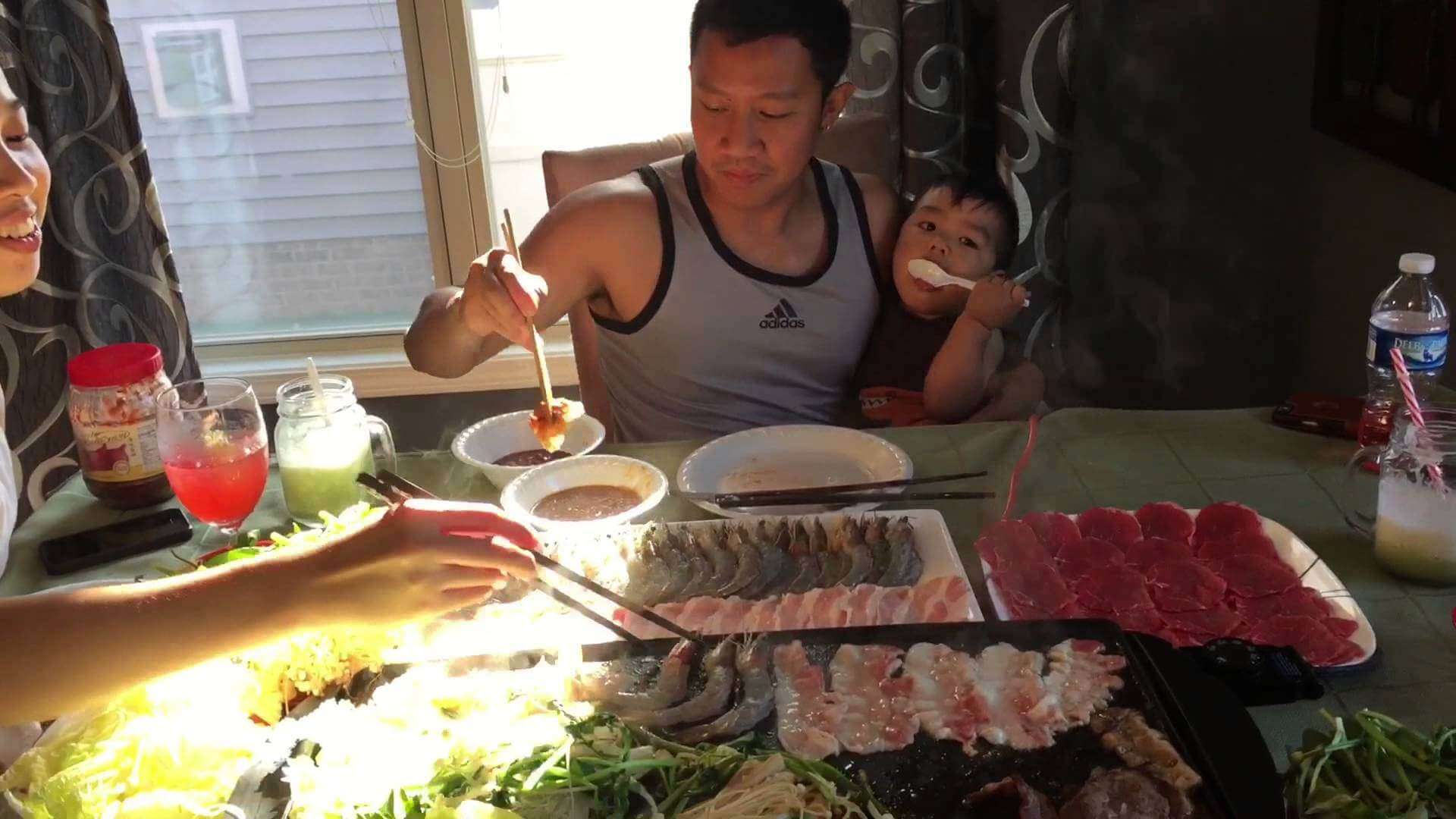 The most unique and exotic Laos food is Sin Dad Barbeque. Making barbequed meat with all its juices perfectly sealed that melts in your mouth, can be experienced in Sin Dad Barbeque. It is communal dining practice as well where a round domed and perforated metal tray with a trough at its edges is placed over a bucket of hot coals. Meat, seafood and fish are kept on the perforated dome which gets grilled in the heat that is coming out of the hot coals while the stock is poured on the trough. The slow cooking and grilling process continues with the stock absorbing the dripping off the meat juices that add to the flavor. It is served with fermented soy sauce, garlic, and chillis and enjoyed together with a lot of fun and bonding among each other.
Where To Find– Kualao Restaurant,Rue Samsenthai, Vientiane, Laos
4. Khaipen With Jaew Bong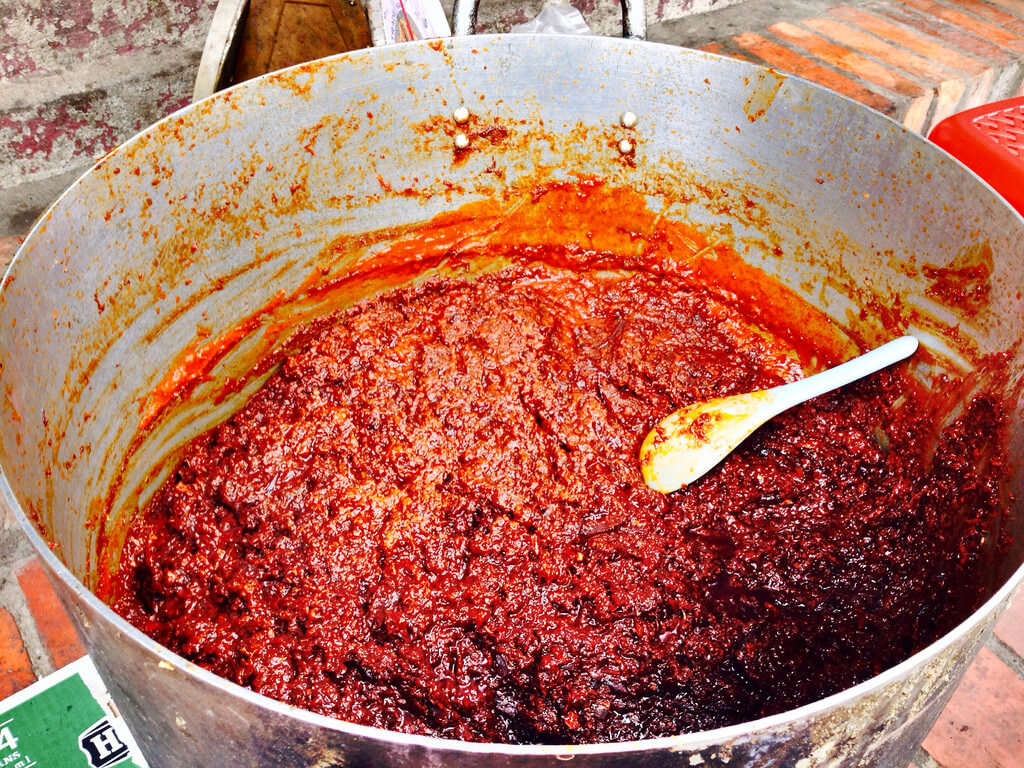 The most exotic of all traditional Laotian food is their unique recipe of fried seaweed – Khaipen. It is a kind of freshwater green algae that is tempered with sesame seeds and the sundried till they become paper-thin. These are stored in the form of rolls. They are lightly sautéed and served with a special chilly paste called jaew bong.
Where To Find – Senglao café, Ban Naxay, Nongbone Road, Vientiane, Laos
suggested Read: A Complete Laos Travel Guide That Would Leave You Enchanted And Charmed
5. Khao Soi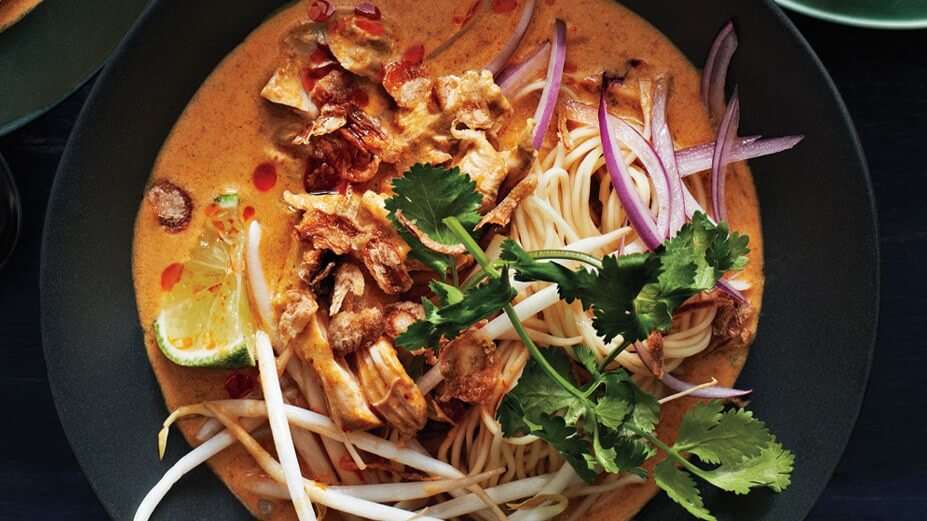 Khao Soi is again a very unique flavor of Laotian food that offers a delectable blend of ground pork broth, sauce and a layer of tomato. This pork tomato sauce is then added to a rice noodle soup that is made of pork broth and garnished with freshly chopped watercress leaves to make the most flavorful and delicious Laotian dish. The freshness of the watercress leaves helps to create a balance adding some fiber to the protein and also gives that fresh and crunchy mouth feel.
Where To Find – Soukvimarn Original Lao Foods, 133 Chanthakhoummarn Rd, Chanthabouly district, Vientiane, Laos
6. Laap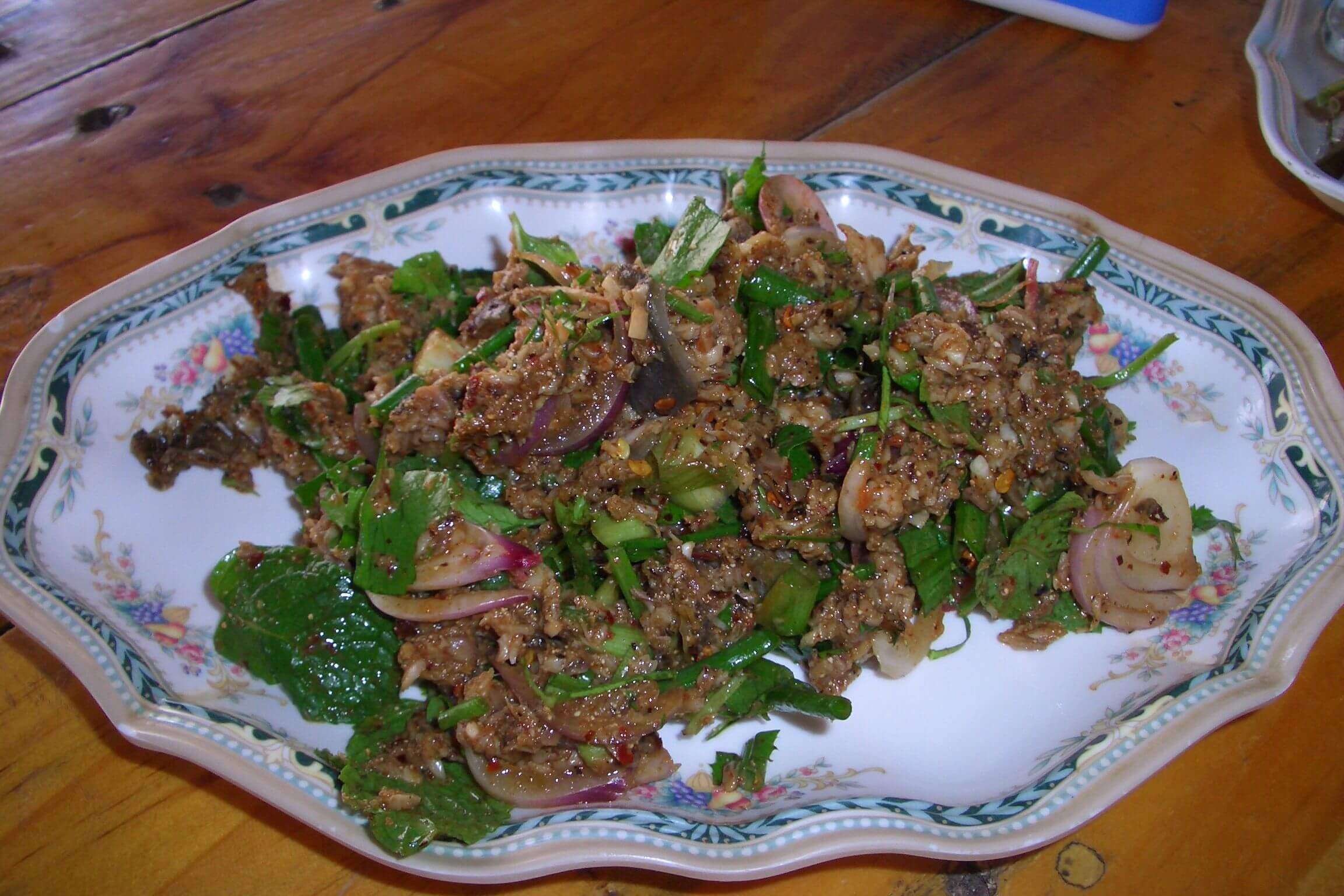 Laap or larb is one of the traditional Laotian dishes. This dish has a cultural significance as well and is served at weddings and other auspicious occasions in Lao. Laap in Laotian language means good luck. It is made of meat or fish that are very finely sliced and flavored with lime luice, mint, spring onion, fish sauce and dried, crushed uncooked rice grains. This dish is served with vegetables such as eggplant, mustard leaves, lettuce and chillies. While making the order lease make sure that the laap is cooked as in many regions, they also serve it raw, particularly in the case of fish laap. When looking for the popular Laos national food, then Larb shouldn't be missed out!
Where To Find – Almost in all Laotian Restaurant
suggested Read: 10 Best Laos Waterfalls Every Traveler Should Visit For A Rejuvenating Break
7. Tom Mak Houng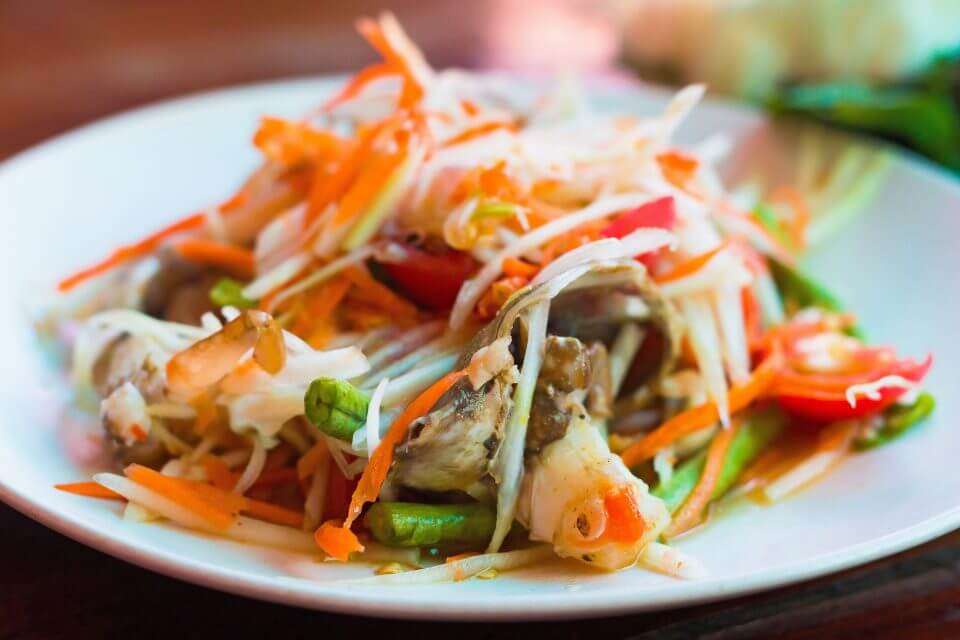 Tom Mak Houng is a papaya salad is another signature dish that offers the perfect blend of all the Laotian flavors. Made out of raw papaya that is tempered with fermented fish sauce, garlic, chilly, lime juice, sugar and garnished with peanut, Papaya salad is staple in the Laotian cuisine. It is fresh, fulfilling and packs a healthy punch. It helps to balance the otherwise heavy meat dished by adding some fresh crunch to it.
Where To Find – Café Toui, 72/6 Ban Xieng Mouane | Sisvangvatthana Road, Luang Prabang 0600, Laos
8. Tam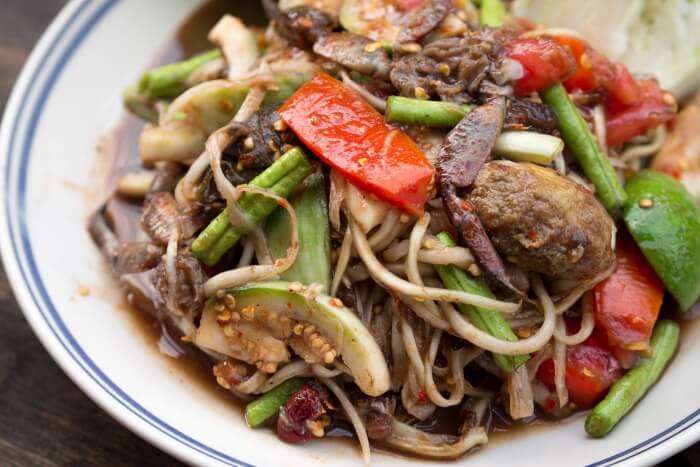 This is one of the Laos food dishes that you must eat with sticky rice. Highly common in Laos, Tam contains various fruits and people usually prefer taking it with unripe and shredded papaya – this particular dish then is called tam mak hoong. However, don't confuse it with papaya salad, for it is a totally different thing. Every element used in the dish is raw and pestled together during the preparation of the dish.
Where To Find – Som Tam Luang Prabang, Vientiane
suggested Read: 9 Laos Resorts That Are So Beautiful & Homelike, You Wouldn't Want Your Holiday To End Ever!
9. Paeng Pet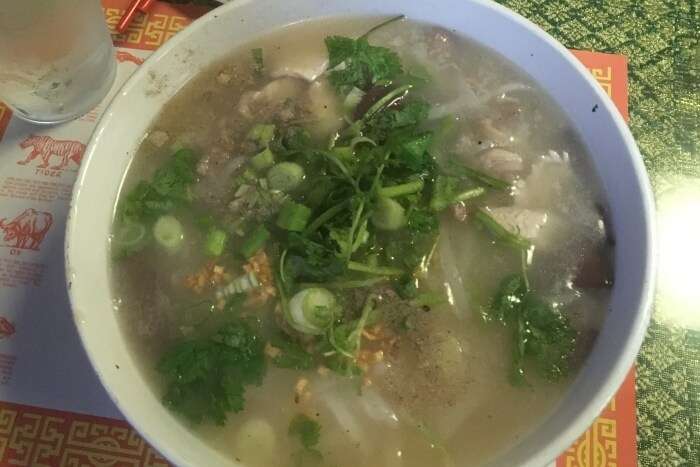 If you're looking for non-vegetarian dishes that are fully comprised of herbs, then Paeng Pet is for you! The taste of this dish is a blend of mint, lime, and chillies – amongst the most savory ones in Laos. The most intriguing part about this dish is that it is based on duck's blood and the herbs do the job of adding lip-smacking flavor to it! If you're in Laos, missing out this dish would be a shame!
Where To Find – Anna Grilled Duck Restaurant, Vientiane
10. Khao Piak Sen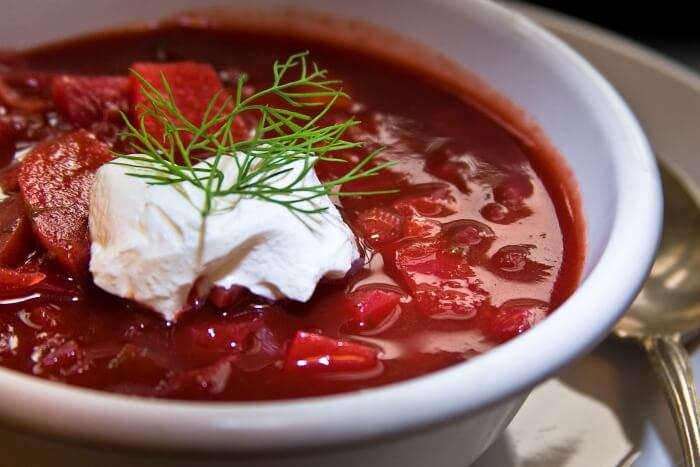 Even though it's last on the list but make sure you start your food tour with this one! It is a simple dish – rice noodles with meat. You can find this dish almost at every corner of Laos. Khao Piak Sen is considered to be an exclusive dish amongst the rice noodle dishes. Its exclusivity lies in the type of noodles being used – thick and hand-rolled. Moreover, the gravy of this dish too is quite thick.
Where To Find – Morning market in Luang Prabang
Further Read: Best Of Laos Nightlife: 10 Places In Laos Where Party Doesn't Stop
Have you ever been to Laos? If you haven't yet explored the beauty of this breathtakingly beautiful nation and want to spend your next vacation in Laos, let us help you plan your trip. The country has a lot to offer and Laos food is something that every foodie must try to make the travel experience more fulfilling.
---
Looking To Book An International Holiday?
Book memorable holidays on TravelTriangle with 650+ verified travel agents for 65+ domestic and international destinations.
---