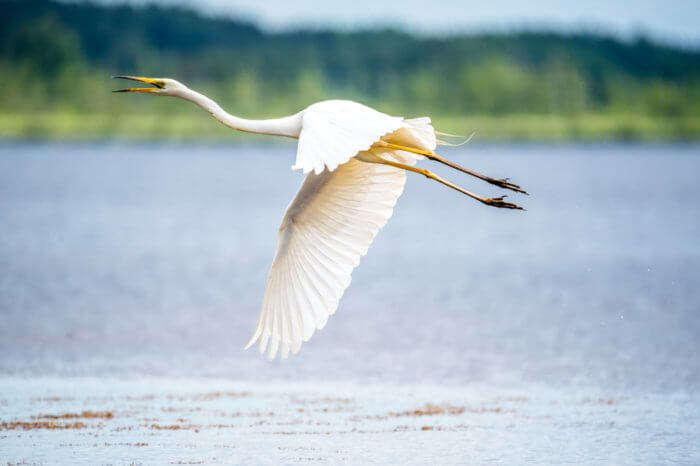 The 40% of Latvia is covered by forests and it consists of Scots pine, exquisite mushrooms, and trees that are 500 years old. You will get to see the varied splendor of Latvia wildlife with the oak, yew, ash, juniper trees which make the forests an amazing place for the different types of animals.
The infamous Stork is the specialty of Latvia, and there are recently 7,000 breeds available in the wilderness. The black stork is common, and there are 1,000 couples. The main forest consists of woodpeckers, cranes, gulls, grebes and many more. You will find deer, hedgehogs, wolves, and various types of animals in the forests of Latvia. There are moles, wild boars, and various types of fish in the water and none will fail to mesmerize you.
Latvia Wildlife: 10 Best Places
Here we have piled up a list of places where you can witness the best of Latvia wildlife while you are on a vacation there. Take a look!
1. The Tervete Nature Park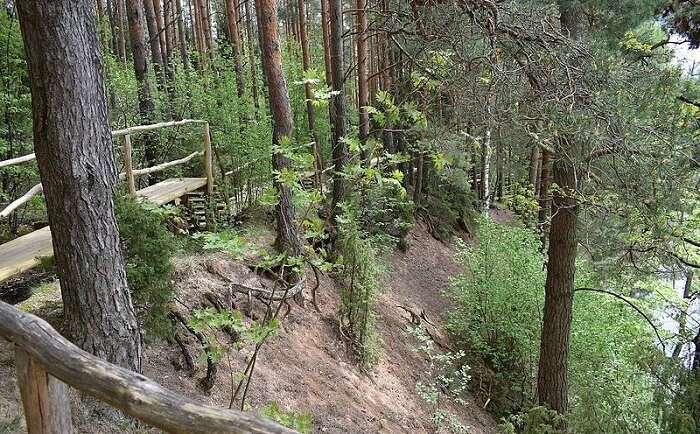 Image Source
Wildlife of Latvia starts with this nature park, as it is one of the popular places for adults and kids both. You will find wooden sculptures, plank ways that span the Valley of Tervete River. The park is family-friendly and this fairy-tale like the place will make you feel peaceful in the lap of nature. The castle mounds will definitely make your kids excited while nature lovers will be mesmerized by the 300-year-old trees, and get to experience the ancient forest. You can climb the observation tower and get the treetop view of the amazing forest.
Location: Tērvete district, Tērvete parish, Tērvete, LV-3730, Latvia
Timing: Monday to Sunday, 09:00 to 19:00
Entry fee: 5.00 €
Must Read: This Winter, Escape To The Best Honeymoon Destinations In Europe In Winter 2021-22!
2. Ragakapa Nature Park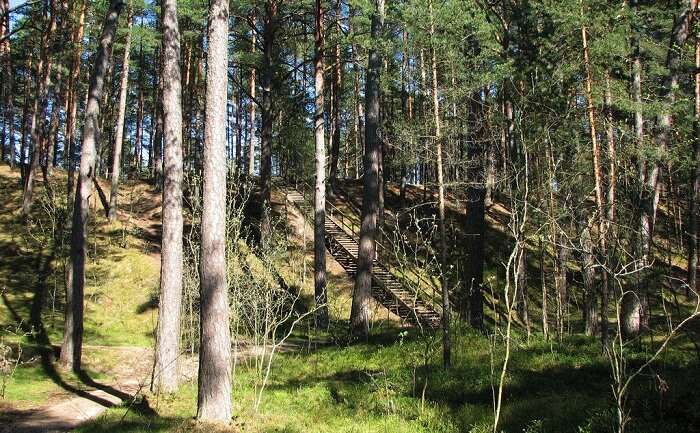 Image Source
The park covers 150 hectares and the forest is covered with pine trees and you will get to experience the biodiversity of the coastal area. Plants and animals in Latvia and especially in Ragakapa is very rich and there are two nature trails, and one of these trails leads through the forest of pine, and it's 2km long. There are benches in this long way and also you will find steepest stairs. The trail gives you the information about the biodiversity of this place and the amazing beauty of the sceneries. The ecosystem in here changes constantly and thus there are many different species are found.
Location: Tiklu iela 1a, Jurmala 2010, Latvia
Timing: 24 hours
Entry fee: free
3. Ligatnes Nature Trails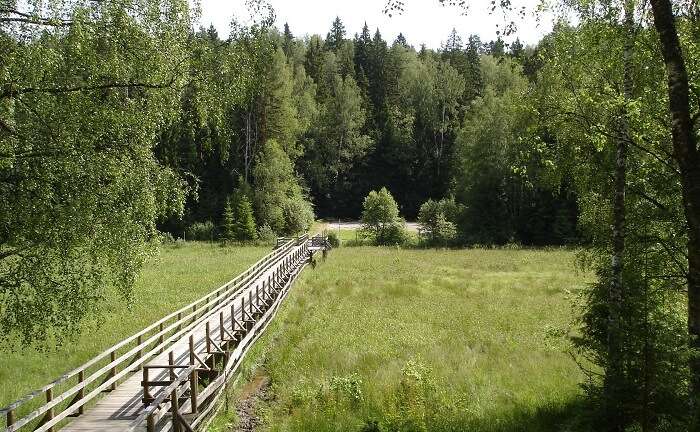 Image Source
This place is situated at the banks of the Gauja River and has a 5 km trail where you will find the birds and animals of Latvia. If you have booked a guided tour in Nature & Wildlife Tours in Latvia it will take 2 to 2.5 hours for you to visit this entire place. This nature trail was created in 1975, to attract the tourists and for the wild animals of the country.
You will find the habitats of forest animals in the Līgatne nature trails, which have been brought from so many places of the country, and basically, these animals were wounded or found domesticated, or unable to find food for their survival. The feeding of the wildlife is prohibited, and if you are planning to take your pet dog with you, that is prohibited too.
Location: Sigulda, Baznicas iela 3, Ligatne, Latvia
Timing: 9 am to 6 pm
Entry fee: 4.30 €
Suggested Read: 10 Beaches In Sweden That Are Worth Going On A Vacation To Europe
4. Trusu Pilsetina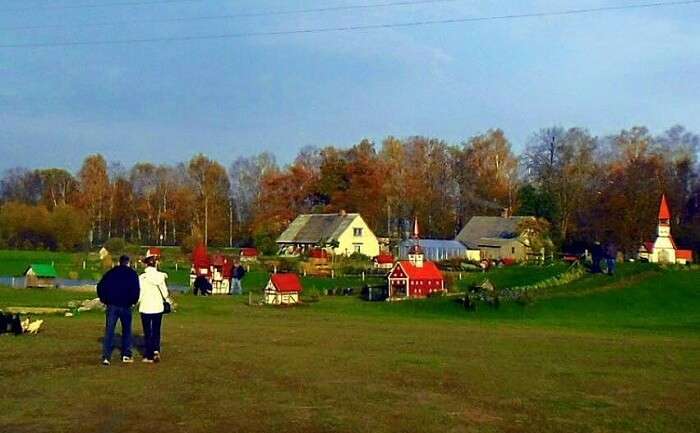 Pack some fresh carrots before you visit this pristine town in Latvia because this place is also known as the rabbit town and is situated near the A7 highway. You will be amazed to experience the flower-filled place and if you want you can spend a day or two in here with the animals, and listen to the lovely stories of the animals from your host. You will be amazed by the welcome you will get here and feed the carrots to the adorable rabbits and other animals too.
Location: Pilsmui kungi Oj rs Narvils | Codes pagasts, Bauska 3901, Latvia
Timing: 9:00 AM - 9:00 PM
Entry fee: Adults: 3.00€, students: 2.50€
5. Zviedru Cepure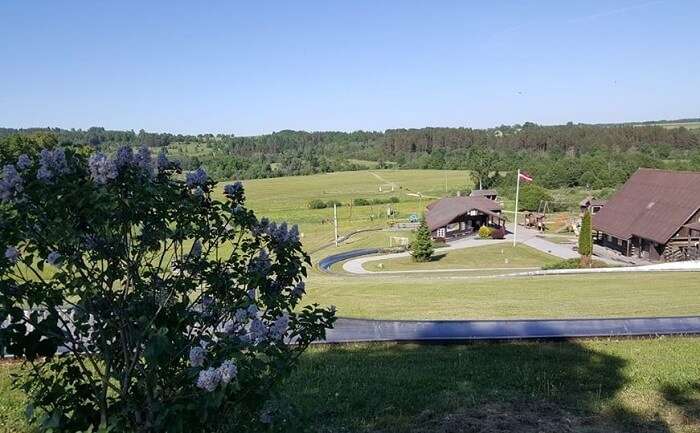 This trail is one of the most fun-filled places in Latvia as you can have a fun slide through the trail and you can see the valley of Abava, and it's called as the Switzerland of Courland. You can take a stroll through nature, feel the lively forest and listen to the chirps of the birds and the sound of the cackling stream will make you calm. You can experience this place alone, or have a picnic at the top of the hill and you will get some table and benches here too. You can always begin your trail to downhill and here you will find the meadow plants and some protected ones in here as well.
Location: Tukums, Latvia
Timing: 10:00 AM to 6:00 PM
Entry fee: 1 to 5€
Suggested Read: 10 Cafes In Prague: Enjoy Croissants, Sausages And More In A Perfect European Fare
6. Velnalas Klintis Un Velna Ala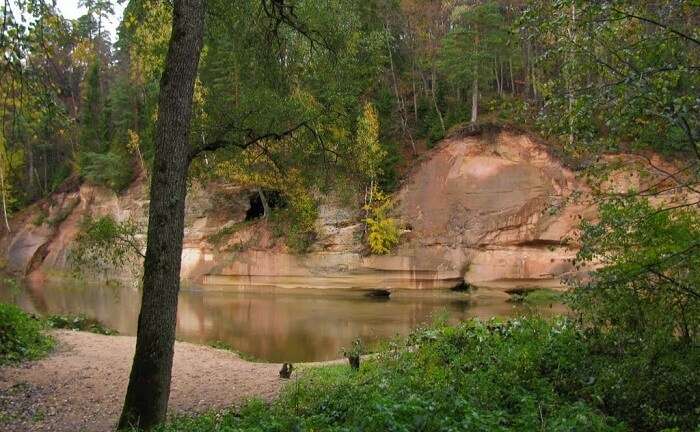 This place means the Devil's Rocks and Devil's Cave and is one of the major wildlife places in Latvia. The rocks here are very powerful and it's situated at the Gauja valley, with 250 m long and 15 m high. The rocks here were formed 10,000 years ago, and that was in the Devonian era. You will get to see the fossils of fish from that era, like the bullet fish and flora fossils as well. In this place, just 8m above is the devil's cave, which used to be an ancient cult site and the cave formation ended five millennia ago, and the depth of the cave is 35 m.
Location: Sigulda, Latvia
Timing: 6 am to 6 pm
Entry fee: free
7. Ieriku Dzirnavas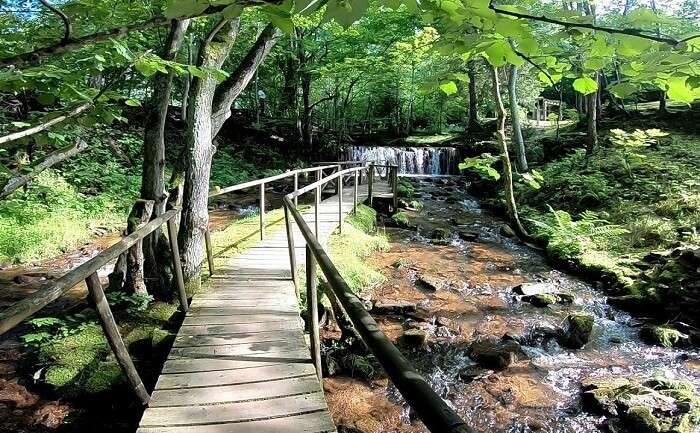 Take a small walk into this place alongside the waterfalls and the pretty river. You will get to find the small cafes and here you can have some refreshments in here, and the small watermill will be a very good place to take pictures.
Location: Drabeshu pagasts, LV-4139, Latvija Ieriki, Amata 4139, Latvia
Timing: 5 am to 9 pm
Entry fee: 3.50€
Suggested Read: 13 Frolicsome Beaches In Europe For All The Excited Beach Bums Across The Globe
8. Pape Nature Park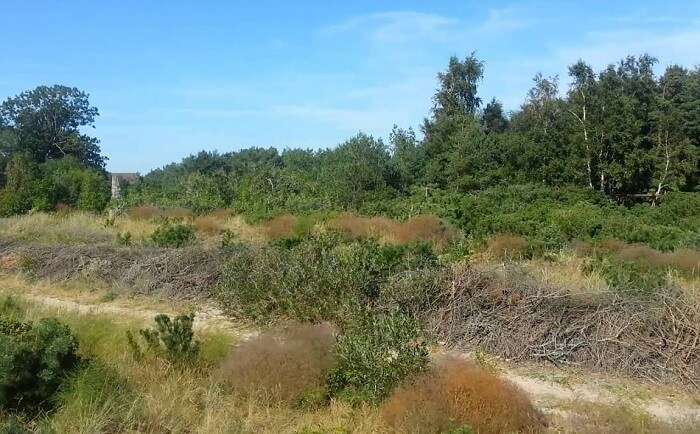 Take a motorcycle ride through the wilderness of this nature park, and enjoy 2 to 3 hours or an entire day. You can have a small picnic on the grassland. This place is near to the shore of the Baltic Sea and the dunes, and here you will find various nature paths, where you will get to experience the wild horses and goats grazing on the meadows. Here you will get to see the beautiful orchids and can visit the fisherman villages nearby. This place is also a paradise for bird watchers and you will find 200 species here and they fly here in the autumn season only.
Location: Pape, Latvia
Timing: 5 am to 5 pm.
Entry fee: fee
9. Skanakalna Dabas Parks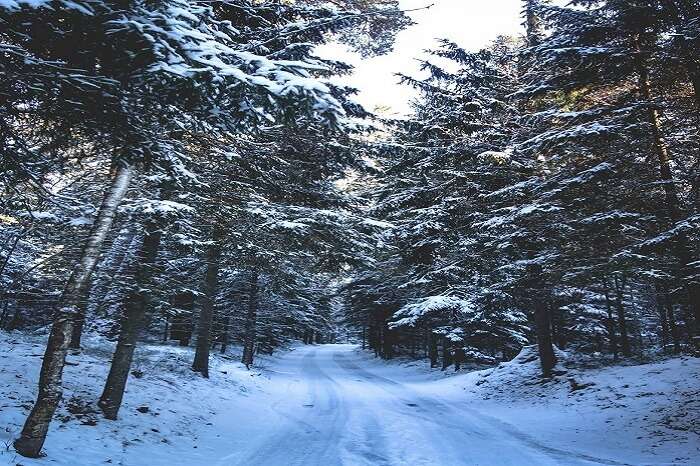 Get on a motorcycle ride through the wilderness of this place and enjoy the sound of nature. You will get to see some wooden statues alongside the road and if you want to take a walk and you can do that too.
Location: Parka iela 36, Mazsalaca 4215, Latvia
Timing: 6 am to 5 pm
Entry fee: free
Suggested Read: Christmas In Denmark: 13 Places To Enjoy The Christmassy Vibes In Europe!
10. Lake Engure Nature Park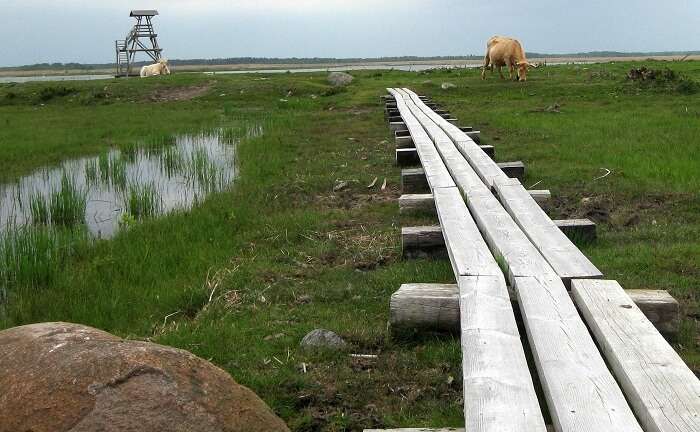 Feed the grazing wild animals on the field and have a packed lunch picnic in this place and have an amazing time in this nature park.
Location: Unnamed Road, Engures pagasts, LV-3113, Latvia
Timing: 24 hours
Entry Fee: free
Further Read: Oudtshoorn Wildlife: 10 Must Visit Places Where You Can See The Diverse Wild Species Of South Africa!
Visit this 10 beautiful nature parks in and you will be introduced to the Nature and the wilderness Tours in Latvia while in Europe , and you will be able to enjoy your visit here in full form. Pack your bags with all the necessary things, such as casual clothes and good shoes, and there will be no problem when you will be walking through the trails. Make sure that you have your camera with you all the time and hire a guide to help you with the surroundings.
---
Looking To Book An International Holiday?
Book memorable holidays on TravelTriangle with 650+ verified travel agents for 65+ domestic and international destinations.
---
Category:
Europe, Places To Visit