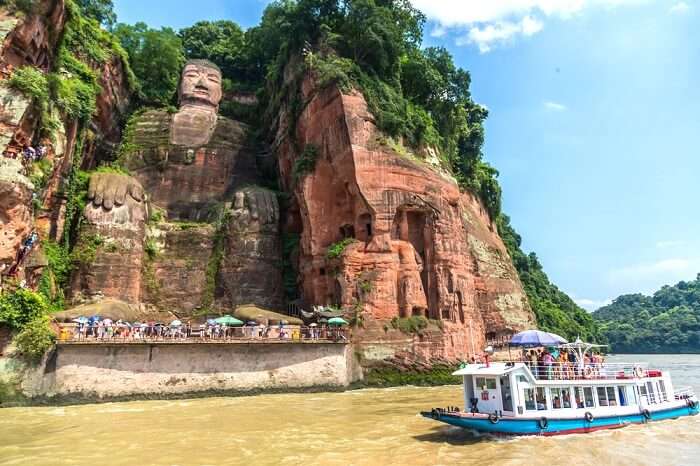 We reckon 'travel' as a mode of relaxation and as a mode of divergence from the realities of everyday life. In this detachment from the corporeal, travel exposes us to our insignificance when juxtaposed with the magnanimity of the world around us. For example, how often do we get the chance to look up, admire and rejoice in a grand, elegant architecture that baffles us with its tale of extraordinary human endeavors, their faith, and piety? The Leshan Giant Buddha, situated in the Shizhong district of China is a manifesto of the enormity of the human soul and the human spirit that rejoices in harmony with nature.
About Leshan Giant Buddha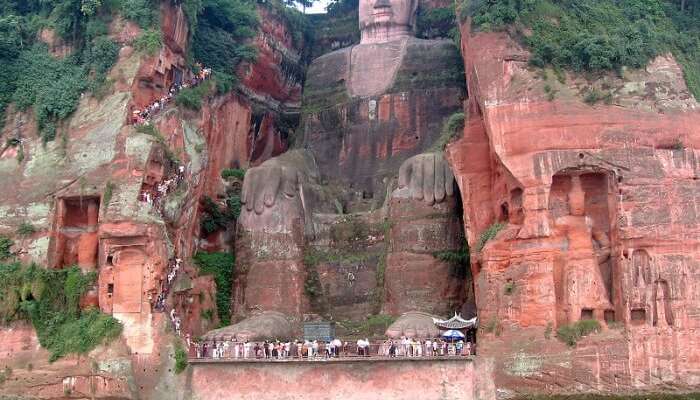 The astounding Leshan Buddha is the world's most elevated Buddha statue having a height of around seventy-one meters. It is located at the Sichuan Province towards the east of the Leshan City, around the confluence of all three rivers, namely, Qingyi River, Min River, and Dadu River. Read on, to know of the Leshan Giant Buddha history. A colossal structure surfaced in the mind of Haitong, a Chinese monk of the 8th century who believed Buddha calms the tumultuous waters of the rivers which earlier resulted in countless shipwrecks. His faith was grounded scientifically as well. As the sculpture began to be chiseled out of the cliff made of Cretaceous red sandstone, the debris deposited altered the water currents. The work began in 713AD in Tang Dynasty and was completed in 803AD.
The mammoth structure is bound to startle one and all with its artistic intricacies. Here are a few fascinating Leshan Giant Buddha facts. Elements such as 1021 buns are there in Buddha's coiled hair and are skillfully embedded around the head or the ears. This structure also has a drainage system built within it which has channels and hidden gutters, stretching onto the arms and head, behind the clothes and the ears. Such a system dislodges rainwater, keeps the interior dry and hence, helps in the self-preservation of the architecture. It was listed as the UNESCO World Heritage Site along with Mount Emei in 1996.
---
Looking To Book An International Holiday?
Book memorable holidays on TravelTriangle with 650+ verified travel agents for 65+ domestic and international destinations.
---
Places To Visit Near Leshan Giant Buddha
Here are a few places that one can visit while exploring the Giant Leshan Budda. Have a look.
1. Gulou Street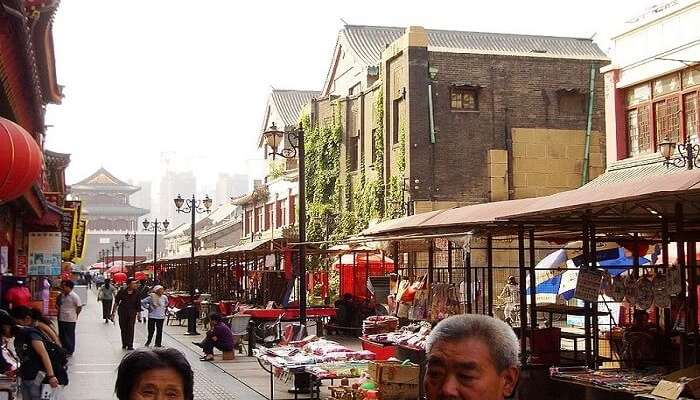 Gulou Street is about 0.9km from the Leshan Giant Buddha and is any shopaholic's paradise. One can get their hands on silk carpets, scroll paintings, thangka (sheep skin wall hangings), qipaos, antique jewelry pieces, showpieces and lots more. Buy unique trinkets and some souvenirs to take back home. Also, it has some of the best eateries and a few spectacular live music venues.
Must Read: Shopping In China: 10 Best Places For Buying Classic Souvenirs, Latest Electronics, And More
2. Nine Bends Plank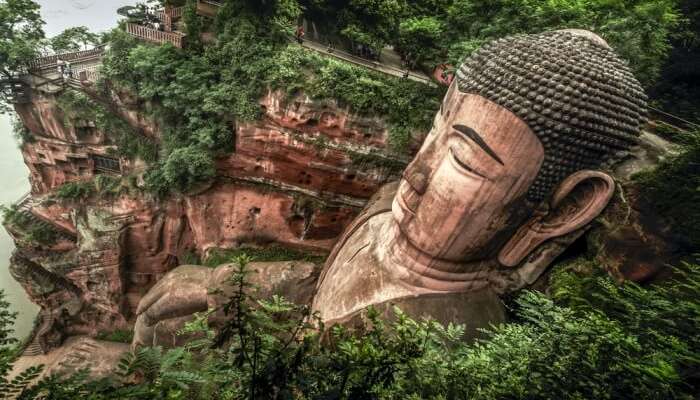 Nine Bends Plank road is situated along the right side of the cliff of Buddha. If seen from the foot to the top, the plank road consists of nine turns. It is quite uneven, and the widest park area of the road is across 1.45m, while the narrowest is only 0.6m. It has around 27 stone steps in number. The road encompasses Buddha's entire body and a tourist can have a head-to-toe tour of Buddha!
3. Oriental Buddha Park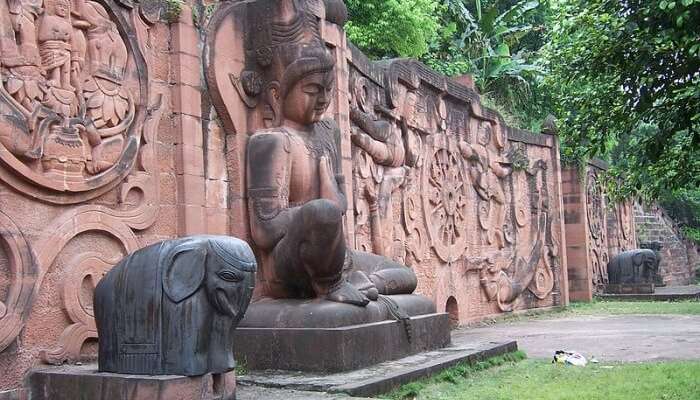 The Oriental Park of Buddha is only one kilometer from Giant Buddha Leshan. It stretches over an area of around 20,000-metre square. The park comprises of stone carvings that combines sculpture art, garden art, and religious art. There are over 3,000 statues of Buddha with varied materials, including bronze, rock, jade, and clay representing both Southeast Buddhism and Chinese Buddhism. Also, it has a long statue of sleeping Buddha around 170 meters, the longest and largest in the whole world. The tranquil ambiance over here is a magnanimity that your soul will never forget. Who wouldn't want to witness that!
Entry Fee: INR 840
Suggested Read: 10 Fun Things To Do In China That Will Let You Explore A Land Beyond The Great Wall!
4. Lingyun Temple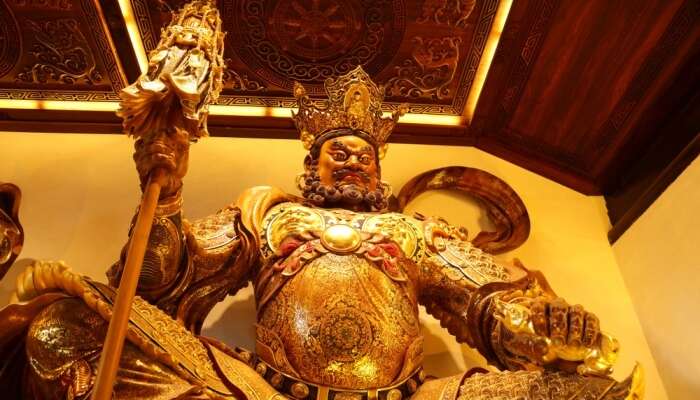 The Lingyun Temple stands right next to Leshan Giant Buddha, and therefore it is also known as the Giant Buddha Temple. It entails a history of 1400 years and was built quite earlier compared to the construction of Giant Buddha. The Lingyun Temple isn't the original one as it was demolished during the war in the period of the Ming Dynasty (1368-1644) and was rebuilt during the period of Qing Dynasty (1644 to 1912). The elaborate halls Tianwang, Daxiong and the Depository of biggest Buddhist Sutras make a quadrangle area of the courtyard. The temple is reputed for its long stairs, so wear comfy shoes and then travel!
---
Planning your holiday but confused about where to go? These travel stories help you find your best trip ever!
Real travel stories. Real stays. Handy tips to help you make the right choice.
---
5. Wuyou Temple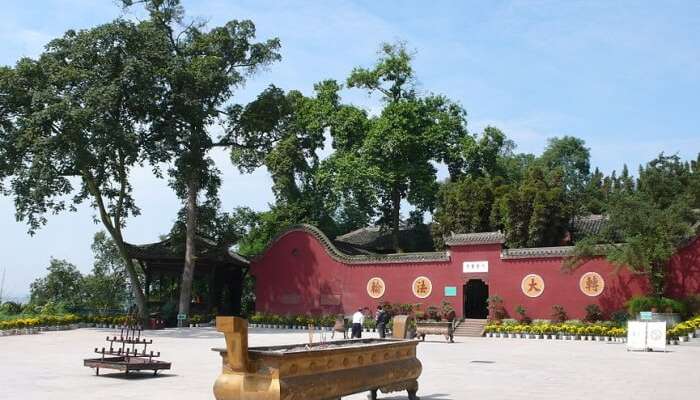 Built during the reign of the Tang Dynasty, Wuyou Temple stands on the Wuyou Mountain. One can reach here through the Nine Bends Road. The place is known for its tranquility. If you want to relax and enjoy some peace of mind, then nothing can be better than being here. It uncovers the purest form of nature and the ambiance here is full of positivity.
Suggested Read: Now You Can Win A Stay At The Great Wall Of China. Find Out How!
6. Jiading Fang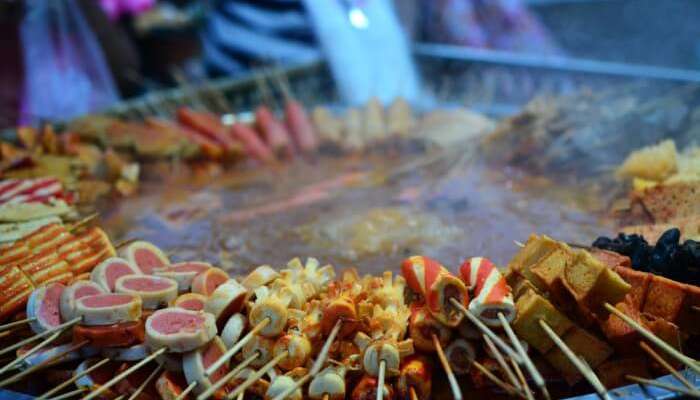 Travel and food are inexplicably connected. So do not miss the chance to taste cuisines of Leshan while you're here. Jiading Fang is a pseudo-classic street where tourists can have every kind of snacks and all the local specialties. Jiading Fang abounds in bars and tea house and is a wonderful place. Malatang, Jellied Bean Curd, Qiaojiao Beef and Leshan barbecue are all great choices to have.
The authentic food over here will definitely baffle your senses and will make you savor the intricate delicacies. Whether it's the Sichuan Lehsan beef dish or the variety of soups and deserts you'll definitely fantasize each of the delicacies.
Places To Stay Near Leshan Giant Buddha
Cheap as well as expensive, Chinese guest houses, hotels, and holiday homes are easily available as Leshan Giant Buddha is a popular tourist destination. Here are some of the best places to stay over here.
1. Leshan Ramada Hotel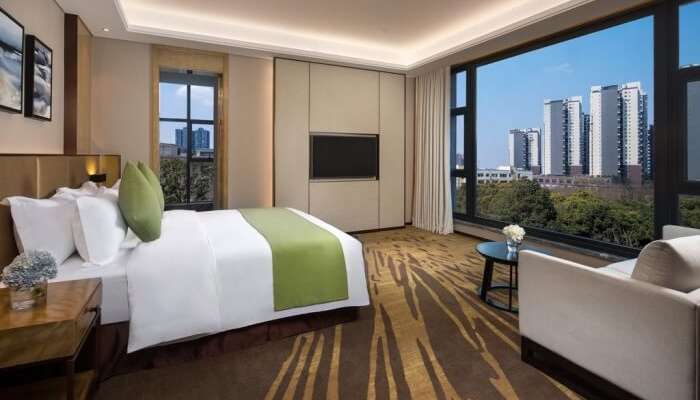 Known for their unmatched hospitality and added luxuries, the Leshan Ramada Hotel is the ideal place to stay if one wishes to make the best out of modern-day luxuries and utilities. The hotel delights its guests with complimentary wireless internet access, off-site hiking, and camping facilities, and the privilege to have unlimited access to the fitness center within the hotel site.
Suggested Read: 10 Best Restaurants In China To Indulge In A Dreamy Fine Dining Experience
2. AYARD OF CH'AN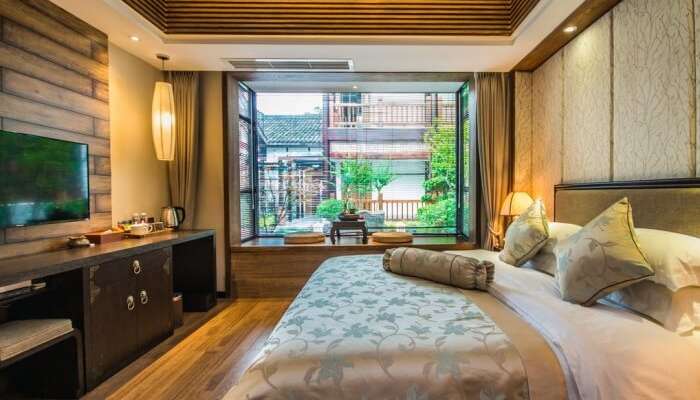 The AYARD OF CH'AN stands as a modern-day example of the wondrous beauty of traditional Chinese architecture. The rooms harmoniously marry the elegance of modern architecture and the ancient brilliance of Chinese designs. The hotel treats its staying guests with complimentary internet access and provides them with unlimited access to a garden and a sundeck. The AYARD OF CH'AN hotel is the ideal place to stay if one wishes to experience the one-of-a-kind vibrancy of Chinese culture and traditions.
3. Leshan Fodi Inn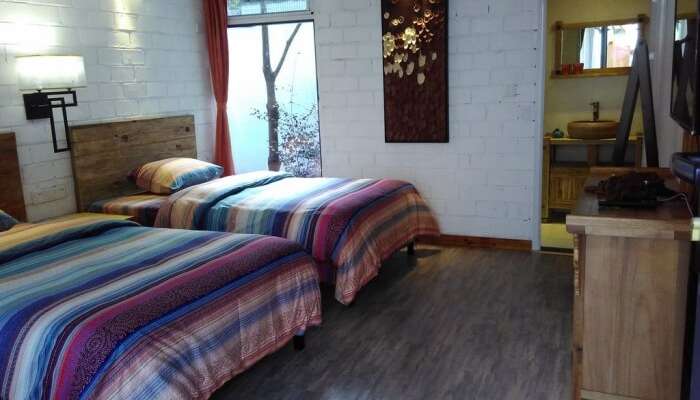 The Leshan Fodi Inn is the epitome of brilliance in simplicity. The Inn offers various choices of rooms to ensure that the guests can opt for the most convenient and efficient options within their place of stay. The Inn has various other features for its guests including access to a sun deck, garden, and BBQ facilities. Guests are served with breakfast in their respective rooms and can also opt to dine in the restaurant within the Inn.
Suggested Read: World's Largest Glass Skywalk Is High Up In China And We Can't Wait To Walk Down
How To Reach Leshan Giant Buddha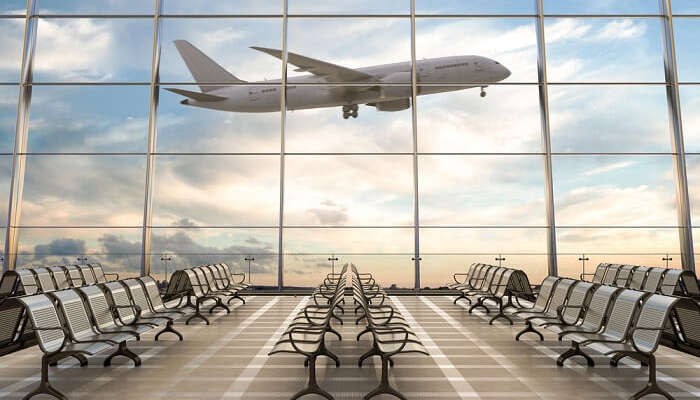 By Air: Leshan Giant statue of Buddha is situated at the east of Minjiang River, towards the center of the city across the river. The nearest airport to reach here is in Chengdu and one can then easily travel further to Leshan Giant Buddha from Chengdu.
By Rail: The Chengdu–Leshan–Mianyang intercity railway line has made connections easy and fast since 2014. The tourists can take the train to Leshan from the location of Chengdu, and they can reach Leshan in about an hour.
By Road: Expressway from Chengdu to Leshan makes for a very convenient way to travel to the spot by a taxi or a private car. The total road distance from Chengdu is around 160 km. Also hiring a taxi is a great idea to explore a small place like Leshan. Long-distance coaches from Chengdu area to Leshan can be availed by the travelers. A coach from Chengdu Bus Station arrives at Leshan Bus Station which is 7km from the Giant Buddha.
Leshan Giant Buddha Map
Here is the Leshan Giant Buddha location to help you travel to this attraction easily.
Further Read: 10 Tourist Places To Visit In China For An Epic Oriental Adventure!
Leshan is well renowned for its culture and Buddhist heritage. This gigantic statue, Leshan Giant Buddha is a unique creation that will spellbind you through its intricacies and terracotta figures. Book a trip to China with TravelTriangle and see this fascinating statue for yourself!
---
Looking To Book A Holiday Package?
Book memorable holidays on TravelTriangle with 650+ verified travel agents for 65+ domestic and international destinations.
---
Comments
comments