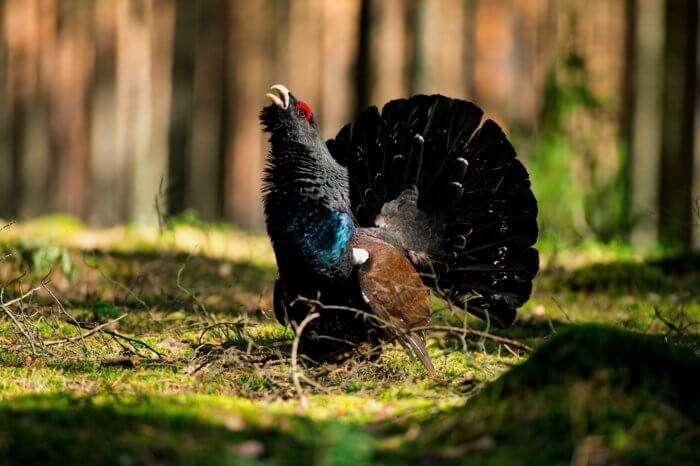 Situated in the south part of the Baltic region, Lituania is the most famous wildlife destination for adventure and nature lovers. Lithuania wildlife is mostly concentrated around various species of amazing birds, but there are other varieties too.
There are many wetlands where birds are found and species like, white stork, common crane, great bittern, Eagle, Tit and so many types of woodpeckers are seen here. You will find that here elk is a famous mammal and have different species here. If you love to catch the birds in your camera then this is the best place to visit. There are plenty of nature parks, forests available, which will mesmerize you always.
10 Spots To Witness Lithuania Wildlife
Check out the perfect list of most famous places where you can witness the wildside of Lithuania on your trip. Keep scrolling down and read along!
1. Bison Paddock Of Pasiliai

This is the most popular place to visit in this country. The largest amounts of wild animals in Lithuania are found here. Although for the growing need of population, hunting has lowered the animal count in this place, still some of the lives have been restored here. You will find Bison here in a large amount and they are not caged in the zoo, but they can roam around in this place freely. Recently here are 50 bison in the entire country and some of them are from this place. For 35 years 140 calves have been born here and more than half part of them was born free. This farm was turned into a regional park in 2005 so that tourists from other countries can visit these exotic animals. The place also has benches and outdoor fireplaces, so that anyone can enjoy the beauty of nature in the warmth of the hearth and rest their feet too.
Location: Petriškių k., Krekenavos pšt., 38305 Panevėžio r.
Timing: 9 Am - 6 Pm
Price: Adult: LT: 4, kids: LTL 2
2. Kursiu Nerija National Park

One of the famous national parks and the staple of Lithuania history and culture is present here. This place is 18 thousand hectares and the peninsula separates this place from the Baltic Sea. The sand stretches here for 98 kilometers, and the wind creates some sand dunes. Till 15th century this place was covered in impenetrable forest, but later for the need of growing population the trees were cut down and villages were built. After that 14 villages from this place got covered by the increasing sand and then after so many years, the reforestation started in this very place.Here you will find 37 types of rare plants, and some ethnographic architectural monuments, at the old part of this place as well. This park stands out as one of the most popular ones in this country, and visitors can avail guidebooks to enjoy this place.
Location: Naglių g. 8, Nida 93123, Lithuania
Timing: 9 Am - 6 Pm
Entry fee: 10 LTL
Must Read: Lithuania In Winter 2022: 10 Best Experiences That You Must Have For A Picture-Perfect Trip
3. Aleksotas Hill

Get the best view of the Kaunas city and visit this place at night time and you will forget the crowded city life. This hill is just 10 minutes walk from the city and the climb is very easy and you will get parking space in here. Enjoy the nice view in the evening time and don't forget to bring a flask of hot drink, thus, the small hike will be worth it. Take lots of pictures and spend some romantic moments at the hilltop with your partner.
Location: Kaunas, Lithuania
Timing: 24 hours
Entry fee: Free
4. Zemaitija National Park

This is wildlife in Lithuania and this place has the beautiful lake Plateliai and the serene beauty of the park is filled with cultural, natural and historical values. The park was established in 1991 and the goal of this place is to preserve the cultural heritage. Here you will find various types of insects, plants and small creatures. You can easily bring a packed lunch here and enjoy the afternoon with your family in this place. Here you will find the bike lanes where you can have a ride through the mesmerizing nature.
Location: Didžioji g. 10, Plateliai 90420, Lithuania
Timing: 8 Am - 5 Pm
Entry fee: 8.8 LTL
Suggested Read: Summer In Lithuania 2022: A Traveler's Guide To Enjoy A Vibrant Summer Vacation!
5. Dzukija National Park

This is another place where you can experience the Nature & Wildlife Areas in Lithuania, and this place was established in 1991, and in the region of Varena. The main goal was to protect the old villages, landscapes and the cultural and historical monuments along with the dense forest. The greenery mostly includes one tree, and various types of mushrooms and most of them are exported to foreign countries. You will find a large number of wild strawberries, raspberries, red bilberries and cranberries in the forest. The wildlife in the park mostly consists of eagles of rare species, foxes, hares, wolves, elks, wild boars.
Location: Vilniaus g. 3, Merkinė 65334, Lithuania
Timing: 8 Am - 5 Pm
Entry fee: 51 LTL
6. Aukstaitija National Park

The entire park is filled with lush greenery and eye-searing blue lakes which will be enough to take your breath away. Here you will find some 150 to 200-year-old pine trees and your guide will tell you all the specialty of this place. The park is the living area for elks, wild boars, and deer and the best highlight of this place is its 126 lakes and small islands.
Location: Ignalinos sen, Lithuania
Timing: 8 am to 3 pm
Entry fee: For 8 hours tour, 264 LTL, for two days, 810 LTL
Suggested Read: Top 20 Countries With Free Wifi: Stay Connected To Your Online World On The Go!
7. Vente Cape

This place was opened in 1929 and this is the major bird watching sites for tourists. Every year many travelers gather here to watch the migratory birds and their chirps fill the entire place. This place is the biggest one for especially birds and has a museum too.
Location: Kintu district, Silute, Lithuania
Timing: 7 am to 5 pm
Entry fee: free
Suggested Read: 10 Enticing Things To Do In Lithuania To Explore The Baltic State!
8. Neris Regional Park

The park is filled the Lithuanian history and the beauty of nature as the park is located in the valley of the Neris River, Europe. The old villages, the greenery all will make you feel at peace and you will certainly want to spend some hours in this place.
Location: 3 Vilniaus Street, Vilnius 14019, Lithuania
Timing: 24 hours
Entry fee: 3.4 LTL
Suggested Read: The Faroe Islands Bible: The Only Digital Guide You'll Ever Need
9. Tulkiarage Nature Path

The formation of this place was 400 years ago, and the huge meadows are the home for various animals and plants. The aquatic life is here is very rich and it's another bird paradise for tourists. You can spend 1 to 2 hours in here to evidence nature at its best and the animals too.
Location: Silute, Lithuania
Timing: 24 hours
Entry fee: free
10. Baltic Mythology Park

In this park, you will find 80 sculptures that are carved from oak and the place is surrounded by the witches' hill and it's a very beautiful place to spend some time. You must know that this is the last Pagan site in entire Europe and the perfect greenery trail displays the tribes of the Baltic region.
Location: Sausdravai Village, Kretinga, Lithuania
Timing: 8 Am - 5 Pm
Entry fee: 34.5 LTL
Further Read: 23 Indian Places That Look Exactly Like International Dream Destinations In 2022
Thus, here we have listed the 10 most popular wildlife places of Lithuania, and you will feel the rush of adventure in these selected places that you will not find in the crowded cities. If you are a lover of nature and its treasures then Lithuanian wildlife will take your breath away along with the mesmerizing valleys by the riverside, will always be the best tour ever. Take note of the different and rare types of plants and don't forget to take photos on your enticing international trip with TravelTriangle.
---
Looking To Book An International Holiday?
Book memorable holidays on TravelTriangle with 650+ verified travel agents for 65+ domestic and international destinations.
---