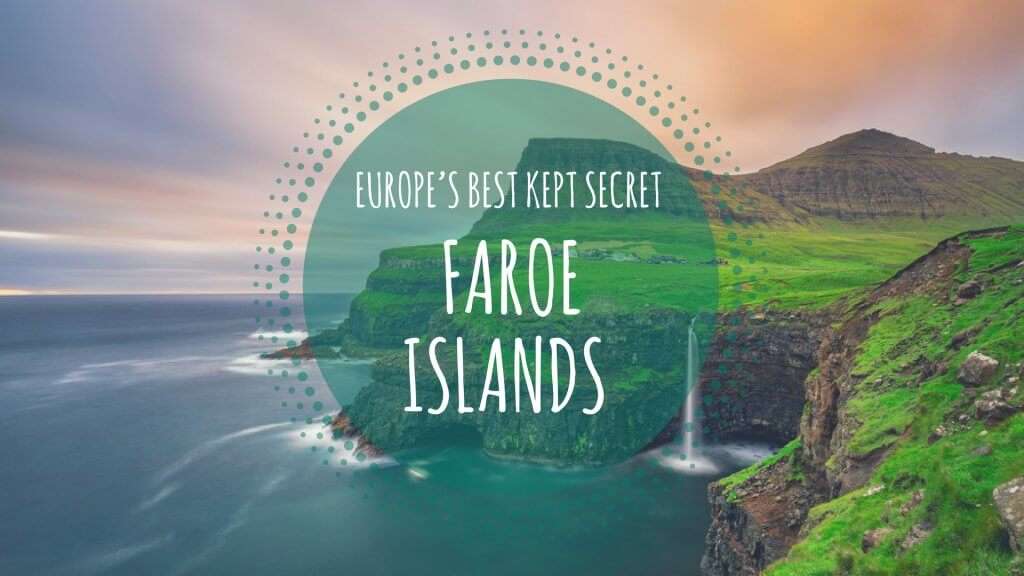 Untouched by time, the Faroe Islands is far from the usual traveler's radar. Hid between the Norwegian Sea and the North Atlantic, this group of 18 islands should be at the top of your travel goals this year. The untamed land above the dramatic gorges, wooden homes covered with unique turf roofs, boundless rolling moorlands, and the Atlantic puffins, all of it make the Faroe look like a real-life fresco.
About Faroe Islands
Characterized by narrow gorges, lofty mountains, and a sense of ethereal peace, the Faroe Islands population is about 50,000 people. The economy of the Faroe is based on fisheries and aquaculture, which continues to flourish. The island exports seafood to all six continents. Awesome, isn't it!
The people of Island, the Faroese, have preserved their ancient traditions that shape their lives. The blend of modern and traditional culture make the Faroe an interesting place for those who want to explore a culture that hasn't been untouched for centuries.
Weather Of The Faroe Islands
Let's be honest here, if you only love the feeling of sun rays piercing through your skin and filling your bones with warmth, then the Faroe Islands isn't your cup of tea.
Generally, the Faroe Islands weather is cool, windy, and cloudy. Variations in altitude, ocean currents, topography, and wind play a significant role in making the weather of the island highly unpredictable and differ drastically, even though distances between locations are short.
Also, it's common for one place in the Faroe Islands to experience rain, followed by snow, and then sun. Summer in the Faroe Islands is cool with an average temperature of 12°C. Winters in the Faroe are mild with an average temperature of 3°C.
Must Read: Most Popular Euro Trips To Plan 2022 Ultimate Escape
Faroe Island Visa

Citizens of the Nordic countries, which includes the three Scandinavian countries (Sweden, Norway, and Denmark), the three autonomous regions (the Faroe Islands, Greenland, and Åland Islands) and Iceland and Finland, with a valid passport from these countries, are not obliged to show a passport, but they have to produce a document of identification that includes a picture of them.
EU citizens are required to show a valid passport while entering the Faroe Islands. Showing an ID card is not sufficient most of the time. The citizens of Germany or Italy may enter with an ID card.
The citizens of SCHENGEN-countries (Austria, Belgium, Czech Republic, Denmark, Estonia, Finland, France, Germany, Greece, Hungary, Iceland, Italy, Latvia, Liechtenstein, Lithuania, Luxembourg, Malta, Netherlands, Norway, Poland, Portugal, Slovakia, Slovenia, Spain, Sweden, and Switzerland) and other countries must show a valid passport.
Tourists from countries where a visa is required must carry a visa valid for up to three months. The list of countries that require a visa to enter the Faroe is the same as for Denmark. Note that a visa for Denmark doesn't give you the right to enter the Faroe Islands, likewise, a visa for the Faroe doesn't give you the right to enter Denmark.
Suggested Read: 22 Chilling Winter Destinations In Europe That'll Melt Your Heart!
Events & Festivities On The Faroe Island

1. G! Festival: 11th – 14th July 2018
Celebrated in mid-July, in a tiny seaside village of Syðrugøta, G! Festival is a surreal mix of marvelous landscapes and Faroese hospitality. The gorgeous setting of the festival is made of five vibrant concert stages amid the colorful houses of the Faroe. The music festival is a wild party you can't afford to miss.
2. Summer Festival: In August
The festival that attracts the largest crowd to the Faroe Islands is the Summer Festival. Popular for its pop-centric style, the music festival caters to a wide range of audiences. Some of the biggest music artists that have performed at the festival are Westlife, The Scorpions, Lucas Graham, Ronan Keating, and Mika.
3. Summartónar Festival: Summer months
A grand collection of concerts, Summartónar Festival is organized by Faroese musicians and composers. The festival works as a platform for classical and contemporary music works for the artists. The music concerts run throughout the summer months across the Faroe Islands. The concerts are held in small villages of the Faroe, churches, and abandoned schools.
4. Country & Blue Festival: 14th – 16th June 2018
A happening music festival, Country & Blue Festival is a huge event on the Faroe Islands. It is held in the little village of Sørvágur. The theme of the festival is 'country'. Food is grilled over an open fire and people dance to the tune of country music wearing their cowboy costumes. Due to this festival, you'll surely like getting around the Faroe Islands!
5. Tórsfest: 21st – 22nd July 2018
A jazzy street party of Faroe, Tórsfest is held on the last Saturday before Olavsøka. If you love late-night parties, this is the one for you. There's music played till late night, featuring Faroese and international artists. Thousands of people gather in the Faroe to enjoy the vibrant atmosphere.
6. Winterjazz: End of January
The Faroe has its very own Winterjazz festival held at the end of January every year. This fest organizes a series of music concerts throughout the country to attract jazz lovers from around the world. Along with jazz, blues and folk are also performed.
Suggested Read: Their Honeymoon Trip To Europe Was So Beautiful, It Looks Like A Dream!
Accommodation In Faroe

Hotels: Hotel Havn, Hotel Tórshavn, Hotel Hafnia, Hotel Streym, Hotel Vagar, Hotel Foroyar, Hotel RunavÍk etc.
Hostels: Kerjalon Hostel and Bladypi Hostel
Guesthouses: Gjáargarður Guesthouse, Gásadalsgarður Guesthouse, Leisure Pearl, and Hilmarsstova
Faroe Islands accommodation also includes some absolutely wonderful summerhouses, homestays, or B&Bs that are set in scenic and more tranquil locations throughout the island. If you want a place all for yourself with a homely ambiance, you must go for these kinds of places to stay in the Faroe Islands.
Suggested Read: Our Trip To Europe Was Every Foodie's Dream Come True!
Places To Eat On The Island

In Tórshavn: Aarastova (European, Scandinavian), Ræst (Scandinavian), Restaurant Seven, Toscana (European and Italian), Umami (Veg, European), Fútastova, Etika (Japanese, Seafood, Veg-friendly), Indian Haven (Indian), Kaffihusid (European), Paname Cafe ( European), and Restaurant Hafnia (Danish, Scandinavian)
In Klaksvík: Frida Klaksvik Cafe (European and Veg-friendly), Fríða Kaffihús, Carthage Steak, Jacqson, Restaurant Hereford
In Mykines: Mykinesstova (Cafe, European), Ireon Restaurant, Agamemnon Pallas,
Belle Helene
In Nolsoy: Visit Nolsoy Cafe (Cafe, European), Maggie's Cafe (Bar, Pub, Cafe)
Hiking On The Faroe Islands

1. Villingardalsfjall
If you wish to witness some breathtaking views of the Faroe's coastal mountains from a cliff edge, you must hike to mountain Villingardalsfjall. A hike to this mountain offers views of the surrounding north islands.
Elevation of Villingardalsfjall: 2759.2 ft
Activities: Photography and hiking
Difficulty level: Moderate
Season: Year-round
Trail type: Out-and-back
2. Kallur Lighthouse
Lighthouse is photogenic, especially in a place like the Faroe Islands. There are many viewpoints at Kallur Lighthouse that offer Instagram-worthy views of the bright green mountains, sweeping ocean, and vertical cliffs. Situated on the serene island of Kalsoy, the lighthouse of Kallur is an ideal hiking destination.
Elevation of Kallur Lighthouse: 500 ft
Activities: Photography and hiking
Difficulty level: Easy
Season: Spring, Summer, Autumn
Trail type: Out-and-back
3. Fossa Waterfall
Wonderful ocean views, a wide stretch of wildflowers coloring the green meadows white and yellow, and the musical sound of the waterfall, a hike up to the second level of the Fossa Waterfall is a must-do for photography, nature, and adventure enthusiasts.
Elevation of Fossa Waterfall: 250 ft
Activities: Hiking and photography
Difficulty level: Moderate
Season: Spring, Summer, Autumn
Trail type: Out-and-back
4. Trøllkonufingur
Comparatively easier, a hike to Trøllkonufingur lets you witness the most dramatic scenery, which includes the famous Trollwoman's Finger and the floating lake. While the entire stretch is easy to hike, the trail that takes you down to the waterfall is a bit trickier. Be careful there. If you're into landscape photography, this place is absolutely inspiring.
Elevation of Trøllkonufingur: 465. 9 ft
Activities: Photography and hiking
Difficulty level: Easy
Season: Year round
Trail type: Loop
5. Lake Leitisvatn
The largest lake in the Faroe Islands, Lake Leitisvatn is known for its appearance that makes it look as if it's hanging over the ocean. This incredibly easy hike won't take more than an hour to reach from the trailhead to the lake viewpoint. The grass on the trail can be slippery due to moisture in the air, so wear appropriate footwear while hiking.
Activities: Photography and hiking
Difficulty level: Easy
Season: Year-round
Trail type: Out-and-back
Hiking guidelines one must respect for their own safety
Tell someone about your hiking plans especially when you're hiking solo. You won't see many people during hiking for any kind of help, so it's important to tell them about your whereabouts (in case anything goes wrong, they can help).
Since the weather of the Faroe changes so quickly, always carry an extra pair of clothes, a raincoat, and food & water.
Even if you love to hike solo, it's suggested that you go with a partner to avoid any mishaps.
Always, always close the gates behind you.
Beware of the loose stones.
You can't pitch a tent in the outfields without permission from the landowners.
Since the grass is damp and the trails are muddy, it's suggested that you wear waterproof shoes.
Suggested Read: 10 Highest Mountain Peaks To Conquer In The Alps Mountains
Faroese Language: Useful Terms

Image Source
Faroese is the national language of the Faroe Island and Danish is the second official language. English is also widely spoken, especially by younger people of the Faroe.
Here are some useful phrases for you:
1. Hi: Hey (just like you say in English)
2. I can't speak Faroese (well): Ey dugi ikki (so væl) at tosa føroyskt
Pronunciation: Yeg du-chee ich-e (so vael) at tosah Fur-oy-sk.
3. I'm sorry: Orsakið meg.
Pronunciation: Or-sha-kee mey
4. Goodbye: Farvæl
Pronunciation: Far-vyel
5. Is there someone here who speaks English?: Dugir nakar her eingilskt?
Pronunciation: Du-cheer nak-ar her ain-gilsk?
6. Where is the toilet?: Hvar er vesi?
Pronunciation: Kvar er ve-See?
7. I need your help: Eg tørvi tíni hjálp.
Pronunciation: Ey tuhr-vi tooin-eh hyolp
8. Can I use your phone?: Kann eg læna telefonina?
Pronunciation: Kann ey lye-na te-le-fon-een-a
9. How much does that cost?: Hvat kostar tað?
Pronunciation: Kvat kost-ar tay?
10. Thank You: Takk
Pronunciation: Tahk
11. Welcome: Vælkomin
Pronunciation: Vael-komin
12. Where does this bus go?: Hvar fer bussurin?
Pronunciation: Kvar fer buss-ur-in?
13. When does the bus leave?: Nær fer bussurin?
Pronunciation: Nyer fer buss-ur-een?
14. Do you have any rooms available?: Eru nøkur leys kømur?
Pronunciation: Eh-roo nuhk-ur luhys kuhm-ur
15. How are you?: Hvussu hevur tú tað?
Pronunciation: Kvuss-u hev-ur too tay?
16. What is your name?: Hvussu eita tygum?
Pronunciation: Kvuss-u eit-a tyg-um?
17. Excuse me (in order to get attention) Orsaka. "Or-sha-ka" and Excuse me (in order to beg pardon) Umskylda "Um-shil-da"
And here comes the most important one!
One Beer: Eina Øl
Pronunciation: Eye-nah Uhl
Suggested Read: DO NOT Leave For Europe Without Packing These 8 Things
Things To Do On The Faroe Islands

Explore the small islands of Mykines if you ever wanted to watch thousands of puffins.
Go on a hike to Saksun, which is a postcard-perfect village in the Faroe.
Go deep-sea diving to explore the seaweed forest, the unspoiled seabed, and the exciting marine life.
Fishing is quite common in the Faroe, choose between deep-sea fishing and fly fishing.
Try the traditional Faroese food like fermented lamb and fish, rye bread, stewed rhubarb, and blood sausage.
Witness the pristine mountains, lakes, and valleys of the Faroe on a bicycle.
Get your heart racing with kayaking, cliff jumping, rappelling, snorkeling, speed boating, and much more.
The breed of Faroese horses is unique and you must them at least once.
What To Wear On The Island

While you're in the Faroe, YOU WILL NEED LAYERS in all seasons. Here's a list of essentials you need to pack.
A long sleeve fleece jacket to keep you warm, even if you're traveling in summer.
Thermal underwear because the temperature can go below zero and you'll need it while camping or hiking.
A thin waterproof jacket or a raincoat as it rains every now and then in the Faroe.
Carry one or two quick-dry pants. They're lightweight, comfortable, and dries quickly after a heavy rain session.
A pair of anti-slip and waterproof hiking shoes are a must. Don't go for the sturdy and bulky trekking shoes, light is better.
Budget For The Island

Honestly, the Faroe is expensive. While accommodation rates start from 40 euros per person for a hostel bed and about 100 euros for a 3-star property, the restaurants start at 20 euros a meal and ferries cost 15 euros to and fro. But, you can save a lot of money by making your own meal, using public transport instead of hiring a private car, pitching your tent to save money on accommodation (wherever it's legal on the island).
Suggested Read: 10 Extraordinary Things To Do During Your Summer Holidays In Europe
How To Reach The Faroe Islands

By Air
If you want to fly to the Faroe, you'll be relieved to hear that non-stop flights are available to get you there from destinations, such as Edinburgh (Scotland), Reykjavik (Iceland), Copenhagen (Denmark), and Bergen (Norway). One can also take seasonal flights that are available from Barcelona, Mallorca, Gran Canary Islands, and Malta.
The two airlines that provide the flying service to the Faroe are Atlantic Airways and Scandinavian Airlines.
By Water
If you have plenty of time and want to experience every bit of the journey to the Faroe, ferry from Iceland and Denmark is the perfect option. If you want to know how to get to Faroe Islands, then this option will surely help you out here!

Image Source
White boxes: Bus route number
Black boxes: Ferry route number
Further Read: 22 Best Honeymoon Destinations In Europe In May, June, and July
Plan a Trip with TravelTriangle to Europe without wasting a moment and make the best memories of your life. Also, do not forget to share it with your friends and folks. So, did this entice you enough? We wouldn't blame you if you get packing already!
People Also Read:
Greek Islands Azores Islands Croatian Islands
---
Looking To Book An International Holiday?
Book memorable holidays on TravelTriangle with 650+ verified travel agents for 65+ domestic and international destinations.
---