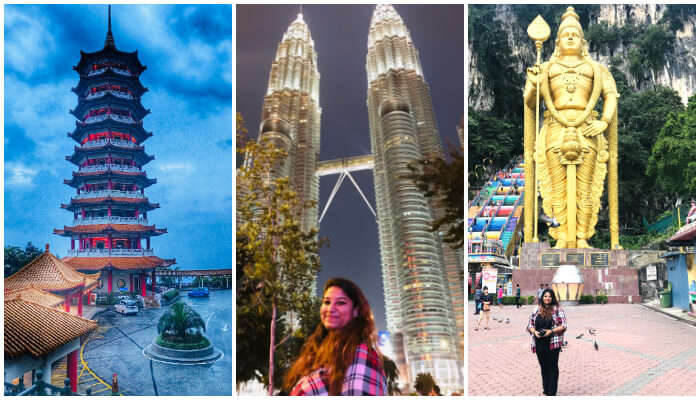 Striking cityscapes, sandy beaches, and pristine islands were all that I had heard about Malaysia till I saw it all for real on a holiday there in October. I was pretty excited about my Malaysia trip; the itinerary of which was quite packed with lots of interesting and thrilling activities, all thanks to Tourism Malaysia. This trip was 6 days of unlimited fun and limited sleep. With flights in the air, scooters on land, and jet skis on the water, I traversed from India to Malaysia on one of my best trips till date. Have a look at this ultimate Malaysia travel guide and I bet you'd be already planning yours!
Itinerary Of 6 Days Trip To Malaysia
Day 1: Arrival at Kuala Lumpur and city sightseeing
Day 2: Transfer to Genting and Genting attractions
Day 3: Arrival at Langkawi and duty-free shopping
Day 4: Island hopping via jet ski tour
Day 5: Ziplining and sunset cruise
Day 6: Arrival at New Delhi
Weather In Malaysia In October
I covered Kuala Lumpur, Genting Highlands, and Langkawi on this trip to Malaysia, and the weather was different at all the three places. The temperature was moderate and humid as it was raining in Kuala Lumpur in October. Genting Highlands was much cooler in comparison to KL, but one didn't really need thermals. It was a pleasant weather in Genting in October. While it was quite warm in Langkawi with temperatures ranging from 25°C to 31°C.
My Experiences On A 6 Day Trip To Malaysia
I visited Malaysia in October, and it was one amazing trip organized by Malaysia Tourism. With 9 other individuals on this trip, I had an amazing time seeing the best of Malaysia and staying at some of the most beautiful properties, enjoying the food at the best restaurants and a lot more. Read on to know what this 6 day trip to Malaysia had in store for me.
1. Kuala Lumpur Sightseeing

My trip to Malaysia began with a little over a 5-hour flight from New Delhi to Kuala Lumpur and I was pretty excited about it. After settling at the hotel and having lunch there, I headed for the first attraction of my 6 day Malaysia trip which was Batu Caves. These were a series of caves and cave temples which had 272 colored steps to reach to the top. The first site of this attraction was the golden gleam of the beautiful Lord Murugan statue, which also happens to be the world's tallest Murugan statue, standing tall at a height of 47.2 mts. The climb was a bit tedious but the temples and the views from atop were beautiful. The temple complex below and the openings above in the limestone caves, from where the light peaked in, looked lovely after the climb.
After Batu Caves, I headed to the Central Market, which was quite close to Chinatown. The first thing that I noticed around Central Market was the graffiti, both interesting and vibrant. The Central Market itself is a heritage building in Malaysia and houses over 300 shops that have art, culture, food, and experiences. My favorite stop at this market was the Fish Spa, which was a first time experience for me. Ticklish in the beginning, it was fun after the initial one or two minutes. The market also had Batik paintings, souvenirs and other artsy stuff including bundles of postcards in the form of old printed photographs.
The next stop was a crossroad from where I got the perfect view of the Petronas Twin Towers, the tallest building in the world till 2004, and the tallest twin towers till date. After clicking a few pictures with this beauty, I headed to another famous tower of Kuala Lumpur, Menara Kuala Lumpur. Here I had dinner at Atmosphere 360, which is a restaurant 282m above ground level and with the look of a spaceship. Later I also went to the observation deck from where I enjoyed breathtaking views of the city of Kuala Lumpur. This was all that Kuala Lumpur sightseeing had in store for us.
19 Best Places To Visit In Kuala Lumpur In 2022: The City Of Lights
2. A Day At Genting Highlands

No Malaysia travel guide is complete without a mention of Genting Highlands. And another highlight of my 6 day Malaysia trip was a day at Genting Highlands. A hill resort in Malaysia, Genting is a great add on to one's itinerary. The winding roads and green sideways made the journey even more beautiful. Genting is another world in itself with loads of indoor and outdoor activities. The outdoor theme park was closed at the moment, but that did not stop me from having fun.
The tour started with lunch at Jom Makan Street Food, where I had tasty South Indian food. The next stop was the Sky Symphony show, which is also the only free thing to enjoy at Genting Highlands. It is a visual marvel, a storytelling in the sky with the help of thousands of balls that dance in the sky and is quite entertaining. Next, I headed to experience The Void, which was a thrilling virtual reality experience. Based on Hollywood storylines, there are different missions and one can experience it in teams of 4. It was one of the most thrilling experiences of the entire trip.
The day did not just end here, as I was still to experience the exciting ropeway of Genting. And soon I started the descend to Chin Swee Temple in Genting. It began to rain as soon as I took our glass-bottom gondola. The views of the dense green forest below and all around were terrific. The glass bottom of the gondola added to the thrill, and the environs turned misty and beautiful. By the time I reached the temple, the clouds cleared a bit, and I got amazing views of this 9 storey Chinese temple. This was one of the most picturesque sites of Genting.
The day at Genting ended with a visit to the Snow World where one could enjoy tobogganing & click pictures inside igloo houses.
7 Nature Suffused Soul Enchanting Hill Stations In Malaysia
3. Cenang Walking Tour




If you are looking for some duty-free shopping, then the duty-free stores at Langkawi are the best places to buy chocolates, liquors, and cigars. Liquor is quite cheaply priced and there is quite a variety of chocolates available. Right outside the duty-free stores which are located at Cenang street, there are a number of stores for street shopping in Langkawi. One can get souvenirs, local jewelry, craft items, clothes, perfumes and quirky bags at these stores. There is a sidewalk too with a number of food trucks in Cenang, where one can enjoy the local food of Langkawi.
A Complete Guide For A Trip To Langkawi Island In 2022
4. Island Hopping On A Jet Ski

Langkawi, an archipelago of 99 islands, is drop-dead gorgeous. The clear blue waters, white-sand beaches, and dense green environs, all add to the magnificence of this archipelago. 4 out of a total of 99 islands are inhabited here and on a 4 hour Jet Ski tour with Mega Water Sports, I went island hopping to some inhabited while some unoccupied islands. The first stop was the freshwater lake of Dayang Bunting which is also called the Lake of the Pregnant Maiden. A short hike took us to this beautiful lake that was surrounded by dense forests and had refreshing cool water.
After a swim here I proceeded to the mangroves and limestone caves and later stopped at a remote island before I finally headed back for the mainland. The instructor was quite patient and gave the instructions well before the tour began. All in all, it was quite an adventure and the best way to explore different islands of Langkawi.
27 Exotic Places To Visit In Langkawi For Soaking In The Soothing 2022 Malay Vibes
5. Sky High Langkawi Cable Car

Langkawi isn't just about the blues and the depth of the sea, but it is also about the mountains and scaling heights. The highest cable car of Malaysia, Langkawi Cable Car takes one through the eastern cliffs of Mt. Machinchang, above the lush green forests. The observation deck offered views of the most pristine sunset. One can even have a wedding here, atop the world, in the clouds, and lock vows and promises forever and put a marriage lock at the bridge here.
The sunset scenes from atop were the most beautiful of this 6 day Malaysia trip. The Sky Bridge was closed for safety reasons as it was drizzling, but the mere sight of it was thrilling and exciting. I would love to go back to Langkawi, just to walk on the Langkawi Sky Bridge.
10 Best Things To Do In Langkawi That Make It A Traveler's Paradise
6. Ziplining Through The Langkawi Rainforest

Another amazing experience in Langkawi was ziplining through one of the oldest rainforests in the world. And Umgawa Legendary Adventures made it possible with complete assistance, amazing guides, and entertaining time through the 12 ziplines and 3 bridges that took around 2.5 hours to finish. It was great fun soaring from one end to another at the highest being 80 meters above the ground and catching glimpses of the Andaman Sea faraway. The descent was made by abseiling which was equally fun.
8 Places Every Backpacker Must See On Their Trip To Malaysia
7. Music And Dance At The Sunset Cruise

The 6 day Malaysia trip ended with a lovely evening on a cruise ship. I rushed to the cruise ship in a smaller boat as I had missed it at the dock. The speedy boat ride was quite thrilling and once onboard, I was greeted with friendly smiles and drinks. The cruise took us around in the calm waters of the sea and as the sun went down, the energy levels on the cruise ship rose. There was music, dance, and food and as everyone danced to some Bollywood music, that evening, I ended the trip on a memorable note.
Hotels in KL, Genting And Langkawi

I stayed in 3 different hotels on our 6 day Malaysia trip. The first one was the Tamu Hotel & Suites in Kuala Lumpur. It was a nice property with helpful staff. The views from the rooms were amazing and I could see both KL Tower and Petronas Twin Towers. The rooms were also quite spacious with air conditioning and WiFi facility. There weren't a lot of food options for vegetarians the first day at lunch, but the manager was kind enough to specially get fried rice cooked for us, which was delicious.
The next place where I stayed on my Malaysia holiday was at Genting Highlands at Resorts World Genting. I got the Deluxe room which was later upgraded to Superior Deluxe. The Deluxe rooms though small with approx. 180 sq ft space had WiFi and no views available. The Superior Deluxe on the other hand with approx. 320 sq ft space, had beautiful views of the winding roads leading to Genting Highlands but no WiFi. So, get your priorities straight before you choose the room here.
The last place where I stayed was at The Frangipani Langkawi Resort & Spa in Langkawi. I stayed in the Deluxe Rooms which were the most basic at this lovely property. The Frangipani Langkawi Resort & Spa was a beachfront property where I didn't get a lot of time to spend, but overall it was a beautiful and clean space. I was welcomed with garlands and a welcome drink, and everyone was helpful at the property.
Food In Malaysia
If you are a vegetarian, then food can be a bit tricky, especially when traveling during off-season periods because buffets do not have a lot of vegetarian options in Malaysia. But there are always options available. Also, coconut water is found in abundance here, and one can find it easily everywhere in Malaysia.
During my Malaysia trip, one place that really stood out for me was Huggin Hippo Langkawi. It was a chic restaurant with views of the sea. The owner of this place was very hospitable and everything I tried here was super delicious. It was no doubt the best meal of my entire 6 days Malaysia trip. Also, the desserts here were really tasty, and poured of love and warmth! Do try this place, on your trip to Langkawi.
Shopping In Malaysia
If one is looking for duty-free shopping, then Langkawi is the best place for it. One can buy chocolates and liquor here. For souvenirs and artsy stuff, I explored Cenang street and found really amazing places with earrings, bookmarks, and other aesthetic items. One can also buy clothes for the beach, perfumes, and more on this street here. If one is looking for more high-end shopping then, Genting Premium outlet is that place to shop at. Other than these two destinations, one can also check out Central Market in Kuala Lumpur was Batik and other authentic Malaysian things and Chinatown for street shopping.
What To Pack For Malaysia
I traveled to Malaysia in October and the weather was good for summer clothes. Genting Highlands was cold compared to Kuala Lumpur and Langkawi but didn't require a thermal.
Malaysia Travel Tips
I traveled to Malaysia for the first time, and these are a few things that I think would help any first-timer here:
If you are traveling to Malaysia in October, then carry an umbrella as it can begin to rain anytime. The showers are light and it doesn't rain for a long time, but an umbrella would always be handy.
Keep a hard copy of the visa and itinerary as you might need it during immigration.
Always carry drinking water with oneself. Refill your bottles at the hotel or wherever you find drinking water available as water is expensive in Malaysia.
Carry a swimsuit if you are planning on trying the watersports in Langkawi.
Apply sunscreen well, because the sun in Langkawi won't just tan, but might give you burns, especially on longer tours like island hopping jet ski, under the sun.
Make sure that you are properly covered when visiting Batu Caves or you'll have to rent a sarong at the temple complex below. The dress or shorts should be below the knees, and one's shoulders covered.
Always carry dry food items with you, because at times you might not find the food of your choice.
Carry an international adapter as the plug points might not function without it.
One can only carry 1 liter of alcohol from Langkawi to Kuala Lumpur, so buy wisely.
Abide by the timings given by the guide or you'll miss out on experiences.
Langkawi resorts are beautiful and if you are planning to stay at one, then keep a day entirely free, just to enjoy the property and relax at the beach.
How To Reach Malaysia

One can take a flight to Kuala Lumpur from various cities in India like New Delhi and Mumbai. I took Malindo airlines from Delhi to Kuala Lumpur and back. There was no food available in the flight, for those who had pre-booked a meal, neither for purchase. So, if you plan to fly with Malindo, make sure you are carrying your own food as it is around 5.5 hours flight from one point to another.
21 Malaysia Islands You Must Visit In 2022 For Having The Best Vacation Ever
This 6 day Malaysia holiday was spectacular, all thanks to Tourism Malaysia for planning an amazing itinerary. If you want to experience both highlands and beaches together, plan a similar trip to Malaysia with TravelTriangle and have an awesome time in Malaysia.