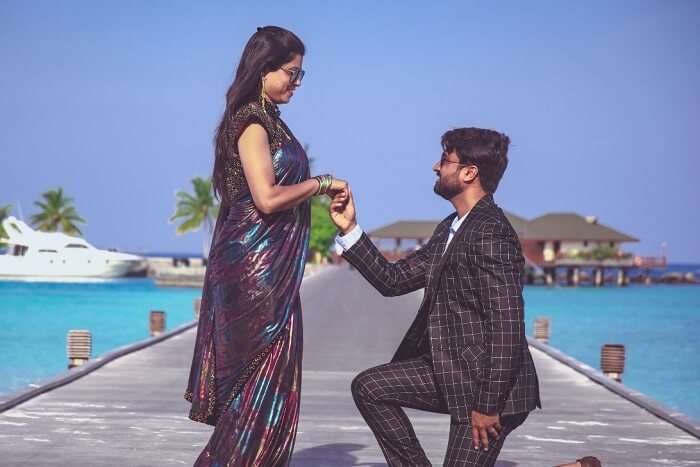 With an umpteen number of beaches and extremely pleasant weather all year round, Maldives for couples, is the ultimate holiday destination. Wooing them with lavish over-water villas and thrilling beach sports, it is a popular choice when it comes to romantic trips. For those who are all about relaxing and taking a break, this is the place to be. Mayank and his wife just came back from their honeymoon in the Maldives and they have a lot to share!
Maldives had my heart the moment I laid my eyes upon some pictures of it's breathtaking beaches. In that moment, I had already decided where I was going to my special one on our honeymoon. Fast forward a few years and there I was my wife. We both had a wonderful time and our little escape to this island was everything we hoped for and more. The beautiful sunsets we saw every day were definitely the highlight of our trip but there certainly is more to the story!
Details Of Our 5 Day Honeymoon Trip to Maldives
Trip Type: Honeymoon Trip
Cost: INR 165000
No. Of People: 2
Duration: 4 Nights 5 Days
Inclusions: Breakfast, Lunch, Dinner, Airport Transfer
Exclusions: Airfare, Travel Insurance
3 Days In Maldives: This Picture-Perfect Honeymoon Escapade Will Make You Jealous!
Maldives For Couples: Our Customised Itinerary
Day 1: Arrival and transfer to hotel
Day 2: Beach and water activities
Day 3: Leisure day spent by the beach
Day 4: On-site sports and spa services
Day 5: Departure back home
Weather In Maldives In March
We planned our 5-day trip to Maldives during the month of March and encountered an a very pleasant weather. It did get a little humid at times, but never interrupted with our schedule. We would recommended visiting during January and February if you want to avoid the humidity.
Experiences To Enjoy In Maldives For Couples
Well, there certainly is a lot to indulge in and experience in the Maldives, especially for couples. We enjoyed a bunch of exciting experiences that made out honeymoon an extremely special and memorable affair.
1. Catching the sunset


Each day that we spent in here during our 5-day trip to Maldives would not be complete without catching the amazing sunset. It truly is beyond words and something that will leave you mesmerised. The sky is painted in beautiful shades of pink and orange, making it the perfect setting for a walk on the beach.
Celebrating Valentine's Day In Style: Our Romantic Trip To Maldives
2. Getting our share of thrill at the beach





The entire essence of Maldives lies in the beauty of its beaches. We spent a major portion of our trip at the beach indulging in some exciting water sports in Maldives. We went snorkeling and kayaking which was so much fun! We even caught a glimpse of some exotic and colourful fishes underneath the water. The water at the beach was pretty calm and perfect to enjoy the beach activities.
Island Hopping In Maldives: A Tryst With The Turquoise Waters
3. Cycling around the resort


Another great experience we enjoyed on the island was renting a bike and taking it out to explore the nearby areas. There's certainly not a lot to see, but indeed plenty to do! Renting a bike is one way of getting around the island and find some great spots to capture pictures!
Snorkeling In Maldives: Your Ultimate Guide To Explore The World Under Water In 2022
4. Taking part in resort activities



The thing about Maldives is that your trip truly depend on the resort you to stay at. Our was simply wonderful and had some fantastic activities planned throughout the day. Couples activities like water Zumba and dance gala were organised in the evening that we enjoyed quite a lot. We met some other couples as well who holidaying there as well.
Apart from this, we also explored the facilities of our resort such as the sauna, jacuzzi and even the games room. We enjoyed a game of pool and tennis before heading to the beach where the resort had planned an event where we got to witness the sting ray. All in all it was extremely fun and added to many memories we created on our honeymoon.
Biyadhoo Island: A Perfect Hot Spot For Enjoying The Lustrous Beach Vibes Of Maldives
5. Time for a photoshoot








I'm a professional photographer, and of course I had to get some amazing shots on my honeymoon. We spent the last day our trip capturing some wonderful pictures. The Maldives is truly a spectacular sight to behold right from the moment that your plane begins to descend to the airport. So make sure to carry your camera so that you can catch some of the breathtaking sights!
Our Hotel In Maldives – Paradise Island Resort & Spa
We stayed at the Paradise Island Resort & Spa which is a 5 star property on North Male Atoll. A little steep on the pocket but I have to say the experience was worth it! Right from the moment we were welcomed with a delicious drink to bidding our farewell, every moment spent on the Resort was a memorable one. We happened to spend the first three days in the overwater villas after which we moved to the beachside villa. I would recommend enjoying both experiences on your trip!
Food In Maldives

Maldives' food is something we enjoyed thoroughly during our 5-days trip to Maldives. We however had opted for a three course meal for all days at the on-site restaurant. But I would recommended eating out as well and exploring the local cuisine at its best. The food at our resort was simply delicious with some great vegetarian options for us as well!
Maldives Travel Tips
Definitely carry a lot of sunscreen because you will spend most of your day at the beach!
Carry your swimming costume for sure, but also carry other gear like underwater goggles if you have them at home. Renting can turn out to be a little expensive in the Maldives.
Save yourself a trip to the medical store! Carry everything you need including medicines and bandages for emergencies.
If you can, definitely go island hopping and enjoy a plane ride over the Maldives.
Our Experience With TravelTriangle
While we enjoyed every moment we spent in the Maldives, most of our interaction remained restricted to the resort. We had an amazing time, however we would have appreciated a more frequent assistance.
Huvahendhoo Island: An Encounter With The Exuberant Maldives Island Resort!
With its jaw-dropping sunsets and mesmerising beaches, Maldives for couples is the perfect honeymoon retreat. Even the most amazing pictures don't do justice to the beauty of the islands. If you too are awed by this island nation, go ahead and see for yourself. Plan a trip to Maldives with your better half and create some magical moments to cherish for a lifetime.
Frequently Asked Questions About Maldives for couples
Which is the best month to visit Maldives?
While we visited in March, anytime between January to April seems like a great time to visit. The sun is out and it's only a little humid, making it the perfect weather for water sports!
Why is Maldives famous for honeymoon?
Well I would say, it is certainly the best place if you are looking for privacy and isolation. If you don't like packed itineraries and are looking to relax with your special one, then Maldives is a great option.
How many days does one need in Maldives?
I would say that depends on the island that you are staying on, but about 4-5 days seems sufficient.
Which is the best island to stay in Maldives?
If you want to stay in the heart of action with everything is easily accessible, Male would be perfect. However if you are looking for isolation there are some island resorts farther south that you can consider as well.