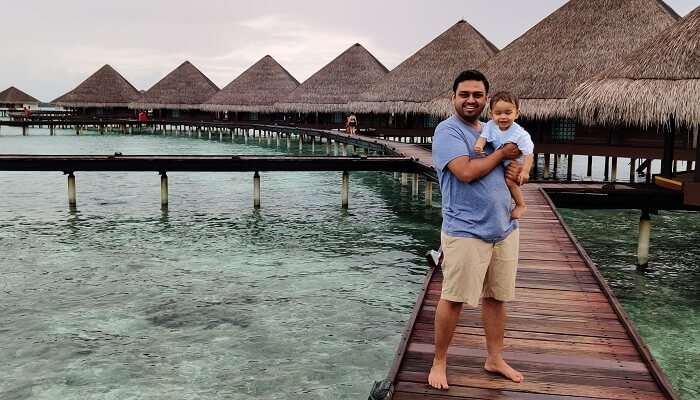 Maldives, a nation the shouts of romance and love, is a destination that is often tagged as a spot for honeymooners or couple getaways. Here we have Gaurav Vijay breaking all the myths and showing the world that a vacation to Maldives is equally exciting with a baby as it is with the partner. Offering the finest concoction of lush greens, pristine beaches, tranquil surroundings, and pleasant weather, Maldives in November is nothing less than heaven on earth. Go through this travel story about how Gaurav spent his November with his wife and their baby nestled in the serenity of Maldives!
I live in Switzerland with my wife and my baby, and we were traveling to Bangalore to attend a wedding. It had been a roller coaster since the baby arrived and both my wife and I knew that a vacation was exactly what we needed. It had been pretty long that we traveled somewhere to rejuvenate ourselves and since Maldives was already on our bucket list, we didn't give it a second thought. We also had this in our minds that it's better to confine to one place than visit other places with an infant, and what better place than the beautiful island beaches of the Maldives!
Package Details About The Family Trip To Maldives In November
Trip Type: Family Trip
Cost: INR 51,750 Per Person
No. Of People: 2 Adults, 1 Child
Duration: 3 Days
Inclusions: Breakfast And Dinner, Airport Transfers, Air Fare, All Taxes, Complementary Welcome Drink, Accommodation
Exclusions: Lunch, Travel Insurance
18 Spellbinding Water Villas In Maldives In 2022 For A Calming Vacation
Weather In Maldives In November
Maldives weather in November is nothing less than heavenly. The pleasant temperature and cool climate made our family vacation extremely comfortable. It rained for a couple of hours every day but it never turned into a hindrance for us. Although, since we had a baby with us, it was a little difficult for him. We had to change his clothes a little more frequently. However, the cloudy weather was surely a blessing in disguise. It simply added to our already impeccable experience.
Our Experiences In Maldives In November
Since it was a leisure vacation for us, we didn't really plan on engaging in any activity. Our experience was still very refreshing and rejuvenating. Here are our top three favorite moments from the vacation we took to Maldives in November.
1. Witnessing The Sun Set From Jetty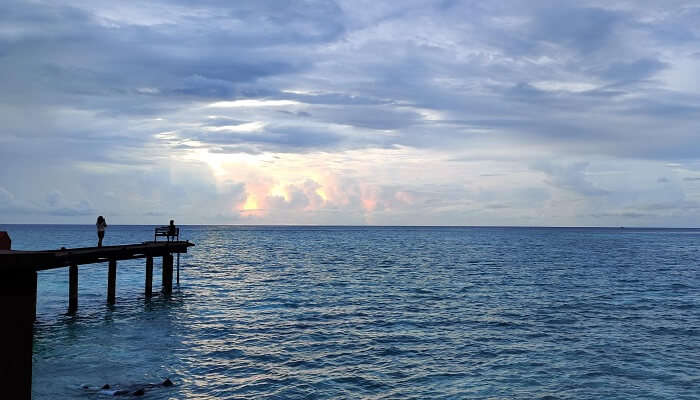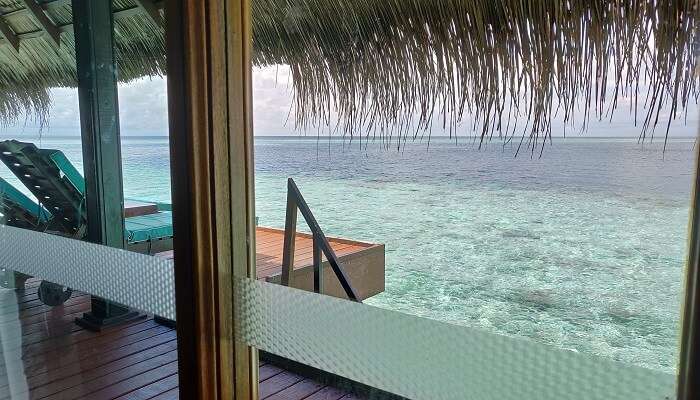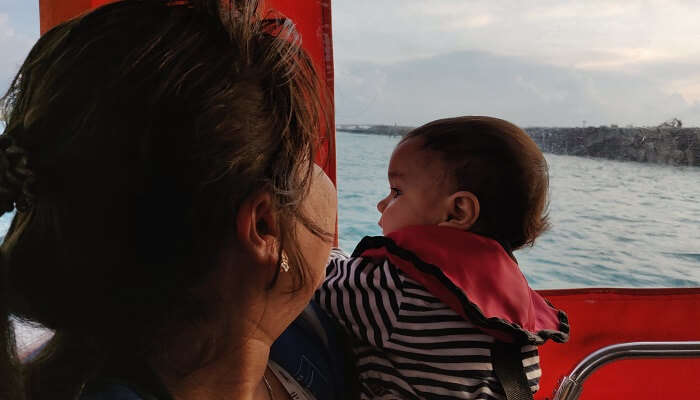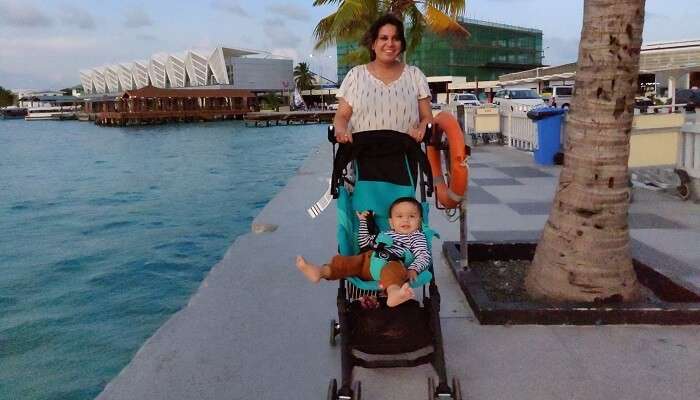 Our beautiful moments commenced from the time we landed on the island nation. In order to reach our island, we had to take a jetty from the airport. And since we reached right before sunset, it was nothing less than perfect timing for us. We managed to witness and capture the enchanting colors of the clouds that were in hues of yellow, orange, and pink as the sun was setting on the ocean. It simply took our breaths away.
 Maldives Honeymoon: An Exquisite Guide For Your Romantic Escapade In 2022!
2. Staying In The Water Villa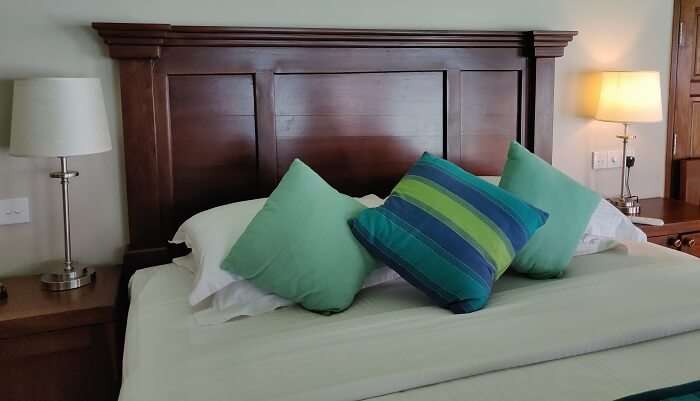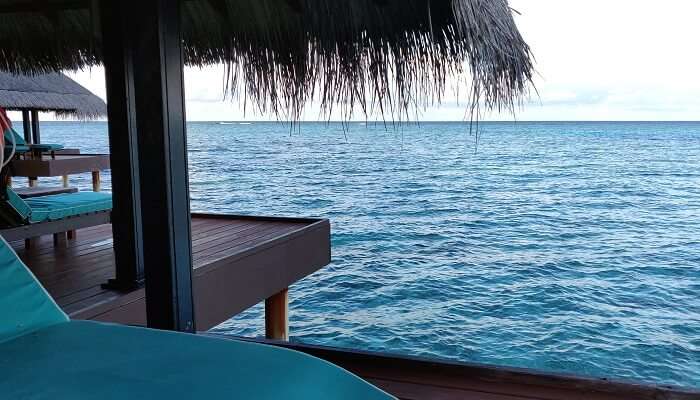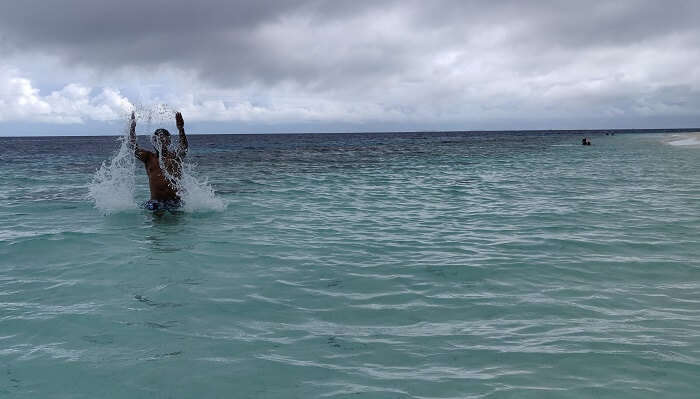 It might be a cliche, but residing in a water villa, especially for couples, is something we surely recommend. The vibes of lavishness oozing out of the villa was truly unmatchable. We could see various exotic species of the marine life of the Maldives from our villa itself and this was a magical experience. We also got to witness an eagle ray which was much bigger than a human, baby sharks, and other colorful fishes from the top of our water villa. It was a very exhilarating experience for us all.
3. Shark Excursions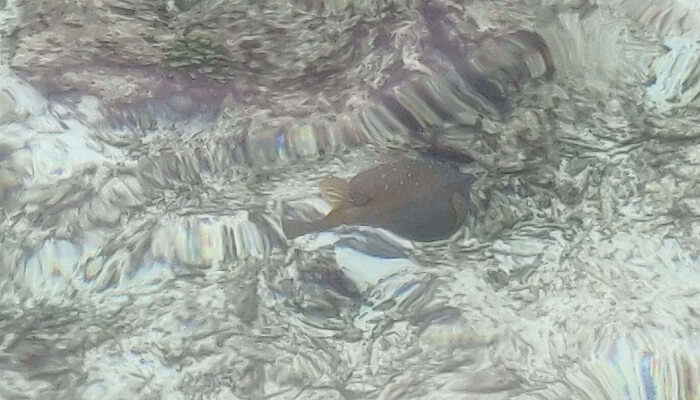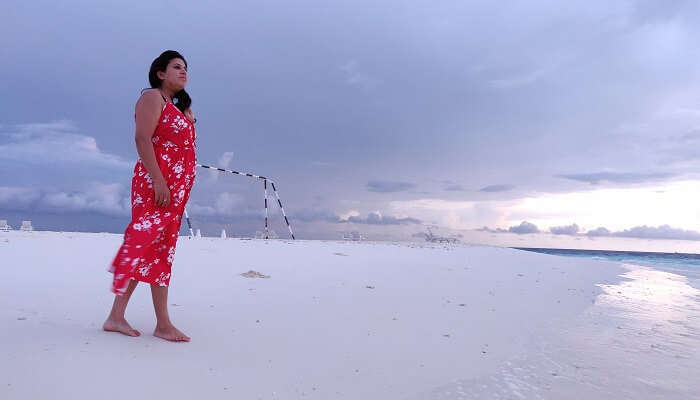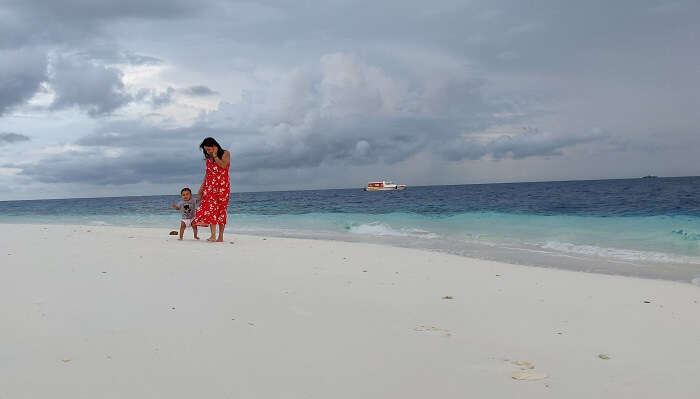 Along with witnessing various species of the underwater life of the Maldives, we also grabbed an opportunity to witness the whale sharks residing in the waters of this destination. This is one experience that everyone should have on their bucket lists if they are ready to spend a little extra. Spectating these beautiful creatures from up close, just living in their natural habitat is a sight to behold.
You'll Soon Be Able To Catch A Ferry From Kerala To Maldives
Our Hotels In Maldives In November
On our vacation to this destination we chose one of the best hotels in Maldives — Adaaran Club Rannalhi. We were welcomed with a drink by an extremely courteous and warm-hearted staff. The room that was given to us on our first night there was beach villa. Our beach villa was well-decorated and spacious. And since it was easier to travel around the island with an infant, the beach villa took our hearts away.
For the next two nights we were transferred to a water villa which offered a totally different experience. Sitting on the deck with water flowing beneath us was truly a once in a lifetime opportunity. The serenity and tranquility that reeked out of the villas was something that we would surely cherish forever.
5 Days In Maldives Made Tooshar's Family Excursion A Super-Duper Hit! What's Your Excuse?
Restaurants In Maldives
Since we already had our breakfast and dinner at the hotel, we just had to take care of our lunch. The food served by our hotel, Adaaran Rannalhi was in itself very scrumptious and delectable. We are glad we went for half board because this gave us a chance to taste the food from the on-site restaurant as well as try out Indian restaurants in Maldives for our lunch. We would recommend going for Toofani Zaika for all the vegetarians on a hunt for some drool-worthy Indian food!
How To Reach Maldives
When the question of how to reach maldives from Bangalore rose, we realised that it is not much of a hassle. We had a direct flight from Bangalore to the capital city of Maldives — Male. Although our flight got delayed by an hour, we still arrived in Male in a breeze, well before sunset. After getting free from all the immigration formalities, we went to the kiosk of our hotel and simply showed them the voucher we had from TravelTriangle. Since our next departure was after a couple of minutes by a jetty, we just strolled around and took photos of the sunset. Traveling by jetty was extremely comfortable and beautiful. Since our infant was given a life jacket, we worried less about him. All in all, reaching Maldives is not at all a hassle!
Personal Expenses Incurred In Maldives
We already had most of the things included in our package so there wasn't much of our personal expenses. All of our lunch costs were around $15 to $20 per person per meal, which is approximately INR 1000 to INR 2000. Other than this, we paid only for one activity which was the shark excursion. The shark excursions costs around $15 or INR 1000 per person and we surely recommend it. If you want to experience more activities, you can check them out with the hotel you are staying at.
15 Exciting Water Sports In Maldives For Your Adrenaline Fix In 2022
Travel Tips
Here is a list of dos and don'ts in Maldives that we figured on our vacation. Make sure you go through them to enjoy a hindrance-free escape!
If you like photography, bring your DSLR and photo gear. It adds to luggage, but it's worth it, for sunsets, sunrises, low light conditions. We didn't do it and missed it.
Even if you don't have travel activities, you can just relax on the beach or snorkel near by. Plenty of fish to see everywhere.
If you have time, and are interested in learning things like wind surfing, or scuba diving, Maldives is actually cheaper than Andaman or many places in Thailand, and has plenty of good fish to offer.
Water Villas are good but they are far away from the main activity areas like beach and restaurant, for privacy and seclusion. This is intended in many cases, but in our case, we had to lug the child to and from the island for food. If I were to do it again, I would either book a beach villa close to the restaurant, or book a hotel which has pavements for strollers, since driving a stroller in sand isn't fun.
Adaaran Rannalhi doesn't have a pool, but we didn't really miss it. The beach is very nice with clear waters. We were lucky to have not so hot days, so we could play at the beach the whole day.
We didn't observe any mosquito problems at either rooms. Though it's a good idea to be prepared just in case.
Our Experience With TravelTriangle
Our experience with TravelTriangle was good and the coordination was carried forward in a buttery smooth manner. Pre-booking required a lot of communication back and forth as we had to choose the best hotel with all the amenities. TravelTriangle gave us an opportunity to compare the rates and choose the best one that gave us value for money. We would definitely book again with TravelTriangle as the agents are very helpful and we have reasonable trust that they would find cheaper deals than me after exploring the internet on my own.
Maldives Itinerary Of 4 Days: All About Our
Maldives in November offers an experience that would make one cherish a vacation for lifetime. Busting all the myths about Maldives being a destination of honeymooners, Gaurav proves that taking a route less taken can turn out to be one of the most amazing experiences. So what are you waiting for? Take some pointers from this travel story and start planning your family trip to Maldives!
Common Queries You May Have
Is November a good time to go to Maldives?
November is actually a pretty good time to pay a visit to the Maldives. One might experience short showers during afternoons while the days can range anywhere between sunny and cloudy. The temperature hovers around 30 degrees Celsius.
Does it rain in Maldives in November?
There are just light showers for a couple of hours during the day time. Otherwise, the weather remains pleasant in November.
Is Maldives hot in November?
It is not that hot in Maldives in November. Days might be bright and sunny, still the weather remains pleasant.
How much does Maldives trip cost?
A trip for three days to the Maldives can easily cost around INR 51,000 per person. This price includes airfare from Bangalore to the Maldives.
People Also Read:
Trip To Vietnam With Kids 6 Days In Thailand Things To Do In Krabi