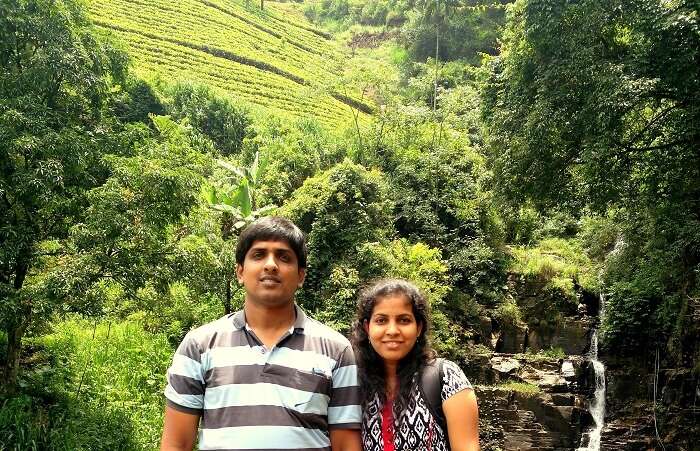 On a soothing 3 nights/4 days vacation in Sri Lanka, Malini and her husband witnessed how the true beauty of a destination could only be highlighted with a first-hand experience. They had read a lot, seen a lot, and heard quite a fair bit, but once they set foot in Sri Lanka, it felt like being rewarded a place in heaven.
Once a year, my husband and I get a chance to put all our worries aside and spend time in each other's company to maintain our strong and lively connection as two beings who love and understand each other.
This year, Niranjan recommended that we should go on a vacation in Sri Lanka because for a long time his fascination with tropical islands and serene beaches was urging him to do something about it. How could I say no to such an amazing opportunity to visit the Emerald Island?
 A Surprise Romantic Vacation In Sri Lanka For Our First Marriage Anniversary!
Details of our 3 nights 4 days vacation in Sri Lanka
Trip Duration: 3 nights 4 days
Trip Cost: INR 28,000
Agent Name: Elegant Vacations Pvt Ltd
Inclusions: Transfers, accommodation, breakfast, sightseeing, and GST
Exclusions: Flights, meals, entry fees, and additional expenses (if any).
After searching on Google, we found TravelTriangle providing Sri Lanka tour packages at very attractive prices. At first, it felt too good to be true and an expectation of hidden charges to be levied on us was present. However, after talking a representative from TravelTriangle, we got our trip requirements catered to and in the end, the skepticism grew into optimism and excitement.
Our much-awaited vacation started on a tricky note as rain pelted down on our way to the airport in Bengaluru. However, our cab driver was cooperative and he made sure that we zoomed past the traffic and arrived 15 mins before the check-in gates closed.
---
Sri Lanka Honeymoon Packages On TravelTriangle
Book your Sri Lanka Honeymoon trip from TravelTriangle: Inclusive of Hotels, Sightseeing, Transfers, & Meals. Best Prices Guaranteed. Get Customizable Package & Free Guidance From Destination Experts. Book Now!
---
Day 1: Meeting Elephants and embracing spirituality in Kandy
My husband, as he mostly does, started to feel twitchy and nervous before a flight taking off. His coping mechanism, which was pretty funny, was to eat his way until he goes into his calm and measured self. Our flight landed in Colombo by 3 am after which we collected our baggage and waited for the taxi near the exit gates.
A few minutes later, we found the driver assigned to us waiting for us with a placard of Niranjan's name on it. From there on, we started our journey to the Pinnawala Elephant Orphanage at 6 am. On the way, we stopped for breakfast which was overpriced and average in taste. Paying 1000 rupees just for Idiyappam, Sambhar, and Coffee felt a bit ludicrous.
Our Much Awaited Romantic Getaway In Sri Lanka
After having breakfast, we waited outside the elephant orphanage entrance which opens by 8:30 AM. The place had nearly 50 to 60 elephants of different age groups, and each elephant had a designated caretaker. It was a delight seeing them play and live carefree in their natural habitat.
After a spending a few hours at Pinnawala, we started towards Kandy. By 2 pm we reached the Botanical Garden in Kandy. It was a huge green space that occupied more than 500 acres where we saw more than 100 types of trees out of which some were more than 200 years old. Later on, we proceeded to check into the Hotel Emerald in Kandy for the day.
A few hours later, we started with the first round of sightseeing on our vacation in Sri Lanka. First up, we visited the Tooth Relic temple and then followed by a Siva temple in Kandy. On the advice of a local person, we went to see the hill view of Kandy as soon as it got dark. What a glittering and shimmering end to our day in Sri Lanka that was. Absolutely incredible!
Day 2: A day for gorgeous waterfalls and picturesque mountains
With the river view from our room, it was a very pleasant sight to wake up to. After completing breakfast, we checked out from Kandy and started our journey to Nuwara Eliya.
Known for its lush green tea estates, scenic mountain views, and ayurvedic centers- Nuwara Eliya was the most awaited destination of our vacation in Sri Lanka. We were taken to an Ayurveda center where they produced and manufactured their own medicines like hair oil, herbal tea, knee painkiller etc. Funnily, over there a 100 ml hair oil bottle costs rupees 5000 rupees because it was purely ayurvedic!
 Theirs Was An Ideal Honeymoon Trip To Sri Lanka & They Couldn't Have Planned It Better!
On the way, our guide told us he is taking us to the Ravana temple. We were very eager on seeing how the idol would be, but it turned out to be a Hanuman temple. Turns out, the driver was unaware of the temple and the tale of Ramayana.
As we moved further on our journey to Nuwara Eliya, we saw a lot of waterfalls. We stopped at a beautiful waterfall called Ramboda falls. The gush of fresh air and chillness around the waterfall was utterly refreshing.
Next, we visited a Tea factory named Labookellie. Here, we were first taken to the manufacturing area with a guide. She explained the step by step process of manufacturing tea and the different kinds of tea produced here.
A few hours later, we reached the Nuwara Eliya Qantara Hotel.It is a nice hotel with hill view. In the evening, we moved to Lake Gregory which is a famous tourist spot. At the lake, people can enjoy boating of various types (Slow boat, Jetski, Speedboat etc). We went for a speedboat ride which was a thrilling and fun-filled experience. Afterwards, we went back to our hotel and called it a day.
Day 3: A top class stay in Kalutara
On the third morning, we checked out of Nuwara Eliya and moved on to Kalutara. On the way, we again saw a few waterfalls. We stopped at the St. Claire falls which also the widest waterfall in Sri Lanka.
Next up, we planned for river rafting in the Kelani river. Our guide took us to an agent who booked a rafting slot for the both of us. They charged us USD 20 per person for 5 km rafting. At one stage, the raft instructor even allowed us to get down in the water to swim and enjoy. We thoroughly enjoyed the rafting experience and a place that was a must-visit for any adventure seeker coming to Sri Lanka.
 Beautiful Places To Visit On A 6 Day Trip To Sri Lanka
By 2 pm, we reached Coco Royal Beach Resort in Kalutara. After checking in, we went for a walk on the beach to enjoy the sunset. This night, a complimentary dinner was arranged for us that had multiple cuisines. A band of musicians playing songs on an acoustic guitar made that evening on our vacation in Sri Lanka absolutely memorable.
Day 4: Finished our story in Sri Lanka with shopping and sightseeing
On the final day of our vacation in Sri Lanka, we got up early and went for a morning walk on the beach. The morning sun and fresh breeze made us more energized and enthusiastic. Afterwards, we relaxed for an hour in the pool and then checked out from the hotel for Colombo.
Since we had a few hours to spare before our flight, we did some sightseeing in Colombo. We visited places like the National Museum, Bandaranaike Memorial International Conference Hall, a 100-year-old clock tower, and the old lighthouse.
In the evening, we went for some souvenir shopping in a mall close to the airport. After shopping, we proceeded for our return flight which was scheduled to depart at 11 pm.
 Best Things To Do On A 4D/3N Family Trip To Sri Lanka!
It was unforgettable experience visiting all these beautiful places on a 4-day vacation in Sri Lanka. Special thanks to Elegant Vacations, who made our trip easy to handle and memorable. The constant guidance and support from their end made sure that we had to worry about nothing.
I also must forget Mr.Dinesh (our guide and driver who gave us excellent advice wherever possible), and TravelTriangle with whom I had a great experience and would love to go on many more trips in the future.
High points:
Seeing the night view of Kandy was the best end of a day we could've hoped for.
River rafting in the Kelani river was absolutely incredible.
Low point:
The only thing I didn't like about the hotel in Kandy was that they didn't have wifi for the rooms, but only a wifi connection for a limited period of time in the hotel lobby.
A small island, but a lot to do! Book your Sri Lanka romantic package and enjoy the surprises the Emerald Island has in store for you!
---
Looking To Book An International Honeymoon?
Book memorable honeymoon on TravelTriangle with 650+ verified travel agents for 65+ domestic and international destinations.
---