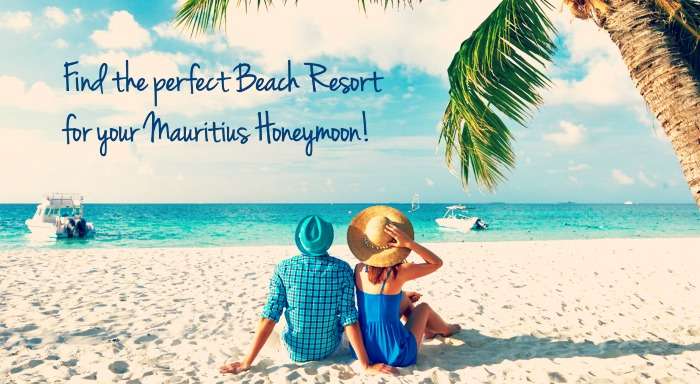 Mauritius arguably is one of the most romantic islands in the world to kick-start your married life, but where do you stay if you want a truly seductive experience of the tropical island? Here's our personal pick of the most romantic Mauritius honeymoon beach resorts for couples in love. These beautiful resorts have exclusive love nests, luxurious suites, exotic villas and quirky hideaways to suit all your honeymoon needs.
Mauritius Romantic Honeymoon Beach Resorts
These honeymoon resorts in Mauritius are perfect for lovers and newly wed to elope and enjoy a fantastic, luxurious stay.
1. Le Touessrok

Number one on our list of Mauritius honeymoon beach resorts is the majestic Le Touessrok. Located by the tranquil Trou d'Eau Douce Bay, the magnificent resort is a prime choice amongst newly weds. It is hands down the best place to stay in Mauritius for honeymoon.
Where? Trou d'Eau Douce, East Mauritius
What's Special? Honeymooners indulge in haute cuisine at their gourmet restaurants & pamper themselves with a refreshing massage at the much lauded couple spa.
Don't Miss: Go sailing with your love into the calm azure waters of the Indian Ocean.
Suggested Room: To up the romance factor, choose rooms set back on Frangipani Island. They are secluded & quiet, perfect for your intimate time together.
Things to do: Get drenched in the salty waters while water skiing & snorkelling. Couples could try kayaking, pedal boating & wind surfing too. Challenge you better half in golf at one of best Golf Courses in the world.
Tariff: £450 | INR 41,000 onwards
Hotel Website | Ratings & Reviews
Must Read: 20 Most Romantic International Honeymoon Destinations for Every Budget
---
Mauritius Honeymoon Packages On TravelTriangle
Begin your married life with an exotic honeymoon trip to Mauritius. Experience the best of Mauritius with North and South island tours: Inclusive of Hotels, Sightseeing, Transfers, & Meals. Best Prices Guaranteed. Customizable Package & Free Guidance From Destination Experts.
---
2. Maradiva Villas Resort And Spa

Image Source
Fancy a royal honeymoon in an exotic resort with a hint of legacy? Maradiva Villas is the place for you! It is a haven for those who are looking for respite and relaxation. Enjoy a pampering spa sessin at the resort and dine in their world-class restaurant that serve delectable international cuisine.
Where? Wolmar, Flic en Flac, West Coast, Mauritius
What's Special? If you're the couple which likes to soak in the culture of a place & really want a taste of the tropical island, this resort is for you – a perfect blend of Mauritian history with ultimate luxury.
Don't Miss: Woo your other half by arranging a candlelight dinner & a seaside hammock at the many ideal locations, perfect for a romantic setting, within the resort.
Suggested Room: Privacy assured, the Beachfront Luxury Suite Pool Villas have the loveliest views of Tamarin Mountain, framed by exotic flowers and trees.
Things to do: Indulge in their heavenly couple spa overlooking the ocean. Adventure seekers could go bike riding to Flic-en-Flac & for couples who love water, an early morning swim with the dolphins in Tamarin Bay should be squeezed into the itinerary.
Tariff: £ 504 | INR 46000 onwards
Hotel Website | Ratings & Reviews
3. Angsana Balaclava

Nestled in an ultra-private, peaceful spot at the end of the road in Turtle Bay, this romantic Mauritius honeymoon resort is luxury at its best. If you are looking for a secluded spot where no one disturbs you on your honeymoon, then you should check-in at this resort. Along with that, you can even enjoy hammams and traditional spas and have a fine gourmet experience.
Where? Turtle Bay, Balaclava, Northwest Coast, Mauritius
What's Special? The gorgeous hotel blends seamlessly with its natural surroundings, while the interiors feature contemporary luxe, ideal for couples looking to relax the holiday away.
Don't Miss: Woo your love with a romantic song at the glinting beaches around the hotel where many couples rendezvous for a romantic evening walk.
Suggested Room: Treat yourself & your partner to a beachfront pool suite. The gorgeous sunset view & exotic semi-open bathroom overlooking the sea serve for a passionate tryst with your special someone.
Things to do: Sink into the asian-inspired spa treatments & indulge in tai chi. Adventure buffs could go snorkeling, water-skiing, sailing, windsurfing, and deep sea fishing.
Tariff: £240 | INR 22,000 onwards
Hotel Website | Ratings & Reviews | Angsana Balaclava Resorts Mauritius
Plan A Perfect Honeymoon to Mauritius With TravelTriangle!
4. One And Only Le Saint Géran

One of the most exotic Mauritius honeymoon beach resorts, Saint Geran is dedicated to the lovers Paul and Virgine is an absolute paradise for honeymooners. Its beach-inspired interiors will blow your mind away. If you were looking for the date night plans, you are sorted. Enjoy feet-in-sand dining while overlooking the beautiful views of the ocean.
Where? Pointe de Flacq, Belle Mare, North East Coast, Mauritius
What's Special? If you're looking for a hidden escape on the secluded Mauritian beaches, this out-of-the-way hideaway is a stunning resort for the couples like you.
Don't Miss: For all those adventurous trysts with your honey, go under seawalking. Trust us, you'll never regret it!
Suggested Room: For a truly intimate rendezvous, splurge on a Ocean front villa with a private swimming pool, spacious terrace & spectacular views.
Things to do: Indulge in watersports & activities like parasailing, kite surfing, and mountain biking. Woo your partner with a guided kayaking tour to the serene remote islands.
Tariff: £ 834 | INR 76000 onwards
Hotel Website l Ratings & Reviews
Suggested Read: 10 Things to do on your Mauritius Honeymoon
5. The Oberoi Mauritius

Image Source
If you have visions of yourselves lazing in hammocks while your butler brings your a martini, then Oberoi Mauritius is where you should be heading. Live like king size at The Oberois and have the best of the resort life here. Pamper yourself with their world-class service and facilties that you will not find anywhere else.
Where? Baie Aux Tortues, Pointe Aux Piments, Mauritius
What's Special? This pampering Mauritius honeymoon beach resort reflects chic elegance and romance, perfect for couples seeking a romantic rendezvous.
Don't Miss: Kiss your love under the starlit sky, by the splashing waves.
(The hotel arranges for stargazing tours.)
Suggested Room: Unwind at a Royal Villa or a Luxury Villa with a private swimming pool & ecstatic views, enticing romance all over.
Things to do: Walk hand-in-hand along the tucked-away beaches, doze off in a seaside hammock, or find your zen in your room with your special someone.
Tariff: £ 592 | INR 54000 onwards
Hotel Website | Ratings & Reviews
Suggested Read: 11 Best Hotels In Mauritius For Travelers Of All Kinds Of Budget
6. Shanti Maurice

Image Source
If your idea of a perfect honeymoon is staying away from the crowd and cuddling up with your love, Shanti Maurice would be an idyllic choice for you! Enjoy refreshing cocktails at this resort in Mauritius while you enjoy the mesmerizing views of the ocean. Disconnect from the world and find a relaing one here at Shanti Maurice.
Where? Riviere des Galets, Chemin Grenier, South Mauritius
What's Special? Disconnected from the world, away from the city, this elegant property is perfect to cuddle up together in one of the most charming honeymoon beach resorts in Mauritius.
Don't Miss: With stunning coral & exotic marine views, there's nothing more romantic than an underwater lunch for two at the Blue Safari submarine.
(The hotel can arrange this for you.)
Suggested Room: Fancy seeing the sun shine through your window & the sound of waves splashing the beach? Privacy assured, the Luxury Suite Villas are idyllic for honeymooners.
Things to do: Their ayurvedic spa is heavenly. Make sure you book a couple spa appointment for an ultimate rejuvenating experience. Food lovers should try delicacies at their pop up restaurants & BBQ events.
Tariff: £ 252| INR 23000 onwards
Hotel Website | Ratings & Reviews
Suggested Read: 20 Killer International Trips Which Will Cost You Less Than An iPhone
7. St Regis Mauritius Resort

Image Source
Surrounded by lush green patchwork of sugar cane fields, encircled by series of lofty peaks & overlooking the mighty Indian Ocean, St Regis is a romantically luxe Mauritius honeymoon beach resort – a melange of old-school elegance with nature's magical wonders.
Where? Coastal Road, Le Morne, Southwest Mauritius
What's Special? The location. Colonial style villas, sugar cane fields, lofty peaks & azure waters provide the perfect backdrop for a bit of romance whether it's day or night.
Don't Miss: Indulge in the sublime pleasures of the Iridium spa with numerous treatments to pamper you and your partner.
Suggested Room: Splurge on the gorgeous St. Regis Grand suite for its private balconies with water views & outdoor bed for siestas with your precious half by the lagoon.
Things to do: Bask in the sun on the beach or by the luxurious pool; go wind and kite surfing with your love; or escape to a sanctuary of rejuvenation amidst the secluded beaches.
Tariff: £ 504 | INR 46000 onwards
Hotel Website | Ratings & Reviews | St. Regis Mauritius Resorts
Suggested Read: 18 kickass destinations which greet Indians with a Visa On Arrival. Let's just Leave
8. Heritage Le Telfair Golf And Spa Resort

Image Source
A popular choice amongst newly weds, the quaint and intimate French village, is one of few colonial-style honeymoon beach resorts in Mauritius. The 5-star golf and spa hotel provides you with first-class amenities and a pampering experience thatt you will find it difficult to leave this resort by the end of your stay.
Where? Domaine de Bel Ombre, Mauritius
What's Special? Heritage Le Telfair Golf & Spa Resort offers a romantic, intimate stay to honeymooners with its classical interiors & gorgeous natural surroundings.
Don't Miss: Romance amidst the nature as you dive into the natural pool at the bottom of the waterfall in Frederica Nature Reserve in the early morning hours with your better half.
Suggested Room: The sea-facing rooms and suites are generously-sized and have floor to ceiling French windows, spacious bathrooms and balconies. What more do you need for a sizzling time together?
Things to do: If you feel like exploring the area, go for a glass-bottomed boat ride, take a speedboat to spot dolphins or learn to scuba dive with your partner.
Tariff: £504 | INR 46000
Hotel Website | Ratings & Reviews
Suggested Read: Mauritius vs Maldives : Which One to Pick For Your Holiday?
Lakaz Chamarel Exclusive Lodge
9. Lakaz Chamarel Exclusive Lodge

Image Source
For the newlyweds who seek solace post the hectic wedding days, Lakaz Chamarel is an idyllic honeymoon hideaway for you. Pebbles inscribed with inspirational words, statues of deities in the lovely garden and the bohemian vibe makes it a whimsical resort of all.
Where? Piton Canot, Chamarel, Mauritius
What's Special? Located at an altitude of 400m in undulating green hills, this charismatic resort is where honeymooners come to unplug and unwind.
Don't Miss: Take a slow walk hand-in-hand with your love to the tranquil pristine beaches and watch the sunset change the sky into myriads of peaches & corals.
Suggested Room: Opt for the sea-view rooms with spectacular vista & low lighting; adorned discreetly to preserve a sexy mystery between the lovers.
Things to do: Refresh your senses with a yoga session at the resort and unwind at the white shores & picturesque backdrops, with your precious half as your see the day pass by.
Tariff: £219 | INR 20000 onwards
Hotel Website | Ratings & Reviews
10. Outrigger Mauritius Beach Resort

With a splendid panoramic view of the Indian Ocean from this resort, you can only come back for more in this scenic site in Mauritius. If watching the sunset from the swimming pool decks here isn't the kind of thing you do with your partner, try going for one of the activities near the beach!
Where? Allee des Cocotiers, Bel Ombre, Mauritius
What's Special? 4 swimming pools to relax in along with the various restaurants they have on board
Don't Miss: Honeymooners indulge in water sports and kite surfing
Suggested Room: To get the best of this resort, book the deluxe double room with seaview and which is located at the beachfront
Things to do: You can try snorkeling and swimming with your partner at the beach here and dine in the gourmet cuisines at the restaurants
Tariff: £ 263 | INR 24000 onwards
Hotel Website | Ratings & Reviews | Outrigger Mauritius Beach Resorts
11. LUX* Grand Gaube

Crowned as the perfect retreat to unwind and relax with your partner, this place is known to be a complete beach tour package for all couples visiting Mauritius. With every room here overlooking the Indian Ocean, it is the perfect spot for a cozy honeymoon with your partner!
Where? Coastal Road, Grand Gaube 30617, Mauritius
What's Special? LUX*Me Spa
Don't Miss: Scuba diving
Suggested Room: Deluxe Double Room which has all the luxury amenities
Things to do: Traditional dance, Scuba diving
Tariff: £ 395 | INR 36000 onwards
Hotel Website | Ratings & Reviews | Lux Grand Gaube Hotel Mauritius
12. Constance Le Prince Maurice

Image Source
A tropical getaway with your partner offering fully air-conditioned rooms with charming views, you simply couldn't have asked for more! Yet, the Le Barachois floating restaurant here serves all kinds of freshly prepared cuisines for your and your partner to try and savour on your honeymoon.
Where? Choisy Road Poste De Flacq, Mauritius
What's Special? Spa and Wellness Centre and secluded beaches
Don't Miss: Private beach activities
Suggested Room: Beach Villa with pool
Things to do: Windsurfing and snorkeling
Tariff: £ 734 | INR 67000 onwards
Hotel Website | Ratings & Reviews
13. Maritim Resort And Spa Mauritius

Featuring an outdoor pool and spa facility, this resort offers all that you need for a soothing honeymoon vacay too woo your partner. You can have a complete dining experience at their colonial-style restaurant which has a charming view of the Citron river. Do give their cocktails a try!
Where? Turtle Bay, Balaclava, Terre Rouge 21416, Mauritius
What's Special? Variety of international cuisines freshly prepared at their in-house restaurants
Don't Miss: Soothing spa recommended for couples
Suggested Room: Suite
Things to do: Land and water activities like kite surfing, snorkeling, archery and more
Tariff: £ 230 | INR 21000 onwards
Hotel Website | Ratings & Reviews | Martim Resorts & Spa Mauritius
14. Victoria Beachcomber Resort And Spa

Located between the tourist hub of Port Louis and Grand Baie, this 4-star resort has 4 in-house restaurants and an outdoor pool for a complete relaxing honeymoon. If this doesn't excite you, then surely sitting at the patios overlooking the Indian Ocean will surely change your mind.
Where? Coastal Road, Pointe Aux Piments 21304, Mauritius
What's Special? Wide range of activities offered to all the guests
Don't Miss: privileged access to Mont Choisy Le Golf
Suggested Room: Deluxe Double Room
Things to do: Water activities
Tariff: £ 296 | INR 27000 onwards
Hotel Website | Ratings and Reviews | Victoria Beachcomber Resorts Mauritius
15. Tamassa Resort

Offering so many activities that you and your partner can enjoy together, this resort is more than a retreat for couples. Featuring a beach bar and a lounge bar, you can surely spend some happy couple time at this property and never get tired of it. Exciting, isn't it?
Where? Coastal Road, Bel Ombre, Mauritius
What's Special? Luxury spa with dry and wet saunas
Don't Miss: Rooms with sea view and garden view
Suggested Room: Superior double room
Things to do: Water diving, snorkeling, kayaking and water skiing
Tariff: £ 396 | INR 36000 onwards
Hotel Website | Ratings & Reviews | Tamassa Bel AMbre Mauritius
Travel Checklist For A Blissful Honeymoon In Mauritius
Make sure you keep in mind to carry all your essentials for the vacay! Decided on your romantic stay? Now here's what all you need in your travel checklist. Scroll down to know more.
Mauritius Visa

Image Source
You must fulfil the following criteria in order to avail a Mauritius Visa:
A confirmed accommodation booking in Mauritius
A sponsorship letter
enough funds to last during your stay in Mauritius [a minimum of $100 a day]
A Confirmed return flight ticket
Mauritius is a visa free destinations for South Africans. Indian nationals get a maximum 60-day visa on arrival to Mauritius. For more details you could visit IATA website.
Flight Tickets

Image Source
It always helps if you plan in advance and book your flight tickets. A one way ticket three months in advance on Air Mauritius site would cost from INR 30,000 – INR 35,000. If you happen to plan on an urgent basis, one way ticket may cost upto INR 65,000
Best time to visit: Mauritius is a perfect escape for winters. The best time for a romantic honeymoon in Mauritius would be from October to March.
Note: It is advisable to carry your marriage certificate while on a honeymoon in Mauritius. Many hotels & resorts require your marriage certificate to be not more than 12 months old in order to receive complimentary honeymoon services.
Further Read: 11 Romantic Beach Resorts in India for the Summer of Love
Are you ready for a romantic getaway with you partner amidst the pristine beaches? Hurry up and plan for your romantic honeymoon in Mauritius now and enjoy an opulent stay at these beach resorts in Mauritius with your spouse.
Frequently Asked Questions
Q1. Which part of Mauritius is best for honeymoon?
A. The best place for honeymoon in Mauritius is Trou-aux Biches in the north during winters. Le Morne in the south or Belle Mare on the eastern coast during summer.
Q2. Is Mauritius an expensive country?
A. Sure, Mauritius is an expensive country because of the flights and activities but that is not something because of which you should avoid this Gabriel Island.
Q3. What is the best month to go to Mauritius?
A. The best time to go to Mauritius is from May to December.
People also read:
Romantic beach resorts in Sri Lanka Romantic beach resorts in India Kovalam beach resorts
---
Looking To Book An International Honeymoon?
Book memorable honeymoon on TravelTriangle with 650+ verified travel agents for 65+ domestic and international destinations.
---
p.box-links a {
display: inline-block;
margin-right: -2px;
font-size: 13px;
-webkit-box-sizing: content-box;
-moz-box-sizing: content-box;
box-sizing: content-box;
border: none;
color: rgb(0, 0, 0);
-o-text-overflow: clip;
text-overflow: clip;
background: #98eae3;
-webkit-transform: skewX(-20deg);
transform: skewX(-8deg);
text-decoration: none !important;
padding: .2em .6em .3em;
margin-top: 2px;
}
p.box-links a:hover {
background-color: #000000;
color: #ffffff;
}
div.nav-links {
display: block;
float: left;
width: 100%;
padding: 0 20px 10px;
}
div.nav-links a {
display: inline -block;
float: left;
margin-right: 4px;
font-size: 13px;
webkit-box-sizing: content-box;
-moz-box-sizing: content-box;
box-sizing: content-box;
-o-text-overflow: clip;
text-overflow: clip;
text-decoration: none !important;
margin-top: 5px;
border: 1px solid #c8c8c8;
font-style: normal;
border-radius: .25em;
padding: .2em .6em .3em;
line-height: 23px;
}
div.nav-links a:hover {
background-color: #009688;
color: white;
}