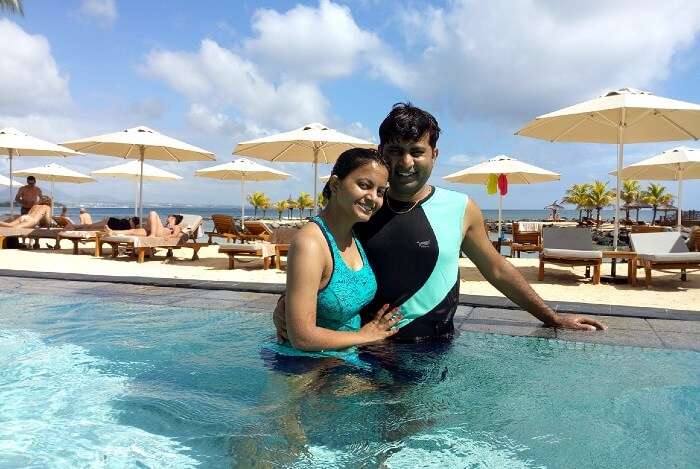 May is hot and humid, and unfortunately, it only gets worse in the subsequent months. Keeping that in mind, Ashutosh planned his Mauritius honeymoon in May to beat the summer heat and turn up the romance quotient. Was his plan successful? Let's find out!
Picking a honeymoon destination is no child's game. For months, my wife and I deliberated over where should we go. Places like Thailand and Indonesia were turned down because of the humidity. We wanted to go somewhere cooler. Mauritius seemed like an ideal choice because my wife is an ardent fan of beaches and watersports. Once we zeroed in on the destination, we got in touch with TravelTriangle who made all the necessary arrangements for us as per our budget for Mauritius honeymoon. All we had to do was sit back and enjoy the journey. And boy, what a beautiful journey it was.
Details Of Our Mauritius Honeymoon In May
Trip Cost: INR 50,000 per person
No. Of People: 2
Trip Duration: 7 days and 6 nights
Inclusions: Breakfast, dinner, airport transfers, visa, sightseeing, entry fees of attractions, non motorised water sports activities, 1 free GSM sim card upon arrival
Exclusions: Lunch, private cab, airfare, travel insurance
Our Mauritius Honeymoon In May Travel Guide Itinerary
Day 1: Arrival in Mauritius
Day 2: Ile Aux Cerfs East Tour on speedboat
Day 3: Leisure Day
Day 4: North Mauritius Tour
Day 5: Leisure Day
Day 6: South Mauritius Tour
Day 7: Departure
Mauritius Weather In May
Mauritius weather in May was one of the primary reasons why we chose to take our honeymoon in this destination. By and large, it was cool, dry, and sunny. It drizzled a few times in the day, but it wasn't a dampener on our spirits. We enjoyed the occasional sprinkles and they, in no way, derailed our travel plans. The pleasant weather enhanced our overall travel experience
Top 4 Experiences From Our Mauritius Honeymoon In May
Here are some of our most memorable experiences from our Mauritius honeymoon in May that we will cherish throughout our lives:
1. Ile Aux Cerfs East Tour
We were spoilt for choice by the extensive range of watersports in Mauritius for couples. We enjoyed adventure activities like paragliding, undersea walk, and tube ride. The speed boat ride to Ile Aux Cerfs island was full of exciting sights to see.
Must Read: 12 Exciting Water Sports In Mauritius For An Out-of-the-world Experience
2. North Mauritius Tour
We drove to Curepipe to see the spectacular crater "Trou aux Cerfs". The experience was nothing short of phenomenal. We enjoyed the extensive view of the island. Later, we went on a tour of the textile museum, duty free boutiques, and ship model factory shops.
Suggested Read: The Best Of Mauritius Food: Infused Richly With The Indian Cuisine
3. South Mauritius Tour
The views of the Citadel, Champ de Mars, Government House, and the Harbour blew us away. We shopped for souvenirs in the local market for a bit and then drove through the city centre to reach Caudan Waterfront. It is a commercial landmark of shops, restaurants, and craft markets.
Suggested Read: Goodlands In Mauritius: Here Is All You Need To Know About The Mauritian Shopping Discrict
4. Chamarel Tour
We thoroughly enjoyed the magnificent view of Black River Gorge on the way to Chamarel, the place where the 7 colored earth is found. It was one of the most exquisite experiences on our Mauritius honeymoon in May and one we will remember for ages to come.
Suggested Read: 4 Indian Restaurants In Mauritius To Savor Some Desi Delights In A Foreign Land
Our Hotels In Mauritius
We stayed in InterContinental Resort Mauritius. It is a huge property located on the north-west side of the Mauritian island. On our arrival, we were greeted with a refreshing drink while we waited for our check-in. Within 10 minutes, all formalities were completed, and we were escorted to our room. To our surprise, we were offered a complimentary wine bottle, a fruit platter and 2 t-shirts. We also got an ocean facing room from where we could see the beautiful scenery on our Mauritius honeymoon in May. We never had any issues in communicating with our hotel staff since majority of them could speak in English. Mauritiians, in general, are a helpful and friendly lot.
Indian Restaurants In Mauritius
Based on the reviews we found online for Indian restaurants in Mauritius, we visited Veda. The restaurant had a wide variety of vegetarian options available on their menu. The dinner and breakfast was complimentary. We paid around 1000-1500 Mauritian Rupees per person for lunch. The Indian chef at InterContinental Resort Mauritius prepared authentic Indian food for us which was, by far, the best meal we had had in ages.
Shopping In Mauritius
The shops in Mauritius sell everything under the roof. To be honest, shopping is a slightly expensive affair on the island. I suggest you carry all the essentials such as towels, slippers, and swimsuits with you. Anything you buy from the local shops will cost you 2-3 times more than its price in India. We bought a few souvenirs from Mauritius, which includes a jewelry box, postcards, keyrings and miniature boats.
Suggested Read: 7 Perfect Places For Water Skiing In Mauritius For All Those Who Love Water Sports!
Mauritius Travel Tips For Couples
Here's a list of Mauritius travel tips for couples that I believe will help you two avoid mistakes and vacation like a pro on your Mauritius honeymoon in May:
1. Pay attention to the instructions given by your tourist agents and guides.
2. Carry your own towels, swimsuits and swimming gear. Renting it at Mauritius can be costly.
3. Carry transparent waterproof zip lock bags for keeping your phone and money safe.
4. Carry basic medical supplies like band aids, Dettol, cotton, and Volini.
Our Experience With TravelTriangle
Thanks to TravelTriangle, we got a good deal on our hotel bookings. We were upgraded from a 4 star to a 5 star property because the former property was under renovation. We missed our trip to the waterfall because of reasons beyond our control. Our TravelTriangle agent was kind enough to refund the amount.
Common Queries You May Have About Mauritius Honeymoon In May
Here's a compilation of all the travel queries you may have vis-a-vis our Mauritius honeymoon in May. I am pretty sure the answer to your question will be here:
Q. Which part of Mauritius is best for honeymoon?
North Mauritius is the best choice for a honeymoon trip as it tends to be always sunny.
Q. Is Mauritius safe at night?
Mauritius is, by and large, safe at night. Try and avoid roaming in the streets alone.
Q. How expensive is food in Mauritius?
Indian cuisine is the most economical option but having said that, Mauritian food, especially street food, is not that expensive.
Q. How many days is enough for Mauritius honeymoon in May?
6 to 7 days are enough for Mauritius honeymoon in May.
Q. Is Indian rupee accepted in Mauritius?
No, you will have to exchange your Indian currency for the local currency of Mauritius i.e. Mauritian rupee.
Further Read: Mauritius Aquarium: A Must-Visit Attraction On Your Next Mauritius Vacation!
Our Mauritius honeymoon in May is nothing short of spectacular. We hope that our experiences from this trip help you plan your honeymoon in Mauritius better and enhance your overall traveling experience. Make sure to book your honeymoon with TravelTriangle for a smooth and hassle-free vacation.