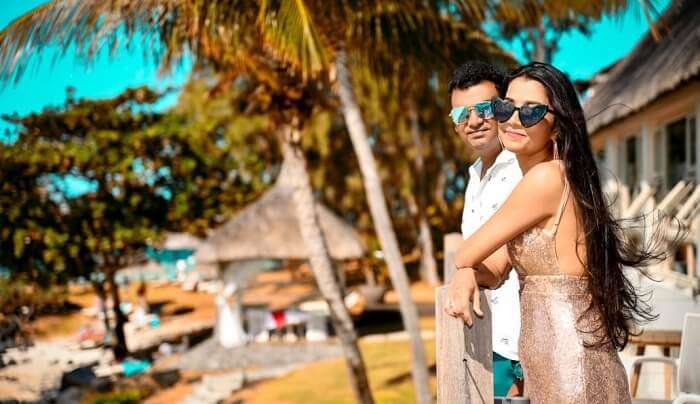 Thinking about our vacation, we knew it had to be a beach destionation. But we also wanted it to be a place that was not very crowded. Destinations like Bali and Thailand are extremely popular and therefore, would have been crowded too. Mauritius on the other hand, is a beautiful destination with several lesser explored exotic locations. So, we were excited to set out on a Mauritius tour from Ahmedabad.
Details Of Our Mauritius Tour From Ahmedabad
Trip Cost: INR 72,000
No. Of People: 2 Adults
Trip Duration: 7 Days, 6 Nights
Inclusions: Airfare, Breakfast, Dinner, North And South Full Day Tours, Sightseeing
Exclusions: Lunch, Travel Inuarance, Entrance Fees
Itinerary For Mauritius Tour From Ahmedabad
Day 1: Arrival in Mauritius
Day 2: Visit Ile Aux Cerfs
Day 3: Explore North Region of Mauritius
Day 4: Explore South Region of Mauritius
Day 5: Day at leisure
Day 6: Day at leisure
Day 7: Departure from Mauritius
Best Experiences On A Mauritius Tour From Ahmedabad
Exploring this gorgeous island destination together was an extremely wonderful experience. Here are some of the favourite places we visited during our 6 days in Mauritius:
1. Mauritian Beaches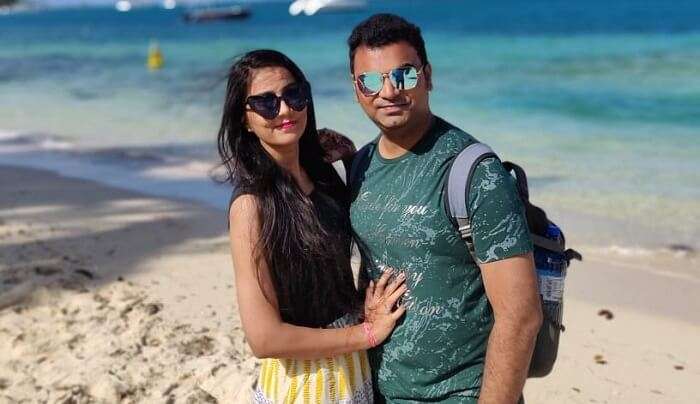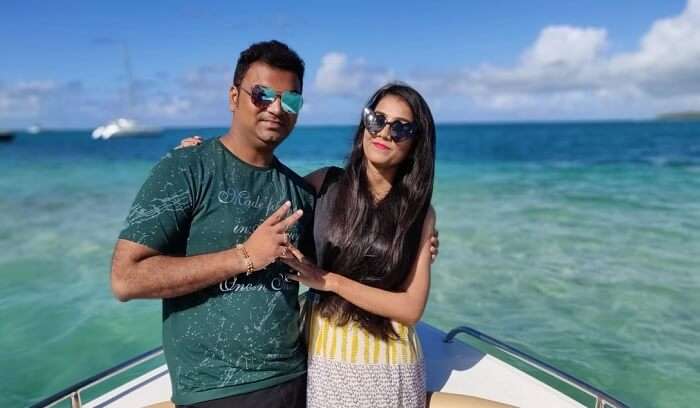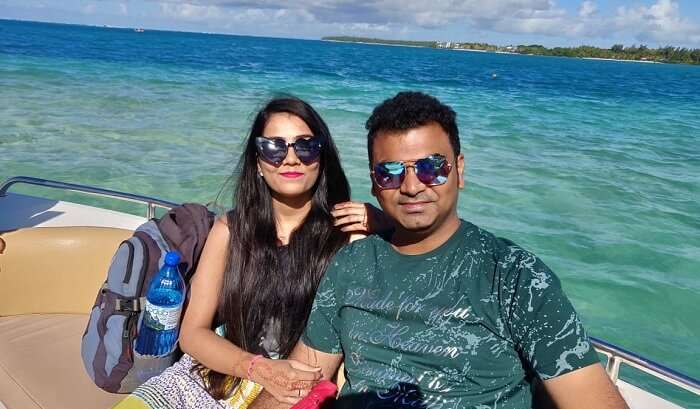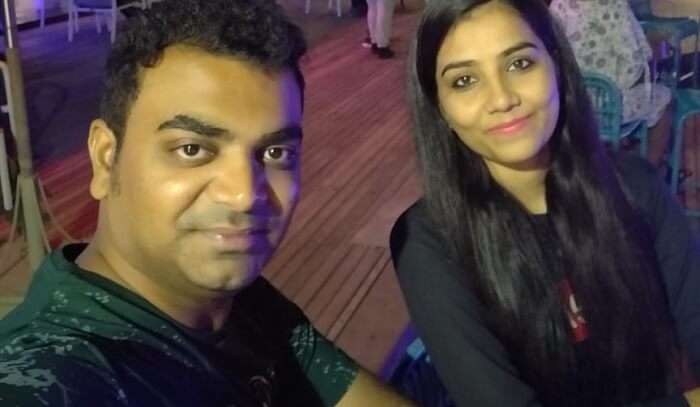 Mauritius is a destination with some of the most pristine beaches and thrilling beach activities. Our first day in the country gave us some time to relax on the beach and explore some of it on our own. We love beaches for the sound of waves, the cool breeze, and the silky sand under our feet. There's nothing more romantic than experiencing all of this with your partner. Mauritian beaches are much cleaner, with white sand and azure water. So, basking in the sun and exploring the plethora of water sports and beach activities hosted here was a great kick-start to our vacation.
A 2022 Beginner's Guide To The Holy Cavadee Festival In Mauritius
2. Ile Aux Cerfs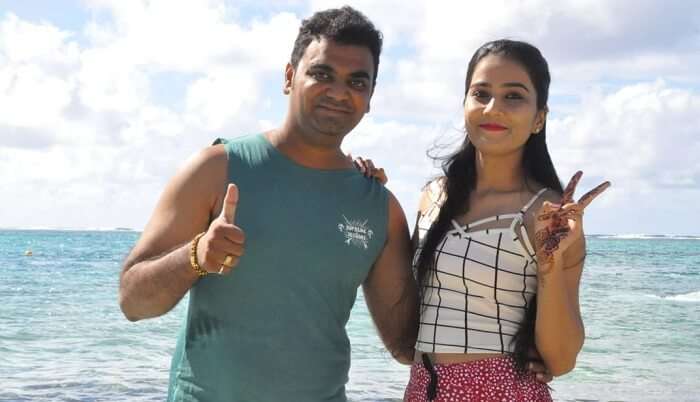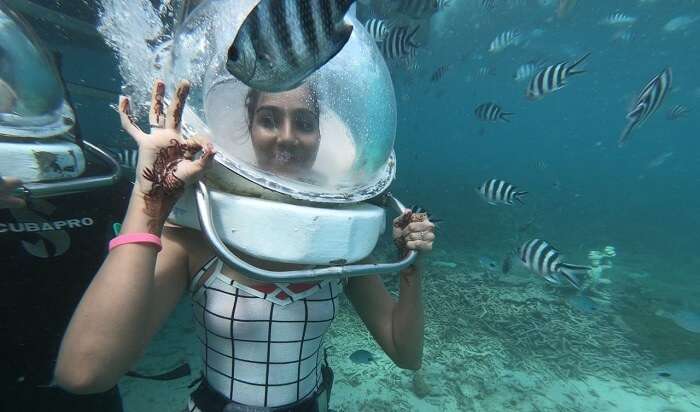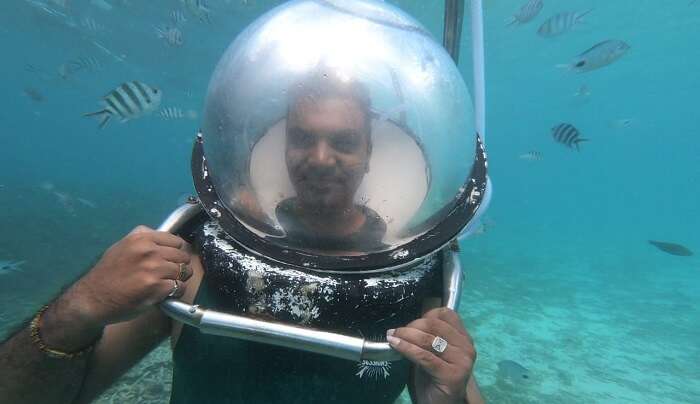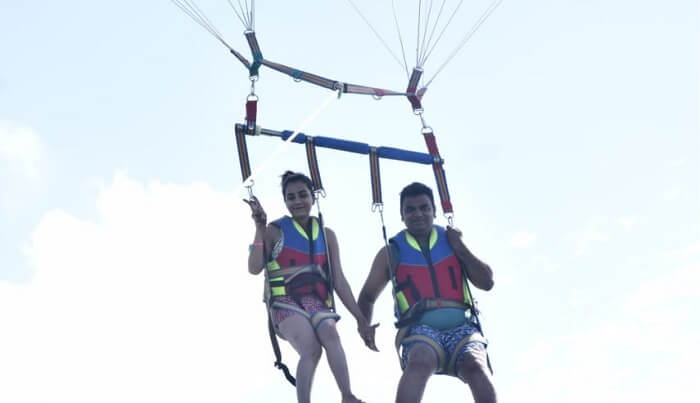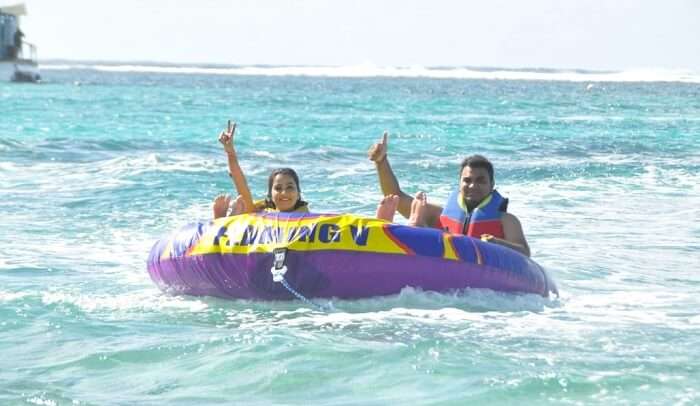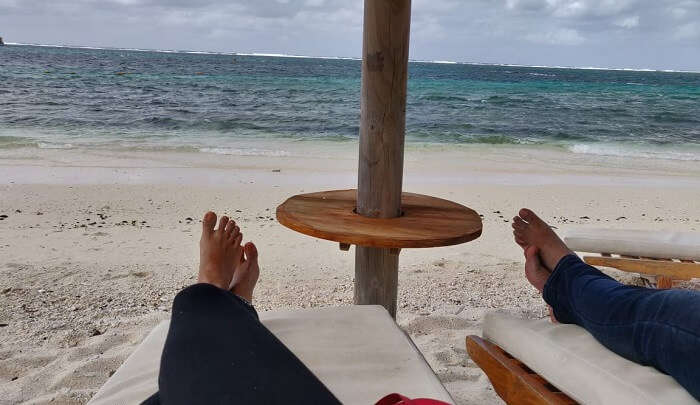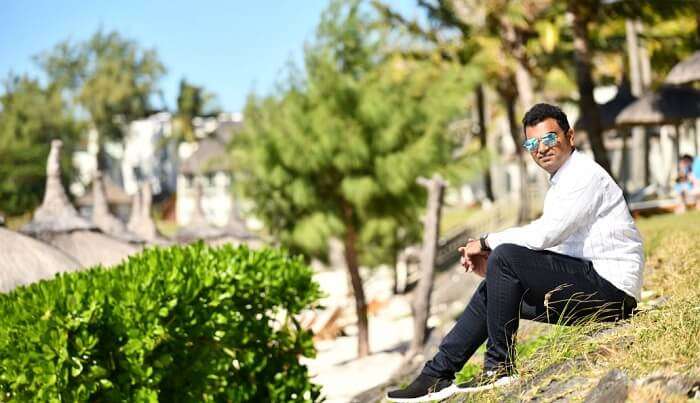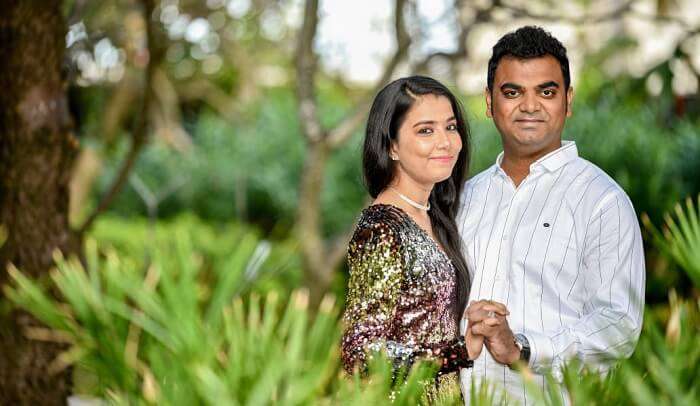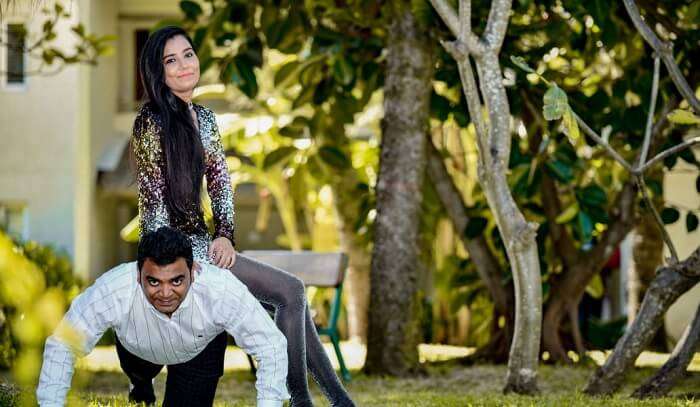 Ile Aux Cerfs is one of the most popular places to visit in Mauritius. This stunning privately owned resort island is known for its white sand beaches and the largest lagoon in the country. Lined with numerous restaurants, it is a perfect place to explore Mauritian food. Another exciting aspect of Ile Aux Cerfs is the variety of adventure experiences it offers. We enjoyed parasailing, sea-walking and a few more thrilling water activities. Ile Aux Cerfs is surrounded by rich marine life and coral reefs, which makes it a perfect place for snorkeling too. You can also visit the 18 holes golf course located on the island.
Monsoon In Mauritius: A Handy Guide To Gather Experiences Like Never Before!
3. Port Louis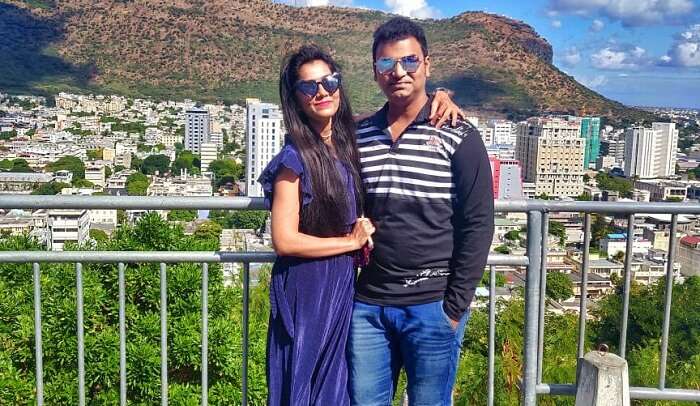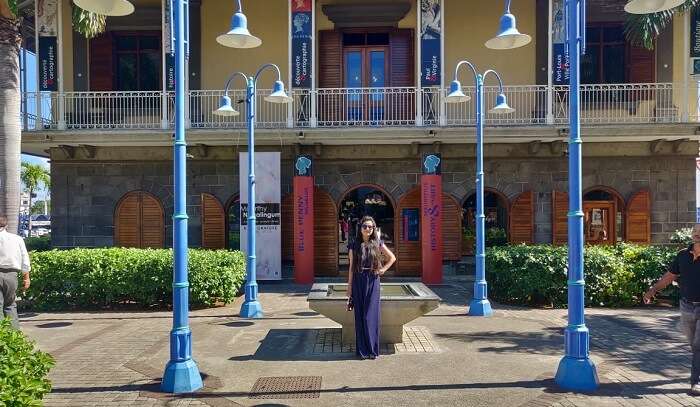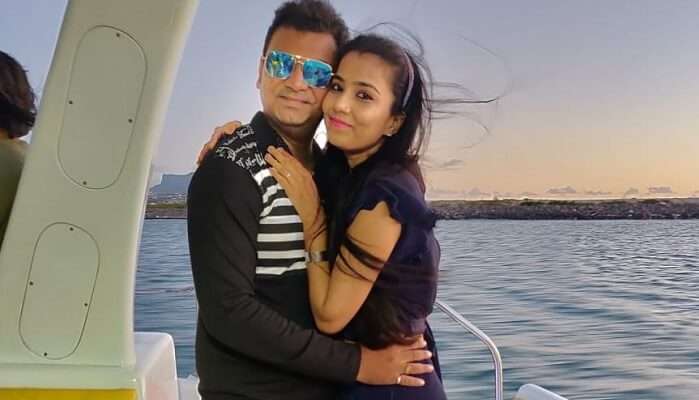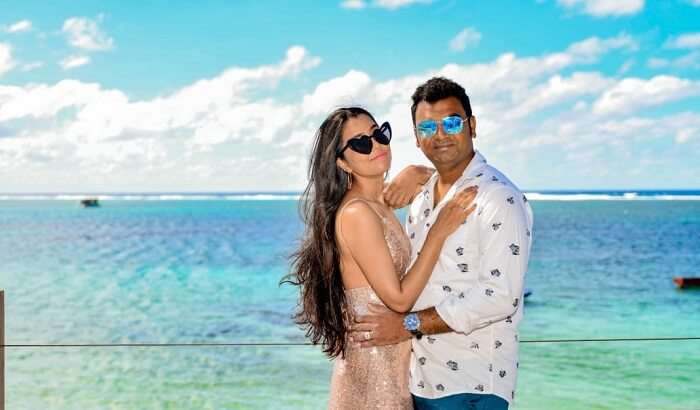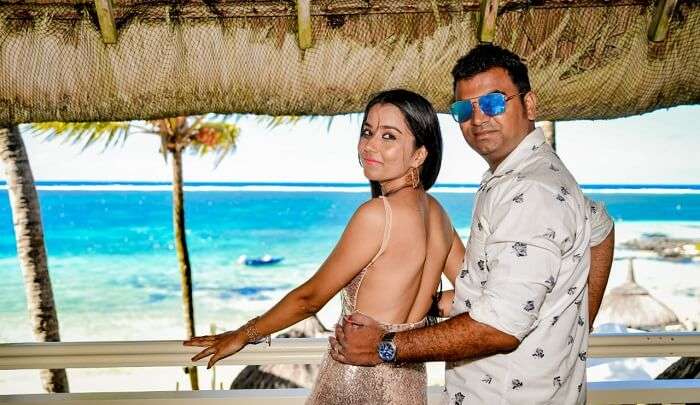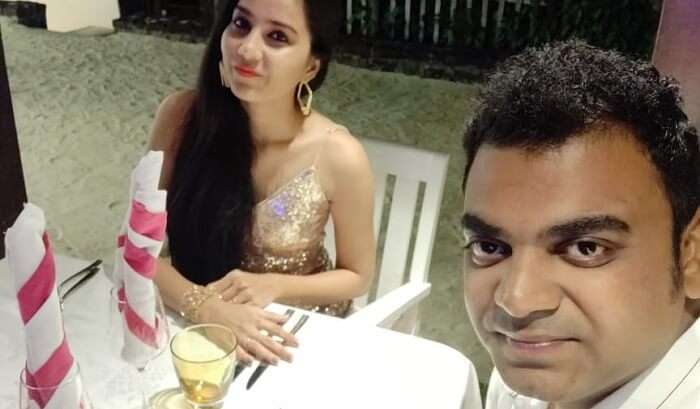 Our experience in the Mauritian capital, Port Louis was totally different from other places. This beautiful port city on the Indian Ocean spellbinds you with its irresistible French colonial vibe. We loved this places for its classic architecture, mesmerising waterfront, and the shopping scenes. On a city tour, we got to explore Caudan Shopping complex that included the main market and craft market. We also visited Fort Adelaide Port Louis and in a few activities.
4. Grand Bassin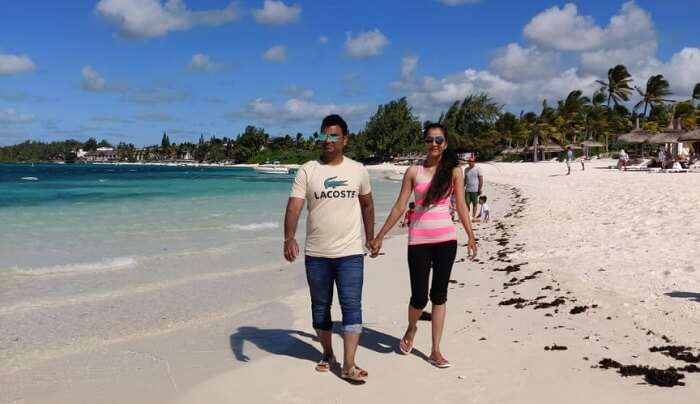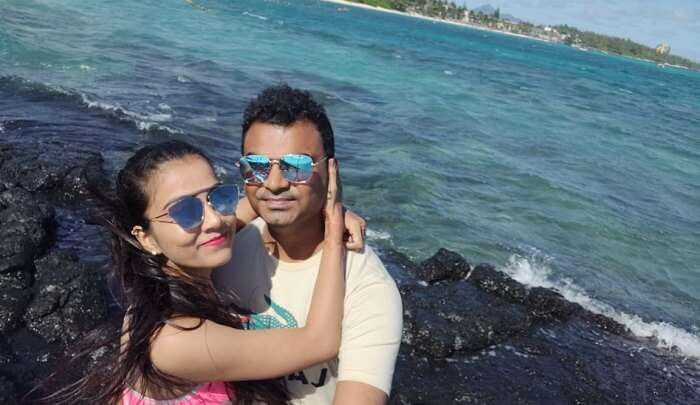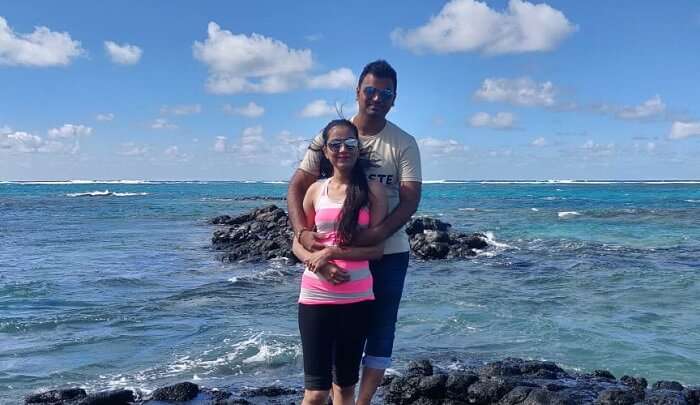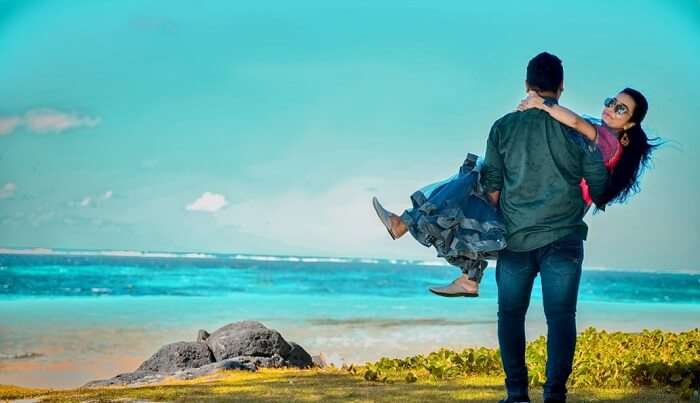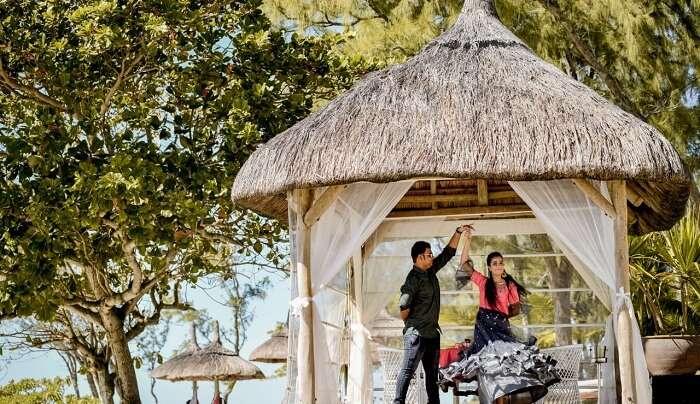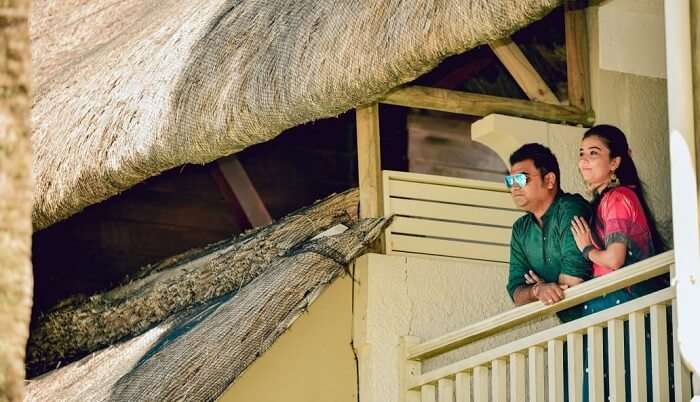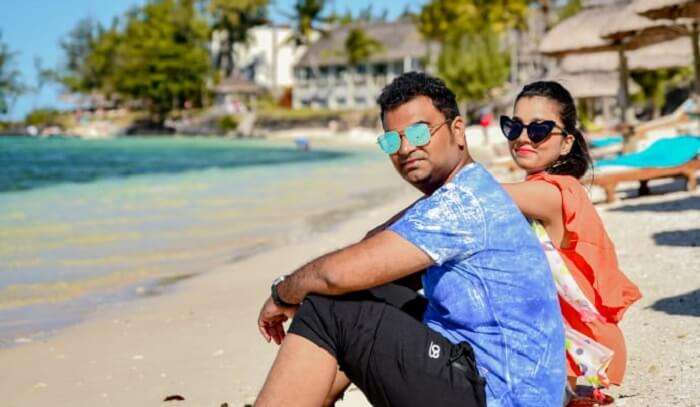 There is a lot to see and experience in the Southern region of Mauritius too. This includes the beautiful town of Curepipe and the crater of Trou aux Cerfs. We also visited the Ganga Talau, which is a charming crater lake with a Hindu temple and Mangal Mahadev – Shiva Statue. Another breathtaking place to visit in South Mauritius is the Chamarel Colored Earth, a site with striking colour patterns caused by volcanic eruption.
10 Seafood Restaurants In Mauritius To Enjoy The Best That The Sea Offers
Tips For Future Travelers
If you are planning an island honeymoon, compare prices. Mauritius is an option that pleases most of the budgets.
For best conversion rates, carry dollars from India and get them converted to Mauritius Rupee from MRU Airport.  Also, remember to get them reconverted to INR at MRU Airport before you return. (I lost 6k in the process).
Booking your photoshoot from TravelTriangle is cost effective and will cost you just about 8K for unlimited pics.
Weather In Mauritius In June
The weather of Mauritius in June was awesome with sunshine and very little rain. The night was cold and felt like winter night in India. so best weather. The best part of this place was the fresh and cool air.
Blue Safari Submarines In Mauritius: A Guide For Exploring The Local Attraction
Our Hotel In Mauritius
We stayed at a resort area called Solana Beach. We had researched and read good reviews about this place. Our experience was also good. All the rooms offer stunning sea view. The property also has a wonderful private beach, and beach dining space. Everything, from room service to food hygiene were perfect. They also arranged a candlelight dinner for us, along with some surprise gifts and a free catamaran cruise from the resort.
Our One Week In Mauritius In 2019 For Honeymoon Was All About Romantic Moments and Adventures
Did this couple have the kind of experience you had always dreamt of? Plan a romantic trip to Mauritius and make some unforgettable memories with your partner. This destination promises unlimited thrill and fun.
Frequently Asked Questions About Mauritius Tour From Ahmedabad
Are there Indian restaurants in Mauritius?
Yes, there are some good Indian restaurants in Mauritius. One of our favorites was Symon's Restaurant where we used to go for lunch.
What should one pack for the Mauritius tour?
Here is a list of things that you must pack for a Mauritius tour: 1. Swimwear 2. Good camera mobile or DSLR 3. Some snacks 4. Extra dollars 5. Basic medicines
How can I go to Mauritius from India?
There are direct flights from New Delhi and Mumbai to the international airport in Mauritius, Sir Seewoosagur Ramgoolam Airport. There are connecting flights available for people who are traveling to Mauritius from any other part of India. I took a train to Mumbai from Ahmedabad and then took a non-stop flight from Mumbai.
What is the best time to visit Mauritius?
May to December is the best time to visit Mauritius.
Is Mauritius expensive than India?
Yes, Mauritius is slightly expensive than in India, considering the higher value of Mauritian Rupee. 1 Mauritian Rupee = 1.95 INR.
Is Mauritius expensive to eat out?
The food in Mauritius is moderately priced. A basic lunchtime menu with drinks would cost you around INR 200 – INR 500.