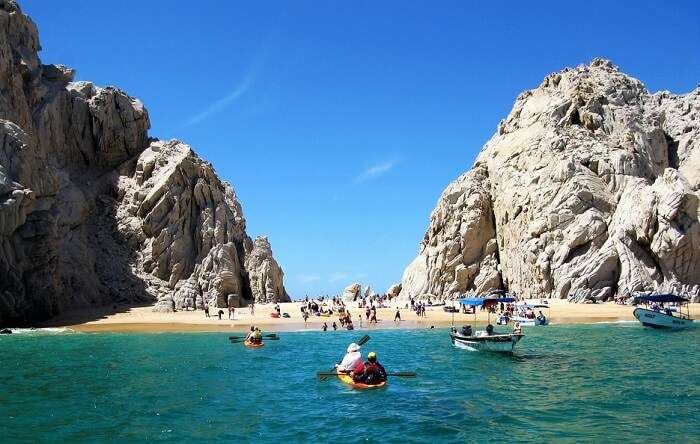 Whether you're looking forward​ to indulging in the best watersports or you want that beautiful tan, Mexico is the place to be this summer. A gorgeous destination located between the Gulf of Mexico and the Pacific Ocean, it is a country rich in culture and heritage scattered across the mountains, deserts and beaches.
Talking about the beaches, the beautiful coastline along the Gulf invites you this summer to the top Mexico beaches which are truly a vacationer's paradise. Take a look!
10 Breathtaking Beaches In Mexico
Cancun Beach
Tulum Beach
Rosarito Beach
 Playa del Carmen
Todos Santos Beach
Playa La Ropa
Playa el Medano
Conchas Chinas Beach
Playa Miramar
Playa del Amor
1. Cancun Beach

Suggested Read: Few Scientists Got Closer To The Sea Creatures In Gulf Of Mexico & Discovered An Astonishing World!
Being one of the best beaches in Mexico, Cancun offers everything that the tourists look forward to. From the historical Mayan ruins to a wild adventure at the Great Maya Reef, you can pick the best of activities to make your holiday memorable. Explore the thriving local shops and restaurants, unwind at a resort overlooking the beach, hop on to a ferry to 'Isla Mujeres' to relish the spectacular views of sea turtles and dolphins, and do a lot more at the Cancun Beach.
Don't Miss: Cancun Underwater Museum
Perfect For: Friends and families
2. Tulum Beach

For a laidback and relaxing experience, Tulum is where you should be heading. Located at a distance of 90-minutes in the southern region of Cancun, Tulum Beach Mexico is a calm white-sand beach which is feels straight out of a dream. The Beach Road North is where the nightlife exists while the Beach Road South is inhabited by spiritual beings in touch with their inner-self. Offering a trip of a lifetime, one can also explore the natural reserves of reefs, cenotes, and wetlands. And if you're saying exploring the jungle is not your cup-of-tea, then you can swim in the underground water-filled caves at Tulum.
Don't Miss: The Cenotes
Perfect For: Honeymoon Couples
3. Rosarito Beach

The Rosarito Beach Mexico is one of the most popular vacations spots located in the region of Baja California (Lowers California). Due to its proximity to the US border, plenty of tourists always flock to this beach for sunbathing and catching lobsters. This place is surrounded by clubs and taco shops where people party all night long. For the adventurers, there is no dearth of activities like surfing, diving, snorkeling and even riding an ATV on the sand dunes.
Don't Miss: The Baja Studios
Perfect For: The Millenial Kids
4. Playa del Carmen

Suggested Read: 348 Km Long World's Largest Underwater Cave In Mexico Is A Massive Discovery
A short ride down south from the most popular Cancun beach lies the calmer sister beach, Playa del Carmen. For those who're looking forward to a wide range of travel experience from Rio
Secreto to Coba, this is the place to be. One cannot miss out on the cenotes wherein one can experience the best of scuba diving, and snorkeling.
Don't Miss: Maya Ruins
Perfect For: Peace Seekers
5. Todos Santos Beach

Located amidst the Sierra de la Laguna mountain ranges and the Pacific ocean, Todos Santos Beach is a surfer's paradise and an artist's retreat. You can sit back and enjoy whale watching or collect seashells as the sun sets on the horizon. This beach may not be the most popular one yet in all its isolation, it is one of the top hidden beaches in Mexico.
Don't Miss: Whale watching, and sunset experience
Perfect For: Stargazing Couples
6. Playa La Ropa

Known for its range of water sports, Play la Ropa is one of the best beaches in Mexico that will keep you busy all day. From jet skiing to kayaking, you are bound to fall in love with the gushing waters here. While you indulge in the best of parasailing, you can also plan your lunch in one of the open-air restaurants which serve a variety of local dishes. Also, do enjoy the breathtaking sunset by the beach with your loved ones.
Don't Miss: The Parasailing Experience
Perfect For: Beach Bums
7. Playa el Medano

Suggested Read: Honeymoon In Mexico: 10 Romantic Ideas To Try In 2022
Playa el Medano is the main beach at Cabo San Lucas, which is known for hosting one of the best parties of all the other Mexico beaches. With a number of bars and outdoor restaurants, your evenings are going to be quite blurry but well worth it. And for when you're done with partying, you can try some of the best activities like surfing, big-game fishing, and even mountain biking on the rugged terrains.
Don't Miss: Coral Reefs at Parque Nacional Cabo Pulmo
Perfect For: Party Animals
8. Conchas Chinas Beach

Set along the Pacific coast at Puerto Vallarta, Conchas Chinas is one of the famous beaches which is popular for its nightlife and watersports. You will be mesmerized by the clear blue waters and the lush green mountains surrounding the area. Wander along the streets for some shopping and authentic food to experience the laid back culture at one of the best Mexico beaches.
Don't Miss: Meeting the fishing community at Yelapa
Perfect For: Everyone
9. Playa Miramar

Considered to be one of the popular Mexico beaches in Manzanillo, the famous port city meets two bays along the Pacific Ocean hosting a number of visitors over the year. Being a part of the sailfish capital, one can also rent an ATV to experience driving around the hills or visit the Iguana Sanctuary. While the quieter ones can enjoy an evening meal with some live music or take a walk along the golden shoreline, others can enjoy surfing and get tanned to the core at one of the best beaches in Mexico.
Don't Miss: Shopping at the Local Markets
Perfect For: Families, and large groups
10. Playa del Amor

Suggested Read: A 2022 Compilation Of 59 Weirdest Places Across the World You Should Stop By
If finding hidden treasures is something that appeals to you then Playa del Amor is a must-visit beach for you. Located at a distance of an hour from Puerto Vallarta, the beach is set on the Marieta Islands which inhabits a sandy cavern rarely which is a hidden gem in Mexico. Considered to be one of the most beautiful beaches in Mexico, this beach is a day trip away from the mainland but an absolute dream.
Don't Miss: Kayaking
Perfect For: Adventure Enthusiasts
Clearly, there's no dearth for top beaches in Mexico where one can find something unique to fall in love with. Whether it's the watersports or just walking along the shoreline, these 10 best beaches in Mexico have something for every traveller. So where are you spending your summer vacation at?