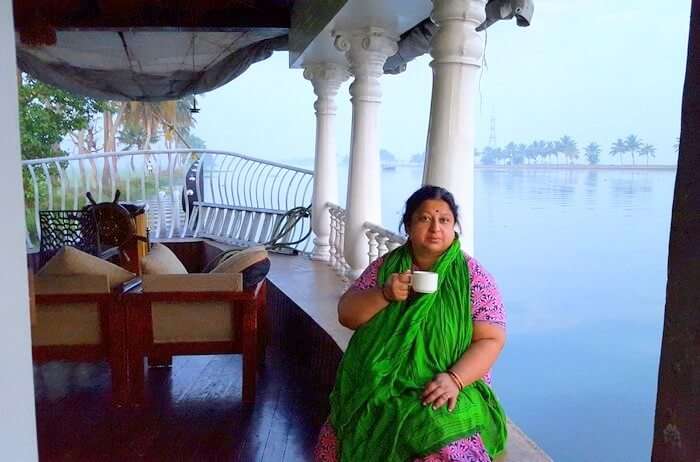 Deciding to take his wife out for a romantic getaway after 7 years, Mohan Joshi booked a package to Kerala through TravelTriangle. At INR 22,000, his package was inclusive of his accommodation in the resort and houseboat, breakfast meals, sightseeing, and transfers. Back from his trip, he shares with us an insight into his trip.
Being a freelance IT Consultant, I normally remain out of my hometown. It was after 7 long years that I got a chance to take my wife for a romantic outing once again. A long pending trip it was! I had only 3-4 days with me, so I decided to visit Kerala. Although I had been there a couple of times for official trips, it was the first time for my wife.
I came across TravelTriangle by chance, while exploring Kerala packages on the internet. I had a chat with their representative, who helped me get in touch with some agents. On coming across a plan that was covering most of the places of my choice within my budget, I decided to finalize the deal.
Day 1: Kovalam — The beach town in Trivandrum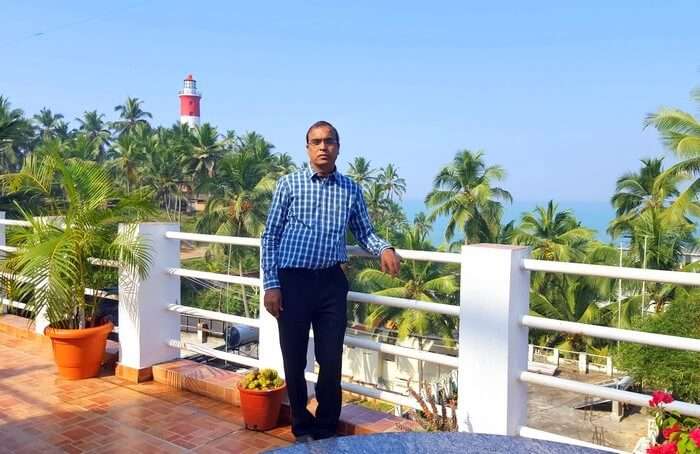 Our stay in Trivandrum was booked at the Sagara Beach Resort, right opposite to the Kovalam Beach. We reached the resort at around 9:30 am, but our check-in time was at 12 noon. The resort authorities were courteous enough to comply with our request and allotted us the room by 10 am. We freshened up and had our vegetarian breakfast here, before leaving for sight-seeing in the afternoon.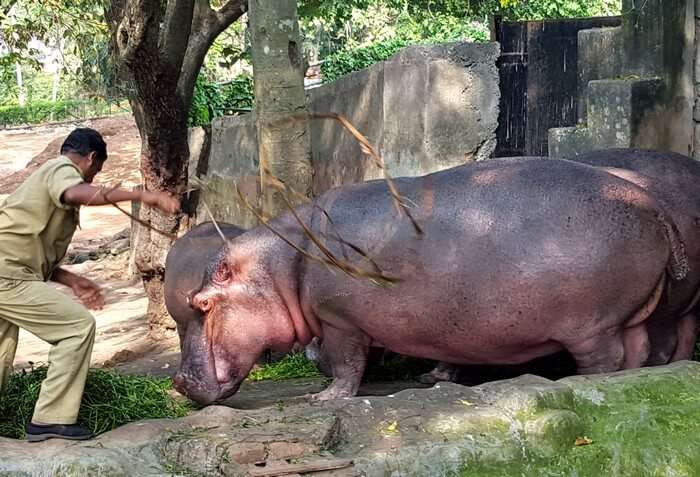 We started sightseeing in Kovalam by visiting Trivandrum Zoo in the Museum Complex. It was a very long time since we had last visited a zoo, and it turned out to be very exciting. The zoo was vast and very well maintained, though, the weather was a bit hot. The Complex further housed some more popular tourist attractions in Trivandrum. We also went on to explore the Napier Museum, The Natural History Museum, and the Shree Chithra art gallery. Each place had its own charm and the tour was enjoyable. But the best part was that I was exploring places in the company of my wife after a very long time.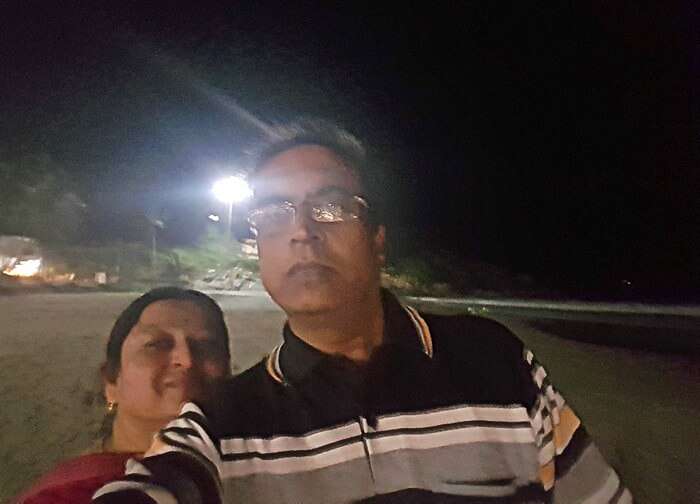 Suggested Read: 21 Captivating Places To Visit In Kovalam
Taking our leave from the Museum Complex at around 5:30, we left for the resort. That's when our driver suggested us to indulge in an Ayurvedic massage therapy and took us to a popular spa center. My wife availed the spa and as per her account, it was thoroughly relaxing. Meanwhile, I had proceeded to the resort and my wife joined me within an hour. We enjoyed a cup of ginger tea together and in the evening, went to the beach. With the cool breeze tantalizing the senses and a beautiful river line in the front – we had a good time at the beach. By 9:30 we were back at the hotel, had a satisfying dinner and retired for the day.
Day 2: Excursion to Poovar Island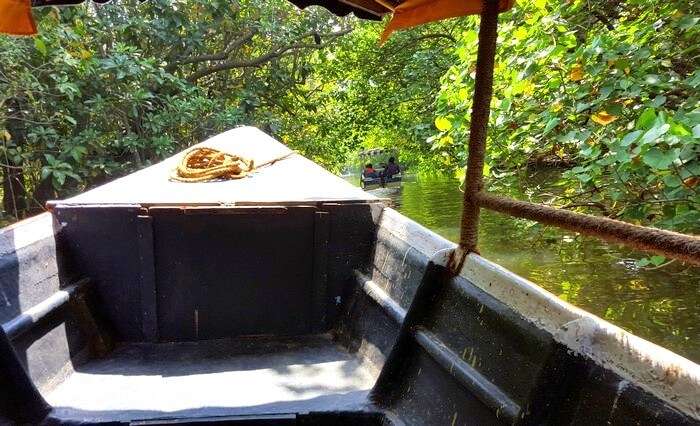 My second day in Kerala took us through a beautiful journey, which we had not anticipated. Our early morning breakfast was to be followed by a transfer to the Poovar Island. We boarded a dinghy boat, which took us through a breathtaking passage in the backwaters, adorned with lush greenery. The trail lead us to the Golden Beach – a beauty to look at from the boat.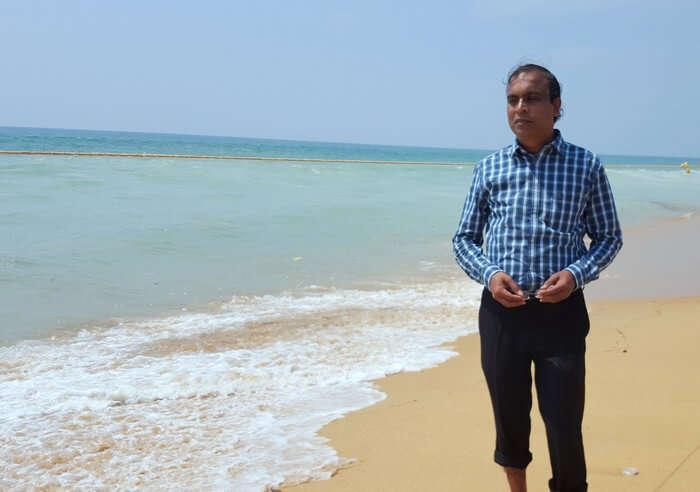 Suggested Read: 10 Beaches In Kerala You Should Visit For A Romantic Vacation
We halted at the beach, had lunch and roamed around its impeccably neat premises. Unfortunately, time was a restriction. So after half an hour, we had to proceed for the return journey. At 1:30, we took off for yet another boat ride amidst the untouched mangroves and the dreamy waters, with only my wife and the boatman. On the way to our resort, we also made a brief stop at the Maritime Museum, which was very close to our resort. We got back to the resort and had our lunch.
As per the plan, we had to go to Padmanabhaswamy temple in the evening. Since I had been here earlier, I was well aware of its strict rules. Considering the temple's tradition, we changed into traditional attire and took off. On the way, we stopped at Kanakakunnu Palace and resumed the journey. The queue at the temple was huge, mobile phones were not allowed, yet the temple was very well managed. By 5:30 – 6:00, our darshana was completed and we whiled away some time shopping.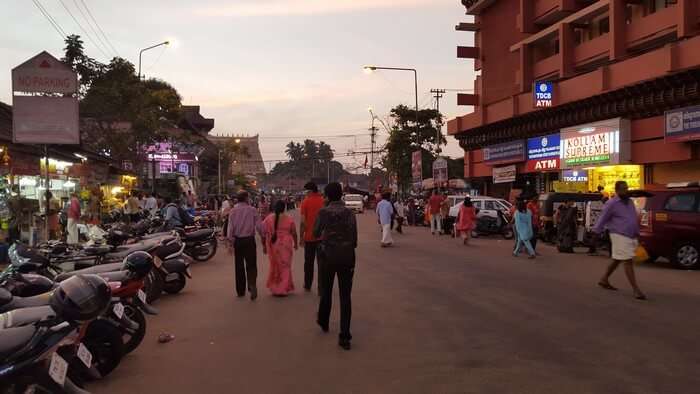 Day 3: Houseboat stay in Alleppey
The excitement of reaching Alleppey was related to the fact that we were to spend a whole day in a beautiful houseboat! From Trivandrum, our driver took us straight to where our houseboat was parked in Alleppey. As the boat-tour started in the backwaters of Alleppey, it seemed as if the doors to a totally new world were opened. The experience was further beautified with a warm welcome into our beautiful room on the boat.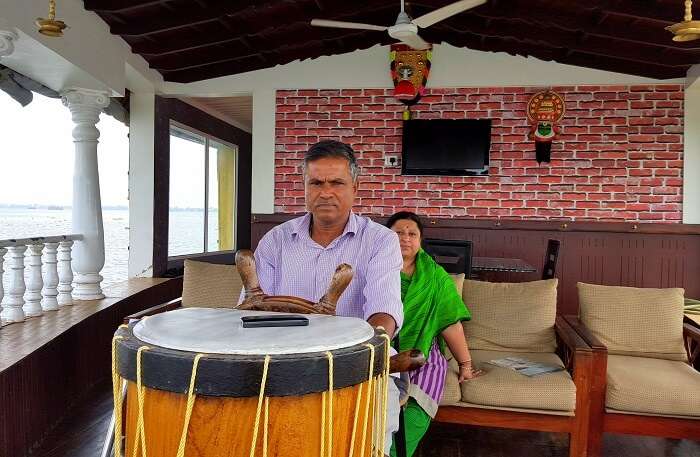 After traveling for about 3-4 km the boat stopped and a delectable lunch was served. The boat resumed its course and we passed lush mangroves, making brief stops at some offshore shacks for coconuts and snacks, and trying my hands at the wheel too.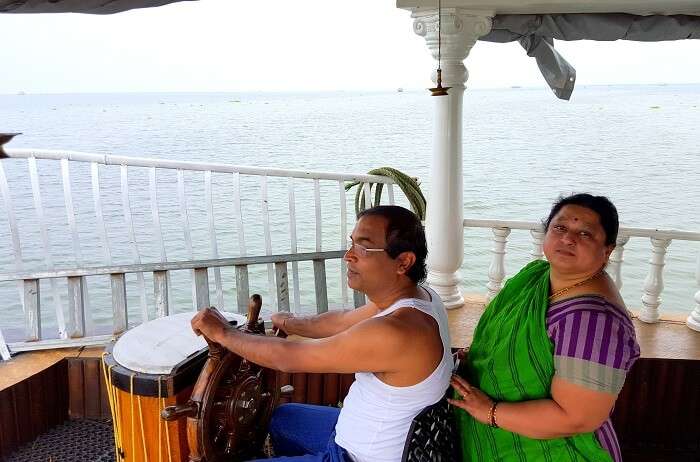 The whole 40-45 km ride made us witness an exemplary beauty, offering us a long-desired escape in peace and serenity. Staying in a houseboat is indeed a one-of-a-kind experience, something that everyone must try. In the evening, the boat was parked at its defined spot and we had our finely-prepared dinner before spending the night comfortably in our A/C room.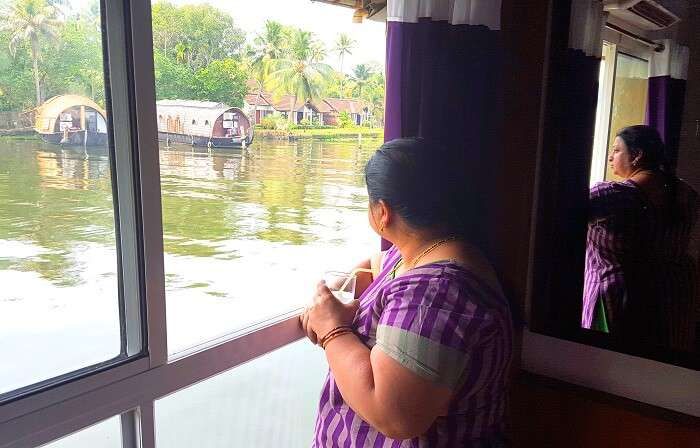 Day 4: Homebound
The boat started moving at around 7:30 in the morning of the next day, and we were dropped back at the starting point within 2 hours. Our cab, awaiting our arrival, took us to Trivandrum.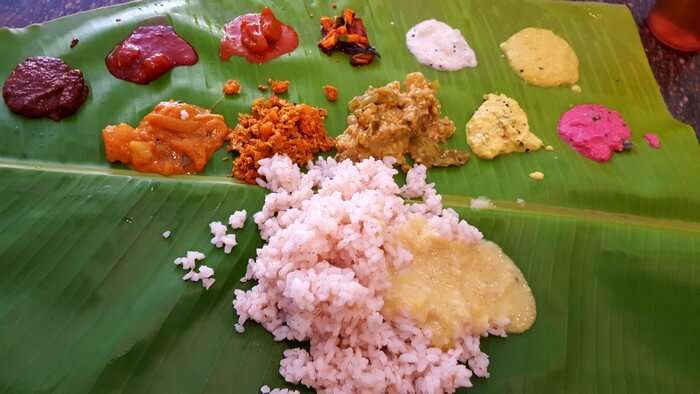 Reaching Trivandrum, we stopped for lunch at a local restaurant. Whenever we were required to have a meal outside the resort, I used to ask my driver to take me to a restaurant which served authentic cuisines of Kerala. After a lavish treat, we had enough time at leisure, since our train to Bangalore was scheduled for 5 in the evening. We utilized our last few hours in Kerala, by visiting a local market. Having passed our time shopping, we left for the station with handcrafted memories from Kerala in our bag.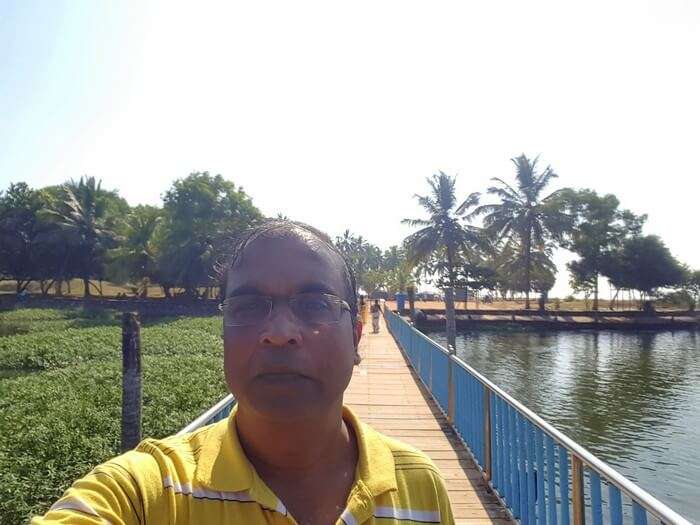 Suggested Read: The Ultimate Guide to Top Tourist Places in Kerala
Highlights:
The most enjoyable experience I had was at the boat ride in Poovar Island. The ride took us through some mesmerizing views and lasted for around 45 minutes.
A visit to Kerala is incomplete without experiencing the houseboat. I enjoyed the quiet of the backwaters with my wife by my side. The experience is indescribable.
Low point: The Sagara Beach Resort was good enough, but the lift facility wasn't easily accessible from my room. As a result, we had to climb around 100 stairs to reach its lobby, when required.
Tip for future travelers: Kerala is one such place in India which travelers must certainly experience, instead of going too far across the globe.
Book a trip to Kerala and see what 'god's own country' has in store for you!