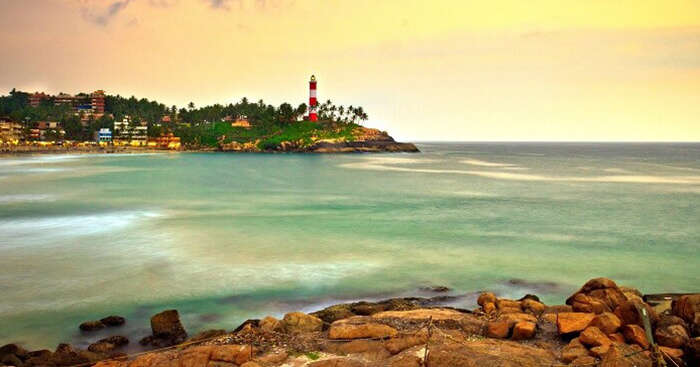 As one of the most popular, most happening and most crowded tourist destinations, Kovalam is tailor-made for an annual family holiday or a dream come true honeymoon. There are mesmerizingly beautiful places to visit in Kovalam, boasting enticing attractions such as thrilling beach activities, admirable art, remarkable architecture of age-old castles, churches & temples, and towering dams.
17 Places To Visit In Kovalam
If you haven't seen much of South India, Kovalam is a good starting point. And for details like where to go and what to do in the city, we are always here rounding it up for you.
Lighthouse Beach
Hawah Beach
Samudra Beach
Karamana River
Vellayani Lake
Halcyon Castle
Kovalam Art Gallery
Valiyathura Pier
Neyyar Dam
Aruvikkara Dam
Vizhinjam Rock Cut Cave Temple
Thiruvallam Parasurama Temple
Shri Padmanabhswamy Temple
Edakallu
Chowara Beach
Vizhinjam Village
Ashoka Beach
1. Lighthouse Beach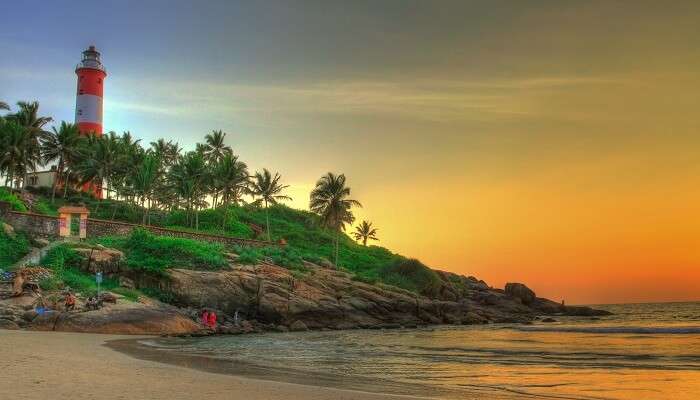 Image Source
Most popular of Kovalam tourist places, Lighthouse Beach is the most happening and crowded one. A 30 m tall lighthouse erected on the Kurumkal Hill, right along the beach, acts as a landmark to the beach and hence the name. Climb over 140 steps to reach an observation area from where you can witness the village of Poovar on one side and Beemapalli Mosque on the other. The crescent-shaped beach line is dotted with various hotels and restaurants. It is indeed a perfect place for leisure and relaxation.
Things to do: Indulge in beach sports like paragliding, swimming, surfing and parasailing; take a leisure walk on the beach while taking in the breathtaking sunrises or sunsets; enjoy a delicious hearty meal of continental and local delicacies in the beach shacks and eateries that line the coast.
A special mention to 'German Bakery' is well earned. Try out their finger-licking pastries, aromatic coffee, cheesy quiche, perfect pancakes, creamy milkshakes and spicy pizza.
---
Kerala Holiday Packages On TravelTriangle
A holiday in Kerala will fill you with memories. Witness pristine backwaters with comfortable houseboats, lush green hill stations, waterfalls, and plantations of tea and spice. Indulge in an ayurvedic massage or taste exotic cuisines. Book a Kerela holiday on TravelTriangle. Best prices guaranteed.
---
2. Hawah Beach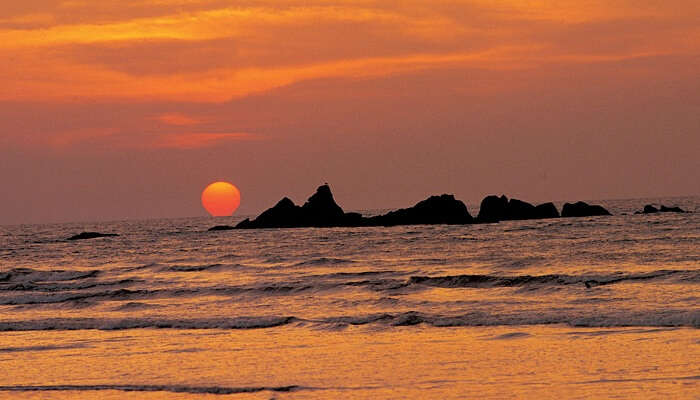 Image Source
A little less crowded and surrounded by verdant coconut and palm plantations, Hawah Beach is a choice for those who prefer serenity and relaxation. It is also one of the famous tourist places in Kovalam, right opposite to Lighthouse shoreline. Also known as the Eve's Beach, it is gorgeous especially around dawn and dusk. But the water current is strong, and it is advised not to swim here.
Things to do: Go sunbathing, take a stroll by the beach and add a dash of adventure with catamaran rides on the strong tides.
Suggested Read: Honeymoon In Kovalam: Guide To Top Attractions, Activities, And Stays For Newlyweds
3. Samudra Beach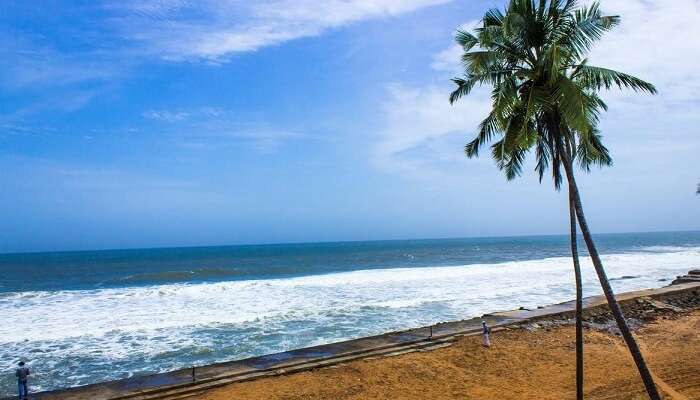 Image Source
The calmest beach with spell-binding beauty in Kovalam is none other than Samudra Beach. It is not crowded, and is mostly preferred by newlyweds who wish to spend time away from hustle and bustle. Samudra Beach is one of the coolest places to visit in Kovalam, detached from other beaches in Kovalam by a promontory and some shore crevices. Some of the premium hotels like Uday Samudra and Vivanta by Taj are located along its shoreline.
Things to do: It is a picture-perfect beach, if you love serenity. So don't miss sunbathing, gazing the waves, if not counting them, and viewing the stunning sunrise and sunset.
4. Karamana River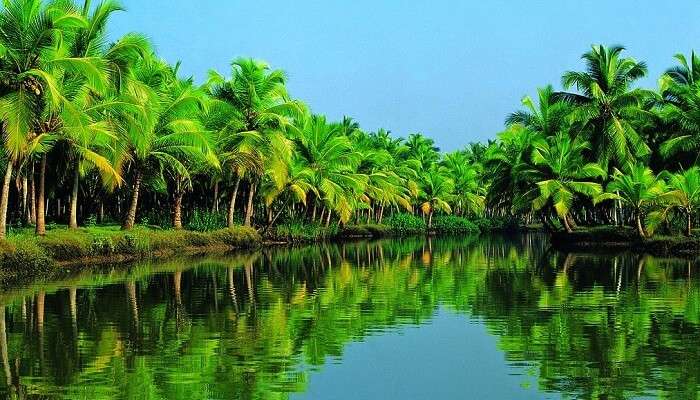 Image Source
Karamana River originates from the southern part of Sahyadri Range. The river predominantly flows through an outskirt region of Kovalam called Karmana, hence the nomenclature. It is a typical stream of peninsular India – broad and gentle.  Tourists mainly visit the river bank to enjoy boating. The serene beauty of the surrounding bank and catchment area is also a draw, dotted with coconut, tapioca, pepper plantations and paddy fields. With typical Kerala backwater backdrop, Karamana River Bank is one of the popular tourist places in Kovalam offering leisure and relaxation.
Things to do: Thiruvallam Boat Club offers kayaking, houseboat cruises and canoe riding facilities. The charges for the same keep on changing as over the season and time of the day.
Opening hours: The backwater are accessible 24*7. However, if you are keen to take a boat ride, be there between 10 am to 6 pm.
Suggested Read: Kovalam Beach Resorts: 8 Most Romantic Sojourns For A Blissful Vacation
---
Planning your holiday in Kerala but confused about what to do? These Kerala travel stories help you find your best trip ever!
Real travel stories. Real stays. Handy tips to help you make the right choice.
---
5. Vellayani Lake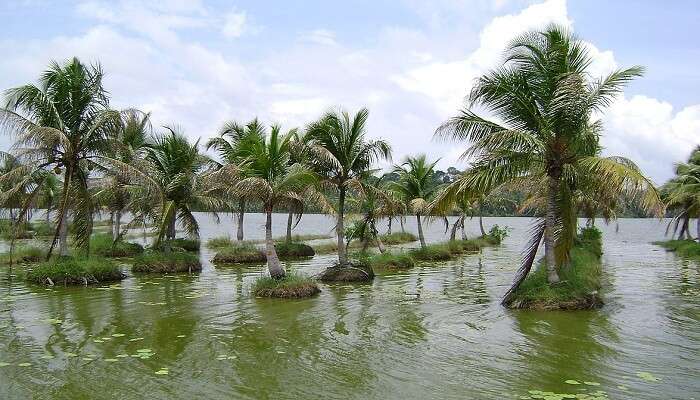 Image Source
Vellayani Lake is a large freshwater body in Kerala and ranks high in the list of famous places to visit in Kovalam. Located just 7 km from the city, it is a unique biome comprising a wide plethora of flora and fauna. A quaint road in the form of a bund intersects the lake. One of the most amazing things here is the mystical charm of Vellayani Lake on a moonlit night – lake's crystal clear, nearly transparent water; and surrounding beauty is worth a visit.
Things to do: Boating facilities to explore and enjoy the suburban landscape, surrounding ecosystem and fishing by locals should not be missed. If you happen to visit during Onam – one of the most famous festivals in India, be sure witness their annual boat race, which is organised in Vellayani.
Boating charges: INR 500 per boat for 30 minutes. The mentioned boat seats 4 people in one go.
6. Halcyon Castle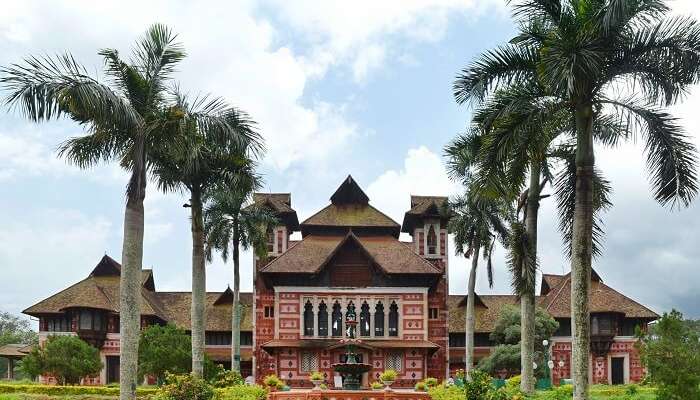 Image Source
Halcyon Castle, also known as Napier Museum, was built in 1932 by Sri Rama Varma Valiya Koil Thampuran as a summer retreat. Sri Rama Varma sold this palace to Kerala Government in 1964. Now, Halcyon Castle has converted to a 5-star luxury hotel and is run by Ravi Pillai, an NRI businessman. Tourists can visit the palace to see the architecture and avail the amenities luxury hotel stays and gourmet dining.
Things to do: Spend a night at the castle, lazing in the sprawling courtyard, and and reveling in the top class amenities. We bet you won't be able to stop yourself from admiring the Kerala style architecture of the heritage construction.
Suggested Read: 10 Finest Resorts In Kovalam For A Revitalizing Vacation
7. Kovalam Art Gallery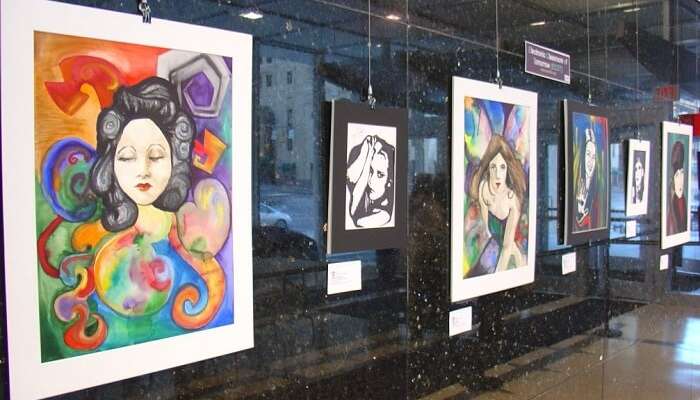 Image Source
For those who have an inclination towards paintings and art work, Kovalam Art Gallery or Sree Chithra Art Gallery is a paradise. The gallery displays valuable and significant paintings of famous painters of the Kerala community. There are also displays related to ancient traditions, heritage culture, Mughal era, Rajput era as well as some artifacts from China, Japan and Tibet.
Thing to do: Check out the exclusive paintings of Raja Ravi Varma, Svetlova and Nicholas Roerich and rare collections of Indian fresco paintings.
Opening hours: 10 am to 4.45 pm; the art gallery is closed on Mondays.
Entry fee: INR 10 per person and INR 20 per family of 4.
8. Valiyathura Pier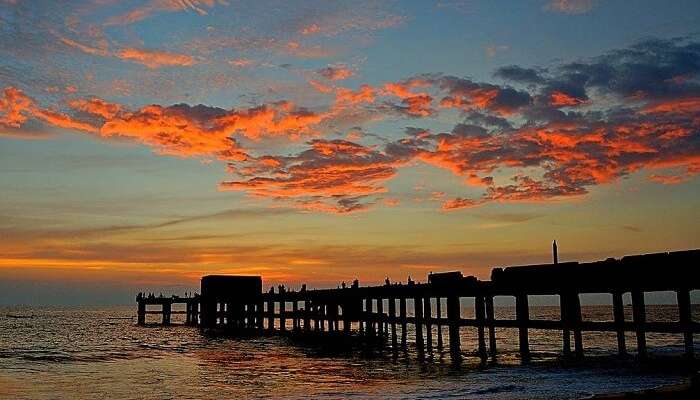 Image Source
The pier is a 214 m long jetty, located near Valiyathura. It locally means a big port. The pier attracts tourists for its jaw-dropping views of Malabar Coast and the Arabian Sea. One of the most serene places to visit in Kovalam, it is an ideal place to take a relaxing walk and spend some leisure time with your better half. Placid and away from urban chores, the wharf was once used by fishermen during high tides.
Things to do: Capture the setting sun and rising tides on your camera forever. The splending colors and perfect lighting are apt to bring out your inner artist and spread it on the canvas with a few strokes of the brush.
Suggested Read: Here's Why Off Season In Kerala Is The Best Time To Travel, Explore, And Chill!
9. Neyyar Dam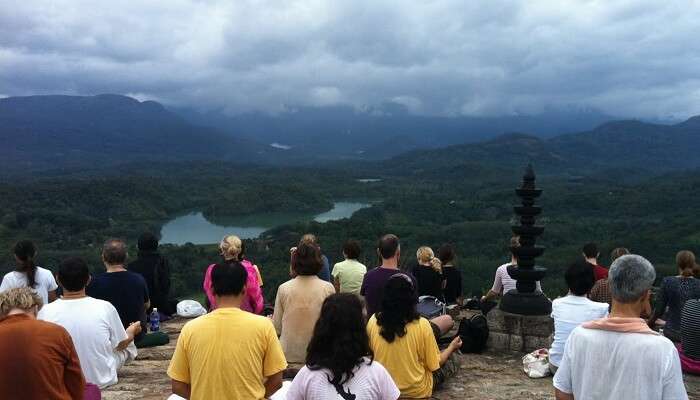 Image Source
This gravity dam is located on the Neyyar River, along the foothills of Western Ghats.  Due to its placement, the dam formed a beautiful lake which is an ideal picnic spot in Kovalam. Both dam and the lake are surrounded by forests that are home to wild animals like gaur, sloth bears, Nilgiri Tahr, jungle cats, Nilgiri langurs, wild elephants and deer.
Adjacent to this picturesque dam site, along the lake, there lies the Sivananda Yoga Vedanta Dhanwanthari Ashram for Yoga and Meditation practices. People from all over the country come here to cleanse themselves while immersing in the majestic realms of Yoga.
Things to do: Spend half a day in this picnic spot with your family or loved ones., go boating in the Dam Lake, and don't miss the wildlife safari in the surrounding forests.
Opening hours: The Safari and the boating facilities are available on all days except on Monday from 9 am to 4 pm.
Boating charges: vary between INR 100 to 150 per head.
Safari charges: INR 250 per adult and INR 125 per child. A child below 5 years will be charged a measly INR 5.
10. Aruvikkara Dam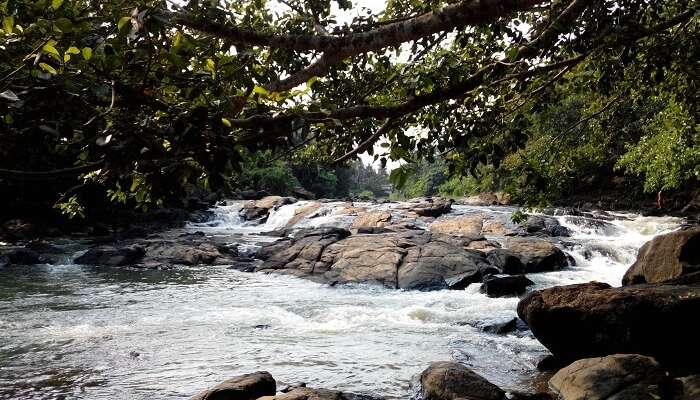 Image Source
Located on the banks of Karamana River, Aruvikkara Dam is among popular picnic spots in Kovalam. Tourists visit this beautiful dam and lake for day outing mostly. Moreover, the lake water has many fishes that come close to surface and are fed by visitors. Sounds fun? But there is a belief too. The fish are considered sacred and it is believed that feeding them can cure many diseases like skin allergies. The District Tourism Promotion Council (DTPC) runs a small eatery cum coffee shop here. So relax and munch whenever you feel like!
Things to do: Boating, feeding fishes and enjoying the scenic beauty of the surroundings. Boating services are available from 9 am to 4 pm in the evening. Keep half a day for this dam and lake area in your itinerary.
Boating charges: Vary between INR 100-120 per person. Bargain hard we suggest.
Suggested Read: Kerala Trip: Travel Hacks That No One Else Will Ever Share With You
11. Vizhinjam Rock Cut Cave Temple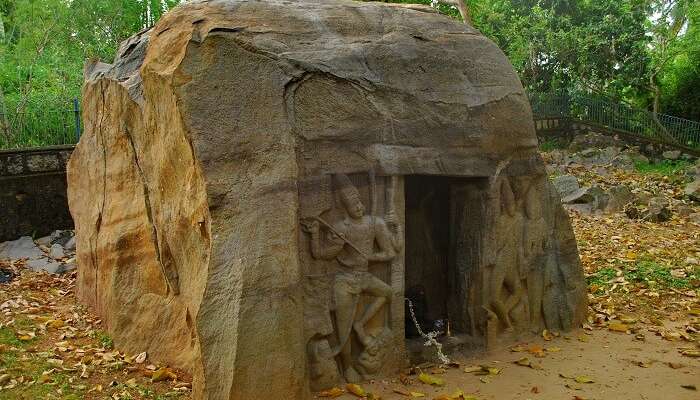 Image Source
One of important places to visit in Kovalam for religious people is Vizhinjam Rock Cut Cave Temple. It is as old as 18th century and located in the outskirts area of Kovalam. One of the oldest rock shrines in India, you will find the incomplete sculptures of Lord Shiva and Goddess Parvati. The site is under the jurisdiction of Archaeological Survey of India.
Opening hours: It opens from 9 am to 6 pm, and remains closed on Mondays.
12. Thiruvallam Parasurama Temple
Image Source
Another temple that must be mentioned here is Thiruvallam Parasurama Temple, which is said to be 2000 years old. Located on the banks of Karamana River, it is a unique temple dedicated to Parasurama – the mythological originator of Kerala. Try to plan your holidays around Bali Tharpanam– a festival to pay tribute to ancestors. Here in this temple, the festival is celebrated with grandeur and it's worth watching.
Opening hours: Thiruvallam Parasurama Temple is open from 6 am to 6 pm.
Suggested Read: https://traveltriangle.com/blog/best-places-to-visit-in-kerala/
13. Shri Padmanabhswamy Temple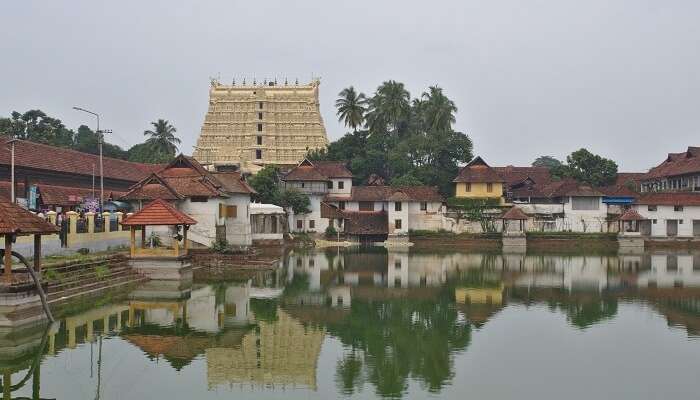 Dedicated to Lord Vishnu, Shri Padmanabhswamy Temple is a hub for spiritual tourists. The eye-catching architecture of the century-old temple represents Dravidian and Keralite culture. You will be mesmerized by the golden exterior of the temple that shines brightly in the sunshine. The interiors of the temple are decorated with paintings and murals. It is one of the holiest places to visit in Kovalam Kerala.
Things to keep in mind: Women are requested to wear either saree of salwar-kameez inside the temple while men should be dressed in a Dhoti.
Timings: Morning hours: 3:30 AM – 4:45 AM (Nirmalya Darshanam), 6:30 AM – 7:00 AM, 8:30 AM – 10:00 AM, 10:30 AM – 11:00 AM, 11:45 AM – 12 PM. Evening hours: 5:00 PM – 6:15 PM, 6:45 PM – 7:20 PM.
14. Edakallu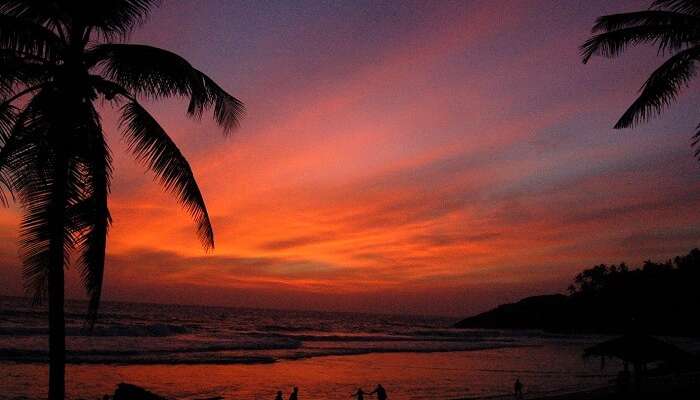 Image Source
One of the must places to visit in Kerala beach, Edakallu boasts of beautiful sunsets and natural beauty. Tourists come all the way to this point to soak in the exuberance of oceanic views and rejuvenate their senses. Its shimmering beaches and vivid waters will make you stay here forever. The point is a favorite among resident photography enthusiasts and eager tourists. The sunsets here are phenomenal. However, we suggest you to refrain being there late at night as the usual strong currents on the beach become furiously violent at that time.
Things to do: Apart from enjoying sunset views, you can also check out the art galleries around this beach or play beach sports with your loved ones.
Suggested Read: Kovalam In December 2020: Explore This Touristy Seaside Town In Kerala
15. Chowara Beach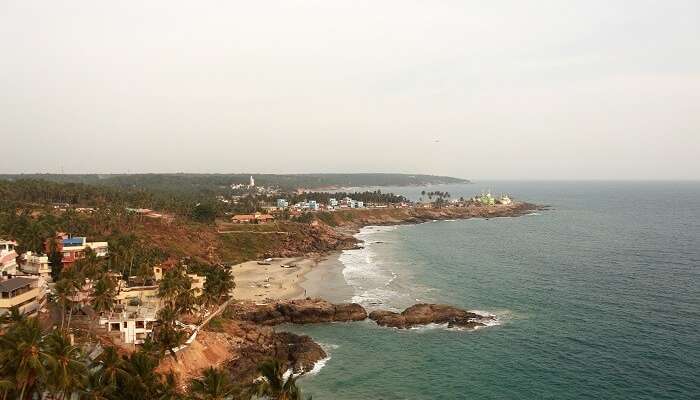 If you are searching for places to visit in Kovalam in 2 days, the beautiful Chowara Beach is one of them. The beach is located just 10 km away from the city of Kovalam and is famously known for its ayurvedic resort. Locals and tourists check into this Ayurvedic resort to treat their ailments and have a rejuvenating holiday. The extraordinary landscapes of this beach are a perfect backdrop for photography and even taking a stroll on the beach.
Things to do: Have a wellness holiday in the Ayurvedic Retreat or enjoy a picnic with friends and family.
16. Vizhinjam Village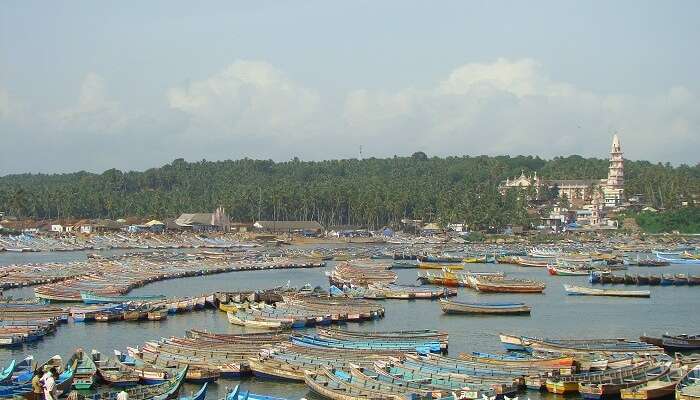 Although we have covered Vizhinjam Rock Cut Cave Temple that is not the only attraction to check out. While you are at it, explore the charming fishing village of Vizhinjam. Visit its natural port where colorful fishing boats are always resting in a beautiful fashion making a great place for photography. Wait till you watch the evening sunset view. Oh, it is spectacular!
Things to do: Visit Vizhinjam Marine Aquarium and the fishing harbor
17. Ashoka Beach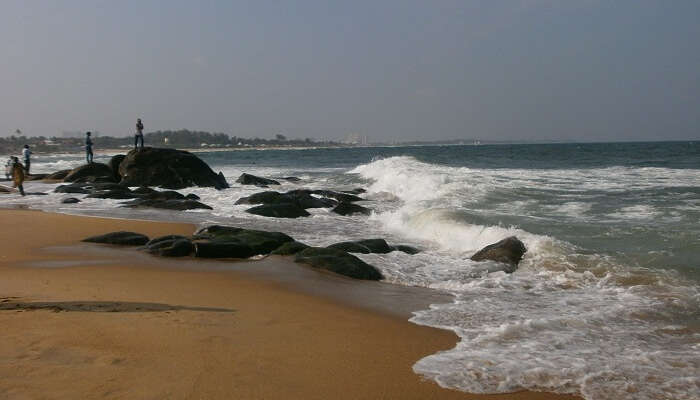 If you are looking for a secluded place in Kovalam, then head to Ahsoka Beach for a serene getaway. The lack of crowd offers you much seclusion and serenity and you can spend hours here gazing at the ocean. The only place where you will find the crowd is the lighthouse where people come to enjoy the distant views of the ocean. There are a number of Ayurvedic Resorts too which makes this place well-known.
Things to do: Take long walks or stay at one of the Ayurvedic resorts.
Further Read: 10 Most Offbeat Kerala Backwaters You Should Explore
Well, the list is not exhaustive! There is so much to explore in this quaint little coastal town on your trip to Kerala. Whether you are planning a honeymoon or a southern getaway, Kovalam is one of the best places to escape to. If you know of some awesome spots, please let us know in the comments below.
Frequently Asked Questions About Places To Visit In Kovalam
Q. Why is Kovalam beach famous?
A. Kovalam is known for its pristine beaches and attracts the visitors majorly because of this reason. This place in Kerala is quite famous among the westerners as the beaches have shallow waters and low tidal waves. Among all the best places to visit in Kovalam, its beaches are the best attractions which cannot be missed.
Q. Which is better Kovalam or Alleppey?
A. Tourists prefer Alleppey to Kovalam when they want to stay at luxury Kovalam beach resorts and dine at high-end restaurants that serve world cuisines. If you're a budget traveler, opt for Kovalam instead. It has a booming backwater houseboat tourism industry and the locals are warm towards tourists.
Q. What is special about Kovalam?
A. The pristine beauty of nature in Kovalam is not just enough to define the reason why this town in Kerala is famous. The beach resorts in Kovalam sets it apart from the other places in the state. Apart from that there is port within 3 kms which is special for a variety of fish, hindu temples and large churches and mosque.
Q. How many beaches are there in Kovalam?
A. main beach in the town is the Kovalam beach which is divided into 3 portions which is actually separated by 3 rocky outcroppings. The three divided beaches are Samudra beach, Hawah beach and Lighthouse beach. Spread within the region of 17kms, these three beaches altogether make the crescent of the Kovalam beach.
Q. How far is Kovalam from Alleppey?
A. Alleppey is located at a distance of 160kms from Kovalam and it takes around 3 hours 56 minutes to reach the place.
Q. How far is Leela Kovalam from Trivandrum airport?
A. The distance between Leela Kovalam and Trivandrum airport is 13 kilometres. It takes 15 minutes to travel from Leela Kovalam to the airport.
Q. How can I go to Kanyakumari from Kovalam?
A. You can take a train from Kanyakumari to reach Kovalam in 2 hours. Trivandrum Nemom is the nearest railway station.
Q. How far is Munnar from Kovalam?
A. Munnar is 296.8 kilometres away from Kovalam. It will take you around 8 hours to reach Munnar from Kovalam. If you plan to visit Munnar, add at least 3 days days to your trip itinerary
Q. How far is Kovalam from Kochi airport?
A. The distance between Kochi airport and Kovalam is around 210 kilometres. It will take you between 4-5 hours to reach the airport from Kovalam.
Q. How do I get to Kovalam by air?
A. The nearest airport to Kovalam is the Trivandrum International Airport which is located at a distance of 15 kilometres away from Kovalam.
Q. Is Kovalam worth visiting?
A. If you want to explore the rustic side of Kerala, come down to Kovalam. It is known for its pretty beaches, calm backwaters, and affordable accommodation and dining options.
Q. How do I get to Kovalam by train?
A. The Trivandrum Central railway station, which is well-connected to major Indian cities, is located only 15 kilometres away from Kovalam. From the railway station, you can hire a cab or a bus to reach Kovalam.
Q. What are the best things to buy in Kovalam?
A. As Kovalam is visited by tourists from all over India, the markets in this town have everything which are stacked in the shops. The best things to buy in Kovalam are:
1. Books
2. Sarongs/Lungi
3. Spices
4. Local handlooms and handicrafts
5. Shells
---
Looking To Book A Holiday Package?
Book memorable holidays on TravelTriangle with 650+ verified travel agents for 65+ domestic and international destinations.
---
Comments
comments