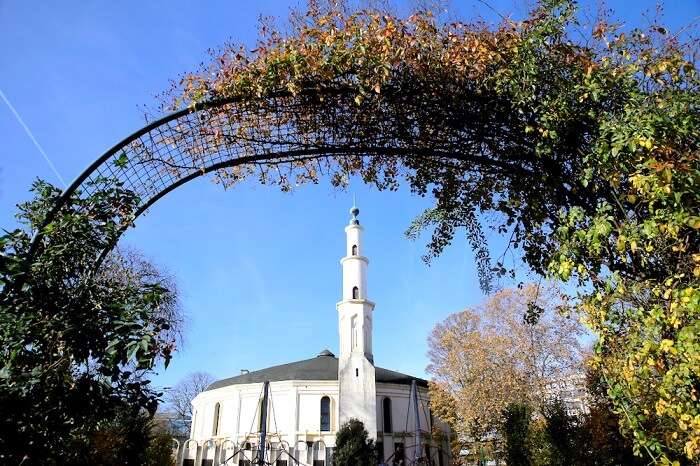 Belgium is a country in Europe, which is famous for its many historic buildings and places of worship. Although the main religion in Belgium is Christianity, a minor 5.2 % follow Islam and even though it is a minor religion, it is the second largest in the country. Owing to its prominence, there are many mosques in Belgium today that you can visit, while traveling to Belgium. From their architectural beauty to their blissful ambiance, everything will leave you enchanted.
10 Top Mosques In Belgium
Since Islam is a significant religion in Belgium, there are many mosques and similar places of worship in the country, which are worth witnessing. So, here's a list of the best 10 mosques in Belgium that you can visit on your stay in Belgium.
1. Grand Mosque of Brussels

If you are looking among the list of mosques in Brussels, Belgium then this will definitely top your list. The Grand Mosque is the oldest mosque in Brussels, Belgium. Located in Cinquantenaire Park, this mosque is also serves as the Islamic and Cultural Centre of Belgium. The original mosque was of the Arabian architecture but later it was reconstructed in 1978 as the mosque looks now in the present day. The mission of this mosque is to serve both the Islamic and the Belgian community. The Islamic and cultural center also teaches many students about the religion and looks after the conversion procedures for those who want to convert to the religion.
Location: Parc du Cinquantenaire, Brussels, Belgium.
Must Read: Shopping In Belgium: Ten Places To Shop For Fantastic Chocolates To Chic Clothing
2. KU Leuven Students Mosque (IMSAL)

IMSAL is a collaboration of all the Muslim students from Belgium, who come to study at KU in Leuven or any other educational institute in Leuven. They help the students to interact and know about the Belgian society and provide innovative opportunities to learn and practice their religion. The main objective of this student's association is to create the proper atmosphere to maintain a fulfilled Islamic living style as well as encourage the members of the religion to observe the prayers and conducts discusiions and lectures to know more about their religion.
Location: Rjjchoolstraat, Leuven, Belgium
3. Bait – us – Salam

Another mosque located in Brussels, Bait-us-salam is an Ahmadiya mosque in the country of Belgium.
Built in 1985, this mosque was inaugurated by Hazrat Mirza Tahir Ahmad. The Ahmadiya Muslim community has many mosques in Brussels, Hasselt and Antwerp region. The mosques are famous for
their annual Jalsas and Salana conventions. The building during its initiation started off as a mission house but later it was built into a mosque.
Location: Dilbbek, Brussels, Belgium.
Suggested Read: 10 Beaches In Belgium That You Must Visit On Your Trip
4. Masjid Noor – Ul – Haram

This is an Islamic association in the Antwerp region of Belgium. This organization is fully dedicated to serve the Belgian Islamic community by preaching and teaching more about the religion, which will help the individuals live a more Islamic centric lifestyle. Every year they organize a Quran lesson, teaching about the faith of the religion, both in Dutch and Urdu. There is also a funeral committee of this association that take care of the funeral rituals from shrouding to performing Djanazah prayers to burying.
Location: Antwerp, Belgium.
Suggested Read: Belgium Food: The 10 Mouth-Watering Delicacies You Must Try!
5. Mosquée des Beaux – arts – de Charleroi

Mosquee des Beaux is another Islamic Federation in Belgium, comprising of the students of BIF KGT
University. They are dedicated in teaching the individuals about the Islamic religion and lifestyle. They let the individuals from the Islamic community to partake in courses teaching about the religion as well as perform Friday sermons.
Location: Boulevard Jacques Bertrand, Chaleroi, Belgium
6. Mosque Al Moslimine

Mosque Al Mosilimine in Antwerp region of Belgium, has been in existence since 1997. When the mosque was first started, it had only 57 members. The mosque was then shifted to a new address in the heart of Antwerp, where the localities included an Arabian shopkeeper's community and as a result the number of people attending the mosque increased and in the present day it receives more than 750 members. With so many people visiting the mosque, they have taken up the responsibility of teaching more about the religion by conducting lectures and religious activities. They also teach about the concept of integrating Islamic style in their everyday living. They also impart their attention towards the effects of drugs on the health of the society as a whole. The mosque receives several visits from the Islamic centers for collaboration towards the development of the community.
Location: Antwerp, Belgium.
Suggested Read: Belgium Nightlife: 5 Ways To Enliven The Dark Hours!
7. Mosque Al Fath

Mosque Al Fath is another community centered mosque in Belgium located in Leuven, Belgium. The mosque offers Friday sermons as well as teach about the Islamic lifestyle and teachings. They are dedicated to make the individuals know more about their faith. The mosque is very lovely and there is a separate room for ladies, where they can pray. The location is easily accessible and a lot of visitors go to this mosque to offer their daily prayers, especially the sermons on Friday.
Location: Leuven, Belgium
8. Mosque Al Iman

Mosque Al Iman is an association of the Islamic community in Belgium, whose primary objective is to provide educational and religious services to the Muslim community. Another important aim of this association is to help build bridges between different communities of the society. The mosque Al Iman conducts many religious activities including the daily prayer and the Friday prayer as well as holding feasts of Eid al Fitr and Eid Al Adha, the Ramadan fasting month is also observed in this mosque. Other activities include religious courses and lectures on promotion of cooperation between different
communities of the society.
Location: Antwerp, Belgium.
Suggested Read: Tomorrowland Belgium 2022: All You Need To Know For Experiencing The Ultimate Music High!
9. Masjid Al Ihsaan

This is another mosque in Leuven region and has been a part of the community since 1976. The mosque was built to show the interest of the Muslim community in the Leuven region. It is one of the popular mosques in Leuven and is a very important part of the Islamic community. They conduct joint prayers and the mosque has a very spiritual and open social character. They are dedicated to development of Islamic ideas with an openness towards the society as a whole.
Location: Kolonel Begaultlaan, Leuven, Belgium
10. Yunus Emre Moskee

This mosque is named after a Turkish poet called Yunus Emre and this mosque belongs to the Turkish community in Genk area. You can find this mosque at the edge of the Sledderlo National Park. The city of Genk comprises of different population groups and is home to different kinds of cultural community. The Islamic community in Genk is a combination of Turkish and Moroccan believers and to maintain this relationship of cooperation between these two communities, this church was formed.
Location: Wintergroenstraat, Genk, Belgium
Further Read: 15 Festivals In Belgium: Extravaganzas That Will Fill Your Life With Unparalleled Jubilance
Belgium comprises of many religious communities, among which Islam is a significant one. As a result, there are many mosques in Belgium. With this list of mosques in Belgium, you can surely see every side of it on your next trip to Europe with TravelTriangle.
---
Looking To Book An International Holiday?
Book memorable holidays on TravelTriangle with 650+ verified travel agents for 65+ domestic and international destinations.
---