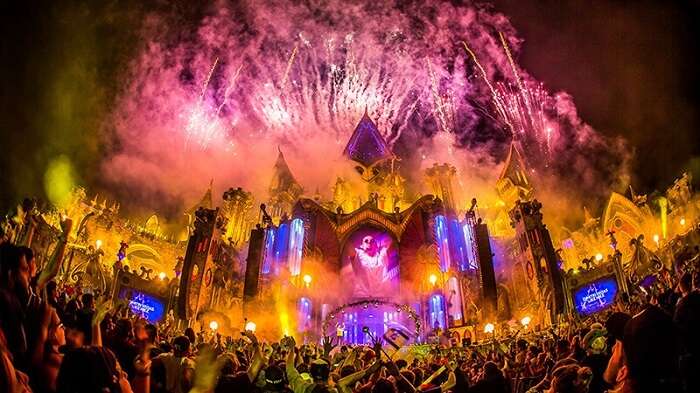 If music is what gets you high and witnessing the best DJs of the world has always been your dream, or if being a part of the madness is your thing, then Tomorrowland Belgium is where you need to be today, tomorrow, and forever! Being the world's biggest and craziest electronic music festival, Tomorrowland is an ultimate experience to have at least once in your life. But if 'Is it really worth the hype?' is the only thing that has been stopping you till now, we are here to decode it for you. See Tomorrowland's evolution over the years.
From what exactly is Tomorrowland festival to how much a does a trip cost, here are the answers to every question that has ever been on your mind. So, start scrolling and take a look. We hope this detailed guide will help you plan your trip to this musical extravaganza smartly and effortlessly!
Everything You Need To Know About Tomorrowland Belgium 2021
Here is a synopsis of what you can expect in Tomorrowland Belgium, one of the most amazing music festivals that takes place in Belgium on an annual basis:
What Is Tomorrowland Belgium?
When & Where Is Tomorrowland Happening?
What's So Exclusive About Tomorrowland?
Tomorrowland 2021: Tickets Cost & Registration
Things To See At Tomorrowland Belgium Festival
Where To Stay During Tomorrowland 2021?
Where To Eat During Tomorrowland 2021?
What To Pack For Tomorrowland 2021?
Tips For Tomorrowland Belgium Festival
How To Reach Tomorrowland Belgium?
Interesting Facts About Tomorrowland
How Much Does A Tomorrowland Trip From India Cost?
What Is Tomorrowland Belgium?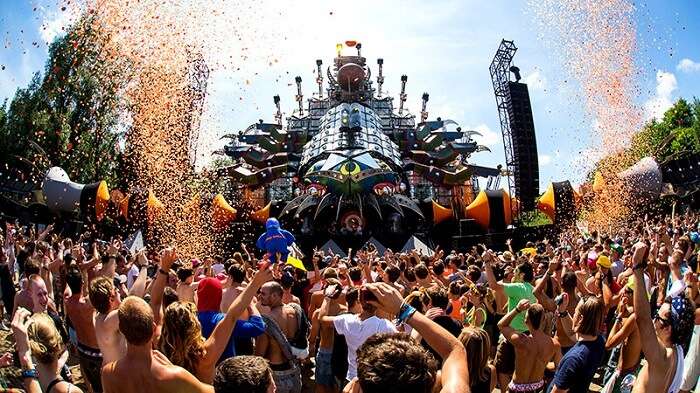 Offering the ultimate high, Tomorrowland festival is the best and the biggest electronic music festival in the world that takes place in Boom every year. It not only unites tens of thousands of music lovers from more than 200 countries under one roof but also brings them closer. With its inception in 2005, the Tomorrowland music festival has only featured the best of artists, techno, and stage designs every year. This is undoubtedly one of the most sought after festivals in Belgium and one of the most popular European music festivals. If there's one event in the world that has truly given meaning to music and is the god of all the festivals, it is this!
Must Read: Honeymoon In Belgium: Romance Through The Medieval Towns And Charming Castles!
When & Where Is Tomorrowland Happening?
Like every year, the music festival will be taking place in Boom, Belgium, however due to the current Covid-19 situation the dates for the festival have been shifted from last two weekends of July to August end. Also, Tomorrowland 2021's theme is yet to be announced. It would probably be announced in May 2021.
Tomorrowland Belgium 2021 Dates: August 27th to August 29th & September 3rd to September 5th are Tomorrowland 2021 dates.
Tomorrowland Belgium 2021 Address: Provincial Recreatiedomein De Schorre, Boom, Belgium
Find the details about Tomorrowland 2021 Lineup here
Suggested Read: Belgium Travel – Cockpit Of Europe: A Mini Guide To The Unique Side Of Belgium
---
Europe Holiday Packages On TravelTriangle
---
What's So Exclusive About Tomorrowland?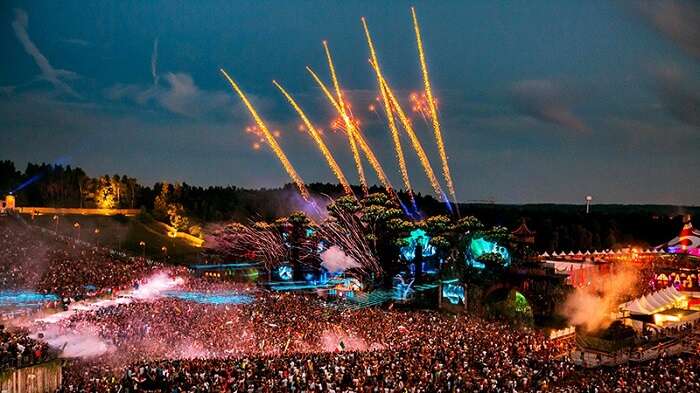 Featuring more than 1,000 famous DJs & artists like Hardwell, Vini Vici, Lost Stories, Alan Walker, San Holo, Oliver Heldens, and more, Tomorrowland festival is a one-of-its-kind music festival in the whole world.
The festival not just preaches 'Live Today, Love Tomorrow, Unite Forever' to the music lovers across the planet, but also ensures that they believe in it.
Apart from mind-boggling and soul-satisfying music, Tomorrowland festival also boasts around 15 spectacular stage designs and breathtaking fireworks.
What's more? It brings more than thousands of people from over 200 countries under one roof and unites them all with the magic of only one language, music!
Suggested Read: 25 Places To Visit In Belgium In 2021 That Make The Country Irresistible
Tomorrowland 2021: Tickets Cost & Registration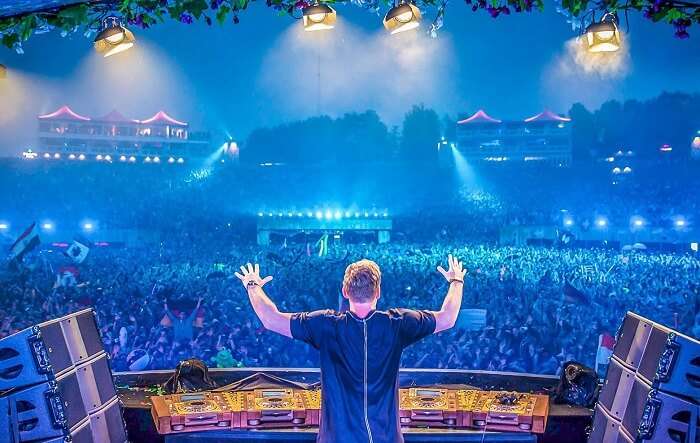 Image Source
It's no secret that the tickets for Tomorrowland Festival in Belgium gets sold out pretty soon and finally getting one is nothing less than luck either. But, if 'how much does it cost' and 'what ticket to buy' are your primary concerns, then you need to know that entry to Tomorrowland music festival requires both patience and money. Apart from this, of course, spontaneity!
Being a part of this festival might be one of the best things to do in Europe. While there are single day Tomorrowland tickets like Magical Friday Pass and Incredible Saturday Pass, there is a major weekend ticket called Full Madness Pass. And every ticket has two types: regular and comfort that define the kind of access you can enjoy during the event. Apart from this, there are also proper Dreamville packages, Global Journey packages, B2B and Table packages that include accommodation and transfers respectively. Make sure that you check out all the Tomorrowland 2021 tickets price before choosing one of the passes. 
1. Tomorrowland Belgium Tickets 2021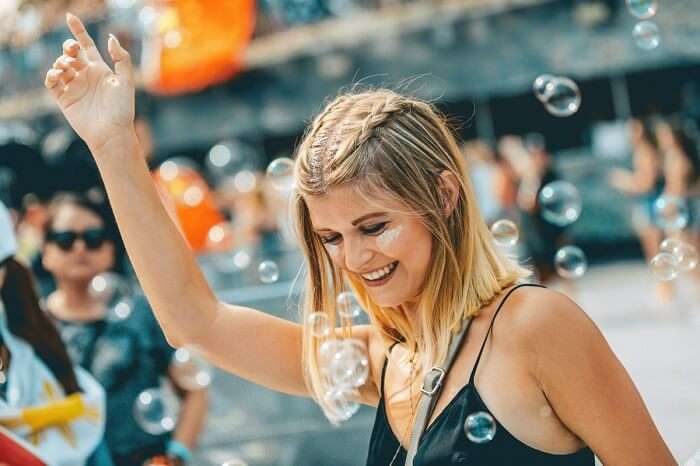 Check out all the Tomorrowland ticket prices here and choose which of the passes are you going to grab!
Full Madness Pass: € 225 (pre-sale) & € 281 (worldwide sale)
It gives general access to Tomorrowland Belgium during any one weekend (service fee is excluded).
Full Madness Comfort Pass: € 380 (pre-sale) & € 496 (worldwide sale)
It gives general access to Tomorrowland, and the comfort (VIP) zone at the Mainstage & 4 other stages during any one weekend (service fee is excluded).
Magical Friday Pass, Incredible Saturday Pass & Glorious Sunday Pass: € 94 onwards
It gives general access to Tomorrowland Belgium only on the respective day (service fee is excluded).
Suggested Read: 15 Festivals In Belgium In 2021 That Will Fill Your Life With Unparalleled Jubilance
2. Registration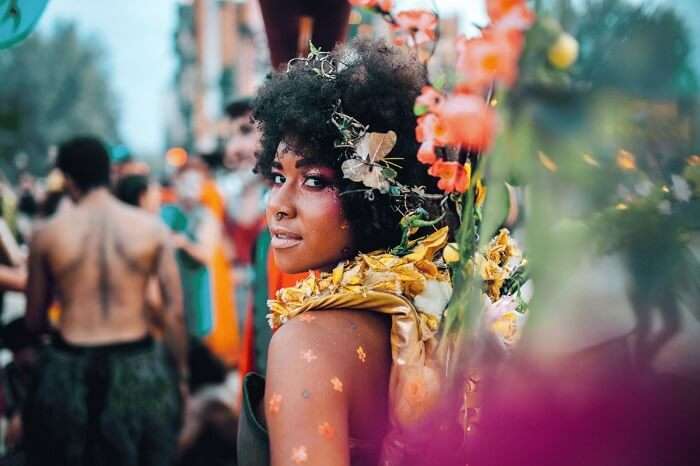 Image Source
While there's no guaranteed way to get tickets as they are given on first come first basis, the best way to make sure you have more chances of getting on the final list is by registering correctly. Here a few tips for the same:
Make sure you pre-register the day the pre-registration starts and provide all the essential details like name, contact number, and email id. Also, ensure that the information you enter if of the person for whom you're buying the ticket as the name needs to match with the festival bracelet.
Avoid buying the tickets from third party websites as they can be a scam.
Inform your bank well in advance that you're going to make an international transaction so that you do not face any errors while buying the ticket.
Suggested Read: 10 Things To Do In Belgium That Are Fun, Delicious, and Delightful!
Things To See At Tomorrowland Belgium Festival
Add some spice and fun to your visit to Tomorrowland Belgium and check out these things at the festival. If you miss out on these, then what is worth going to such a grand festival?
1. The Main Stage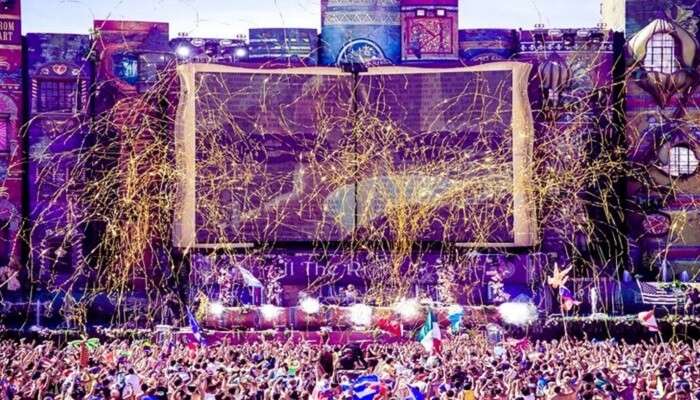 Tomorrowland has been the trend-setter of setting the most out-of-the-box stage every year which is usually followed by the succeeding festivals. The main stage is always designed according to the theme of the festival. 'Book of Wisdom' was the theme selected in 2012 where the idea revolved around a magical library. Tomorrowland's stage set up leaves everyone in awe of it. With 'The Arising of Life' as the theme of 2021, everyone is eagerly waiting for what will be the new, innovative design that will be used for the main stage this time.
Suggested Read: 12 Grand Castles In Belgium All Architecture Admirers Should Visit In 2021
2. 12-Hour Set Up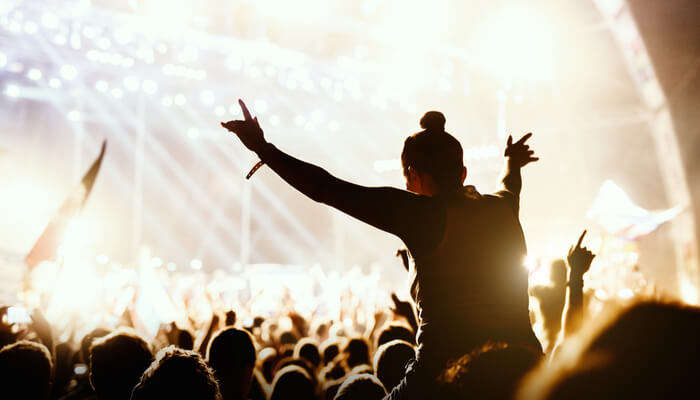 After reading the line-up, you will find that there is no dearth of artist-branded stages at this festival. For instance, Afrojack, Carl Cox, and Laidback Luke will be performing on their own stages. Are you going – so what? Well, this is not it. If you have heard of Markus Schulz then you might leave everything else (even the main stage) and might head to his stage. Yes, you heard it right! Schulz is setting up his own stage where he is going to open, host, and close the performance.
The 'WOW' factor is still left, guys! The trance icon will keep the performance going on for straight 12-hours on Friday. Schulz wants the crowd to experience the 'full MS spectrum" which includes deep warm-up, peak hour, and then the rabbit hole (the best part). With so much to experience in this festival, it is expected that the fans are already jumping with excitement.
Suggested Read: Belgium Wildlife Guide: 7 Spots For Spotting The Wild Creatures!
3. Church Of Love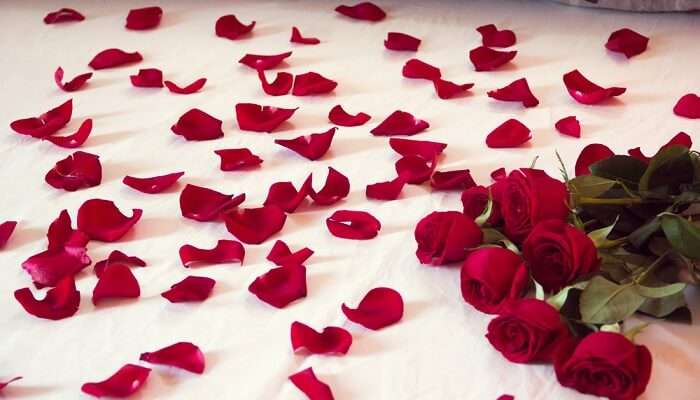 Not everyone might want to hit the Tomorrowland's Love Chapel but its presence at the festivals proves the high sense of humor of the organizers. The chapel is just a small structure painted in pink where you will be welcomed by sexy nuns. The chapel has a bed and interiors are decorated with the symbol of love – heart. You can click a fun picture here with your gang for a memory.
Suggested Read: Belgium Nightlife: 5 Ways To Enliven The Dark Hours!
4. Boozebag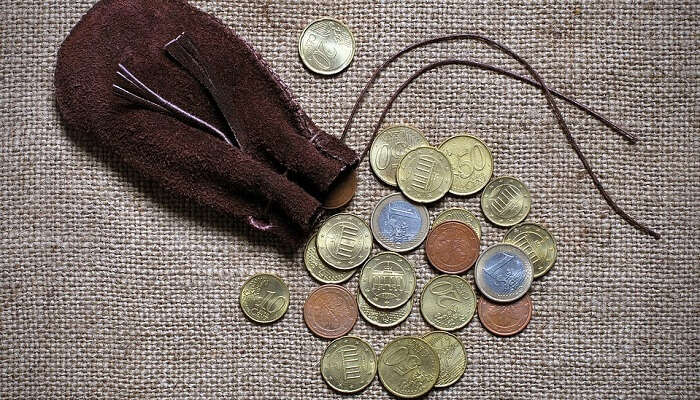 The organizers have made the festival more magical by converting cash into a pouch full of coins that you can use inside. With 'The Arising of Life' as the theme, the organizers have literally followed the theme and emerged the idea of cash by going back to the ancient era. Festival-goers can buy this pouch for 50 Euros which includes 35 coins along with a limited edition map of the Tomorrowland festival. Buying a drink with these coins will make you feel like you are in the magic land.
Suggested Read: Top 8 Wedding Venues In Belgium That Are Just Perfect To Take Your Vows
5. After-Movie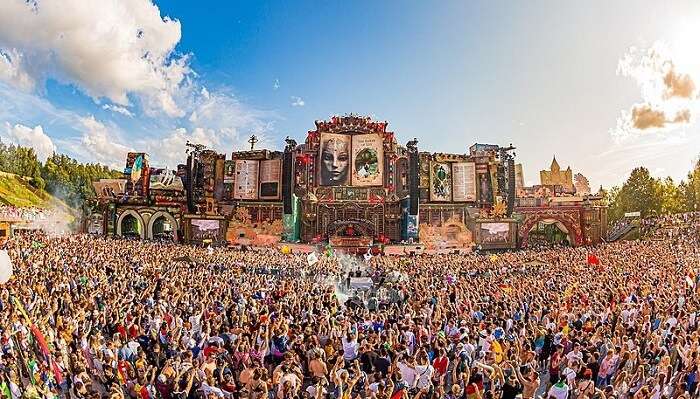 Last but not least will be the Tomorrowland after-movie for which everyone is always excited. It might be hard to believe but Tomorrowland 2012 after-movie has been watched more than 82 million times. You might not want to miss the aerial shots of this larger-than-life festival with a perfectly blended soundtrack. This 20-plus minutes video reminds why hundreds of thousands of people head for Tomorrowland festival. 
Suggested Read: 10 Best Mosques In Belgium That'll Add The Real Bliss To Your EuroTrip
Where To Stay During Tomorrowland 2021?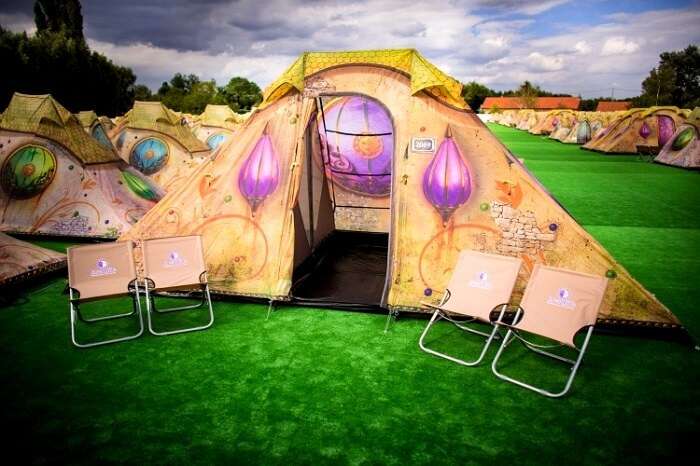 While you can easily find good hotels in Boom, Belgium, the best place to stay during Tomorrowland is its festival ground, DreamVille. A vibrant city where people from different cultures meet, eat, and relax together during the music festival, DreamVille offers a wide range of accommodation. From Relax Rooms to Tents and from Cabanas to Mansions, the Tomorrowland accommodation prices for a two-person tent package usually costs around € 855 and includes Full Madness Passes, accommodation, access to The Gathering, Dreamsville Marketplace, and the basic sanitation facilities. You can also check out popular hotels in Belgium for a perfect stay!
So, if you're someone who prefers a value for money deal and doesn't like carrying a lot of luggage at the same time, this is where you need to stay during the Tomorrowland music festival.
Suggested Read: 10 Beaches In Belgium That You Must Visit On Your Trip
Where To Eat During Tomorrowland 2021?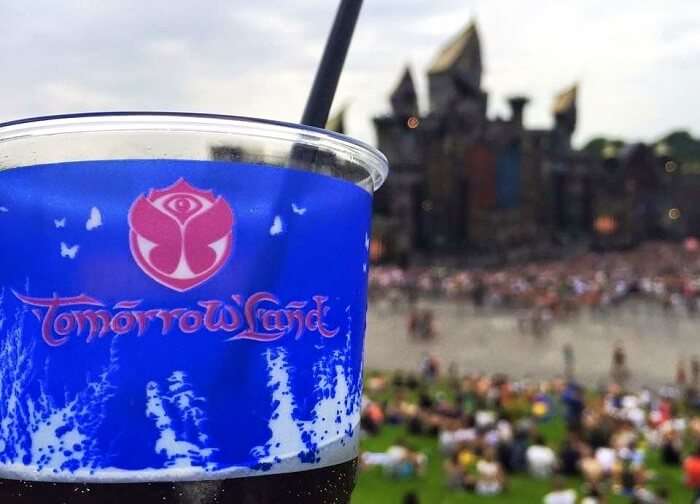 Food is one thing that you don't have to be concerned about at all if you're going to Tomorrowland because this music festival actually serves the world on a platter. And as per the reviews so far, it is nothing less lip-smacking! From letting you bring your own food & drinks to the campsite to making you indulge in flavors from across the world during the festival, Tomorrowland truly knows how to keep your taste buds satiated.
Apart from the festival, there are numerous restaurants and outlets in the city of DreamVille as well. You can savour the exquisite flavours of Belgium food and have a gala time. There will always be places to eat around, but since Tomorrowland is a cashless festival, you'd have to buy tokens before entering the ground, which you can then use to eat & drink around.
Suggested Read: Belgium Food: The 10 Mouth-Watering Delicacies You Must Try!
What To Pack For Tomorrowland 2021?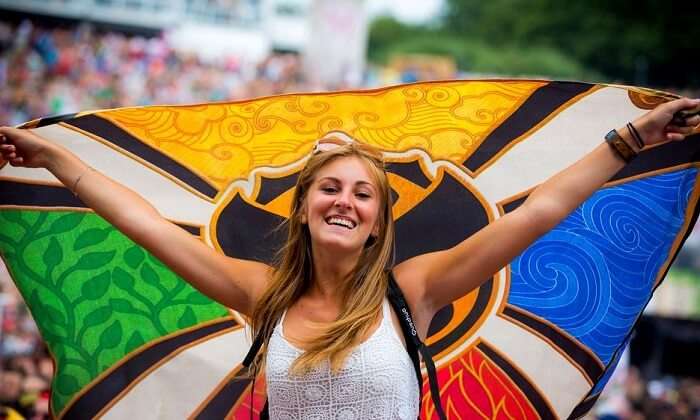 The weather in Boom, Belgium during the month of July varies between 23° Celsius to 14° Celsius, which means colorful summer dresses and shorts is what you need to pack for this ultimate music festival this year.
A few other things that you must pack are:
A pair of cool sunglasses
Comfy summer outfits
A camera that helps you capture the music madness
A few munchies and drinks for the campsite
Comfortable shoes
Essential medicines
All your travel documents
Suggested Read: 25 Festivals In Europe That Will Up The Fun Factor Of Your Euro Tour In 2021!
Tips For Tomorrowland Belgium Festival
To ease your planning for attending Tomorrowland Belgium festival, here are some tips that you can follow:
Be active and pre-register for the tickets for yourself and your friends. It is always better to grab the tickets as early as possible so as to avoid disappointment later. 

It is better to arrive early at the venue if you want to explore more and get the most out of your day

Before the festival, pick up your flag and wear it that instant. Wearing the flag will not make you feel the odd one out. 

While taking the water bottle, make sure that you keep the lid so that you can refill the bottles. (They usually take the lids away.)

To avoid any lines, ensure that you top-up your bracelets. You might also get some bonus which you can use at the festival. 

Don't plan to spend the whole time at the main stage as there will several other things to explore at the festival. 

If you are planning to split up from your group then make sure that you fix a meeting point so that no one gets lost amidst so much crowd. 

Head to the food counters to relish delicacies from all around the world.

You might find deodorant in the bathroom but not sunscreen so it is better to come prepared. 
Suggested Read: 9 Comfortable Homestays In Belgium For Every Kinda Traveler On A Shoestring Budget!
How To Reach Tomorrowland Belgium?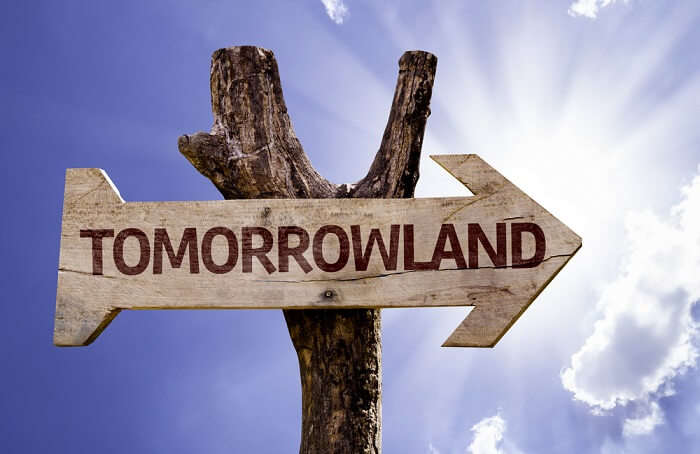 Tomorrowland takes place at a recreation area, De Schorre, in Boom, which is situated in Belgium between Antwerp and Brussels. The festival ground can be reached easily by train, car, or bus once you're in Brussels to Tomorrowland. But if you're wondering how to make it to the festival from India, the best way is to take a Global Journey Package that offers an out of the world experience.
This Global Journey Package includes air tickets from Delhi or Bombay, accommodation in DreamVille/hostel/hotel, a full madness pass (regular or comfort), a newspaper, a Tomorrowland souvenir bag, and all necessary transfers.
Suggested Read: Celebrate Christmas In France For A Majestic, Magical, And Merry Holiday In 2021
Interesting Facts About Tomorrowland
So, after all the gossips and the hype about Tomorrowland, let's dive into some facts that you ought to know:
The first edition took place in 2005 and free passes were distributed Belgians to fill up the festival.
What started as a 1-day festival, now spans over 2 weekends.
The popularity rose so much in 2012 that the ticket server crashed as too many people were trying to buy tickets.
From 2012-2016, Tomorrowland was voted as the 'Best Music Event' at the International Dance Music Awards.
There is a partnership of Brussels Airlines and the organizers. You get travel discounts! Go get them.
This isn't a mad festival. It's insane! Hence, drugs are an enforced Taboo at Tomorrowland.
The 2012 edition had Europe's Highest 'Mobile' Ferris Wheel.
Suggested Read: 10 Mystical Churches In Belgium For All Those Who Love Historical Sites
How Much Does A Tomorrowland Trip From India Cost?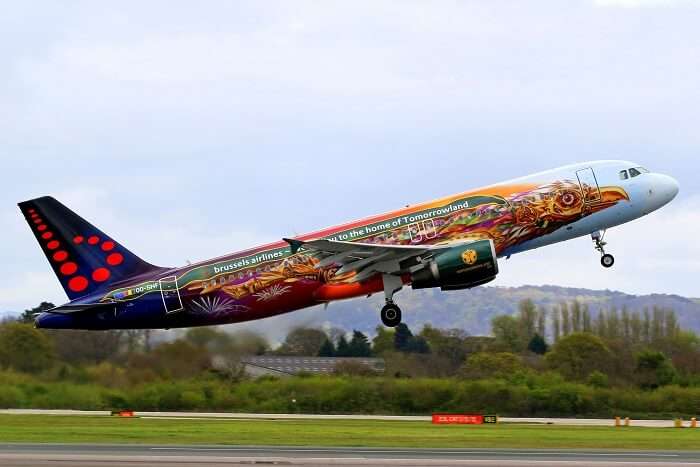 Given how kick-ass this world's biggest music festival is, a trip to it from India, of course, doesn't come for cheap. But it is definitely an experience worth every dime, and we can vouch for it.
A round-trip flight from India costs around INR 40,000 whereas the pass costs around INR 23,000 or more depending on the type of ticket you buy. Apart from this, local traveling and a budget stay in a trip to Brussels or Antwerp costs around INR 10,000 and INR 20,000 respectively. All in all, it costs more than INR 93,000 for a trip to Tomorrowland after you include miscellaneous expenses as well.
On the other side, a Global Journey Package costs around INR 1,30,000 to INR 2,25,000 (depending on the type of accommodation you choose) as it includes everything from flights to festival pass and from stay to local transfers.
Further Read: 15 Hotels In Brussels That Suit Every Type Of Traveler
Have more questions related to Tomorrowland Belgium – the music festival of the world? This guide has all the answers you need. Get packed, plan your Europe vacation right away! Want us to help you plan your trip? Feel free to comment below or get in touch with us and we'd try our best to help you be a part of this ultimate musical journey! Do not forget to share it with your friends.
Disclaimer: TravelTriangle claims no credit for images featured on our blog site unless otherwise noted. All visual content is copyrighted to its respectful owners. We try to link back to original sources whenever possible. If you own the rights to any of the images and do not wish them to appear on TravelTriangle, please contact us and they will be promptly removed. We believe in providing proper attribution to the original author, artist, or photographer.
Please Note: Any information published by TravelTriangle in any form of content is not intended to be a substitute for any kind of medical advice, and one must not take any action before consulting a professional medical expert of their own choice.
Frequently Asked Questions About Tomorrowland Belgium
Does Tomorrowland always happen in Belgium?
Yes, the amazing Electronic Dance Music festival, Tomorrowland is always organized in the town of Boom in Belgium.
Is there an age limit for Tomorrowland?
18 is considered to be the minimum age to attend the music festival of Tomorrowland. You are required to bring proof along in order to enter the festival without any hassle.
Is Tomorrowland in Belgium held every year?
Yes, Tomorrowland in Belgium is held every year.
What is the largest music festival in the world?
Some of the biggest music festivals in the world are Woodstock, Glastonbury, Exit, and more.
How much does it cost to go to Tomorrowland?
It costs INR 8000 to go to Tomorrowland.
Where in Belgium is Tomorrowland?
The Tomorrowland music festival is held at Bouckaert Farm.
What time do Tomorrowland Tickets go on sale?
The sale of Tomorrowland Belgium 2021 tickets will begin in late January and early February. The sale of Global Journey packages begins on 19 January, Worldwide Pre-sale will start on 26 January, and the WorldWide Ticket Sale is from 02 February.
How much is a Dreamville pass for Tomorrowland?
A day pass for Tomorrowland costs you from 88 Euros to 110 Euros and sells the quickest. The three-day Full Madness pass costs you from 225 Euros to 272 Euros. The Global Journey pass that covers round-trip airfare and lodging will cost you 2,000-2,370 Euros.
---
People Also Read:
Festivals in America Festivals in Malaysia Spanish Festivals